Captain D's complaints
464
Captain D's
-
Items ordered not available ordered, no refund from restaurant
Order placed and picked up @ Captain D's Restaurant at 4404 Elvis Presley Memphis TN 38116

Order # 102/509046

June 21, 2002

2:40pm

Two orders of oysters were not available 3.99 X 2 = 7.98 Manager indicated she could not refund me the amount I would need to seek refund from where order was placed

payment-credit card

Thanks so much for assisting me with this situation

Carrie Clark

3686 Hermitage Drive

Memphis, TN 38116-4358

[email protected]

901-233-0372
Desired outcome: Refund og 7.98 plus tax
Captain D's
-
Quality of fish and incomplete order made on april 11, 2022, for $21.45
My wife and I placed an online order for a two-fish and - three fish dinner. We drove about 5 miles to the Captain D's in Dahlonega, Georgia, to pick up the order.

We noticed two things when we got home and looked at our order:

1. The three piece dinner on had two pieces of fish.

2. More importantly, the fish was not the standard batter dipped fish that we usually receive. It wasn't crispy at all.

I called the store that night and spoke with a manager who did acknowledge that the wrong fish was delivered/received from their supplier. She could only take my word that 1 piece of fish was missing.

Her only recompence was to allow me to return for one piece of fish.

I found this totally unacceptable. The fish was "yucky" and the one piece later on did not make up for our ruined dinner.
Desired outcome: At a minimum I would like two free fish dinners.
Captain D's
-
Curel behavior of management.
Thank you for hearing our concerns in reference to what I considered unprofessional managerial behavior.

Me, my husband and our grandchildren ordered our food with captain d's online on 06/04/2022, when we arrived to pick up our order no one answered the drive through window for several minutes so we drove around to the front entrance and no one answered the bell to the front door so we waited for at least 15 minutes and a young lady waved us to the drive through window and when I walked around to the window she nor anyone else was there, Iam a heart patient with other medical issues and I stood there for another 10 minute in the sun while waiting and a man just showed up walked to the register put in a money draw and left again by this time my husband who is elderly and a medical patient got out of our air conditioned vehicle into the hot sun with me to see what was the problem and at the same time another employee arrived and we told him what we had been through. Mr. Nickolas Glen quickly apologized to us and tapped on the window for the manager to let him in to discuss the matter the manager was the same man that came to the drive through window and didn't acknowledge me being there. When Nickolas Glen tried to explain and ask Shane the manager why we were delayed so long without our order he seemed to be upset by our inquiry and told Mr. Glen to tell us we need to get back in line and re-order and we would need to pay again for our order. We were so appalled with everything that we asked him to just cancel the order and please refund our money the manager replied that we needed to take it up with captain d's head office, instead of trying to resolve the matter like a professional manager would have done.

We thank you for your time in reading our concerns.
Desired outcome: Thank you again please refund us and there should be something done about how this manager treats sick elderly people.
This review was chosen algorithmically as the most valued customer feedback.
Hello today is 06/02/2022 I purchased the sqrimp skewer meal arrived home the rice was not cooked properly it was crunchy and hard the sqrimp on the stick was not grilled as someone at the job put the sqrimp on the stick and seasoning it the sqrimp was not grilled at all this is unbelievable to be ready to relax and have a decent meal I called they had the...
Read full review of Captain D's
Captain D's
-
Captain D's batter dipped fish
March 12, 2022 my family & I went to the Captain D's on Germantown Pkwy in Cordova and bought what I thought was a family pack of their famous traditional batter dipped fish. I thought they mistakenly gave us chicken. It was never told to us that they changed their fish. I think that should have been disclosed at the time of order so I can decide as a Customer if I want to buy it, instead of making it home & tasting some horrible mystery meat. Please change back then I will come back.
Desired outcome: I would like to know at the time of ordering if something that was a traditional item has changed, instead of a horrible surprise like I got.
Captain D's
-
Military discounts
I went to Captians D's twice this month and after ordering I requested my military discount, I was more than shocked that they said that I had to be in uniform to get the discount. I am retired as many of us living in Jacksonville Fl are. We don't wear or have any uniform to wear. I use to get the discount before, this policy doesn't make any sense, please explain.
Captain D's
-
Captain D'S seafood
This is about the Captain D'S in Vicksburg Ms

The first visit after they remolded and opened the place looked real clean and the service was great. My family and I went yesterday May 29/2022. The service was not good at all the girl that waited on us had a ear plug in her ear and we had to repeat what we wanted over and over. Then we had to ask for clean straws and sauces. I myself found a hair in my slaw. They did give me more slaw but never apologized or anything. My brother in law is always wanting to go there to get fish but he was not happy at all yesterday said he wasn't going back.
Captain D's
-
Recent fish product switch
My concern is the recent switch from the all time original Alaskan Cod fish that has been everyone's favorite and quite frankly the real reason for this restaurant's success over all these years. Diners could always be certain that we would be served great quality seafood. After numerous complaints from trying and trying the fish it is very clear to see that this is not the Alaskan Cod that continues to be advertised. It has clearly been switched to Swai fish. Swai fish being mostly raised in Vietnamese rivers where they feed on waste and contain high levels of mercury and other impurities not suitable for consumption. I'm sure the switch was due to our very unstable economic situation today. However due to the unhealthy farming of this fish and contaminations this restaurant owes it to their loyal diners to be open and honest about their change. Due to health reasons if not anything else.
Desired outcome: My desire Is that the public be made aware of what they are eating and why this switch h as been made at our expense.
This review was chosen algorithmically as the most valued customer feedback.
I LOVE Captain Ds, but not today... I decided to try the catfish for the 1st time and I decided to go with the catfish/shrimp special today (5/23/2022). I purchased your catfish tender specials $6.99, after adding 2 additional sides (fries/slaw) my meal was $15+ with tax. I got 6 small shrimps along with what was suppose to be1 catfish tender (which is 1/4...
Read full review of Captain D's
Captain D's
-
Drive thru never took my. Not one time multiple times.
I live in Crestview Florida. I have been up to the order menu in the drive thru multiple times and know one asked me told on or even knew that I there. Today I was behind a lady waiting to order and she said that she had been there for a while. Said she didn't have anyone working the window but when I finally gave up to I pulled around to leave and there was two cars one at the window and waiting for there order. One time I was told they were closed and they had three cars in front of me and wouldn't take my order. So I'm done dealing with Captain D's in Crestview Florida. Hope something gets done with this location.
Captain D's
-
Food was disgusting, employees disgusting and rude.
I went to calutin S today and tossed food. First off the employees were rude. Our food took an 1 hour to get yo us they made us pull up. W we're sitting in the hot heat. They were laughing and giggling. They bring us our food and we're we're missing 2 things. This is absolutely ridiculous and I want my refund. SHAME ON YOU CAPTIN D. when we got the foood it was cold the fish was stale and tasted old. The hush puppies were old and stale as well.
FOOD WAS DISGUSTING EMPLOYESS RUDE. Fish tasted refried. This is absolutely disgusting we want our refund back . They were so rude. We waited in line for 30 mins and they made us pull up, we waited out there IN THE HOT HEAT FOR 1 HOUR. They brung our food out and they order was incorrect. They were very very very rude and acted like they didn't care. This is absolutely ridiculous captin D . WE WANT OUR REFUND WE SPENT 50$ on food and it was horrible!
Captain D's
-
Food and service
I arrive at the restaurant around 7:45 and the lobby was already closed. Sat in line for over 2 hours to orderThe car in front of me who ordered at the window was there 30 minutes waiting.My food was ready in 10. I am sure that I got some of their leftovers as the fish was cold and hard The young lady did as as if making additional food was a problem.
Desired outcome: apology for the convenience Also if possible replacement of my meal. My store number 365-039 order number 0145 and I would like that replace as my 4-year-old grandson will not even eat his food.
Captain D's
-
Giant fish sandwich
We ordered a Giant fish sandwich and extra six pieces of shrimp. We received our order and checked it prior to leaving. Our extra shrimp were missing so we drove back around. While checking the giant fish sandwich we noticed that all they did was cot one piece of fish in half. While at the window I inquired about the giant fish sandwich which clearly shows that two whole pieces of fish should be on the sandwich. I should the server the sandwich and ask if it was their Giant fish and she said "does it have two pieces of fish?". I said no it has one piece cut in half. To which she replied "well that is two pieces". We left with our food. We love captain D's.
Desired outcome: Try to make you food look more like their photos
Captain D's
-
Sorry Food
Order # 0143

captain d's 3140

666 battlefield pkwy

ft. Oglethorpe, ga. 30742

706-861-4592

deasia took my order and was so distant and seemed like she was on the phone instead of answering my questions. I order 8 pcs. Cheese sticks and asked for ranch dressing which at the time I picked up my order was told they were out of ranch dressing. Nothing was offered to make things right. Most people I know eat cheese sticks w/ ranch dressing. That was $3.79 wasted because when I got home had no ranch, so couldn't even eat them. I asked about the clams app. Or even the clam dinner and rudely told that we don't sell that anymore. I order 2 pcs. Fish dinner with okra and fries and fries were so cold I couldn't eat them, so that is another item I couldn't eat, the okra was the worst okra I have ever had, it was so cold that it was slimmer. The fish was cooked so hard that I got 4 bites out of 2 pcs. Of fish to eat. I spent $15.26. This is the 4th time that I have had an issue with service and food orders. The last 3 times I said nothing, I just chalked it up as a bad day. I asked for a medium Pepsi with extra ice, and only had less than half a cup full of ice. I hate long john silver's and captain d's is my only fast food seafood place and has been for over 33 years. I really don't know what has happened to this address, but since the covid 19 started, this place has just got worse and worse as the days and months go by.
Desired outcome: A PHONE CALL AND MY MONEY BACK, FOR THIS ORDER 0143- 10/MAY/2022, AND SOMETHING WAS DONE ABOUT THIS RESTAURANT. AS I SAID, MY FAMILY ONLY EATS CAPTAIN D'S AND I WOULD REALLY LIKE SOMETHING DONE ABOUT THIS. 423-605-5481- KENNY S.
Captain D's
-
Food and service
Oh yes I went to the Captain D's in Middletown Ohio on breiel boulevard and ordered $27 worth of fish and Chicken and the food was unable to be eaten it was nasty I will be adding photos there their address is 804 South breiel boulevard Middletown Ohio 45044 phone number 513-422-5320 I took the food back they refuse to give me my money back said because I took a bite of the food yes I did that's how I found out how nasty it was and then when I picked up the big piece of fish they was the other two more pieces the size of my fingers the photos is below I need my money back
Desired outcome: Money back
Captain D's
-
Lack of correct food
I am a freequent customer in the lynchburg va restruant. About every week. 5/3/22 6pm no regular fish. No explanation, and poor subsiitute. Last week, dinning room not open. Week before, all was great. Week before, not open. Week before, no ice. However there is a store 150 yards away. Week before, no tartur sause. Week before, food was good but manager and staff had a serious fight, even involving boyfriend and others, scared everyone. She apologized and gave us a hand written voucher for a free meal. Would no honor it a week later. See wasnt there.

Week before, no sweetner for tea. [ wife diabetic ] weeek before, no fish. Truck didn't run.

I don't know, maybe bad management incompitent employers
Desired outcome: I DO NOT WANT A REFUND, I DO NOT WANT AN APOLOGY. I ONLY WANT TO GO THERE AND ENJOY A MEAL WITHOUT AN EXCUSE FOR NOT HAVING SOMETHING . THIS IS A FSH STORE , HOW CAN YOU NOT HAVE FISH ?
Captain D's
-
2piece fish
12:17 5/1/22 Nigel was the cashier. We ordered 2 2 pieces fish and shrimp. We both only got 1 piece of fish and for my sides I got breadsticks and fries. I got maybe 10 fries and no hush puppies. Just because I got breadsticks didn't mean I didn't want my hush puppies. We live on the other side of town so we couldn't go back. I tried calling but there was no answer.
Desired outcome: Money back or or fish and hush puppies.
This review was chosen algorithmically as the most valued customer feedback.
On 4-15-2022, we stopped at 365066 store in Elberton, Ga. Order #0082 at 1:10pm, we ordered their special on the sign with shrimp and fish for $6.99, first time Kayla rung up our order she over charged us, 2nd time she rung us up she said it is only 1 side and no drink, with the sign clearly explaining just the opposite of what she told us... Kayla was rude...
Read full review of Captain D's
Captain D's
-
Food I ordered and disrespectful attitude.
April 13, 2022 approximately 12:10pm. I came into Capital D's to order off the senior menu. I ordered a 2 piece fish with fries and cold slaw and an extra shrimp for $1.99 (?), About 5 minutes later I order another senior meal with extra chicken. It took them about 45 minutes to give me my order (I left out of Captain D's about 1pm). The young lady who waited on me was very pleasant even through it too so long. I came into the restaurant with my 7 year old who was diabetic and his blood sugar was dropping fast because we were waiting so long. I asked her how much longer (at that time it had been about 35 minutes). When I finally got my order, I left the store (didn't check to see whether I got what I paid for). When I got home about 20 minutes later, I noticed that she had given me the wrong order. I got the 2 piece fish but it was with fried Okra (?) and green beans. The extra shrimp was not in the bag. I call the store and was asked about the receipt and I told her that I didn't have it. I was not rude to the young lady. All I told her was that she had given me the wrong order. Yes, I got the fish (although not the same size, one was much smaller) but I didn't get the sides that I order nor the 5 piece extra shrimp I paid for. She asked me to look again for the receipt and call back. When I still couldn't find it, I called back and the phone rang many, many times (does the store have caller ID?) and eventually the "phone" or someone hung up. I called back immediately (thinking I must have gotten disconnected) and it just rang again for many, many times (did they see the number, and decide not to pick up the phone?). I gave it another 30 minutes and called back and again it just rang and no one had the decently to answer. I come in there all the time, and this is the very first time this has happened. I'm writing this complaint because I believe it was disrespectful that your employees saw my phone number on the caller ID and deliberately chose to ignore it. The manager was there (busy, I understand) but did she also decide this customer wasn't worth her time? They could have at least answered the phone and said "too bad" if you don't have the receipt. Just don't ignore your customers' calls. This sets a bad taste for your company. I figured corporate will not address this, just blow it off like your employees.
Desired outcome: I would like to know exactly how I should have handled this and I would like an apology. You need to train your employees better.
Captain D's
-
Product = batter dipped fish fillets
It's been a while since I went to Capn D's. It is a treat since I normally don't eat carbs. But this time my batter dipped fish fillets were DEFINITELY not fillets. They did not taste the usual "AWESOME" either. When I broke one open it didn't look exactly minced. More like pieces pressed together. So sad - I have crossed them off my list of placed I will go to. All I bought was a big order of fish. Spent almost $25 for very sub-par product
Desired outcome: confirmation of product change and when they will go back to fillet if ever
We are here to help
16 years' experience in successful complaint resolution
Each complaint is handled individually by highly qualified experts
Honest and unbiased reviews
Last but not least, all our services are absolutely free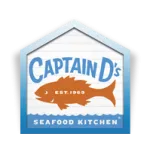 Captain D's contacts