Popeyes
-
Food poisoning
I visited Popeyes on Zinfandel on 05/16/22 & was given cold chicken & flat cold biscuits. I again visited Popeyes 05/27/22 & complained about the poor-quality food I received (05/16/22) and was told "well I can only give you one piece of chicken & a biscuit because you don't have a receipt" I also bought a strawberry lemonade for $3.00. After eating the chicken I got very sick with diarrhea, cramping, and fever. I habitually eat light so I know that meal made me ill. I thought I was going to have to go to hospital, it was bad! Because I could see how upset employee was that I complained about poor service on 05/27 and how long I waited for replacement meal, I'm certain I was intentionally poisoned. My getting gravely sick was intentional, I recall a co-worker complaining of food poisoning at that Popeyes location months ago!
Desired outcome: I should be compensated with monetary payment (or life-time discount) for ruining my day & making me gravely sick!
Popeyes
-
Drive thru
Went thru the drive thru and the guy "Edgar took my order. I had to physically lean almost to the speaker to hear him. We get to the window And pay we check the bag cause there's only 1 box! My daughters order I explain to the young lady we are missing the chicken that it's only my daughters popcorn shrimp! The young lady said her name was "Karen" Says give me your card and I'm thinking she charging me for the wing combo. I explained what my order was and she tells me well it's a red beans in the box. I explained the order again! Was charged separately for the wing combo. By this time I'm frustrated and holding up the drive thru. If the associate taking the orders would spend more time listening than asking is that all, this whole ordeal could have been prevented. I've stopped going to this location because of the attitudes and inconsistencies of the employees. Thought after a year service might be better. It's hard to patronize the businesses in my own community when the service is horrible. Certainly will not return to this location nor will I recommend anyone to patronize there.
Desired outcome: If it's the fault of the employee, Instead of offering an apology at the least! I was charged for the side that should have rectified the order. I would have given the side as the inconvenience!
Popeyes
-
Lack of service!
My son and I entered the restaurant and every employee looked at us but did not acknowledge us. They were not at the front counter nor did they come to the front counter. I counted 5 employees as the looked at us. We stood there for approximately 5 minutes and then asked if someone could help us, no answer. They continue to help the drive thru, so we asked if it is drive thru only... still no answer. The couple behind left and we followed. It was dinner time, but only 2 tables were filled in the restaurant...I see why!
Desired outcome: Customer service is a must! Rude people need to be replaced.
Popeyes
-
Order short items and door locked at 7 p.m.
Hello, I usually don't want to complain but Popeye's Store $2856 at Fox Valley Center in Aurora, Illinois needs some attention. I know they work their biscuits off in there (it is always busy and always a line through the parking lot due to backups in the drive thru as well as the wait inside), but last Friday, May 20, 2022 at 6:47 p.m. was no different. I ordered take out inside and had to wait 40 minutes for my food along with about 20 other people and a 20 car drive thru line. They shorted my order a large cole slaw (not the first time order has been short). I think the most compelling issue was after the first 15 min waiting for my order, two employees locked the entrance door. Not only did that mean other customers were confused when they tried to enter but customers who wanted out all had to use the alternate door near the drive thru lane to enter/exit. There were no announcements or signs posted as to why. It left me with only one assumption (they were behind and they didn't want any more walk in orders). Fortunately, I believe you have some tried and loyal patrons to your products so no one gave up on the wait or easy access.
Desired outcome: Additional training and management provided to this store and possibly some compensation for missing order items. Thank you for your time and attention. Chris Vickers, 1605 Northpoint Dr Apt 11 Aurora, IL 60504 [email protected]
Popeyes
-
Bad service, and lied to customer
Around 9:45pm 5/23/22 I went to Popeyes located at 9906 Katella Ave, Anaheim, CA 92804, at the beginning I ordered one leg and one thigh, but they didn't have at this moment so I ordered two thighs, And comes only one biscuit, last time when I ordered it's come with one of each, I asked cashier (a Hispanic boy) where said only comes two chicken comes one biscuit, and he Lied to me right there, but I told him I didn't see any, then he ask a lady behind him (Hispanic) she told me I have to order individually….. i asked her what's the different price, she said the same, then I told her I don't understand I paid the same amount of money as last time but why I don't have two, I requested I would like to speak to manager, she said she is, but won't tell me her name? It's really terrible experience with them today, no wonder low start at yelp.

My ph# 5623735543
Desired outcome: Apologies from that lady and boy.
Popeyes
-
HR Department at Popeyes
My Grandson who is an employee at the store at 6666 Camden Blvd Fountian CO 80817 was put on suspension for the fallowing reason. He let Management know prior to going to take his driving test the day that he would be taking his test and would possibly be late. The day of the test he reminded them that his test was today and again let them know that he did not know how long it would take to complete the test. He even went so far as to call the store from the DMV and let the management know that the DMV was running behind and he would be late. He was put on suspension for this and told by Myra the manager that she needed people who wanted to work and was putting "Patrick" on suspension. That was over two weeks ago! He has not received any call from them whatsoever. A little background on "Patrick", He stays late when asked to do so even though he is still in high school, He also comes in early when asked to do so as well as having covered other employees shifts. He is a hard worker and does not deserve this at all. My name is Daniel Johnson, and my phone is 719-290-7044. My e-mail is [email protected] .com I would like to be contacted and talk to an HR person on this matter. He has been a dedicated worker for 5 months now and again deserves better. A suspension by definition is a disciplinary short break
Desired outcome: I want a call by someone in the HR Dept. I called over a week ago and was supposed to get a call back but have not received any correspondence to this date.
Popeyes
-
Popeye's Chicken - 9001 S Harlem, Chicago Ridge, IL
This Popeye's is a disgrace to your name!

This is my second time trying them, and I was horrified by the way that the chicken looked and tasted when my boyfriend brought it home.

The chicken was old, and they served me a 3-piece chicken and biscuit for $8.99 -- no side. The crusting on the chicken was broken. The thigh had a bare side, and so did the leg. When I broke open the wing, it was dark and full of veins and nasty looking. I tried calling them 3x, and they would not answer the phone.

This place needs to be investigated and shut down!

I will NEVER, EVER grace them with my money or presence again!
Desired outcome: I want a refund of my money -- the $8.99 plus tax, so I can enjoy another Popeye's meal.
Popeyes
-
Lack of Customer Service
05-20-22 Popeyes in Duval Station Rd Jacksonville Florida. I place my mobile order at 520pm and just now at 615pm I received my order. Keep in mind that they tried to give me someone's $80 order with a completely different order number. I gave the food back and explained it was not my order. They ushered me out of the drive through and there I waited and waited. Almost an hour to pickup a mobile order and employees who are apparently quite inept and not customer focused. This will be my last trip to Popeyes.
Popeyes
-
Popeys Jefferson Avenue Newport News VA location 5989
I have visited this Popeyes for two week and either time did they have the Buffalo Chicken Sandwich. So I order the spicy chicken sandwich with red beans and rice. When I got back to work I had fried that were over cooked and the Spicy Chicken sandwich. All that after waiting in line to place order for 13 minutes. I understand it was lunch hour but it should not take that long to place order. The time was 12:30. I noticed on my receipt that fries was placed instead of red beans and rice.

I have been to this Popeyes several time and it never seem to be up to par. It has even been closed. during lunch or not ready for customers at noon.
Popeyes
-
Condition my food was in
Waited in the drive thru for almost 45 minutes, took so long i had to call the store to ask what was the delay (holdup), still had to sit for another 7 minutes before was able to place my order in the drive thru, then when i got my food, it was old, cold (lukewarm), not hot at all, and the worst part was my chicken was not spicy and i requested spicy only. I paid $23.00 and i am very disappointed, very disappointed!

[email protected]

404-660-6976-cbr
Desired outcome: I WOULD LIKE A FREE MEAL REPLACEMENT OF BOTH 4 PIECE DINNERS.
Popeyes
-
Food and customer service
Went to Popeyes in Springfield, illinois spent 30.00 on a family meal, wanted to add another side to the meal. Lady in drive thru was very rude told us we couldn't make additional purchases at the window. We asked the store number she said she didn't know the store number. Got the meal it was supposed to been large sides but it was half sides in the containers. Chicken tasted old
Desired outcome: Would like a a refund or meal replacement
Popeyes
-
Cajun rice
I hate that you have gotten rid of the Cajun rice. I thought it was the best rice I had ever eaten. Why did you get rid of it? I think you should definitely bring it back! I have quit going there even though the chicken is amazing because of the loss of the rice. Please bring the Cajun rice back the last time I went there was 4/20/2022. In Rockford IL. I ended up leaving and going to chick fil a instead since there was joe rice
Desired outcome: My desired outcome is that it would be put back in the menu
This review was chosen algorithmically as the most valued customer feedback.
I approached the drive thru and when ordering a 4 piece box. "It is no longer available "? What? You have chicken and a box, right? We can't sell you 4 pieces, Sir. Well KFC did. How many Customers can you afford to lose? In the old days, Al Copeland would have put 4 pieces in a box with a Smile. Al's gone, and so is customer service.
Read full review
Popeyes
-
Popeyes Belleville Illinois.. Belleville Crossing
I am so very frustrated.. My husband is disabled so I can't leave for very long.. I went to Popeyes at the Belleville Crossing Belleville Illinois location... I waited in line and when I got to the speaker .. there was white paper over it blowing in the wind... couldn't read it - waited and waited for someone to talk to me... decided it said something damaged.. finally got to the window and was told that the speaker worked .. so they would not take my order.. .I waited almost a half hour to be told they could not.. would not take my order.. what POOR MANAGEMENT.
Popeyes
-
The service at store #3230
I visited this location (3230) on Saturday May 14th. I arrived around 1pm. Before I could place my order I overheard the cashier telling the women in front of me that they had no fries because the fryer was down. Then I placed my order no one was ahead of me because the women left during to the lack of fries. I waited between 3 and 5 minutes for food because the manager left the front and no one was fixing the orders. I asked where was my food and got no response. I asked for my money back because I was not happy with my service. This will be my last time at this popeyes due to the way I was treated
Popeyes
-
Incorrect order
The last two times I got take from Popeyes I was shorted food on my order. I went through the drive thru and did not check until I started eating.

First one - was travelling and in San Antonio, TX. Got back to hotel and my 5 piece chicken tender meal with red beans and rice had no red beans and rice.

Second one - went through drive thru in Houston, TX. Got back to work to eat and found my 5 piece order only had 4 pieces.

Another time I got the wrong sauce. Not a big deal but annoying.

I love your chicken, but really how hard is it to get the order right?
Desired outcome: One free 5 piece chicken tender meal.
This review was chosen algorithmically as the most valued customer feedback.
I worked my butt off for your company spent my own money for the corporation then I get the boot why? The only thing I asked for my vacation then turn around I get my last check. I tried to keep food cost down but I'm working off of years of misguidance in that field then you all change the policy of how to do the food cost that's not my fault I loved...
Read full review
This review was chosen algorithmically as the most valued customer feedback.
On Friday, May 7, 2022, I was subjected to the WORST customer service in my life at the Popeye's located at 2825 N Military Trail, West Palm Beach, FL 33409. I was treated so poorly that I seriously considered filing a police complaint for verbal assault. The incident began when after literally waiting 45 minutes at the drive-thru for just 3 cars ahead of...
Read full review
This review was chosen algorithmically as the most valued customer feedback.
5/9/2022 Panola Rd I ordered from the drive-thru and it was a not a busy night but still a long wait over 10minutes for them to acknowledge I was ready to order and still another 10minutes once i placed the order. I paid for the order, and I asked for strawberry jelly and the cashier handed me the bag. So, I opened the bag to check it (you got to check the...
Read full review
Popeyes
-
Excessive charges on my credit card
My daughter had to make a trip to Springfield, Illinois yesterday 05/08/2022. Knowing that she was going to be coming back through Bloomington, Illinois on her way home to Ottawa, Illinois and that there was a Popeye's in Bloomington, I gave her my credit card and what to order so she could pick it up on the way home. I wanted a 10 pc. chicken tender meal with red beans and rice and cole slaw. They were out of cole slaw so she got 2 red beans and rice. Also an 8 pc. chx nugget meal w/ fries and a Dr. Pepper. They were out of fries so she got the mac & cheese. Asked for BBQ sauce, which we never received. Through no fault but her own, she did not check the bag and when she got home, I looked and we had a bag of 20 biscuits, nuggets the size of popcorn, mac &ch. 1/2 full and sooo greasy and chicken tenders 1/2 the size they usually are . I tried calling both #'s on the receipt and no answer. Plus I was charged for sides that were supposed to be included in the meal and for mashed potatoes I never ordered. Also if you look on the receipt, I was charged for a 10 pc. regular chicken dinner, not tenders
Desired outcome: I want a refund put back on my debit card. The nearest Popeyes is an hour away from us. My phone # is 815-701-1462
We are here to help
16 years' experience in successful complaint resolution
Each complaint is handled individually by highly qualified experts
Honest and unbiased reviews
Last but not least, all our services are absolutely free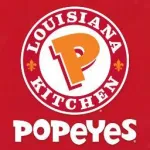 Popeyes contacts