Cracker Barrel complaints
311
This review was chosen algorithmically as the most valued customer feedback.
To whom it may concern, I write You on behalf of my family and friends. We love (d?) the Cracker Barrel. A Family first restaurant that still exists! That perspective changed today when My family and I met some friends for supper…the first time in months! We are at the Mebane, NC store where Matt, the manager, suggested I write you with my complaint...
Read full review
Cracker Barrel
-
Complaints Unresolved as of 5/09/2022
To whom it may concern,

I was looking for a reason why I received a random email from CB for for a gift card. I automatically googled gift card scam and happened upon this site.

Does corporate read these issues, especially the way workers are treated, GM treatment of that customer over return of broken jewelry and more. Out of 300 complaints, only 19 were resolved; seriously?

I've dined at CB around the country and never had a bad experience.

But there's no reason to ignore these posts.

My recommendation would be to assign this website to a particular employee of CB for complete and positive resolution.

98% of consumers will either disregard or forget how they were treated although dissatisfied with the experience or food. The other 2% want you to step in and listen to their issue.

And you're making millions.

It's unacceptable!
Cracker Barrel
-
Manager/cook located on Maysville Rd in Fort Wayne, IN
May 9, 2022 late morning

Food was very over cooked and sat for 10-12 minutes on the counter. I could see it sitting there and I timed it. No refills on drinks what so ever. I ask to speak to the manager (tall, stocky female with dark hair)

She proceeded to argue with me about the temperature of the food because she had prepared it. She was only interested in complaining herself that she had seven calls offs that morning so she was cooking. Not sure why the restaurant was even open if the service couldn't accommodate the customers. I then could have had a better meal elsewhere. It wasn't busy, I use to visit frequently but won't be anymore. I merely suggested that if she couldn't help us maybe I should contact corporate. She became enraged and nasty like said, "Well I was going to make it right but if you'd rather do that go for it!" What a terrible attitude for a so called manager. This needs immediate attention. Customers will not tolerate such verbal abuse from a restaurant.
Desired outcome: No outcome just rudeness from your manager. All stated above. She did take the plates quickly as she ran off. I can only assume so we couldn't take photos.
Cracker Barrel
-
Double cheddar shredded cheese
Hi there. I'd like to start off by saying that I really enjoy using your Cracker Barrel double cheddar shredded cheese. Unfortunately we just bought some at the store yesterday and when we opened it up it had big clumps of untreated cheese in it and they weren't even hard so they could be shredded they were kind of soft and mushy. I have attached pictures with the best before date as well and just wanted to report that this was really disappointing as we are usually really happy with our Cracker Barrel products . Thank you
Desired outcome: To alert the quality control department.
Cracker Barrel
-
Cleanliness
My best friend and I went to the Cracker Barrel in Statesville NC this evening. We were seated beside a family that evidently had spilled a drink under and around the table. People coming in and the waitresses were stepping over it. The family left and after 15 minutes a waitress came to clean the table. She missed 90% of the mess on the table and no-one got to the floor. We ask the waitress to wipe the table again just as two couples came to sit down. They ask to sit at another table.I ask our waitress to please get someone to clean the floor since a man came in with his elderly mother and she had a hard time. The manager stood at the fireplace and didn't do anything.Finally our waitress got a mop and cleaned it up. The man with his mother said to us on our way out thank you and all the floors are a mess. I know maybe they were short handed but no reason for liquid to remain in an aisle. But there was a girl at the back talking to someone about us because she was looking at us and laughing... When we were checking out she was talking to another girl about us and laughing. I clean doctor offices and I have never seen such a nasty dining room.It ruined our evening.
Cracker Barrel
-
service
on may 8 2022 i went to cracker barrel in Zanesville Ohio for breakfast and arrived at approx. 10:30 am. i had to wait over 20 minutes for a table and that was to be expected since it was mothers day. after we were seated the server Emily waited on us promptly and asked what we were drinking and we told her and she got them in a timely manner and took our order we then sat there for over 45 mins waiting on our meal. when the meal did finally come out the ham i ordered was cold the butter was frozen and the multigrain toast should of been milti rock toast as it was that hard and cold as well. my eggs were ordered over easy and 2 out of 3 of them were over cooked as well and the hashbrown casserole was hard and i had to mix it up in order to eat that it looked like they over cooked it and served it anyways. i have eaten at this store for many years and this was the worst i have ever had. i even worked on your cooking equipment when they first built the Zanesville location that's how long its been since i have been going there. this meal was bad and the server did not even care. she brought us extra drinks after we were all done eating some server. below is proof i ate at your restaurant today.

POS DEBIT CRACKER BARREL #370 ZAN ZANESVILLE OH Misc. debit -$29.77
Desired outcome: refund my expense or send me a credit for another meal at cracker barrel
Cracker Barrel
-
Poor service, long wait and rude host
My family went to the Cracker Barrel the cypress Texas location on 5/8/22 for Mother's Day. We were told a hour wait. Two hours later were still waiting to be sat. Myself and my husband worked at this location. We were told by one of the server that the main manager Suzanne was prioritizing the Togo order and tables were complaining. The servers were not prebussing tables. One table was not cleaned for 30 minutes. Before we walked out there we 20 dirty tables and no one was cleaning them. I know it was a busy day but if the head manager would do here job and train the employees correctly the wait would not be that long. Oh the head host was very rude. The mobile app doesn't work right for the waitlist it said it was a 1 minute wait. Someone needs to have a long talk with Suzanne about the way she is running the restaurant. No wonder everyone is quitting they are fed up with the bull shit.
Desired outcome: Would like a gift card for my time and Something done about Suzanne the head manager way of running the restaurant.
This review was chosen algorithmically as the most valued customer feedback.
I ceased employment with Cracker Barrel on 4/11/22. The manager that wrote me up... Jaime Bejarano was asked by me to end my employment, so that I could have access to my 401K. I called Merrill Lynch and was still listed as active. I called the corporate office and they said that the management listed my termination date as 4/25/22. That is not true. You...
Read full review
This review was chosen algorithmically as the most valued customer feedback.
So each week normally on Wednesday I stop to have dinner. On April 20 I stop got seated and a Black lady waited on me. I order Chicken and Dumplings with an extra Dumpling and apples with water. Less than 5 minutes another guy came in and sat one table away from me. He order the same meal except he had corn instead of apples and with coffee. About 7 minute...
Read full review
This review was chosen algorithmically as the most valued customer feedback.
4-25-22 9:30AM We visited the CB Restaurant in Washington, Pa as we always have in the past. We were told of menu changes. Very disappointed to see that the EGGS IN A BASKET has been dropped from the menu. We have always taken our grand children there and that was their favorite. The waitress told us that corporate was making changes and told us to contact...
Read full review
This review was chosen algorithmically as the most valued customer feedback.
On 4/20/22 my husband and I met my Aunt and cousin at the cracker barrel in Seffner Florida. I ordered the southern fried chicken, I specifically asked for only dark meat. When the orders came on my plate are 2 big chicken breast. I asked the waitress to change out the breast for 2 thighs. Also, noted, I told the waitress to begin with that I would not eat...
Read full review
Cracker Barrel
-
quality of food and poor service
On 4/8/22 approximately 5:45 pm my cousin and myself went to the Cracker Barrel in Findlay, Ohio. Not only did we sit there for over 2 hours waiting on food but we ordered the fish special and when it finally arrived it was burnt fish. Before that we had to ask for our cole slaw and bread as the waitress wasn't tending to our needs whatsoever. We complained about the burnt fish and still waited. Finally after complaining some more they finally brought us some more fish without hot sides to go with it, Nothing better than ice cold steak fries with your meal. Then when we asked to speak with a manage had to wait on that and then got as assistant or whatever who after some time agreed to take off half of the cost of the fish meal. Needless to say I will NOT be eating at another Cracker Barrel. No excuse for not comping the meal.

Thank you for reading this

Darlene H. Landry

[email protected]
Desired outcome: I would like an apology and some sort of compensation for this,
Cracker Barrel
-
Old food and wait time
Walked into cracker barrel on april 13th about 6:35 pm. I ordered a breakfast, wife ordered a dessert, and grandson had a kid's chicken tender. Waited just over an hour for our food. During that time 1 table of people walked out over their wait time and another table spoke to the waitress over their long wait. Last time we were there it was the same thing, long wait for food. We gave them the benefit of the doubt and went back thinking the previous time was an isolated incident. Wife got her dessert, strawberry shortcake and whip cream. The shortcake was hard like it was old, she sent it back and did not want anything else. My breakfast was cheesecake pancakes with strawberries, with whip cream, eggs and bacon. The pancakes were just slightly warm and bacon was too. This restaurant has severely gone downhill.
Desired outcome: Don't want anything on my behalf but this place is broken.
This review was chosen algorithmically as the most valued customer feedback.
My family and another family decided on cracker barrel for dinner while we were waiting for the dance competition to finish so I called ahead to see what the wait time was and they said about 15-20 min so we all headed that way and when we got there I was told the wait was 20-25 min so we walked around the store while we waited, by the time we finally got a...
Read full review
Cracker Barrel
-
Extremely slow service
We were at Cracker Barrel on Sunday night, April 3. We were told there would be a 25 minute wait, which was fine. We were seated at 7:15. We didn't even see our server until 7:50. We asked what the problem was. She said they had only one cook. Tables had not been cleaned from previous diners. We didn't even get our food until

Other customers who came in after us were served before us.

Very disappointed.
Desired outcome: Better service. Reduced price on our meal. We asked to see Manager. Didn't happen.
This review was chosen algorithmically as the most valued customer feedback.
Today we did lunch at Cracker Barrel in Independence, MO. First off we had about a 10 minute wait. When we were taken in we were not take to a window seat as requested, plus, the entire center section was vacant with about 1/2 the tables piled with dirty dishes. Not first of all why the wait, second, if it was vacant why tables were not cleared with no...
Read full review
Cracker Barrel
-
Gift card.
I went to Port Huron, Michigan's Cracker Barrel over the weekend planning on using a gift card. The gift card was still hooked to the cardboard and the cashier scratched off the pin number. Although I had the receipt and never used the card, it stated my balance was zero.

Could you tell me where it was used -- because it wasn't me that used it.

$25 gift certificate

3086 3993 0937 1166 968

pin 0122

My email - [email protected]
Desired outcome: Refund or a Good Gift Certificate.
This review was chosen algorithmically as the most valued customer feedback.
I placed an order through Uber Eats, receipt #B2D9, and paid extra for a faster pick up time, which was to be 8:37. My food wasn't ready until 8:45 p.m. and it wasn't even correct. First off, I ordered a salad and requested honey mustard and no honey mustard given. The way it was packaged half my food leaked out and it very cold and we were not able to eat...
Read full review
Cracker Barrel
-
Order was wrong and food was not good
3-18-2022 7:07 pm I ordered the hc classics hamburger steak and it was sorry and my side I ordered with it was wrong and they put all the sides on the plate together instead of bowls and it was running all together and when I went to pay for it the lady asked me how was the meal and I told her I did not like it and she said well I am sorry but that was all. It was the worst meal I have ever had from cracker barrel and with money tight I went there with my wife in hopes of having a good meal together and I was so upset with the out come.
Desired outcome: Free Replacement For The Meal
Cracker Barrel
-
Service
Today I took my grandmother out to eat. The lady that served us seemed new. Her name was Ashley at the Hendersonville store. It was from 5:00-6:50pm. The food was 1hr later. We were served our food after two tables that sat down 15minutes after us. They got served first. I heard another gentleman complaining about how long he had been setting, an we came in before him. When the food finally came out, it was cold. I wasn't able to get all of what I had ordered because they ran out. She told me she would bring me some when the cook finishes making it, but I declined because I knew by the time he came out, I would have been done with my meal.

So we had to ask twice for silverware when our food came out. My meal was cold. We had to ask 4 times for to-go boxes. And waited nearly 20e is for them. The server also mentioned she would take off the ticket the cold food and the extra. We were still charged for them when the ticket came out. So, essentially we paid for food that we did not eat or get in the orders. Very disappointed at this service. This restaurant has to do better. I will also be adding this complaint to other major platforms as well.
Desired outcome: Complimentary meal or discount cards
We are here to help
16 years' experience in successful complaint resolution
Each complaint is handled individually by highly qualified experts
Honest and unbiased reviews
Last but not least, all our services are absolutely free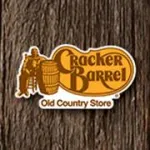 Cracker Barrel contacts