Cracker Barrel complaints
320
Cracker Barrel
-
Sunkist Fruit Gems (Candy)
I bought these candies today in St Pete Fl to take to a friend for a birthday party (i knew they were one of her favorites) When i got there she had a couple, and found them to be HARD and STALE...even though they had a 2023 date on them...I have the box but really do not want the hassle of taking them all the way back 25 miles to return them...I am pretty disappointed in the quality of a product at Cracker Barrel...these days.
Desired outcome: Would like my money returned please let me know how we can do that thank you
Cracker Barrel
-
Gift cards
I received 2 cracker barrel gift cards as a prize. Both were on the original backing with receipt stapled on. When I went to use them, there was a 0 balance even though the receipt showed $10 each on them. The manager at store said she would call about them and then report back to me but that was over a week ago. She uncovered the pin number on them. I feel that the cashier never activated them as they hadn't been used. The store is #95. The date was 8-10-2021 that they were bought. The cashier was #890738. Check # 8974 . The card numbers were 3086399309371093477, pin 6567, and 3086399309374929560 pin 3749. Trace # 922871 and 911869. I would want this to be restored to me so I can have use of them. Again no one is really helping. I go to cracker barrel quite often and never had a problem till now. Although it wasn't paid for by my credit card, it was a prize I won. Cynthia Hill, 2607 Chancery Lane, Richmond IN 47374
Desired outcome: Gift cards that work!!
Cracker Barrel
-
Food presentation looked like slop!!
I placed an order via telephone at the Belleville, Michigan location. I spoke with Katie (1323869). We ordered the meatloaf from their lunch menu, as we have done many times. At the time of placing our order, I was given an incorrect total. It wasn't until I had called back twice that Katie taking actually listened to me and gave me the correct total for our lunch meals! When my husband brought the food home, I couldn't tell if the meatloaf was actual meat for humans or dog food. I only ate my sides…couldn't eat that slop that looked nothing like meatloaf! Had we lived closer to the restaurant, we would have return our order and demanded our money back! Very disappointed!
Desired outcome: I didn't even call them to complain!! Waste of gas money to pickup the order and even more of a waste when it doesn't look edible!
Cracker Barrel
-
breakfast menu
We usually order the old timers, however, Cracker Barrel did it again, you changed something that was perfect. How in the world can you take off the menu and that meal choice regular GRITS!? Grits are a southern staple which isn't CB a southern theme restaurant?! So you take away the grits off the old timers and you RAISE the price?! So disappointed! Service is usually just ok but we know food will be good. Well not anymore! Guess we will just go to IHOP which is closer to our home anyway. BRING BACK REGULAR GRITS AND ADD IT BACK TO THE OLD TIMERS MEAL!
Desired outcome: BRING BACK REGULAR GRITS TO OLD TIMERS
Cracker Barrel
-
New menu
We hate the new breakfast menu. The healthy options are gone. Oatmeal, whole grain pancakes, yogurt parfait. Even the morning port chops, turkey sausage, etc. What in the world were you all thinking? Im on a diet and have always for twenty years found things to eat at any meal, today we left your restaurant for Denny's. Yuk. Not happy. We need healthy options and not just calories galore. I enjoy a meal out a few days a week. Your restaurant is now off my list. I love Cracker Barrel and your prior menu. I almost always shop in your store. It would be-sad to loose customers such as myself and family.
Desired outcome: Better menu
Cracker Barrel
-
Horrible
It took us over an hour for our food. People coming in after us got their food and finished eating 30 minutes before we even got ours. They left the bacon out and tried to charge for it. Was not impressed with the my asst manager. She apologized and that was it. Our food should have been on Cracker Barrell. After we asked them to take off the bacon we got charged for it took at least 20 minutes before we got it corrected. It got us way behind her schedule
Desired outcome: Not satisfactory
Cracker Barrel
-
Visit today
We wait 1hour and 22 mins to get our food. Our server told us the reason was the kitchen was being slow today. I ask for a manager she informed me there was 2 manager in the kitchen it was not her fault she had just got to work. Bout 15 mins later our food came all wrong misses a whole plate misses items. No manager every came back to check on us. They were 6 of us. It was awfully from the server to the kitchen to the manager .. A simple we understand and plan to make it right and i am sorry was never said. No discount no apologies no nothing ...
Desired outcome: We ate what we got 1 hour and 30 later and pay and left
This review was chosen algorithmically as the most valued customer feedback.
The character barrel in pennsville NJ Many minors will work there 5 hour shift. At the end of the shift are told to clock out, but then told to finish the jobs they were assigned to complete on there shirt. Sometimes they stay an extra hour and a half completing this list. I believe this is due to that fact they are minors and can only work so many hours
Read full review of Cracker Barrel
Cracker Barrel
-
Molasses service
I have been eating a you restaurants since 1998. If you guys can't speed up your kitchens. You are going to go broke keeping the doors open even with a great customer base. Your new servers are slow at all stores and poorly trained. Your servers aren't going to stay working in a restaurant they can't turn tables they can't make any tips. With that being said I've been to Crackerbarrel two times this week and nobody's even greeting me after being seated for at least five minutes and this time 10. My food is finally came out after about 20 minutes and it is cool. I think it's been sitting on the counter no one delivered it to my table. I hope things change in the near future for your sake and mine
Desired outcome: Speed up your kitchen and train your service staff a little better
Cracker Barrel
-
Slow service / poor service
Date 07/29/2021...Time seated 09:30 am...
time server came to table09:48am
Service was SLOW and poor Server Faith came into our area 3 times without looking our way or making any eye contact...We finally had to catch another person walking thru to get attention and coffee..no spoons...Faith finally came to get our order...it was incomplete...Toast was brought after we finished eating I refused it...food got cold before we got our silverware... 4 other couples came and sat down after we had been seated...They were all served and eating before we were served...I have been eating at Cracker Barrel since they opened between Richmond, Va and Dayton, Ohio...My wife and I eat at CB all the time here in Lakeland FL...This was the second worst food/ service we have received from CB...Now more than ever with the Pandemic going on you need better trainees...Not only, bad service at the table, but I wrote on my ticket about the poor service and the cashier after reading it, did nothing...Did not apologize, did not call a manager or anything...This is not what I expect from CB...
Harold Meyerhoffer...a very disappointed customer
8838 Pebblebrooke Dr.
Lakeland, FL. 33810
863-853-3700
[email protected]
Desired outcome: Management getting involved
Cracker Barrel
-
Onn line to go order Store 80 Tifton, GA
July 01, 2021
5:40. p.m.
Check no. 1509 1694185668
ACCESS CODE: 080-182-150-917

I have tried several times to contact Cracker Barrel 1-800 phone number, I have left messages and my phone number for a return call, to no avail.

Complaint: Arrived at mentions store to pick up order...they said they were out of the Turkey Dinner. I was told twice in the store "they were working on it now" Finally I get the truth after 45 minutes of waiting!

Nancy Mullen, 2164 Gamecock Circle, Little River, SC 29566
Desired outcome: I want a full refund of my payment of $22.40 .
This review was chosen algorithmically as the most valued customer feedback.
I have tried Cracker Barrel in Foley, AL. Several times and can never get my order right. As for tonight we were set at a very small table and then they set a person by them self at a four top. It took 10 minutes to be greeted. We both orders chicken and dumplings which 20 minutes. We had to ask the management for silverware. The coleslaw was spoiled. I...
Read full review of Cracker Barrel
Cracker Barrel
-
Gift Card expired
I bought 2 gift cards a couple of years ago one in the amount of $100 and the other for $150. I tried to use one today ($100)and it said there were no funds left on the card. When I got home I checked the balance on the other card($150) and it also said there were no funds available on the card. I purchased these cards in Albuquerque at Cracker Barrel and I want so answers as to where my $250 has gone. When purchasing these cards I was told that they NEVER expire. I assume since the COVID closed dining they closed their books out for 2020 and stole my money. I want answers. Small claims court here I come if I don't get some refunds. Very unhappy and plan to advise everyone that they took my money.
Card for $100 is #3086 3993 0934 7121 832 Security#1586
Card for $150 is #3086 3993 0934 7121 410Security #5961
Desired outcome: Refund of $250
Cracker Barrel
-
Not being able to reach anyone
I am trying to correct an error, maybe on my part, but none the less. I did not receive my $10 Cracker Barrel gift card that was offered with the online Mother's Day meal. I didn't see anywhere on there to put my email to receive an e card. Nor have I received anything via regular mail. The Cracker Barrel where I ordered from stated they are not responsible for gift cards and referred me to the home office. Since then, after several attempts, I can't get ahold of anyone nor do they return my call when I leave my number. My email is [email protected]
Desired outcome: To receive my $10 gift card for Cracker Barrel
This review was chosen algorithmically as the most valued customer feedback.
In late April, I received a gift card to CrackerBarrel from my neighbor as a condolence regarding the passing of my mother in law. On June 6th, I went to our CrackerBarrel in Prescott Valley Az. and used my gift card to pay for dinner. I was told at that time that there was a -$0- balance on the card. I have to repeat that this was the first and only time I...
Read full review of Cracker Barrel
This review was chosen algorithmically as the most valued customer feedback.
On June 22, 2021 my wife and I debated whether to eat at First Watch or Cracker Barrel, we chose Cracker Barrel. We both ordered good morning breakfast. The biscuits just were not up to Cracker Barrel standards as per pre covid. The meal at First Watch would have been $8 more, but the increase. The service is good, but the quality of food is just so. I...
Read full review of Cracker Barrel
This review was chosen algorithmically as the most valued customer feedback.
Order# 6022559 Product  was unsatisfactory (pecan rolls). I had been purchasing a pecan roll after dining each week at one of your restaurants for over a year, but since I don't care so much about your new recipe for fried chicken fingers, I haven't been there for awhile. Ordered 8 pecan rolls online. Not as much pecan covering as I used to get at the...
Read full review of Cracker Barrel
Cracker Barrel
-
Fish
We did pick up at Cracker Barrel tonight (6/18/21). We normally eat the Friday Fish plate. We ordered our two go plates (2) and when we got them home this was the worst meal that I had ever seen or tried to eat. The fish was burnt, looked like burnt scrabbled eggs, soaking in burnt oil.

Normally, our fish are intact, lightly brown and not swimming in burnt oil. If we had been non take out tonight, we would have sent this meal back to the kitchen. Unfortunately, we were take out. Lesson learned tonight if I return to this business will be to check our food plates prior to paying for them to make sure we are not receiving burnt food soaking in burnt grease!

Very disappointment in Cracker Barrel for preparing this food for a customer to eat. I would not have fed this to a dog.

Loretta Houston
Aiken, SC
Desired outcome: Get your kitchen cook trained to cook a decent meal.
Cracker Barrel
-
Chicken pot pie
I had ordered cracker barrel online back on may 20th. Took it home ate my meal and only a few short hours i was sick. I was sick for 2 days. I have reached out to that location and havent heard a word back. Please help me with this as i will never order from there again.i find it unprofessional for not getting a response back as i was very ill. Something needs to be done
Desired outcome: My money back. Or to let them know about the situation
This review was chosen algorithmically as the most valued customer feedback.
05/21/21 I wanted the shrimp. I did NOT want fries (too much fried food in one meal!) I asked to have a substitution. I was advised no sub. I asked to have them just not serve the fries. I was advised "they come with the meal." I asked to have them on the side. No. I finally got a take-out container brought to the table and put my fries into that at the...
Read full review of Cracker Barrel
We are here to help
16 years' experience in successful complaint resolution
Each complaint is handled individually by highly qualified experts
Honest and unbiased reviews
Last but not least, all our services are absolutely free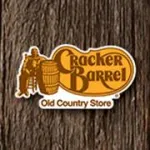 Cracker Barrel contacts