Overview of eDreams customer experience
eDreams, the online travel agency, has been receiving a lot of negative feedback from customers. The most common complaints include hidden fees, poor customer service, and misleading advertising. Many customers have reported being charged additional fees for services they did not request or were not made aware of. The company's customer service has also been criticized for being unresponsive and unhelpful. Additionally, customers have reported being misled by the company's advertising, which often features low prices that are not actually available. Overall, eDreams has a poor reputation among consumers and should be approached with caution.
Newest eDreams complaints
prime fee
They didn't remain me via an email or phone call and they take my money via my bank account for prime subscription. I didn't want to buy any services through their company because they are not honest. They said they cannot get me refund but when I received the pay announcement, I call them straightly for a refund, which is in 14 days. It is legal and reasonable to get my money back, while they didn't want to refund which I think they havedamaged my right. I don't think it is possible.
Claimed loss: get my refund which is 59.99 pounds
Desired outcome: get my refund which is 59.99 pounds
Refund
I attempted to book a flight 06/10/23 to Los angeles how ever i was not informed until 08/10/23 that i was short by £1.11 so ticket wasnt booked .

So i was informed i would get my money back 7 weeks on i have tried contacting via phone and email and NO ONE has got back to me and i still havent had my money back .

Please advise

I have tried several times to make contact and yet again today and the phone was put down on me.

Rachael Ruddock
Desired outcome: Full refund
Prime subscription
I was charged 60e for Prime of my friend. I did pay for her ticket last month and not even one of us knew that we were charged prime. No notion on the mail or anything. We just canceled our subscription and now we realized we cannot have a refund after 30 days.

This is very unprofessional. I travel a lot, and this was my first time using edreams and I thought I finally found a trusty site that can ease up my traveling, but I was scammed.

Let me know if you have a solution to this.
Desired outcome: I want to have my money back. I didn't have a invoice for this nor I was informed true the mail about this actions. I will make sure to be a very bad marketing if this does not get resolved and me and my whole company travels a lot.
Is eDreams legit?
eDreams earns 36% level of Trustworthiness
SAFETY ALERT: Our evaluation of eDreams found a legitimacy rating indicating a low level of trustworthiness at 36%.
There was some difficulty in evaluating or examining the information or data present on the edreams.com, an be seen as a negative sign of its legitimacy. This could indicate that the site is hiding information. Consider the potential risks involved in engaging with a website if you're unable to analyze its content.
Complaints Board has received reports that the website may be a possible fraud. To protect yourself, consider using a different website. If you find that the website is indeed fraudulent, report them to us, to help protect other consumers.
However ComplaintsBoard has detected that:
We found clear and detailed contact information for eDreams. The company provides a physical address, 3 phone numbers, and 2 emails, as well as 5 social media accounts. This demonstrates a commitment to customer service and transparency, which is a positive sign for building trust with customers.
Edreams.com has a valid SSL certificate, while Scammers can obtain a valid SSL certificate by using fake information or by using a stolen or hijacked domain. In some cases, they may even use a certificate issued to another legitimate website.
Our scan shows eDreams website is free from malware and phishing activities, which are types of online threats that can include viruses, worms, Trojan horses, ransomware, and other malicious code, as social engineering tactics used to trick users into sharing their personal information.
Several positive reviews for eDreams have been found on various review sites. While this may be a good sign, it is important to approach these reviews with caution and consider the possibility of fake or biased reviews.
We looked up eDreams and found that the website is receiving a high amount of traffic. This could be a sign of a popular and trustworthy website, but it is still important to exercise caution and verify the legitimacy of the site before sharing any personal or financial information
Our Conclusive Verdict: The company has a low level of trustworthiness. We advise being cautious when dealing with this company and to read reviews carefully, being mindful of any negative comments or concerns before engaging with the company.
Flight purchase
I bought 2 airline tickets from Edreams from Bologna to Bristol for 25 December 2023 , Christmas Day. The flight they found was via Zurich and cost £320.34.

Then swissair cancelled the first leg of the flight , offered an alternative which made a very long journey on Xmas day. so I took the option of asking for a refund. There was no indication that this would incur a service charge.

The refund I received was £ 213.28, that is £ 107.06 less than what I paid. This amount Edreams says is for service charges.

So they have charged about a third of the cost of the flight as service charge and without informing me. Very unfair !
Desired outcome: To be fully refunded
Refund for baggage payment
I bought a flight ticket from edreams and I bought and paid for extra bag as well. Only for the airline to charge me and collected another money from me, for my bag on the day of traveling. They refuse to board me unless I make the payment, which I eventually made because I tried severally to contact edreams on the day (since the airline claimed that the payment for the bag was not forwarded to them by edreams), but the customer service personnel that attended to my call said I should pay in order not to miss the flight, and later filled a form which he sent to me. Ever since I sent the form , as well as being calling them, my money has NOT been refunded. I have sent in the receipts of the payment (as they requested), still nothing regarding my refund
Desired outcome: I want my refund
Flight cancellation refund
Payment

Customer details

Full Name:

Bar Amram Basha

Phone number(s):

[protected]

e-Mail:

[protected]@gmail.com

Price and payment method

The total cost of your reservation is: $1697.18

The details of the amounts charged to your card are shown below :

TAP Portugal : $1323.24

eDreams : $373.94

Terms & conditions about your purchase and privacy policy

eDreams booking reference:

[protected]
Unauthorized payment taken
Hi

My credit card was debited $99.99 AUD on the 7th of November with the description EDREAMS PRIME BCN

I did not authorise this transaction. I rang the number for eDreams and it has been disconnected.

Please help me to arrange a refund and to delete my details from this company.

All the best

Wendy

wendy.[protected]@tm.org.au

You paid $99.99

Transaction Details

Date:6 NovemberNov 2023A E S T / A E D T(AEST/AEDT)

errorSome transaction information is currently unavailable, give it a minute and try again

From

Card ending 4812

Card ending 4 8 1 2

Status

Posted

Category

Unavailable

Description

EDREAMS PRIME BCN

Transaction type

Credit Card Purchase

Something not right?
Desired outcome: I would like a refund of $99.99 and no further deductions from my card.
This review was chosen algorithmically as the most valued customer feedback.
I am from sa I flew into cambodia on the 25th of october for a 3 weeks stay I also purchased a return ticket for 12 november back to johannesburg with my return flight ticket I paid exstra just incase I decided to say a bit longer, I then contacted edreams customer surport to cancel my ticket on the 4 november of which the total amount they wanted to give...
Read full review of eDreams
Marketing emails
I'm getting constant marketing emails. The "unsubscribe" button at the bottom of each email very conveniently goes to "404 page not found" meaning it's impossible to unsubscribe to marketing emails that I NEVER SIGNED UP TO IN THE FIRST PLACE! I have also tried calling and been sent a form to fill out which didn't work. According to Ofcom EDreams are illegally misusing people's personal data here.
Desired outcome: REMOVE [protected]@hotmail.com FROM ALL YOUR MAILING LISTS
This review was chosen algorithmically as the most valued customer feedback.
Flight were originally booked for March 2021 and changed to April 2021 via Edreams with Qantas Airline - Flight during this period were fully refundable due to covid19. The airline it self has reached out to alert it's passenger of any outstanding credit - and if not wanted to fly you can request a credit for it! I have been fighting back and forth since...
Read full review of eDreams
Refund request
Dear Support Team,

I requested a refund on my flight on the 10th of July 2023 (free cancellation). Its been 4 months now I'm waiting for news. The status of the refund is on on the same stage for more than 3 months now: "Pending airline authorization".

I contacted the chat many times before and the same message I get all the time "It seems there are no agents available right now.

You are back with me, Kris, the chatbot." its basically looping for hours. Ones I managed to talk to somebody on the phone and I was assured that I will get an update soon. Its was 3 months after my cancellation. I also unsubscribed form the Prime because I felt its not right to pay but do not get the help I wanted. Its really not ok.

I had a flexible ticket with Aegean Airlines which is very easy to handle when I buy a ticked directly from the airlines. I'm also a frequent flyer with them. I like to know when my refund will be processed on my account.

Thank you for attention

Etelka Raichel
Claimed loss: 200 EUR flight ticket cost
Desired outcome: I need my refund. Its been too long waititng
eDreams prime membership subscription.
On October12, 2023 I booked air tickets on eDreams website. I was charged in full for the tickets. To day I found out they charged my credit card for CAN$103 as prime membership subscription fee. I have never agreed to their subscription. How can they charge me for something which I have never agreed to. I don't even have an account with them. I checked all the emails from eDreams and found one where they advised me to open an account and set the password for prime membership subscription which I never did. This is a scam.
Cancellation fee
His is the worst service company, its a scam, stay away from their website.

My daughter booked a return trip and airline cancelled the flight however edreams did not advise anyone about cancellation. My daughter was coming home for a funeral and had to then pay for another return flight.

All they do is scam everyone and provide zero service. E-dreams needs to fully refund my daughters return flight of 350, as well as compensation for the full ticket purchased with another airline.
Auto-renew function on EDreams for Prime
This company tricks customers into paying for a Prime membership to obtain cheaper flights, then when you try and cancel it keeps auto-renewing anyway. You cancel it on the site, but you've still paid for the account for another year, so you may still use it for that year. If you try to use the account during the year (that you've paid for already) they re-activate the auto-renew again without telling you.

This practice is unfair and predatory and doesn't respect the client's wishes to cancel the subscription after the year ends.

I thought I cancelled my membership but it got renewed for another year. I then asked them to cancel it and they just told me I couldn't get a refund. If I use the account I paid for, the auto-renew will kick in again. So I just paid for an account but should not use it, if I wish to ever cancel this subscription. They offered me a service I cannot use if I ever wish to cancel my membership.

Any help will be very welcomed on this issue.

Many thanks.
Claimed loss: £59.99 annual renewal for Prime membership I do not wish to use for a year.
Desired outcome: Refund the fee and cancel my membership.
Flight cancellation refund
Flight booked from London to Boston (USA) return departing 18/10/2023. I took out cancellation charge and paid fees. I cancelled within the timeframe permitted by the contract. I have not received a refund and despite numerous telephone calls they have persistently lied and told blatant untruths about the timing, the fees, the entitlement, the content of telephone calls and offered no formula for resolution
No confirmation email
I chose 3 flights (The flight from Amsterdam to Oslo on Jan.9th 2024, from Oslo to Tromso on Jan.10th, and the flight from Tromso to Amsterdam on Jan.13th) on the Dutch website of eDreams (https://nl.edreams.com), I paid for them and my bank confirmed me that the transaction was successful. But I did not receive any confirmation emails nor a reference of my booking. After I signed in my account, there is no booking history! How can I know my flights' information?
Desired outcome: I want the confirmation email.
Flight refund not received
I booked a flight with edreams from Birmingham uk to Harare (Zimbabwe), flight was on 28.11.2023 and 3 hours to departure time i received an email from the airline saying my flight had been cancelled. I later found out that Birmingham Airport had shutdown due to air traffic signal issues.

I requested for my refund from edreams and up until today i have endless emails from Edreams saying they are trying to source the money from the airline so that they can pay me back. The help centre is unhelpful and full of lies, they told me at one point that my refund was going to take 30 days and now it is way past that.

My advice to those travelling, DO NOT USE Edreams, you'll never get your refund.
Claimed loss: I lost £2730.37
Desired outcome: I would want my refund back since Edreams never provided the service i paid for
Tickets & EMail Marketing
I made a booking from Athens to Heraklion, two tickets, on 5th of October for the Christmas period on 28th of December specifically . There was a message saying about a prime subscription at that time but nothing about any amount for me paying additionally. After one month of the reservation I was charged 83,54 euros, 3 days ago for no reason, I had purchased some air tickets 1 month ago but suddenly yesterday I saw EDreams had charged me for no reason and no transaction. Also I get email marketing from them and I can't unsubscribe from their list.
Claimed loss: 83,54euros + 1,67euros expenses
Desired outcome: Refund the money I was additionally charged
Flight cancelled, eDreams siad would raise refund but after 2 years have still not refunded
Reference of my booking from eDreams: 718******9

Cancelled by airline (not by me). I asked for refund from eDreams, they wrote to me on 16 June 2021:

"We would like to inform you that as checked booking with concerned team would like to inform you that going to update bank details as well as going to raise refund for P********W for 428.84 EUR so would request you to wait for 3-4 months as its involuntary cancellation"

It is now end of 2023 and I still have not received the refund despite numerous emails reminding them of it.
When I booked I paid for checked in luggage but thought I could use this as a large cabin luggage. Then I had to p
When I booked with eDreams (booking reference: [protected] - Airline booking reference: VIPBFM), I paid for a 10kg "checked in" luggage. I was confused with this as Ryanair generally charges for " a large cabin luggage option". This was what I had in mind as I couldn't travel with a larger suitcase having to flight with different companies.

I only realised that I couldn't take my luggage in the cabin when I reached the Ryanair gate and I didn't have time to go back to the desk to drop off the bag.

Ryanair asked me to pay again for that luggage () which I find very unfair as I had already paid for the luggage with edreams.

Could you please let me know how I can get a refund with edreams or with Ryanair for one or the other fees?

Thanks in advance
Collect Your Trust Badge
Be recognized for outstanding customer service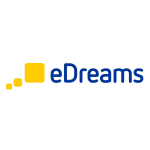 eDreams

contacts
eDreams representatives

eDreams_en.

eDreams
We are here to help
19 years' experience in successful complaint resolution
Each complaint is handled individually by highly qualified experts
Honest and unbiased reviews
Last but not least, all our services are absolutely free