The Pep Boys complaints
431
The Pep Boys
-
I feel Like I am being taken advantage of
on May 31, 2022 I took my 2016 Chevy Equinox to the Pep Boys located on 860 State Rd 7, Hollywood FL.

I am from out of town and while driving to Miami FL for my mother funeral I left forgot to replace the gas cap after pumping gas. Clearly on the gas cap it state 'tighten until click or the service engine light will come on'. I took the SUV to Autozone for a code scan and nothing came back the employee there recommended I put Fuel Injection cleaner in the tank. I did the engine light when off I continue my drive to Fl

Eventually the engine light came back on and I was told by one of Pep Boys representative they believe air got in the line and I can continue to drive the vehicle. However they did tell me to go the car to one of they locations if i have any issues My Equniox did not give me any issues while on the road.

I finally go the SUV to the shop and I was told it was a sensor. Ok, No problem they called me when was done and I information them that once my ride came to pick me up i will be there. While I was 5 minutes away Harvin called me and said " I have another sensor that when out and they will need to contact Chevy to get the part. I asked if I can drive the car and was no!

I don't understand The I said. when you all connected my SUV you said only one code was showing now it's something else. I did express tha0 to Harvin that I felt like they were taking advantage of me because I am from out of town. As I was leaving my car was the only car at the store being worked on that has an out of state plate on it.

So I left my car this morning June 1, 2022 Pep Boy did not call me I called them around 10:30am to see if they had a price on parts and labor. Harvin stated he has to call me back. Once he did he stated that the price will be $321 plus the $560 that was quoted for the first sensor work.

I waited all day and no one from Pep Boys reached out to me so around 5:30 I called back again and Harvin placed me on hold for 20 minutes. One of my older brothers asked me how long have i been on the phone and i said 19 almost 20 minutes, so my brother called and was placed on hold as well. another 12 minutes go by and my other brother calls the store as well. He was also placed on hold. Harvin finally came back to the phone, but not my line. by this time I have been on hold for almost 30 minutes. Harvin pick on and offer help my first brother that called in. My brother passed me the phone and I state who I am and asked if I can come and pick up my car. That's when Harvin told me that the mechanic said my car will not drive and now I can have motor problems but he will not know that until the master mechanic come tomorrow and look at the SUV.
Desired outcome: NOW I drove my car to pep boys which is over 5 mins from my mother's house, and it was fine! I honest feel like I am being taken advantage of. This needs to be address ASAP
The Pep Boys
-
AC Unit
This is to notify you regarding my recent care repair that did not go very well.

I had asked customer service rep to repair the AC of my Honda Civic 2018 on 04/09/2022, which they said didn't appear nothing wrong with AC unit and just added freon at store ID#0598 and Work order# 2288927.

It worked until 05/21/2022 not cooling and it blows hot and when I start the care then again it blows hot air and brought back to Pep Boys for reexamine the car again and after re-evaluating the AC unit they said is going to cost over $2,400.00 to have it fix
Desired outcome: A lower cost to fix the AC unit
The Pep Boys
-
Judgement in my favor Sept 23, 2021 for $1004.89 payment not received
Took pep-boys to court regrading my car that was not fixed properly paid $94.75 to file complaint in Municipal court SC-21-07-16-3519 Sept 2, 2021 a judgement in my favor was granted Sept 23, 2021 in the amount of $1004.89 a Sheriff;s Levy was served to the store location on 10/29/2021 that cost $88.18 to be served

I Have not received A notice regrading this issue or a refund from pep-boys once notifying the sheriff's office I was told to give it six months before hearing anything from pep-boys once I call the sheriff;s office again in regards to moving forward it was stated that I could recoup my money with a sheriffs sale at the cost of $75.00

Need assistance in clearing up this issue
Desired outcome: My refund and a response on moving forward
The Pep Boys
-
PEP Boys damaged the repair on my car
May 16, 2022

TO WHOM IT MAY CONCERN,

This is my third attempt at sincerely requesting a response to my complaint that PEP Boys compromised my suspension system from not accurately diagnosing the cause and damaging my Stabilizing Link prompting my traction control and ABS system to shut down. Safety issues are the paramount issue. I have to get a New York State Inspection before the end of the month and have my car repaired. I paid $6, 000.00 to have my car repaired. NO response within the 45 hours, This is not a "query".
This review was chosen algorithmically as the most valued customer feedback.
They did a balance and a few other things but I noticed I am missing the headlight panel cover. It protects from water and debris. This is right under my batter! I feel unsafe and I trusted these people. I will never go back to that place. I rescheduled twice after making an appointment stating i'd wait for my car and then I wait for my service only to find...
Read full review of The Pep Boys
The Pep Boys
-
Suspension
April 29, 2022

TO WHOM IT MAY CONCERN,

I have spent a total of $6,086.73 getting my suspension repaired at your 345 4th Ave, Brooklyn facility. On 12/8/21, I brought my 2014 Cadillac to your 4th Avenue, Brooklyn facility indicating a sound emanating when I brake or depress the accelerator. After a $3,064.55 repair bill the issue was not resolved. Recently my ABS and traction Control lights highlighted on the dash. I took the car to Cadillac and during examination, he discovered that PEP Boys, according to the Cadillac Technician, in writing states PEP Boys "left front wheel speed harness and convector damage. Right front suspension harness from strut damage due to suspension repair at PEP Boys".

I am not seeking nothing more than my automobile being repaired. As a customer that has spent a considerable amount of money with your organization and all my bills have been paid and if you are not interested honoring your commitment to quality service that would be very concerning. My name is Harold Holloway. Phone number is 347 715-6797.
This review was chosen algorithmically as the most valued customer feedback.
I had an appointment to take my car in for an oil change on 4/16. I received a call to reschedule for 4/17 (Easter Sunday) due to the mechanic being out sick on the 16th. I was available and okay with the change. I went in to drop my car off and the man working in there stated, since mind you it was Easter, that I "should be at home cooking for my husband...
Read full review of The Pep Boys
The Pep Boys
-
I received estimate for 1000$ when it's should be a valve
I took my car to get looked at they checked and said it was probably a valve becuz their machine shows nothing wrong but they didn't have valve I took to pep boys they seemed me in I dropped off at 9 am and at 2pm they finally was looking at it he said when I called them said it would be bout 25mins well an hour and a half later they still didnt call I called them he said it needed like 6 freaking parts and would be 1100$ ummmmmmmmmmmmmmmmmmmm I said ill come pick up they charged me 67$ so I brought car home and the man im caregiver for it's his car he went outside in wheelchair hes 85 can barely see he went outside and sees leak coming from valve so what the hell I mean thats what I got told in first place just need air only one window rolls down and all it's hot in tennessee so I mean wtf they trying to pull I need air
Desired outcome: Want air
This review was chosen algorithmically as the most valued customer feedback.
Dear Sir or Ma'am, Back in mid-January, I took my 2016 Chevy Sonic into get the heater and A/C system checked out. After the diagnostic, it was discovered my thermostat and coolant hose had to be replaced, cost was around 500 dollars. There was nothing wrong with the A/C then, fast-forward to a week ago when it started getting warm enough to use it. The...
Read full review of The Pep Boys
The Pep Boys
-
Store no. 1595 service work order no. 2126057
This work was done on 11/4/2021.

Part No. DL3000 New Air Mass Sensor was put in my 2005 Lexus 330. Since the day that this part was put in I have had a problem starting the car. When I turn the key to start the car it never catches. What I have to do is step on the accelerator. I have gone to a Lexus/Toyota dealer who has informed me that the problem is that the part which Pep Boys put in was an aftermarket part and not a Lexus part. I am now going to have to have Lexus/Toyota put in an actual Lexus part to remedy this problem.

If you check your records for the amount of business my wife and I have given you under phone nos. 908-220-2531 and/or 908-361-8880 you will see that we have given Pep Boys a substantial amount of business over the last several years.

I have attempted to resolve this at Store No. 1595 but have not received a call back.

Please see the attached portion of Service Work Order No. 2126057
Desired outcome: Please reimburse me for the parts and labor for the Air Mass Sensor which you put in.
The Pep Boys
-
Services from Area District Manager Lee, Rhoden, Memphis Tn
Woman-basher, one sided that makes it overwhelming and stressful to work with co-workers or customers. Male employees advantages that he let get away with from stealing parts, tires, batteries or driving fleet cars for male employees own personal usage and time letting some male employees to sit in there car all day long and still on the clock. Implicate Bias Manger

that is ok to accept when it's woman that work there too. Fleet companies trust Pepboys to repair $30,000 and higher rental car or sales only to be driven for personal reasons and you knew it and still let it go on from 2021 and 2022 as soon as employee wreck Pepboys has to hold count and all time you are aware of this each time. This is a conflict of interest because nothing comes out of it because male employees that he says irreplaceable. Woman can be replace by a male anytime
Desired outcome: Disciplinary Actions & Termination
The Pep Boys
-
Service Manager-20 year employee-dismissed without valid cause.
This comment is probably unusual since its goal is to complement the service and demeanor of a 20 year employee of PepBoys who was recently terminated. This employee was the Manager of a Service Center in Bridgeville, PA. His great sin, apparently, was to advise a distraught customer that he was unable to help due to lack of mechanics and imminent evening closure however he did advised that a Pepboys competitor was open later.

The next day, this Manager was tested Positive for Covid, went into isolation and was terminated immediately upon return. With his departure, the Assistant Manager and Lead Mechanic both have quit.

I have been a customer at this Service Center for 9 Years, since David Boehm became Manager. With 5 vehicles rotating through the Center constantly, I came to value Mr. Boehm's advise and recommendations. In the last 2 years, with staff shortages, I have watched him clean up and complete tasks that would allow his mechanics to focus on customer needs.

I learned of his termination when calling for an appointment and requesting a quote for pending work. After waiting for 3 weeks I have given up. This lack of customer service would never have happened under David Boehm.

Having spent many years in a corporate environment my antenna senses the phone call excuse is a smoke screen for something more sinister. Whatever the real reason, where is your sense of customer loyalty. After all these years, I now need to find a trustworthy and reliable shop for my future automotive needs.

Good luck with your future in Bridgeville, PA.
Desired outcome: Loyalty and respect are critical to a successful business. Decisions made for spurious and destructive reasons need to be reviewed, to determine if the punished employee is the real problem.
The Pep Boys
-
Improper repair
On 1/16/2022 I took my F150 to Pep Boys at 6325 Fallbrook in Los Angeles for a probable coolant leak: every couple weeks I had to add more, there was a specific steam-like smell, the cabin heater didn't work.

They called to tell me I need a new water pump and valve, that that's why the check engine light was on (I explained that I had been told the code was for arbor position sensor, and possibly spurious for this model but they insisted it will get resolved by their work), that it's $900 something, to be ready same day.

It wasn't ready until 3 days later. On 1/19 I paid, went to the car and when I started the check engine light came on. I went back in and they said to come back Friday when their expert is in.

Since it was only 2 days later I didn't drive until 1/21 when I took the car back in. The drive is a bit under 3 miles. A couple hundred feet away from the service station, at the light before getting to the place, massive steam started coming out, something I've never seen before. Shortly after the engine overheat light came on, first time I've seen that, and the engine almost completely lost power (a safety feature, I found out later).

After I got there they sent the guy who they said worked on it the first time. I said no thank you, I want someone more competent — the "expert" whom I came to see in fact. They ignored me and left, went in the back, walked away from me. I said fine, I'm not letting you guys destroy it further, please add some water so I can go somewhere else. They said not to go, it's not safe, it needs a hose coupling and they're going to order it! (I found out later that indeed they just stuffed one hose into another; also they didn't have some gasket so they used caulk instead.)

I went to the truck which cooled enough to open the water reservoir, poured in all the bottles I had with me and went to another service station.

I left the car and a while later I was told: that they have to replace the water pump and valve (again? were they really replaced at Pep Boys? I was given the replaced parts which can be inspected); about the missing coupling and gasket (I have what was replaced); and that the check engine light was unrelated and it might be indeed a bad connection to the arbor position sensor.

After the work on the cooling system was done again properly, the truck runs fine and the cabin heater works.
Desired outcome: At a minimum a full refund ($925.27).
This review was chosen algorithmically as the most valued customer feedback.
On 1/31 my daughter drove into the Pep Boys in Verona, NJ after the temperature gauge and the check engine lights went on. Technician checked and said that the coolant level was good, although when I spoke with Tony on 2/8 he told me that the coolant level initially was low, so there is a discrepancy between what I was told and what my daughter wa...
Read full review of The Pep Boys
The Pep Boys
-
Scamed my wife with service I didnt ask for and over charged her
I scheduled an oil change appointment online for PepBoys #1567, STOCKBRIDGE, GA. The appointment was for a synthetic oil blend for high mileage and to rotate the tires which were free because I purchase my set of tires from this store also. To my surprise when my wife called in a panic because her bill was $105.00. Once I saw the invoice there was a manager special for full synthetic oil and fuel cleaner for $20 which I did not request. I have had issues for the last year with this store ever since the manager left who is now at the Mt. zion location which is further from my home. The last time they would not honor the warranty on the tire set i bought for my truck.. I called and could not speak with the manager so I called back 3 times and left a voicemail for someone to call and explain why he changed my specific instructions and charged my wife extra money. You guys are about to lose a loyal customer.
Desired outcome: I would like some of my money back or a free oil change since now I have to put full synthetic in my wife's car when I never have before.
This review was chosen algorithmically as the most valued customer feedback.
I drop my car off on the 29 Dec 2021 at 9:00 am appointment schedule. The appointment was for a squeak noise and lights. I was told I needed a engine diagnostic done on my car the day I made the appointment. After I drop my car off I got a call later that day saying I needed bushings and fuel cleaning, ok and if I wanted my lights done that my bumper have...
Read full review of The Pep Boys
This review was chosen algorithmically as the most valued customer feedback.
Since covid began tensions are high wait times excessive crop speaking of wait times I'm still waiting on some paychecks from you. Don't worry customers you think your stonewalled work there. So far as a service writer I wear many hats I'm no longer in there inner circle there a corporation who doesn't care about there employees. Work 10 to 12 hour day...
Read full review of The Pep Boys
The Pep Boys
-
Incomplete car services
On 12-17-2021 took my car to the pep boys location in east norriton, Pa for some brake pads and rotors upon completion I noticed my car is now making some weird noises that did not occur until I had pep boys attend to my vehicle on 12-23-2021 took my car back to same location informed employees of the issues I was now experiencing with my car they informed me to come back at a better time on 12-27-2021 at 10am and someone would take a look at my car today on 12-28-2021 my car is still making the same exact noises as if nothing was ever done to fix said issues I've sent $438 thus far and still having the same issues and the work is not being completed and employees don't seem to want to take care of the issue I've been to this location 3 separate times and again nothing is being done to resolve my issue the mechanic is not tending to the problem at all
Desired outcome: Full refund or actually completion of correct services needed
This review was chosen algorithmically as the most valued customer feedback.
I went to pep boys at Tremont Ave in the Bronx today 12/15/2001 about 1:30 pm to shop for a battery for my car. I was told I had to go to service. first, there was only one guy and he was on a conference call so I had to wait. then finally a guy named andy asked me what I was there for I told him I wanted to buy a battery he responded to stand aside and...
Read full review of The Pep Boys
The Pep Boys
-
ridiculous waiting time, right size but wrong tire put on
nov.30 store #258 east tremont ave bronx ny margery tabb 2019 black CTS Cadillac
We were on our way to Boston when pothole ruined my left front tire. We got of highway at Zarega Ave in Bronx We had the donut spare put on an and went to the nearest Pepboys. waited over 2 hours in waiting room overflowing garbage pail looked like not emptied that day..One of two bathrooms was out of service No paper towels in other bathroom. No one came out to look at the tires but took the info off the door label I took photo of as asked to do.. Once at destination I found that a Humane trap I had in trunk was not put back I was now in Massachusetts so no going back Car seemed to pull when driving which I attributed to an incorrect air amount of 38 lbs in it I went to my usual tire place here in Brooklyn who told me it was the wrong kind of tire. My car is all wheel drive with run flat tires no one asked me anything about that. I surely thought they knew. The store was understaffed and seemedly overworked. So now I had to buy another tire too..This was an exasperating and disappointing experience for a major store. I'm sorry for the people who live in that area that they have this to rely on.rl #7087042 DCA# 1074199
Desired outcome: I would love to return this tire to a Brooklyn Pepboys
We are here to help
16 years' experience in successful complaint resolution
Each complaint is handled individually by highly qualified experts
Honest and unbiased reviews
Last but not least, all our services are absolutely free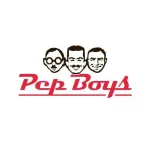 The Pep Boys contacts