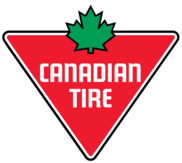 Canadian Tire
Customer Service
PO Box 2000, Station Main
Welland
,
Newfoundland and Labrador
Canada
-
L3B5S3
How does Canadian Tire work?
Canadian Tire Corporation Limited is a Canadian retail company which operates in the automotive, hardware, sports, leisure and housewares sectors.
How can I contact Canadian Tire?
Via email :
[email protected]
,
[email protected]
,
[email protected]
,
[email protected]
Via phone :
Online Customer Support:
+1 866 746 7287
Corporate Customer Relations:
English: +1 800 387 8803
French: +1 800 565 3356
Canadian Tire Roadside Assistance:
+1 888 727 7478
Options MasterCard:
+1 800 459 6415
Triangle Rewards:
+1 800 226 8473
By Mail: PO Box 2000, Station Main Welland, ON L3B 5S3
What is the return policy?
Unopened items, with a receipt, in original packaging and returned within 90 days of purchase will receive a refund to the original method of payment** or will receive an exchange. Items that are opened, damaged and/or not in resalable condition may not be eligible for a refund or exchange. Click on the tabs below for a list of exceptions and exclusions to our returns policy.
Valid photo ID may be required.
What are the payment methods?
Canadian Tire accept Masterpass, Visa, Visa Debit, Mastercard, Mastercard Debit and American Express.
Where is the company located?
Canadian Tire are located in Mississauga, Ontario (Full address - 6670 Meadowvale Town Centre Cir Mississauga, ON L5N 4B7)
Is Canadian Tire a legitimate business?
Canadian Tire have been around for almost a century now so they are no doubt legitimate, but their customer service should definitely work better at resolving customer complaints!