The Brick complaints
1092
This review was chosen algorithmically as the most valued customer feedback.
I purchased 2 of the same sofas almost 2 years ago. The one sofa was defected and they changed the whole leather cover this past spring and the colour has all worn off. Both sofas are used just as much. I understand that the warranty for the repair is expired. I have always purchased all my furniture/appliances/electronics at the brick and I'm currently...
Read full review of The Brick
The Brick
-
sofas and dining room
my Name is Martha Angel
I being customer for the Brick for all my time in Canada, always happy to get all my place full of the Brick items, then 2 years ago I got the dinning table and living room, I am not being happy with the quality, even tho I bought the guarantee, I called before to fix and I still have the same problem, is a design problem, the legs of the chair and table get loose evne tho I tide them and the people who fixed it did it before, I am taking a risk that this heavy table fell down one day in mom (82) legs, she almost fell down yesterday as chair are a disaster, my husband work for CTV news and I don't think you guy will appreciate this ADD in the morning news if my mom get get hurt ., I am asking kindly let me change for a diferent model and if I have to pay small diference I don't care, I just feel frustrated that this items dfidnt work for me and the store 4 weeks ago is supost to be sending me a guy to repair and no body showing up.
the sofas fabric is all rip off I am just very unhappy, WE JUST BOUGHT A NEW HOUSE IN PICKERING AND WE WANT TO BRING SOMETHING THAT CAN TELL OTHER OH WE BOUGHT IT AT THE BRICK, but doenst look we will be able to say, please someone help me in this matter call me or do something, I really appreciate someone help me to change my living room and dinning room for a diferent model . I need to buy more stuff for my new house but look like if I don't get help I will have to go to Bad Boy to furniture my new home, repair didn't work before and I don't want to repair again when I know wont work, I want to exchange for new models, please help
kindly help me
Martha Angel
6478359677
This review was chosen algorithmically as the most valued customer feedback.
Today I should've got my delivery from 12-3:30 after I waited till almost 4. I called in and ask the person picked up she say she don't know anything and she have to contact the driver. I waited another 45 mins for the back but it never happened therefore I called back again waited 5 mins for someone to pick up the phone but no one did and I called back...
Read full review of The Brick
This review was chosen algorithmically as the most valued customer feedback.
Good day, I hope all is well. I am particularly disappointed regarding the service I recently got from your Customer Service Team. I got delivery of my Sofa like 2 weeks after the estimated time and when I called I was told it wasn't booked after I received a call for delivery and I had to wait another 1 week. I bought a swivel chair and Ottoman from...
Read full review of The Brick
The Brick
-
mattress
First of all placing a mattress claim was a big deal with brick store at 565 west hunt club road, Ottawa. After receiving no call for 2 weeks we checked back and the lady said she forgot to submit our claim or gave lame excuse so she submitted claim again with event# 2680001.
After 4 weeks a technician comes from manufacturer and takes picture and confirms us that the mattress sags from many spots and it definitely eligible for claim.
After waiting another 3 weeks I called back today and lady at brick store tells us that our claim has been declines for the mattress has dirt spots on it WHICH IS NOT TRUE AT ALL see attached pics and find me a single spot on the mattress it is spotless. So, I told lady it is not the fact then she said she is going to email and then will call us back which she did not called the whole day.
I called back at night and some other lady told us there are no record for our today's call not sure if someone emailed so she is going to email and will call.
The Brick
-
bed frame
I made a purchase online in august and choiced to pick up at Surrey centre location . The bed frame was purchase for our new home since we just got married in august. But when we opened the box at home, some parts of bed were missing, we couldn't install the bed frame immediately and we hv no choice to sleep besides on the floor which was ruined my first day after marriage. We went back to Surrey location and was told that the parts could be ordered but with six weeks shipping period, are these parts shipping from the side of the world ? I don't understand why it takes so long. Then a manager told me that I could buy a matched parts form Rona or Home Depot. Unfortunately, my husband shopped around and couldn't find the same one. We have no choice but bought some similar parts to try to match so that we have a bed to sleep. It's really impressive and terrible experience with the brick. I was trying to email to complaint but no one replys me back and I hope this email works. Also when I purchase online, there is bonus for aeroplan that I don't receive till now. It has been more than 1 month.
The Brick
-
service
They have sometimes good discounts, but certainly I will try to buy in anyplace else before choosing this one again. They have awful services.
I bought a bed in there and unfortunately, they sold us boxes (it is two, because it is a king bed) for put under the mattress so high that I couldn't go to the bed without jump. In other store, Leon's, I showed for a salesman my bed and he didn't recommend for us any box, he said that what was best in my case is to buy a plywood for put under the mattress.
Unfortunately, the brick didn't agree to pick up back these boxes in my home, that for me in the first place it shouldn't have been sold for us, or certainly they really should have advertised us about the height issue (the boxes idea was from the salesman that told my husband that it would be great for us - the opposite of what it really was)

In the end, the best option that the salesman gave to us was change these boxes for another one half of the size (that I believe is cheaper than the other one, but instead to give us credit they kept for the same price). I received these new boxes today, and they aren't solving my problem, I really wish that I hadn't never bought these boxes.
But, how they didn't agree to pick up back these boxes, I certainly would have spent more money if I had rented a car like a pick-up car to put all these boxes in, and then take back to the store.
It is necessary to say other thing, they sometimes can give you wrong information's, because the salesman told me when I went to the store that I couldn't bring back the boxes that they couldn't accept these return at all, but when I showed him the information that has in the website (we can return products within in 3 days of delivery), he changed his speech.
Other thing, for alert you: the customer service after you buy is awful awful, a piece of wood of my bed was delivered small (wrong) and they told me to improvise instead to exchange and give me the correct piece. They told me to create a new hole in this piece and in my bed (by myself) for putting the screw that is left for solving this problem (do you believe in that? In the instructions for set up the bed don't say that I need a drilling machine)

They told me they were going to call the next day that I went in the store with these questions, but they didn't. I had to come back again and I only get this exchange that I said above. I keep waiting for somebody call me and solving my other problem (the wrong small piece of wood that was delivery it).

For all this, you can see that we didn't receive a correct and good service, instead we received a dishonest and inappropriate service.
This review was chosen algorithmically as the most valued customer feedback.
I bought a sectional sofa on Sept. 28th 2017 at 4pm from Brick store. The sale person was: Hardeep C (Phone# 604-833-1210). What happened to me was unbelievable. Honestly, I wouldn't expect this action from Brick staff because this is will affected their credibility in Canada. When I bought the sofa's the sales man offered me with purchase order 3 year...
Read full review of The Brick
This review was chosen algorithmically as the most valued customer feedback.
October 7, 2017 My name is Henri Nadeau I am a vet and I am 70 years old. On October 4rth at 1630 hrs my wife and I went to our local Brick Store at 1960 Cyrville road East K1B 1A5 in Ottawa Ontario. With the help of Patrick Stone we found the sectional couch that was perfect for us. On July 18 I had major back operation and was looking for a very specific...
Read full review of The Brick
This review was chosen algorithmically as the most valued customer feedback.
I purchased a Sectional sofa in the spring of 2015 without an extended warranty. Currently, the stitching on all seams have come apart, including the seams on the ottoman of the same material. I have been attempting to resolve this issue for weeks. I have emails from their customer service when calls went unanswered. I spoke to the sales manager Len who...
Read full review of The Brick
The Brick
-
service
We purchased an extended warranty for our d/w. I called in the have it fixed and was told the tech could come out sept 29. I took the day of work so I could be home when the tech came. I called sept 29th morning to see an approx time when they might be coming. I was informed that yes you have an appt but no one is coming because your parts are not in. No one bothered to call me prior to this day to let me know. I have lost a days pay at work and can not afford to take another day off when my parts do come in. This is extremely unacceptable. We have shopped a the brick many times and this is a huge deterrent to not come back. Not to mention wasting extra money on an extended warranty that can not even be used.
The Brick
-
leather couch and loveseat
Purchased a leather couch and loveseat fro the Brick in Windsor, Ontario. With this purchase I also, bought the extended warranty. I'm having issues with peeling on the couch and sagging cushions, stretched leather, and was told that I would get full replacements initially and now are only offering partial payment. I spoke to several people at the brick in Windsor and finally spoke to Diane Melo the General a manager. She did not resolve the situation. She was relevant to give me any number for your head office and would not even tell me who the CEO of the Brick was. I am very disappointed about how Imwas treated and not valued as a customer.
The Brick
-
customer service
I would like to make a formal complaint about the manager, Tyson, at the brick in Stonebridge. I was there with my parents who were replacing their chairs under warranty. I have also been a loyal customer of the brick for many years but I will never shop there again. While speaking to Tyson about the warranty issues we have had there, Tyson was short and rude. As I was leaving the store, I was sharing my thoughts on the experience with my mother, while I heard Tyson call me passive aggressive under his breath. I turned around and asked him what he just called me. He said directly to my face that I am passive aggressive and made undermining comments the whole time I was there. I was simply expressing my thoughts on his products and warranty. Apparently, I'm not allowed to have an opinion. My husband then went up to him to say how rude he was. I have never been treated so horribly by a manager at a store. I'm shocked and appalled by his behaviour and the way he spoke to me and how he attacked me. I had an opinion on a product and he attacked me as a person. I will never shop atbthe brick again because of m experience with tyson. I also witnessed him speaking down to other employees while we were there. My parents left today without making a purchase because of him. I would like something done about him immediately and I would like to know the outcome please. I need to know that something is going to be done so that he can never speak to another person like that again. I have worked in retail for many years and I would never dream of speaking like that to a customer. I was not happy with the products and voiced my opinion about that. But apparently that is not ok with Tyson. He had to be sure to call me names before I left his store. I will definitely be letting my friends and family know about my experience with Tyson at the brick. I seriously cannot believe what just happened today.
This review was chosen algorithmically as the most valued customer feedback.
I cannot tell you how disappointed I am with your team here in Waterloo at the Ira needles location. I have just purchased a brand new home and went to your break location to "test it out "... I ordered my three-year-old daughter her brand new big girl bed making it very clear that I needed an entire set boxspring mattress and rails. I ordered a set of...
Read full review of The Brick
The Brick
-
the worst customer service ever!
This company is irresponsable. The Brick on Douglas St Victoria BC. They have a delivery day established in my contract, I organized everything for that day to receive the merchandise, and they just said that the sales person made a mistake, so the delivery is set up for a month later! They would not even delivery my things the next day of my call! The customer service person was arguing with me the delivery date, and I had in front of my the contract with the delivery date ! I asked for my day off work and for a person to assemble the items, and they won't consider all the trouble they have caused! This company is very irresponsible, I do not recommend it to anybody! Stay away from them, they do not care about their customers.
This review was chosen algorithmically as the most valued customer feedback.
My name is Deanna Chitolie-Cassell and I ordered a coffee table and two nesting tables from the brick online. This was done Wednesday September 13th. I was confused with ordering to a store so I called the store located at 2770 Victoria Ave E, Regina, SK S4N 6M5 and talked to a girl on the phone who said it will be here by Saturday and I asked if I wasn't...
Read full review of The Brick
The Brick
-
aldo marble kitchen table
Hello,

I purchased this table amongst other things in June 2017. I had my third table delivered to me today which was damaged again. I advised that I do not want to be inconvenienced a 4th time to have another attempt at delivering me a table. I was advised that the only reimbursement I could get was 50-75$. One of the chairs that came with this table is more than $75.00. No one I speak to seems to have customer service skills. I'm beyond frustrated and sick of the run around.

Not to mention, I work for a very large home builder that uses The Brick for our appliances. I'm willing to keep a damaged table! I would like a half refund at the least.

I would like some assistance in resolving this as soon as possible.

Thank you,
Christina Garcea
The Brick
-
customer service
I purchased a dish washer on 22nd August. And i told the sales the house has already sold, so i wanna you can help me deliver and install it asap. She said yes, and promised you can help my install the new one and recycle the old one. So i paid it immediately for $479. On last Friday the driver delivered it. no body helps me installed it. the driver said i didn't pull it out so they can not recycle it. i accepted it is my fault, but the driver is so rude, and they left the dish washer in the living room and then left. So i contacted with the sales, maybe one hour later she give me the feedback, she said the driver would recycle it and install it. Then the driver came back, just recycle the old one. nobody even help me install it. i have no idea about that, how should i install it by myself?
And the sales told me she talked with her boss, and they will let somebody come here to help me install it with no charge, and i also found other store sell the same dish washer only$379 or $389. and the sales told me the customer service will contact with me for the installation and they can also refund me the difference. Until now, customer service never contact with me, and today is the closing now for the house, so i have to install it. So i hired a guy to help me install it for $100 yesterday. and today, sales contact me the most early day is tomorrow, but today is the closing day.
Until now, no customer service contract with me.
The Brick
-
delivery of my sleep chest furniture
Hi
I'm in montreal and recently purchased. Mysleepchest furniture... 3 delivery men showed up one morning with my delivery that they left up to me to assemble as the waybill didn't stipulate assembly was required
I immediately contacted my salesman who too was in shock of the lack of instructions. I informed him that I had reached out to a neighbor to assemble it for me as I wants able. No worri d he told me!

He reached out to his customer care department and was told to send in the amount it cost me (75$) thru email with copy of the invoice. I reiterated I had hired a neighbor, no worries send it in and they will repay the cost

After 1.5 months I hadn't heard back to I contacted my sales rep and was told to deal with customer care... wellll let me tell you your operations director is not a friendly person, and very rude! You would think that they would have sent an email at least acknowledging mine... totally unprofessional

Bottom line, the Brick is NOT reimbursing me because I didnt hire a professional to do the job that his employees were supposed to do when the bed was delivered, even though I had mentioned to my rep what I had done

I have purchased a lot from you in the last few years... not sure you will be getting any of my money ever again

S. campbell
This review was chosen algorithmically as the most valued customer feedback.
I purchased a dining set, a coffee table set, and a sofa set at the Brick store in Surrey, BC When the items were delivered, the dining table had a huge crack on one corner, the coffee table had defects and damages all over, and one of the dining chairs had a huge crack. It was appalling that they would deliver such damaged furniture. When I contacted the...
Read full review of The Brick
We are here to help
16 years' experience in successful complaint resolution
Each complaint is handled individually by highly qualified experts
Honest and unbiased reviews
Last but not least, all our services are absolutely free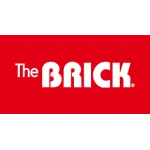 The Brick contacts
The Brick representatives

The Brick

The Brick Customer Experience

The Brick

The Brick