Qatar Airways complaints
560
Qatar Airways
-
ticket
My name is Melina and I usually book my tickets with Qatar Airways to Dubai. I was told that I have a disease and started chemotherapy in Sweden. But I wanted a secound opinion and booked a ticket to Iran to find out if there are other chances of surviving my disease. I have both Swedish passport and Iranian passport. So I booked my ticket to Iran after 18 years on April 20th from Copenhagen, when I was leaving my bag, your employee who was Pakistani forced me to buy a return ticket and asked me why I do not have a visa (I do not need a visa to go to Iran when I have an Iranian passport), then he asked me why I go to the Iran, I told him about my disease and treatment and maybe they can help me in Iran, he laughed at me and told me that everyone goes to Germany for treatment but you go to Iran! he starts to mock me and told me you're sure it's your passport because of my veil. He forced me to buy a return ticket and I ran last minute to fix a return ticket. There were no tickets so I had to buy a ticket with an airline that I never usually go with. I travel either with qatar or emirates whenever I travel.

I was forced to buy my ticket. He also decided that I have to go back to Sweden within 30 days because of a visa which is wrong because I am no stranger in my country. I have an Iranian passport.

I am really sad and will not let go of this because I have been attacked by the employee and his behavior. He forced me to buy a ticket that I did not want but had to, otherwise I could not travel.

I have a referral from doctors in Sweden and now ive booked an appointment in Iran, which means that I will have a referral here when I meet a brain surgeon.

The same day when I bought my return ticket I sent an email to the other airline but they dont want to give my money back.

I will report this and would like to forward this to someone responsible for Qatar airways.
Qatar Airways
-
flight (last call) & attitude
QR flight 241
5P5UDM

Dear Sir/ Madam,

I was coming flying back from Istanbul (SAW) to Doha on 22/04/2017. My flight was scheduled to leave at 19:30, however boarding had not begun until near to the time (flight was slightly delayed). Me and my two other colleagues decided to go to the lounge to get some food. When we saw the flight screen it said "last call" we rushed down to our gate. When we got their the manager of Qatar Airways said we are not allowed to board the plane because we were late. However, this did not seem to be the case as the plane was still on ground and connected to the gate. Additionally, it said on the flight screen "last call". I have taken a picture of this for evidence and the time of the picture taken has been recorded automatically. The manager was very rude to my colleague and he shouted at her saying that he would "blacklisted her". I found this very unprofessional. This is all clearly evident on CCTV. Me and my two other colleagues would like a refund for our flights as we feel that we have been very unfairly treated by your staff/ company.

Hope to hear from you soon.

Kind Regards

Yasser Khan

Tel: +974 33589599
Email: [email protected]
This review was chosen algorithmically as the most valued customer feedback.
Respected Sir, I am working in a very respectable and responsible seat in a well known organization of Govt. of Pakistan. To perform Umrah i preferred to travel on Qatar Airways with my sister, my wife and my son (Aged 1 year and 8 months) on 04th March 2017 with very bad experiences of Qatar Airways airport staff on each side. At first I purchased 2...
Read full review
This review was chosen algorithmically as the most valued customer feedback.
Whatever you do, do not book this airline - here's a timeline of events and a summary of what happened to us! Timeline, 24/ 25 march 2017 14:15- due to depart from london heathrow, qr4 15:00- left heathrow, 45 minutes late - no explanation why 01:00- due to leave doha for dubai international airport, qr 1002 12:45 arrived in doha late so missed the...
Read full review
This review was chosen algorithmically as the most valued customer feedback.
Hello, I arrived in Melbourne on the 27th of November 2016. Qatar Airways brought my baggage after 9 days and my man suit was stolen from my baggage. I made complaint about this and the baggage service company (Dnata Baggage from Melbourne) asked me to send them a lot of documents, including the receipt of the suit. Fortunately, I had all the document...
Read full review
Qatar Airways
-
ticket change
I bought tickets for my parents for unmra at qtr airline because of my trust on its service and today they are suffering because of my decision.the ticket provided to us in return at jeddah airport for flight 1189 was change due to unknown reason to 1187 and no one inform us my parents show the ticket to staff but they were told that at this time 1187 flight is bording u should contact later.later at flight 1189 they were told that as per system their flight were 1187.now they are ruining over their .i contact the local office at peshawar but they told me that the ticket is ok those people are misleading them.to whom should i complaint now.only way now from onward on social media as much as i can will told all that never trust on qatar airwYs.

Noman afzal
Cell no 03335747944
Peshawar pakistan
[email protected]
Qatar Airways
-
air travel
To whom it may concern

Qatar airlines has been my first choice to travel with until recently that I had a round trip from Tehran to Doha and Seoul and came back to Tehran.
QR 499 – 16 March
QR 858 – 17 March
QR 859 – 24 March
QR 482 – 24 March
Unfortunately during this round trip I found several inconveniences.
1- After arrival to Incheon Airport- Seoul we found that one of our bags has not received.
The next morning they brought the bag to our hotel; the wrapping has been opened but nobody explained us why this problem happened and no body made any apology.

2- During my flight from Seoul to Doha, the breakfast menu was finished.
3- During my flight back to Tehran, I asked for a headset to watch a film. The attitude of the host was not friendly.
4- During serving the breakfast, the tray was fallen, the host gathered the items from the ground and served it to the travelers. Once again four boxes of omlettes were fallen on the ground; some of them became opened and the food were spoiled the ground. Once again, he gathered the boxes of food and served it to travelers. I asked the opposite side host to give me my serving she refused.
5- During our previous flights, the airplane went very calm and without oscillations; however, this time all the flights had severe oscillations.
I would be thankful if you kindly re-evaluate your processes.
Qatar Airways
-
21 hours without hotel, without also giving me a transit visa that I will pay for because I am egyptian (Racist)
My QR booking Number is (2V487D) I Was flying from boston to Alexandria on March 12, and i have 21 hours and 50 minutes layover.I called them before for a hotel and they told me that they will reply after three days.Then, They told that On your particular booking, complimentary accommodation cannot be offered as the directional value is less than USD400 and i should pay 125 $.I called them the day after and asked if i can get a transit visa as i have my sister in qatar working there so she can host me.The customer service told me that i can get a transit visa in the airport with a 55 $.I arranged someone to pick me up according the "reliable " information from the customer service .Then, when i got to the transfer desk they told me "we sont offer this service to EGYPTIANS" and asked me before do you have visa for any other gulf country and i have a way better visa "the american visa" and then he told me sorry we cannot offer you the visa. I will not forget this, staying 21 hours in the airport.being lying at from their customer service offfice and being racist by preventing me to get the visa just because i am Egyptian.I will not use qatar racist liar airway again and i will also lead a campaign against it.totally inhumane service
Qatar Airways
-
baggage
Pathetic service. No one weighs carry on baggage any morebut they did and then the agent told me that i could get a back pack to transfer stuff. so i go buy a back pack and then they say that we cannot allow. I had to end up paying extra for checking that bag in. I had never encountered this prob before. I travel a lot and never encounter r this problem.
This review was chosen algorithmically as the most valued customer feedback.
On 03/03/2017 I have tried more than 5 times to book the travel online on your website. After I have inserted all my and my partner details, meal preferences etc it appeared a message: "We are unable to confirm the fare for the flight you have selected.Please choose a different fare or flight and resubmit your request 15012-421". I have called 0800174865 #...
Read full review
Qatar Airways
-
bad service
I was on your flight on sunday and I was very disappointed with the service because I found them very rude . So when I buzzed for a drink they never came over so I had to go up there and get my drink . Really not happy with your service . Qatar airways i have had a very bad experience . Hope I don't wait too long .

I want something sorted about this and my email is [email protected]

David warner
Qatar Airways
-
I have complaint about female hostess.
Hi, i have complaint about female hostess.
on 1/Feb/2017 i came from dubai at 18:40 QR 1013
the hostess was female indian i don't know her name but she was that time at same flight
she treat me very badly she was impolite when she talk to me regarding foot rest she shout to me in front every body saying ( put it up ) as if I'm her serving she was very rude
even she didn't say excuse me or please, that is happen before take off i put it up without saying any thing.. but she came back to me after 20 mint and she told me agin very badly
put it up i told her can you talk me in nice way, , , she answer me " put it up i will come back for you to see you " what is this ? she mean to bather me. please i need action regarding her .

thank you
This review was chosen algorithmically as the most valued customer feedback.
Dear Sir/Madam I am writing to complaint about a delayed delivery of my luggage which let me to suffer the cold of winter in Salzburg / Austria, my final destination. I paid a ticket for a flight Entebbe – Doha – Vienna (Airline reference: 2D3V7G, Electronic ticket number: 1571010315523) as you can see from the pictures attached, to attend a medical seminar...
Read full review
Qatar Airways
-
cash stolen on board
Dear sir/madam,
On 31st december 2016 at 10 pm, I boarded on qr 1019 to travel back to doha. My seat no. Was 16c (Eticket no. 1571060351854-2.
Since the overhead cabinet above my seat was full already and I had one hand bag and one plastic bag with two gadgets purchased from duty free. I put these two bags on the overhead cabinet of seat no. 18 e (Central left) and settled on my seat 16c.
My hand bag was carrying my laptop, my passport, my purse etc. I my purse, I had cash qar 10889 / - and a small amount (400inr+20sar).
When reached doha, I took my bag and unboarded, collected my baggage and came home. When I opened my bag and opened the purse to put the cash in home locker, I was shocked and surprised to see that all the cash from the purse is vanished, not a single currency note was left in the purse.
Qar 10784 / - I had exchaged from duty free exchange at dubai airport, I have evidence of it.
I am 100% sure, that some one (Passanger or cabin staff or ground staff at dubai airport-who were on board for a while, doing so many activities. ) on board only has stolen my cash with full ease and confidence while I could not notice it, because the bag was two seats behind of me. The thief did not touch my qatari id, passport, bank debit and credit cards in the purse; he/she only stolen the cash.

I am sure, being the world's best airlines, qatar airways aircrfts must have cctv cameras in the flight to trace the activities. Kindly help me find the theif of my cash and punish him/her appropriayely.
I am sure, my complaimt would attract proper attention of concerned authorities of qatar airways and some positive result would come out.
Thanking you
Trilok sharma
31578881
This review was chosen algorithmically as the most valued customer feedback.
I purchased an air ticket via Qatar Airways in Riyadh on 24/11/16, in the anticipation of flying to Budapest for my dental appointment on 25/11/16 at 11.30am. (i.e. Last Friday) My ticket reference no.7TS39G. I was boarded the flight QR1167 around 3.15am on 25/11/16. The aircraft taxied to runway. Just about to take off, the pilot announced that the...
Read full review
Qatar Airways
-
stolen bag from cabin in business class doha-houston qr713 qatar airways on 10th dec'16
We are the passengers tickt nos#1579164863638&1579164863639 in seats no#3k&3j on flight no#qr713 on 10th dec'16 from doha to houston.upon landing at houston airport while deplaning we could not trace our cabin baggage kept by airline employee(male)in overhead luggage compartment which is weighing 7.5 kg and blue(metallic) make:piquadro 20" size.
After the landing we enquired with all the cabin crew and of no use. it was one of the cabin guys who helped my wife to load it after lifting that baggage into overhead compartment. we know for sure it was one of the staff/ employee of the airlines who helped the placing of bag in the overhead compartment. mr nadeem said he came and introduced after we settled in the seats and it was not the girls. we could not place the guy specifically and my wife and me were sure about bringing the bag inside and to the seat . we hope you can trace it after thorough investigation at your end and help us in this matter.
The bag contains jewellery plastic container( 3 nod gold waist belts belonging to our grand daughters& 2 necklaces approximately $44, 000 to $50, 000/-(usd).response from the airlines ground baggage service was not encouraging and helpful.they are very cool and not acting immdtly.even cabin staff walked out their way and were left to ourselves complaining going pillar to post and anxiously waiting ti hear from airlines and about restoration of bag as it contains family jewelry brought for a marriage in family and our grand daughters' first birthday celebration.
Our contact:
9175463038(land line)
9179756118(mobile)
Qatar Airways
-
customer service in dhaka airport in bangladesh
my wife and our two boys fly oct 09, 2016 from Miami to Dhaka and they come back nov 05, 2016 flight 639 from Dhaka, they had 4 hand carry bag incloding my 11 years old boys bag pack.who is give them boarding card, he told them you have more then 7 kg is your bag if you can make another bag and make under 7 kg then I can let you go.then he told her where she can buy bag, so she did .after that that gente man and women was in checking point they told her you 3 person can carry only three bag .not more then three.they was asking money from her, she deny.
now my point is if she can carry only three bag why he tall her to buy bag, and then they asking for money ? this is the service your airlines providing ?
1 afroza haque
2 moinul haque
3 miadul haque please let me what you can do to this people.my email is [email protected]
Qatar Airways
-
unethical and rude behaviour by check in supervisors
Hello,

I was supposed to fly to Qatar (connection) at 5:30. I arrived at 4:30, No luggage, online checkin, e-gate in hand. I thought i am better off printing my boarding pass, and i gave my passport to the counter personnel (girl). She took it and took her time instead of just telling me she can't print my pass for whatever reason. Your ground staff took 40 minutes to check what is multi entry visa and after insistence it turns out my visa is valid, and they just wasted my time.

At this stage, they wouldn't allow me to board anymore as i was "late", and they refused to help me at all. The Airways-Supervisor and the shift leader started telling they don't care and it is my responsibility and talking in a very offensive way.

Is that acceptable in your opinion?
Qatar Airways
-
lost baggage
Please refer to my complaint ref. with Qatar Airways: (case reference:  CAS-679188-L7L6P3 ) CRM:000300075168. My son was returning home on KRT-DEL sector by flight details QR1328 (KRT-Doha) & QR570 (Doha-Delhi) on 15.05.2016.

His Booking Ref: 157-2313183453

His baggage was lost in between & it contained his books & study material. He is preparing for Engg. entrance exam. His exam is on 21.05.2016 in New delhi & all his books & notes are missing due to Lost Baggage by Qatar Airways.

Without the books & notes, he can not do his revision & his future is at stake. He was preparing for last 2 years for this. He is 12th class student. Qatar Airways just filed the missing baggage request & standard reply...wait for 48 hrs.

I have very bad experience with them in the past also. But now i am thinking going legal as they don;t respond.

Please help if you can...

Thanks

Br.

Pushpak Verma
+249-123990069
The complaint has been investigated and resolved to the customer's satisfaction.
Qatar Airways
-
lost baggage
My family was travelling from Moscow to Windhoek on the April 5th 2016.

Moscow-Doha, Doha-Johannesburg were operated by QA.
Johannesburg-Windhoek - by South African Airlines.

On the arrival to Windhoek all 3 checked-in bags were missing so my parents submitted a claim to SAA. The next day one of the missing bags were delivered. The others remain lost.

After contacting QA, SAA, JBN Airport numerous times, i finally got the information that the bags never arrived to Johannesburg and 100% left Moscow. SAA assured me that they never received the bags from BidAir. They even checked the cameras! So it became obvious that the baggage is left behind in Doha.

Speaking to QA customer service (i used european one) doesn't work as they keep saying that they don't get any reply from Qatar after sending them a couple of requests regarding the missed bags. So in 2 weeks i asked for the phone numbers in Doha and decided to find out myself. I was given 2 numbers: +974 44 153 026, +974 40 105 586.
Non of them work, nobody picks up the phone.

The other phone number - +974 4010 5106 - that i found on the QA website also never answers.

But that's just a half of the story. On the way back to Moscow on the 19th of April 2016 the 3rd (!) bag got missing! And it is clear that it is stuck in Doha again because my parents made sure that their baggage was loaded onto the airplane in JBG.

So on the arrival to Moscow my parents had to file another claim. The QA lady in Moscow said she doesn't see the missed bag in the system.

Today we are trying to reach Moscow QA reps but again - nobody picks up the phone.

Booking ref #: z7wnup
lost bags #: QR 121392, QR 121427, SA 751144

How is t possible to lose 3 bags out of 5? Will we ever receive them?
Who's gonna be responsible for the lost bags?
Who is going to pay for the lost bags?
How can QA call themselves a 5-star airline?
Resolved
The complaint has been investigated and resolved to the customer's satisfaction.
We are here to help
16 years' experience in successful complaint resolution
Each complaint is handled individually by highly qualified experts
Honest and unbiased reviews
Last but not least, all our services are absolutely free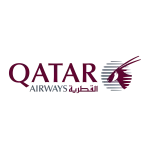 Qatar Airways contacts