Delta Air Lines complaints
431
Newest Delta Air Lines reviews & complaints
Baggage handling
My cpap was packed in my check bag in its padded case and was broken by Delta. They found a way to blame me for it and won't take responsibility for their poor handling of the bag. Insurance will require a new sleep study and then I can get a new machine which will cost me a lot in addition to the adverse health effects from essentially not having any sleep until I jump through all the hoops. Never trust them with your bags.
This review was chosen algorithmically as the most valued customer feedback.
I am a Delta recent flyer. when boarding on my out bound flight the gate agent stated all military, active and retired can board the plane. As a disable retired veteran, I appreciated that jester. However, on the return flight the gate agent statement was only active-duty personnel. when I questioned the difference between my departing flight, she became...
Read full review of Delta Air Lines
Delta & Los Angeles Airport Terminal Distance
11/7/2023 LAX to Orlando, Fl flight DL718 Boarding 3:45 pm (ticket [protected]), My wife had this return flight home upon checking in, the flight was changed to a different terminal. Which was no problem, the issue was change to an international flight departure terminal area. She had no idea of time and distance to get to the correct terminal. I suggest adding time of walking to the destination, my wife walked roughly 4,000 steps which is about 1.9 miles!
Desired outcome: Would like them to consider not only terminal departure, but time it takes to walk to terminal.
Is Delta Air Lines legit?
Delta Air Lines earns 94% level of Trustworthiness
SAFETY NOTICE: ComplaintsBoard has analyzed Delta Air Lines and determined that it has perfect credibility and is completely trustworthy, with a legitimacy rating of 94%.
We found clear and detailed contact information for Delta Air Lines. The company provides a physical address, 38 phone numbers, and 2 emails, as well as 4 social media accounts. This demonstrates a commitment to customer service and transparency, which is a positive sign for building trust with customers.
Delta.com has a valid SSL certificate, which indicates that the website is secure and trustworthy. Look for the padlock icon in the browser and the "https" prefix in the URL to confirm that the website is using SSL.
Our scan shows Delta Air Lines website is free from malware and phishing activities, which are types of online threats that can include viruses, worms, Trojan horses, ransomware, and other malicious code, as social engineering tactics used to trick users into sharing their personal information.
Delta.com you are considering visiting, which is associated with Delta Air Lines, is very old. Longevity often suggests that a website has consistently provided valuable content, products, or services over the years and has maintained a stable user base and a sustained online presence. This could be an indication of a very positive reputation.
Delta Air Lines website is deemed to be popular and indicating that it receives a high volume of traffic. It is important to be cautious when using a highly trafficked website, as it may be a target for cybercriminals looking to exploit vulnerabilities or steal personal information.
However ComplaintsBoard has detected that:
Despite a high level of trust, our investigation found issues with Delta Air Lines's service, including poor customer service, lack of accountability, and responsibility to resolve complaints. Customers may face long wait times for responses, receive generic or unhelpful answers or no response at all. Only 25% of 0 complaints were resolved.
There was some difficulty in evaluating or examining the information or data present on the delta.com. This could be due to technical issues, limited access, or website may be temporarily down for maintenance or experiencing technical difficulties.
Delta Air Lines protects their ownership data, a common and legal practice. However, from our perspective, this lack of transparency can impede trust and accountability, which are essential for establishing a credible and respected business entity.
We conducted a search on social media and found several negative reviews related to Delta Air Lines. These reviews may indicate issues with the company's products, services, or customer support. It is important to thoroughly research the company and its offerings before making any purchases to avoid any potential risks.
Our Verdict: Delta Air Lines is highly recommended company, but beware of poor customer service. Their 25% Resolve Complaints rating is a cause for concern. We advise using their services securely and reviewing complaints beforehand.
This review was chosen algorithmically as the most valued customer feedback.
10/27/2023 I just caught a bit of the Atlanta TV Channel 11 noon news, and there was a "report" about how excited, grateful, or whatever a bunch of Delta employees were because they were on a flight and realized it was the first time the entire crew, pilots and all, had shades of brown skin that they like to call black. These people looked around, judged...
Read full review of Delta Air Lines
over billing
Delta overcharged my Citi credit card $2366.06 for a flight route change. I have tried resolving the issue with Delta for over a year, and nobody can explain their mistake. I contacted Citi Bank and disputed the charge but they do nothing. Citi wants to be paid for a charge that I did not authorize and I can't contact anyone at Delta to reverse the charge.
Desired outcome: Have total charges reversed and someone at Delta contact me in regards to the overcharging.
customer service
-my flight out of tel aviv was canceled which is understandable and i am not upset about that- i have been unable to reach Delta to manage my booking- get things taken care of. i am very frustrated with your lack of customer setting support- i have been on the "help" chat for over an hour and a half- i had to retell my story 4 times- only to be abandoned again by your agent- the 800 "customer service " number says you are not taking calls- please call me asap- i just needed a small thing now im beyond upset and disappointed - we have to do better. please call me
Desired outcome: to get in touch with a human person to manage my booking and apply for a refund
This review was chosen algorithmically as the most valued customer feedback.
Due to the flight delay on 6/25/22 in SMF, we missed our connecting flight in LAX to Mexico City. We were stuck at LAX, for 12 hours, with an 8-year-old! It was very inconvenient and tiresome! We arrived in Cancun a day late, so we also lost approximately $1,000. We stayed at an all-inclusive resort. We should NOT be liable to endure that cost due to an...
Read full review of Delta Air Lines
Items stolen from my luggage
On yesterday at 12:09 p.m., I boarded a flight in Jackson, Ms. My final destination was D.C. with a layover in Atlanta. I packed two purses in my checked luggage and paid a fee of $130.00 because the luggage was overweight.

This morning when I unpacked my luggage, my two purses were not in the luggage where I packed them. One was a Louis Vuitton cross body purse. The other was a beige St. Laurent handbag.

I'm offended that a Delta employee would rummage through my luggage and take anything out.
Claim for cancelled flight
I need help trying to get compensation for a cancelled Delta flight.

I am from England and booked return flights to Nashville via Atlanta from Manchester.

This was all booked through Virgin Atlantic.

We were given Virgin Confirmation and Virgin Ticket numbers.

The flights from Atlanta to Nashville and back were with Delta

The flight back from Nashville to Atlanta was cancelled. This meant we missed our flight from Atlanta to Manchester.

So, we had to get another flight the next day.

Regarding compensation for the cancelled flight

Virgin say it is Delta's responsibility.

The Delta claim form will only accept a 13 digit number starting with 006

How do we make this work? Our Virgin e-tickets were

[protected] John Nicholls

[protected] Beverley Nicholls

Booking Ref: CKBRFE

Delta cancelled flight DL2282 (VS5000)

9th September 2023

BNA 14:52 Direct Delta. Operated by Delta. ATL 16:59

Thank you for any assistance you can give.

John Nicholls
Desired outcome: To be resolved
Canceled flight additional expenses.
On monday, september 11, 2023 flight number dl 2394 was canceled and rescheduled for 09/12/23, with flight number dl 2560. We would like to be reimbursed for 1 night in the hotel $398.95, rental car $100.57, and evening meal for $277.75 for the two of us. We were unable to get reimbursement online from delta so we called delta and were told to use this method.

Richard joseph brouillet, jr. And pamela ann brouillet

32 patriot lane shrewsbury ma 01s545

Home phone: [protected]
Desired outcome: please refund $777.27 thank you richard and pamela brouillet
Update by
RICHARD Brouillet, Jr.
This review was chosen algorithmically as the most valued customer feedback.
i need your help. My name is Richard Alme, live in Atlanta, On August 9. approximately at 6:30 AM I checked in for a flight to Belize, leaving at 10:15. I was told at check in I had to have a return ticket, Belize requirement. So, I purchased one paying cash. However, you don't take cash, so I was escorted to a machine that takes cash and gives a debit...
Read full review of Delta Air Lines
This review was chosen algorithmically as the most valued customer feedback.
First of all, its been a while since my last business travel due to covid and business in nature, but what a surprise! Its 29 Aug 2023 and I have completed our business early at New Jersey, so i drove back to Newark Airport and requested a change of flight to earlier time in the day to Atlanta and the agent at the counter was super nice and set me up with...
Read full review of Delta Air Lines
Damaged Bag
I recently went to Punta Cana DR from Austin. Travel dates 08/09/2023-08/16-23. Used a Brand New piece of luggage. Did not lock it and haven't locked luggage in many years. That being said the locking piece/device on this Brand New Piece of luggage was ripped off clear from the bag. We all know how the bags are handled and quite frankly not well but this particular time just frustrates me because it was a first trip out of country due to COVID, since losing my husband 9 months ago and it was Brand New piece of luggage! I would appreciate compensation, it's really the only right thing to do. Thanks in advance.
Desired outcome: Compensation and/or Replacement oif bag.
Stolen tickets
Confirmation code HMQG4D ticket numbers were stolen and and reused by someone named Fernando Daniel, per your sales reps. The original ticket numbers are [protected],27 for Deborah Washington and Precious Jones. Purchased to fly on Sept 28 from JFK-ATH and return on Oct 6th. On or about July 23rd, someone stole the tickets, changed the name, and used the tickets to travel. I am very aware that International tickets cannot have a name change so how did this happen? Now my entire trip is ruined because I have another record with 4 passengers and we were all traveling together. I have purchased new tickets for the two above but I want my money back for the new purchase which is at an extremely higher rate. My vacation is destroyed! I am very upset and need a quick resolution before m y trip starts. I can be reached at [protected] Kecia Wynn. My locator is HNK6BH (pty of 4). Please get this resolved. Thank you.
Desired outcome: Rebooked on same flights, and refund on higher-priced tickets I just purchased today 8/25/2023. That locator which I booked today for Washington and Jones is HBO23J. Please resolve this fairly. Thank you
This review was chosen algorithmically as the most valued customer feedback.
Trip and Passenger Details Name: Anthony Rinaldi FF: [protected] TRIP: HAJHMU Round trip flight from Tampa, Florida to Concepcion, Chile August 11th Flight DL1614 TPA to ATL • Paid LYFT $65 to travel from my home to the Tampa Airport • Inbound aircraft maintenance issue in Atlanta. • Sat in the TPA Airport for 4 hours until there was no way I would make...
Read full review of Delta Air Lines
This review was chosen algorithmically as the most valued customer feedback.
I'm a Delta rewards member. I'm a veteran and disabled. Last year, I was poorly treated when flying to be with my down syndrome son. A flight I was schedule, it had, it was booked and no pilots where available. By the time I managed to get into SNA, my hotel only had one disabled room near the maids closet to give me. Very disturbing and noisy. Not what wa...
Read full review of Delta Air Lines
This review was chosen algorithmically as the most valued customer feedback.
Good evening. My name is Shara Altagracia Pena. Passport #[protected] I was on a Delta flight returning from Santiago Dominican Republic on 7/11/23. It was a night flight # DL1969 from Santiago to JFK airport in New York. I was traveling with my domestic partner who is 87 years old. His name is Donald Arken. We traveled to Santiago together on 7/4/23. By...
Read full review of Delta Air Lines
This review was chosen algorithmically as the most valued customer feedback.
Delta Complaint Submission Case #[protected] My flight from New Orleans to SLC was originally DL1482 leaving on 6/26/23 at 7:43 PM with a connecting flight to Reno, DL1741, departing at 11:25 PM. On the morning of 6/26 I was notified by email that this flight was now leaving at 9:17 PM. Because of this change, I was unable to make the connecting flight and...
Read full review of Delta Air Lines
Delayed flight
Sat 24/06 flight DL208 JFK-EDI flight delayed for 4.5hrs family party of four.There was little reason given for the delay which is annoying I believe our seat numbers were 38A+B,39A+B.One of our party my son John Andrew Lumley is a wheelchair user and this delay was distressing to say the least.I do not understand what information is missing can you be more specific?
Desired outcome: please refund/compensate
Update by
john valentine lumley
It is now 12th Sept and still no response from Delta Airlines why?.Is it too much to expect the common courtesy of a reply?
Update by
john valentine lumley
It is now 15th August and still nothing from Delta regarding my complaint.So what happens next?
Update by
john valentine lumley
It is now 19th July and still no reply to my complaint is anyone there at all?
Update by
john valentine lumley
Jul 15, 2023
10:35 am EDT
Am I wrong in expecting a reply from Delta about my complaint I first logged my complaint 15 days ago and I have had no response?
Update by
john valentine lumley
I thought that I had added a comment but cannot find it.I do not have receipts for drinks snacks or meals but obviously bought some during a 4 hour delay.I thought your airline would have had a duty of care.I am asking for a response to a delay totally your fault affecting the enjoyment of our family holiday as a gesture of good faith if nothing else.
Update by
john valentine lumley
Jul 03, 2023
10:20 am EDT
Sat 24/06 JFK-EDI Flight number DL208 take off time 10.05pm.Actual take off time 25/06 02.30am.Seat numbers 38A+38B,39A+39B.Passenger names are Mr Linda Lumley,Miss Joanne Lumley,Mr John Andrew Lumley and myself Mr John Valentine Lumley.There was little reason given for the delay that started at a 2hour delay and ended up being 4.5hours.I think the reason was being short of a captain.I have already filled in a complaint and was told more info was needed and to click on the link on your reply.This did not reveal any other place place to supply more info.I have e-mailed yourself on Sat and again today Mon asking for help but no reply as yet.
This review was chosen algorithmically as the most valued customer feedback.
Me and my 5 granddaughters were scheduled out of Boise on June 22 at 1:34 on flight DL 874. I got on early because of a handycap. I never got on a plane that was basically completely dark. I should have known that there was something wrong then. Eventually everyone got on board and we were then told that there was a computer problem that was being...
Read full review of Delta Air Lines
Collect Your Trust Badge
Be recognized for outstanding customer service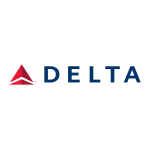 Delta Air Lines

contacts
We are here to help
19 years' experience in successful complaint resolution
Each complaint is handled individually by highly qualified experts
Honest and unbiased reviews
Last but not least, all our services are absolutely free