This review was chosen algorithmically as the most valued customer feedback.
On 12/16/2021 I signed a contract with 50FLOOR for Phenix N259 Front Runner carpeting and laminate flooring. I showed and informed the salesperson I wanted the stairs as well as half of my house completed by them. The last 4-5 stairs were wood and he said that they could still carpet it. When they came out around January 7th, they at first said I would...
Read full review of 50 Floor
This review was chosen algorithmically as the most valued customer feedback.
The products are great the work done was solid too. Where 50 Floor falls atrociously short is on timeliness. Sales said it was a 1 day job. Installers said it was a 2 day job. On day one they somehow wound up in Cape Coral instead of Lehigh and were about an hour late. On day two they show up "on time" but at the end of the proposed delivery window and they...
Read full review of 50 Floor
50 Floor
-
My floors from 50floors at Capitol Heights MD
They came out 3 weeks ago to repair the landing by the stair an6 it up again I had problems with my floors from day one the floors I picked out did not have spots in it I sends pictures and frist they said it was a manufacturer defect then they said it wasn't I had an inspector to look at it and was told that the floors was defected. Some of the plank have space in between them and the spot that are in the picture 80%of the floors this bad my husband who is a retired veteran save money to get my floors done we paid cash we are very disappointed
50 Floor
-
Laminate flooring disaster
I entered into contract with March 10, decided on installation date and was told crew had quit the morning of installation. Disappointed but by making small talk I discovered that that did not have to remove my floor but I had been charged $600 extra for the job. I called 50 Floor and was promised to get a return call within 30 minutes, Its been several hours and my calls are sent to voice mail, Now I am disputing charges with credit card company. Poor customer service, slick salesman high prices. Stay away!
Desired outcome: i would like a refund of my deposit
50 Floor
-
molding not being put back and floor heating vent gone.
Had carpet put in a room, supposed to be indoor outdoor carpet, had

molding in room, took it up and put some of it back, broke some and

said they would come back to replace it. Said vent broke and didn't

replace. it. Have called and talked to several people. No answers,

except that they do not put molding back w/carpet. Why did they put

some back and not all of it...also no answer on vent. Very bad work

and very bad customer service. I am 88 years old and this is not

the service i expected and what i paid for. Never again will i use or

recomend you. I will be putting pictures on Face book to show how

bad the work is.

Geneva Catoe
Desired outcome: to finish putting molding back and vent replaced
50 Floor
-
Berber carpeting
Oct. 2021 I had berber carpeting installed throughout my home (100 sq. yds.). by end of Jan.2022 developed a noticeable wrinkle in LR. They came out and stretched a section of the rug and tacked it down. this should never have happened. this rug snags easily and I use a "pill" shaver on it regularly. This rug is not going to last long. In the hallway where the rug was seamed, it is very noticeable. I would never recomend doing business with this company, this product is very poorly made. I am sick as can be over this purchase. unless you have money to burn, please deal with a reputable company. the 22 yr. old berber that I had replaced was far better quality than what I now have. I am praying that this monstrosity of a rug will last at least 10 yrs. but I am very doubtful. everytime I see one of their commercials I want to break my tv.
Desired outcome: a refund......or at least 50% refund would help me to feel better about the bad judgement that I made, buying from 50 floor.
50 Floor
-
Disappointed
Very disappointed in the flooring! Doesn't match up, the guys got stain everywhere, and I'm not happy with the work that was performed! The team they sent did not speak English so it was very hard communicating about what the issues were. The sales rep Ryan Lacy doesn't call you back once he has the check in his hand! Have reached out to 50 Floors but have yet to receive a call back! Just a total rip off and now have to pay to get someone to redo the floors after spending over $25k! Over promised and under delivered and I would advise anyone not to use them!
Desired outcome: Someone from 50 Floors to make this right
This review was chosen algorithmically as the most valued customer feedback.
This is the most unorganized company I have dealt with. We ordered new wood floors to be installed in our guest bedrooms in may 2021. The sales rep came out and seemed great. He showed us some wood floor samples and we decided on one. We were told the floors would arrive in 2-3 weeks and we could expect our floors to be installed in early july. Mid july...
Read full review of 50 Floor
50 Floor
-
Carpet Installation - Delayed
Met with Representative from 50 floors on 9/18/2021. I explained we were going to carpet two bedrooms, but I was remodeling and wanted the first bedroom done first and the second when I was done remodeling. I specifically asked if this was going to be a problem, If so I could wait to order the second carpet. I was informed it would not be a problem.
Carpet is now in, but 50 Floors refuses to install unless they can do both rooms at the same time. Unacceptable!
May be the end of December before I can get my bedrooms carpeted now. I would not recommend 50 Floors at this time. Not due to quality or workmanship, but because of their Management.
Thanks Aaron
Desired outcome: Split order. Perform install on first bedroom now. Second bedroom when remodeling is finished.
50 Floor
-
No Return Calls / Questionable Quotes/Amendment Refusal
Hello,
I have a major concern about your Salesperson Paul Colter. He is a very untrustworthy salesperson. I inquired to get an estimate for Vinyl flooring in my family/Dinette area, hallway, carpet in the bedroom, and closet( all small areas). Paul Colter came and measured my space and after 2 hours he came up with a quote of $9, 000+. I immediately told him, no. He came back with a different quote of $4718.00. It was still too high but I accepted. It took 3 weeks to get a call from 50 Floors to remind me of removing small items and removing my bedsheets from my bed. The installer came the following week with only the carpet for the closet. I asked where are the rest of the carpet and he said that's all they ordered. I called Paul but he put the wrong phone# on the form. I called 50Floor upset and a Mike was to call me back (never called me) two days later I called 50Floor and talked to Launa and she reviewed the order and said- the way Paul wrote up the order it wasn't clear for understanding (but, I said you ordered it anyway?) I told her Paul wrote an incorrect phone# on the form, she gave me his phone#. Paul called me the next day and said he did not write up the wrong order and he been in this business for a long time. I reminded him, I doubled verified with him that he ordered the correct products/style/color and he confirmed that he did but he lied. I will not know actually what he ordered until I see it. After discussing the incorrect write-up. Paul then said, he would make the corrections and said that would save me more money. My concern is that after double-checking with him that he had the order right, he took it upon his own to sell me what he wanted knowing it would increase the cost.
Paul then said he would call me back with the adjustment he called me 3 days later. He told me that my credit would be $735.00 and that he needs to have me sign an amendment form for the adjustment. I suggested to him because my master bedroom has more sq. footage than my smaller bedroom and small bathroom to just take the $735.00 and do the other rooms. He said that he will come over to measure the rooms to see what he can do. I have not heard from him in 4 days and he will not answer my call, I tried calling 50floor and they will not answer their phone.
To this hour I have no idea what is going on and you have 3, 000.00 of my money in your possession.
Totally disappointed in how you do business and the people who represent your brand.

Vanessa Guy
Desired outcome: Full Refund, or make this awful experience Right
50 Floor
-
Laminate flooring
My floor was installed October 2020. I was pleased. The installer suggested cleaning with swifter. I've used that method since. Recently I've notice some bulking. I contacted the Capital Heights store initially to no avail. Latisha the General Manager called me back leaving a message stating I had no warranty but I could have a repair and site visit if I paid for it. I submitted pics they said there was water damage which is not true or the damage would be more widespread. I then contacted the Corporate office left messages for Charlene Anthony. She had a conversation with me and said she would call me back after further investigation. No follow up at all. I now know the warranty that came with my service is not worth the paper it was written on. 50 Floor response to customer service is simply no response and unanswered voicemail.
This review was chosen algorithmically as the most valued customer feedback.
I had a floor installed in Feb 2020 and a week after the floor was installed, I called because one of the tiles was coming up. The tech came back out and put glue on the tile. Since that time, I now have several tiles coming up. I expIained to the representative that my original contract stated that 60 sq.ft of subfloor was needed to make repairs. However...
Read full review of 50 Floor
50 Floor
-
Installation Not Complete causing damage to new and original flooring
This company did not complete installation, lied and said they would be back out the next day to install floor transitions, and no one showed up. Now a month later, transitions are still not installed, causing damage to flooring in that area. The planks have shifted, have chipped, are damaged, and are a safety hazard as a result. I called and spoke with customer service, filed a complaint, and they transferred me to two contacts on separate occasions. The first was Andy, I spoke with her once or twice and she said installers would call me to come back out. After they didn't, she stopped answering my calls and did not respond to voicemails. I called customer service again. They sent installers out and a supervisor, and each time, they just take pictures of flooring and worsening damage, saying I would hear something within a day or two. No follow ups. I had to initiate all calls. Customer service had Judith as my contact person the second time. She was good at responding to my calls at first, all pleasant calls, but later just stopped returning calls and voicemails. No additional installation has taken place, just empty promises of follow ups. GM was supposed to call me, however, he has not and is not answering my calls. I wish I would have went with another company like Empire or a local company because this run around is frustrating and unprofessional. I wish I could give 0 stars.

Update: And I see where the company responded on Google saying I last spoke with someone on 6/2 and this will be forwarded to their team. Yes, I called Judith for an update that day, again me initiating the call, only for her to tell me that they could send a sales rep to give me a price quote on fixing the foyer, the area that is damaged because of the chain reaction caused by them not installing the thresholds in the first place, which are still not installed. I was not happy with that solution of me paying for the damage they caused. She said a GM would call me in an hour. No call from GM the whole day. I called GM, he did not answer. Judith called back saying GM had a family emergency and he would call me the following morning. Next day, no call from GM and no answer when I tried to call him. I called Judith for the last time on 6/3 and she did not answer either. So again, still the run around with this company.
Desired outcome: Finish installation repair damaged area
50 Floor
-
Product they installed
If I could give 5 negative stars I would. I spent $7000+ to have a terrible product installed. The new super tough - no scratch laminate flooring was supposed to be the Best - It's the Worst!
Now 50 Floor won't stand behind the product they installed! I'm now stuck with a crap floor for years to come.
If you want to be disappointed- hire 50 Floor!

Richard

Update: So it seems if we don't walk on the floor or put normal furniture on the floor - it will look beautiful and not show any wear.
Thank goodness the manager came over and helped us so much. I guess we'll just live in another house so the floor that 50 Floor told us would be so great and durable won't get any worse.

Trust me - I'm going to have to redo this floor and it sure as hell won't be with 50 Floor!

50 Floor - The Company that DOESN'T stand behind their work.

Thanks so much for screwing me out of $7000.
50 Floor
-
installation of hawthorne 2 brown vinyl flooring
After flooring was installed I called 50 Floor no less than 10 times because the flooring in the hall and entering the bathroom was not flat. The floor waved like a creek and their was a tear in the floor of my son's room. They finally returned and replaced the flooring. The floor still was not flat but I learned to live with that and the fact that one of my closet doors has never fit since the installation. I called recently due to a rip in the flooring going from the hallway to the bathroom. I was told it was because my son is in a wheelchair and I would have to pay to have it replaced. I bought this particular product due to its durability and primarily because of my son's wheelchair. I believe if the flooring had been installed correctly the first time there would have never been a tear. There is a hump in the doorway of the bathroom. I feel like this is an installation error but 50 does not agree. So, I have it repaired at my cost, but the issue of the hump is never resolved, it will rip again. If wheelchairs are the issue with flooring I feel like I should have been notified of this up front, before making a decision to purchase. I am not a satisfied customer.
50 Floor
-
flooring
DO NOT USE 50 FLOORS

The work and customer service have been subpar. We had some flooring replaced (only 500 sq ft) in mid April. They installed boards that were mis-colored and chipped. They damaged our walls and baseboards which we had to pay to fix. First group that showed up to install refused because no one told them we were in a condo and it was going to be too much work (even though only 500 sq feet). Second set that showed up said it would take 3 days instead of the one day that was originally stated. Walls and baseboards marred and dented. Some of the boards were discolored and did not match rest and several boards were chipped. We still have no resolution to our issues 4 ½ months later. Please get other quotes.
50 Floor
-
product/customer service/quality
I wanted new hardwood floors because I am selling my house. Brian came out, showed us the product, priced it out.
Called later to inform me the hardwood I ordered was no longer in stock, but offered a wider plank to replace. While in process of ordering, he also informed us that it was so expensive due to taking up old hardwood and hauling it away. We asked if he could just lay flooring over the old to help with price. It was actually a savings of $500, which was ridiculous.
When they came to install, I questioned the product and was told it was a sealed hardwood.
They had to come out 2 times to finish job and fix thresholds. I felt like it looked cheaper than product shown to me before signing paperwork.
My house went up for sale and when the buyers inspector sent his report, stated it was a laminated flooring with small layer of hardwood.
I called the customer service department at 50 Floors and asked them why I purchased hardwood but received a different product. Ron was very confrontational with me, kept saying he wasn't trying to argue with me. Decided to have someone come out and look at product.
The salesman was very rude and confrontational as well. Stayed it was an engineered hardwood flooring. When asked why it was not hardwood as marked on my bill of sale, he said it was the same thing.
After all is said and done, they basically pull a bait and switch on customers and then will not even give any kind of customer service to my concerns.
To pay $8000 for a engineered hardwood is so not okay and then to be treated disrespectfully is not the customer service I expected.
This company does not need to rip people off to make them successful. It is a shame to charge premium price and receive inferior product.
50 Floor
-
not finishing my floors, poor service.
Worst company ever!

I had my floors done in December. and still waiting on them to finish and it's currently mid April.
- They messed up my driveway/flower bed
- Left trash at my house
- Broke my stairs rail
- Didn't finish my stairs after staining 3 times.
- The door transition are all out after fixing several times.
- Horrible service
I would NEVER recommend this company to my worst enemy. I took several days off to take care of this and still not fix.

-Nalini
This review was chosen algorithmically as the most valued customer feedback.
BUYER BEWARE: My husband and I hired 50 Floor located at 818 Bluecrab Rd. Newport News VA. 23606. We spoke with the salesman on Sept. 6th 2017 I specifically ask the salesman do they have their own installer or do they hire independent contractors? He insured me that they were 50 Floor employees. Well, when they showed up Sept. 29th 2017 to do the job, it...
Read full review of 50 Floor
We are here to help
16 years' experience in successful complaint resolution
Each complaint is handled individually by highly qualified experts
Honest and unbiased reviews
Last but not least, all our services are absolutely free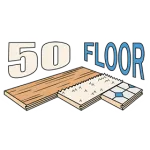 50 Floor contacts