G3 Telecom
-
Return of overpaid funds
I have an ongoing complaint which started in July 2020.
covered by their tracking numbers A00015246767 - 00045468211.
I owed a balance of £308.77 which I paid on July 21st by bank transfer, they claimed not to have received. I received a further demand on August 25th and again paid £320 again by bank transfer. They appear to have received July payment but not yet acknowledged by them, they will not return the August payment. They do not respond to and e mails or to the manager of their Castleford branch who took up my complaint on 25th August by their internal mail system, which brought the result of the above tracking numbers.
I have sent 2 e mails to their proofs department, but am not getting any response.
maybe you can get some response.
G3 Telecom
-
Absolutely incompetent
These folks in early 2016 took over our Telna SIM cards which we had used as our main SIM cards for about 5 years. Since they took over, nothing but problems - to the point that they don't even know what our Telna SIM phone numbers are! They kept listing our outbound caller ID numbers, which on Telna you could set to anything that's convenient to receive inbound calls. In the meantime, it turned out that our original mobile numbers were dropped and given to somebody else. Worse yet, in around 6 phone calls over three months they could not fix the issue, for example by giving us new numbers, always saying "an engineer will call you back within 24h". But it never happens - and last time I even tried to track down the engineer I talked to the day before, Roel. He promised me he'd call back the next day (after being already 3 days late), but he never did either. Recently they come with the excuse that I have an outstanding balance of 30 some dollars and that's why the SIM cards don't work, which isn't the case at all. So today I cancelled in frustration - and was told indeed I don't have an outstanding balance - of course. And yet, when I go into my account, it now lists an outstanding balance of $80.00! I call back and am told that this is also a mistake. Worst. Company. Ever. Telna, why have you forsaken me!
G3 Telecom
-
Rate and Customer Service
Got a shocker of my life as far as calling rate is concerned. This company is worse than the corner payday loan store! My rate went from less than $0.15/min to $1.05/min! What kind of company is this to increase their rate that much by just send a memo to their recently acquired customers from Telna! What a shame! This company should be allow to operate in the US, or anywhere for that matter. My bill went from less than $30/month to over $100/month with same called number, but this time with less minute. Why do TELNA sold their business to G3 - Information that I got doing some digging. Well here goes at least ten customers - family and friends that I referred to over the years.
This review was chosen algorithmically as the most valued customer feedback.
This complaint is to warn potential and existing customers of G3 Telecom of this company's deceitful tactics. I was a customer with G3 Telecom since 2013 using a monthly pre-paid international plan of 4.99 US$ for 500 minutes to call my mom in Belgium. The rate for Belgium in their "world Bundle" was 1 cent/minute. Lately since Nov 2015, my account kept on...
Read full review
This review was chosen algorithmically as the most valued customer feedback.
After noticing an unusual pattern of charges on my credit card, I ask them to interrupt the automatic refill charge done to my account everytime the balance the balance fall under $5.00. The following month I refill my account once for $20, a week later when I tried to call the balance on my account was 0; I tried to call them afterwards, to my supprise...
Read full review
The complaint has been investigated and resolved to the customer's satisfaction.
G3 Telecom
-
unauthorized charges
Beware of this fraudulent company! They charge you for phone calls that did not go through, and will only refund the money if a customer calls in this complaint. So that means for every call right after you have to call them to refund your money. That is ridiculous in itself to expect the customer to catch their "system errors" and report them. And even after that, they will only refund 2 days of bs charges at most.
Resolved
The complaint has been investigated and resolved to the customer's satisfaction.
The complaint has been investigated and resolved to the customer's satisfaction.
G3 Telecom
-
Wrong billing
I am a customer of G3 Telecom, 1039 McNicoll Ave, Toronto, Ontario M1W 3W6 (www.g3telecom.com) for the last 6 years. I am using their long distance service to call abroad. That service was prepaid I always buy $20 through internet using my credit card and I had never been a problem with them.

For my profile they asked my address, phone number, the name of company where I work, work phone number etc at the time when I signed for their service.

In August 09, they offered me to use their direct dial service in order get cheaper rate, and they asked my credit card detail which I provided them.

According to them it would take about 7 days to activate the service.

I found that service was not activated within the promised time. I called the customer service and they told it takes some time. I repeated the same thing for 2 or 3 days intervals and they had the same answer.

After about one month some of the costumer service representative informed me that service has been activated for the last one month and I am using that.

I checked my account and found my office phone number (416-236-2631) under my account and a lot of calls being made using that number and they charged $64.99 from my credit card dated August 04, 2009.

It made me upset and next day I called the costumer service, they transferred me to some supervisor and the supervisor apologized me and promised that due to some reason he cannot refund my amount but it will be credited to my account and for the future when I will make the calls I can use the same credit. I accepted the offer. He said that the teller mistakenly activated my job number and he will activate my original home number i.e 905-507-9746 within few days

I used the service and instead off giving me credit they again charged $ 68.22 from my credit card.

I called them again (Supervisor Brine) and he pretended that he did not know anything what happened to my account. He said they never promised me to give any credit. I have to pay for each call made through my office number because I provided the office number to them.

I argued that why I give you my office phone number which is a switch board number and about 750 employees are using that number. I told that this number is in my profile and your company activated that number by mistake and some one in your company accepted that. He said he does not know anything and I have to be responsible for the call made using the office number.

He was persisting that how some one got my job number, I told it is in my profile because I checked several times that my job number (416-236-2631) is in my profile. Now that number is missing and my home number is entered instead but still the extension number is existing which is 707. It does not make any sense that my home number is there and my extension is with my home number.

I request you sir that please ask them to return my money and secure my credit card information for the future.
Resolved
The complaint has been investigated and resolved to the customer's satisfaction.
This review was chosen algorithmically as the most valued customer feedback.
I was sold on G3 for the ability to make calls overseas from my cell phone and I will be charged the land line rate. I registered my cell phone and my wife cell phone to be authorized. The first time happened to me I tried to phone UK, I dialed the local phone number given by G3 as I do when I use my land line, and then I pressed the pre programmed number...
Read full review
This review was chosen algorithmically as the most valued customer feedback.
After 3 years of total continued service and signing up for auto recharge, I just realized that somebody has been making calls using my account, either by using my pin number or some other way which only my provider G3 should be knowing. I have never used my pin number over 2 years and the company insists that I have been using my pin number even when I...
Read full review
This review was chosen algorithmically as the most valued customer feedback.
Signed up for long distance last year for calling India for rate of 16 cents, at the present still charging me 16 cents, while on their web site, the rate for calling India is 13 cents. Call customer service to complained about this, and she told me they are still charging me the old rate when I signed up. I think the rate when i call india should be 13...
Read full review
We are here to help
16 years' experience in successful complaint resolution
Each complaint is handled individually by highly qualified experts
Honest and unbiased reviews
Last but not least, all our services are absolutely free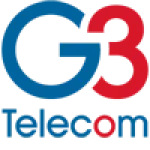 G3 Telecom contacts