Red Robin
-
Took 2 $10 complimentary gift cards to pay $15.78 bill with no return of $4.22 on gift card
On 6/25/2022, 6 pm, my wife and I ate at Red Robin. My wife had a free birthday meal so Red Robin would not honor a 25% discount I had on my rewards. I asked for separate checks so they could but they refused. When I went to pay my bill, I had a small balance on a gift card and two $10 complementary gift cards given to me because I complained previously for waiting a half hour just to get a cold burger. I used the balance of the gift card and still owed $15.78. I wanted to use the two $10 cards to pay off my bill and assumed I would still have $4.22 on a card. At first the manager, Alison, said I could not use the cards, but then she said she zeroed out my bill and kept the two cards with no $4.22. Basically Red Robin will rip you off if they can for fastfood type food at steakhouse prices and then tell you to have a nice day as you are leaving.
Red Robin
-
Bad company service
Visited 2 of your establishments in a 20 minutes period. Was told at both places that there was a 20-25 minute wait to be seated. Parking lots in both locations were practically empty, both establishments inside were also practically empty with plenty of seating available. Excuses that both gave for not being able to be seated was they were trying to catch up because they had just had a rush and the one had a party of 9 that they were catering to. This occurred at approximately 2:00 and 2:20 pm on June 19th. I have been to both of these establishments in the past with them being packed and have never had to wait. We ended up taking our business on Father's Day elsewhere due to this. Just so you are also aware, we traveled almost an hour just to get to the first location, and another 20 minutes to get to the second and received the same excuse.
Desired outcome: it is unlikely that I or any of my family will be going to any of these establishments if the quality of service does not improve drastically. It would be nice to be compensated for our time and travel expenses
Red Robin
-
Server and service
Server got very rude to us insisted we demanded to be seated we did not we knew there was a ten minute wait we were fine with that. We ordered food n drinks and app and I ordered donuts to go so she could put the order in we waited after paying our bill over twenty minutes and still no donuts she came out after we had to get her attention she argued with us and embarrassed us in front of other customers she was totally in the wrong and was very rude. She stated you knew we were backed up in the kitchen I said thats not my fault but waiting twenty minutes longer after eating and paying the bill is in excess. We asked for the manager. She needs to be retrained they need more help there we don't want her fired but she needs to apologize and correct her attitude
Desired outcome: Retrain her n hire more staff. We are not at fault for her ignorance or their short stiffness period
This review was chosen algorithmically as the most valued customer feedback.
Tonight, 16 June, I called in an order for 3 burgers and I wanted curbside pickup because I have a torn meniscus in my knee. I was told they would be ready at 7:05. When I arrived at 7:02, I called and told them I was there and parked in space #2. I was told they would be right out. At almost 7:25, I called again and a person came out to get my money and...
Read full review of Red Robin
This review was chosen algorithmically as the most valued customer feedback.
The host at the Colorado Springs Jamboree location was very friendly and professional. Went down hill from there. We were seated and waited on fairly fast. We got our one and only beverage fairly fast. The food took forever to come out and it was awful. I dont mind waiting if its good food. I have frequented Red Robin in the past and have always been very...
Read full review of Red Robin
Red Robin
-
Salad dressing and the quality of the salad
I bought a salad on 06/10/22 at approximately 1300 and salad dressing was so thin that it wouldn't stick to the salad as much as you charge for a salad you would think you would give a good product for the $ it was a carry out

the stores address 14551 W McDowall rd goodyear AZ 8539

Why don't you just send me the answer instead of keep sending it back because I'm not going anywhere I will keep sending it back
Desired outcome: I want the product I'm paying for to be worth the moneyso fix the salad dressing or refund my money this isn't the 1st time this has happened
This review was chosen algorithmically as the most valued customer feedback.
June 7, 2022 around 7pm. Me and my wife went to the Red Robin in Tacoma, WA. Visit started OK was seated in the bar area. Was greeted by server (Lynn) and took our order. That would be the last time that we seen her at the table until we wanted to leave. In the mean time out food was delivered. After we started eating we needed some napkins. No one wa...
Read full review of Red Robin
This review was chosen algorithmically as the most valued customer feedback.
I have to say we were completely disappointed with our meals today. First I had ordered burger and salad, when this was received about 25 min. later my salad was warm because it was set under the heat lamp with the burger (which I have to say was not warm). About 10 minutes later when we were checked on told waitress salad was warm and asked to have frie...
Read full review of Red Robin
Red Robin
-
Service was terrible, waitress was not very efficient.
Sunday, May 29,2022 @ 12:47 PM. Restaurant located at 3000 Lougheed Hwy, Coquitlam. I was there with my husband, daughter and 2 grandchildren. Server - Cat-8 Table 96/1. The order was brought to our table, small detail, but one of childs order screwed up. Food was brought, had to request for cutlery and napkins. Never was any dirty dishes cleared from table. We asked for our bill, was brought and then nothing. After 20 minutes, we had to ask another server if she could please bring machine so that we may pay our bill. This type of service is unacceptable. When we arrived, there was only 1 other full table. Numerous tables were served, paid their bill and left way before us. This waitress lucky that I did not pay the bill, as, she would have received NO tip.
Red Robin
-
log in
I can't log in on my email address -- [email protected]?

it keeps showing my wife's account @[email protected]

it makes me change my password and then won't let me in ?

we have two different accounts and names ?

J.greenwood 303-915-5129

6-24 update i guess

Hmm need more info ?

we are using the same computer and that may be the problem?
Desired outcome: want to log in on my account !
Red Robin
-
Pay at table machines
Today my granddaughter and I ate lunch at the Red Robin restaurant in Apple Valley, Mn at approximately 2:30 pm. Service was great, food was great. Then it came time to pay. Oh no, the server says it has to be done at our table. She helped me with the gift card. Then all that was left was a tip and final amount to be put on my debit card. We sat there and tried for almost 15 minutes. The server finally came back, tried to swipe my card that is exactly what I tried no more than 5 times. She tried twice, would not work. She finally took my card and came back with a receipt to finish payment. WHY do you only want customers to pay via this ridiculous machine? Please consider payment to the server like every other restaurant offers. I'll not go back for this reason.

Sharon Johnson

11046 Oregon Curve

Bloomington, Mn (952) 200-7666

Saturday, May 24th

2:30 pm
Red Robin
-
Cooking crew
My wife and I went to the Red Robin in Janesville, WI. on Weds, May 5 2022. The food was good the waitress was very nice. The voices out of you kitchen area were not very pleasant. One guy back in the kitchen dropped an f bomb at the top of his voice, The whole crew was loud, If that was my place the guy that dropped the f bomb. would have been fired on the spot.
Desired outcome: Maybe a little training on proper words may be in order
Red Robin
-
complete store
The entire restaraunt was very dirty, poor service, took 15 mins to be greeted at the table. Food came out dry and over cooked. The worst part was how dirty it was, dirty dishes were on almost all the tables. The waitress was clueless. The greeter walked around doing absolutely nothing and it looked like the only person trying to work was the manager. Very disappointed, wont be going back. Not looking for any handouts because i really am not interested in returning...
Desired outcome: HOPE YOU DO BETTER
Red Robin
-
Horrible experience Rockaway Mall, Rockaway NJ
My husband and I visited the Rockaway NJ restaurant located in the Rockaway Mall. My intentions were to use my birthday reward for a free burger. When my husband and I walked into the restaurant we were told that there was a 30 minute wait even though there were no less than 15 empty tables. We waited the 30 minutes and when we went to the front of the house my foot immediately stuck to dried ketchup on the floor. We were seated and the floor under our table was sticky and there were whites spots on the wall (it looked like either milkshake or milk). My husband had to use the restroom and the restroom was out of order and the manager (Danny) told my husband to either to go in the department store or Chipotles across the way. Since my husband had to go elsewhere to use the restroom I ordered our drinks (Miller light and Tito's vodka and tonic. The waitress put down our drinks and when I sipped my drink (vodka and "tonic" and it was not tonic at all but seltzer (in a tall glass). My husband walked the drink back to the bar and the manager (Danny) asked the bartender what she used and she indicated what was in the glass and Danny told her she put the wrong mixer in my drink. My husband asked if they could be a lime wedge in the drink and was told by Danny that it would be taken care of. The waitress brought me the drink and it did not seem to have any alcohol in at all and no lime wedge to boot. I flagged the waitress down and told her that there was no vodka detected and that I did not want another drink. I asked the waitress for some silverware and she said she would bring some. The waitress (no one was wearing name tags) brought our burgers to us and I ordered an "Impossible" burger and when I went to eat it, it was cold, still no silverware. The waitress said that she would have a replacement made and went to another table. About 7 minutes later she comes back to our table and asks if it is okay to the cold burger back to the kitchen to have them warm it up and by that time I was so aggravated I told her I didn't want any replacement and I would not be eating it. My husband was attempting to eat his burger and fries and STILL no silverware. At this time I just had it. This was supposed to be my birthday dinner because we cannot afford to go out often and this was affordable considering my burger was supposed to be free. So, I'm very annoyed at this point and went to the front of the house and asked for the manager and the lady at the "to go" counter asked if she could help and I explained what happened and again my feet was sticking to the floor (now this was the 4th area where my feet were sticking to the floor (the front of the house, by the "to go" counter, under the table and wherever my husband was standing when he said his feet was sticking to the floor).. The lady at the to go counter called the manager and apologized profusely. When I was explaining to "Danny" he had an excuse for everything first he said I took your drink off of your bill, I said the second drink was 1/2 the size of the first one he said they put it in the wrong glass (even though I had the same drink numerous times in that establishment and had a tall glass, I also informed him that the second drink didn't taste like there was any vodka (I asked for Tito's a more expensive vodka) "Danny" told me very rudely "the same amount of vodka is put into each glass one shot!" I told him it didn't taste like any was put into the glass and he told me vodka was put into the glass albeit no lime wedge which was requested. I told him about the sticky floor and he told me that it is the humidity. I invited him to go stand in the dried ketchup that I inadvertently stepped in. I told him that I have never had such a terrible experience in this restaurant or any other Red Robin Restaurant for that matter and he told me that he took my burger off the bill. Well, I can tell you that it is not the point. The point was that my husband and I went out for my birthday and I had to use my "free birthday burger" was not free because I left without eating because of the multiple blunders. "Danny" had a scowl on his face from the time my husband and I walked through the doors of the restaurant. I do not wonder why there were so many blunders when you have a manager who actually cares about the job he is doing or the customer satisfaction. I have NEVER had a problem with this restaurant until tonight and as it stands I would be hard pressed to come back again.
Red Robin
-
Long wait time
The last 2 times we have gone to Red Robin on mid rivers mall Dr in St. Peter's mo, they have given us a ludicrous time frame. The restaurant was not busy either time. The amount of customers in the restaurant was very low and the parking lot was not full, maybe 20 cars in total. It is very disappointing given that you guys make a good burger. We went around the corner to a local establishment where we we re pleasantly greeted and seated immediately and they were far busier than you.
Desired outcome: Get it together
Red Robin
-
Uneatable avacodo on hamburger.
I purchased a burger with avocado on it. When I bit into the burger there was hard pieces that were unable to be chewed. I looked into the sandwich and saw pieces of avocado that should have been discarded and not placed on hamburger for consumption. Photos can be sent upon request

I purchased this hamburger and another one on April 22, 2022 for my husband's birthday dinner. The store is in Wake Forest, NC 27587 on Capital Blvd.

My name is Sharon O'Kelley

12 Bert Winston Rd

Youngsville, NC 27596

[email protected]
Desired outcome: Refund of money for the hamburger or a gift card. I could have choked upon this.
This review was chosen algorithmically as the most valued customer feedback.
Traveling from VA back to NJ we stop in the Red Robin located in Frederick MD. This happened on 04/24/22 around 4:30pm. The restaurant was not extremely busy. There were two of us and we placed the order and waited an hour, then we asked where our food was and the waitress also bartender stated that she would check. Did not check before saying something to...
Read full review of Red Robin
Red Robin
-
Cold reheated fries in bear delaware
The problem is cold fries. If you dine-in you get golden fries. The fries are great. If your order is to go you get dark brown reheated fries or very cold fries. I go in the restaurant and order my food and sit and wait for it and it's cold or reheated every time. Oftentimes I would ask the person taking the order to ensure I get fresh fries and I always tip on my to-go orders. I am very high risk for covid so I take extra precautions. So I like many others order take-out. It is no reason for us to receive an inferior quality of food. Across the nation more and more people are are ordering take-out due to the pandemic yet they are still entitled to the same quality of food as their in-store cistomers
Desired outcome: A change in policy. Whoever takes the food order should ensure the customer is receiving the same quality of food as the people in the restaurant are receiving.
Red Robin
-
Fish and garlic fries
We asked for extra garlic on our garlic fries and they came out in a pile of oil. They were basically floating in liquid. The waitress says "that's the way they come up your want extra garlic." We go to red robin at least once a week and no this is not how they are. Also the fish came out dark brown soaked in oil as well. Apparently that's how that was supposed to be too! I always thought the customer was right. We left disgusted. I wish I would have taken a photo.
Red Robin
-
incorrect order
4/13/22022 4.59 pm did not receive extra tartar sauce . the main reason for the complaint Payed with 100 dollar bill it took 10 minutes for me to get change back only because i went inside to see what was taking so long, by this time our food was barley warm. I complained to manager and she was not concerned. I have been a long time customer and will not be returning and will let my friends know

Red Robin Manteca
We are here to help
16 years' experience in successful complaint resolution
Each complaint is handled individually by highly qualified experts
Honest and unbiased reviews
Last but not least, all our services are absolutely free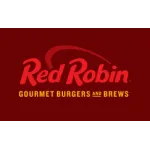 Red Robin contacts