Monster Reservations Group complaints
11
The complaint has been investigated and resolved to the customer's satisfaction.
This review was chosen algorithmically as the most valued customer feedback.
Summary: I'm out nearly $1K USD after being a "Customer" of this company since 2017 and have only stayed on 1 property less than 24 hours and left due to terrible conditions for my family. I was sold a travel package in 2017 with the ability to reschedule. I believe I paid around $300-$350 all said and done in 2017. Over the years they would call and I...
Read full review
Monster Reservations Group
-
Booking
I have only used this 1 time and was in a cheap motel but dealt with it I have tried to use this again and of course always booked no matter when and where I want to go always I tried to book in april for june still all booked no place open to stay stated it was peak season well when I paid for this no blackout dates and was to get a place as long as I booked 60 days in advance but that wasnt the case I am very disappointed with this company promise to put you in a nice place btu never can book always full
Monster Reservations Group
-
travel arrangements
Monster failed to follow thru with a confirmed reservation I sat with them after paying my fee. The hotel did not recognize my reservation and was fully booked upon my arrival.

Monster did not have any availabilities to the locations and dates I attempted based on their list of resort/hotel affiliates posted.

Andrew Fenderbosch does have some pleasant employees during phone conversations, but Monster clearly does not have the resort connections for availabilities that they advertise as I submmited my money up front.
Monster Reservations Group
-
Monster Vacation Group SCAM
They will tell you for signing up you will receive additional free stays, tickets to shows and events, and that you will stay in the best resort. What they don't tell you is that it all goes downhill before you is the the places you will stay will be overrun and dated. Places you can literally book online for less through other companies. Once you attend the 90 minute sales pitch and decline their offer from the person that went from wanting to build rapport to know ignores you like a scorned lover because you said, "NO" you are then put on a list that once you call to schedule your promised free stays, they NEVER have anything available. They ONLY want to schedule you in what they call "Promotion Destinations" meaning places where you have to attend another 90 minute show, although you were told in their phone sales pitch that after the FIRST show you would NEVER have to attend another sales pitch, which was yet another lie.

I have made repeated calls going on a full year and each time I hear something completely different from what I was told by the previous rep in regards to their policies and procedures.
Desired outcome: Refund my money
Monster Reservations Group
-
Stay Away -- It is a Scam!!
In late May 2021 I was called by their people, and lead to believe they were working with Hilton Vacation Club (which I am a member) and RCI. They sold me on three cheap getaway vacations in what seemed like nice resorts. In September 2021 I called to schedule my first trip. The questions they demanded I answer were very personal in nature, and since I am a retired person, it's no one business what my income level is.

I low-balled my income, and was offered motel options in shady parts of town in various cities in Florida. ALL BECAUSE THEY THOUGHT I WAS LOW INCOME!

I made four different phone calls, asked for the supervisor on each, which they refused. I asked for my money back, and was told no. Currently, I am working with America Express to help me with this horrible organization.

IF SOMETHING SEEMS TOO GOOD -- IT IS! Stay Away from Monster Reservations Group!
Desired outcome: Return of my money
Monster Reservations Group
-
Vacation Package and Free Vacation
This isn't a total scam but it's about as close to one as you can get before labeling it as such. DO NOT SIGN UP OR BUY ANYTHING and demand to be removed from their list or they will call you 5 times a day. The trip I booked came with and "additional free trip" which I negotiated to two free trips (that's when you have to know it's like the wild west there. I picked Myrtle Beach because how could they screw that up right? Well it may as well have been a retirement home in comparison to what was presented to me multiple times on multiple calls. I'm not going to get too far into this other than say I spent the money to file a civil suit -- that's how much this experience has and continues to bother me. I tried to use the other two trips and the scheduling has been off twice (I even called to confirm the week before and they had me scheduled a month later twice, costing me over $800 in flight/travel expenses I could not be refunded). My lawyer believes I have a strong case but you never know when you're dealing with slime like this. That is why I am briefly voicing my experience, because people have a right to know the truth if they do their due-diligence.
Desired outcome: A satisfactory or better experience, I'm not unrealistic
Monster Reservations Group
-
So called resort they recommeNded and sold stay at
Stay away from this company. The resort they told us was so nice was a disgusting joke. I'd compare to a stinky retirement center. They refused to give me my money back even though we didn't and couldn't stay with them due to the smells and filth. Please do not buy from this group. They are scammers preying on excited vacationers. Stay away! Sometimes the saying is true. " if it sounds too good to be true, it probably is. Pay extra or find another company to book through.
Monster Reservations Group
-
Service
I have been dealing with them for almost 10 years. I have yet to experience any trips. I go to make a reservation and there is always an additional charge. They will call me About once a year and offer to fix everything always for a fee. I have paid $8000 over time. Each time I go to the web site all the trips cost additional money. Each time they call I am assured they want to save my trips for more money each time. I received a call in October and was assured by this man that I would receive an email and when all my trips were consolidated they would send me a letter. I did get a letter to verify that I had paid another $500. I was told they would wave all fees except tax. When I go to the website again all trips have a fee. Again today I received a call wanting to save my trips for a fee. I want to know what I get for my money with no charge except tax. No one will help me resolve this.
Desired outcome: A list of the trips I have paid for or my money back
This review was chosen algorithmically as the most valued customer feedback.
This company is running a scam, not delivering on what is promised. I bought a nation package from them where they promised vacation stays in their properties all around the country for a one-time charge of $200. We have tried to book the "vacation" on a number of occasions and they have either not had a place in the city we wanted to travel to or had no...
Read full review
Monster Reservations Group
-
Do not call
Been on Do not call list since 2018 they called with information fishing for past travel I have done but I know for FACT that all travel I have done has not been even remotely connected with them. This complaint is apparently to short so just added comment the sales guy was rude in response to my inquiry as to why he had called where they got info and what company he was with so I called back to get name of company but my issue isn't with the rep it's about company. Check the registry
This review was chosen algorithmically as the most valued customer feedback.
I received a call from Monster Reservation group on 12/28/19 nomarly I just reject their calls but l been wanting to give my family some amazing memories. I decided to listen to what they had to offer . If it sounds to good to be true thats because it was i was talked into a 298.00 package more than 27 days of travel . I called 90 days in advance to book a...
Read full review
We are here to help
16 years' experience in successful complaint resolution
Each complaint is handled individually by highly qualified experts
Honest and unbiased reviews
Last but not least, all our services are absolutely free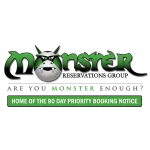 Monster Reservations Group contacts