Monster Reservations Group complaints
38
Newest Monster Reservations Group reviews & complaints
Travel
I bought a travel package through Bookski ( I was billed and emailed from Monster Reservation Group). I called to schedule travel dates.. When I found out that there was a 50% "service fee, I told Daryl Dyson that I wanted to cancel. He responded with a counteroffer that I wasn't interested in and told him to cancel again. he agreed, but they ignored my request and emailed me with his original counteroffer. Now, he won't respond. Typical bait and switch shady travel offer. If it's too good to be true...
Solicitation call
This company just called me and told me they were affiliated with Interval International and RCI and that I had not taken them up on some offer since before COVID. I let them talk and talk and they eventually came up that they would give me 8 trips, such as cruises, all-inclusive stays, and condos, and that with my previous credit and their friends and family discount, it would only cost me $950. They told me they had an A- BBB rating and had like a 4.9 rating on Google. While they were talking, I was checking sites and all I see are complaints about this company. I told the person that it seems like they are scamming people and they said, "How so?" I began to say, "No thank you, and please remove me from your call list", but the person hung up before I even got that out. Obviously, they are not a real company.
Travel packages
October 27, 2023

This company is under various names and uses multiple telephone number operates in the most deceptive way that I've ever seen a company operates. They list locations in three states and use various names to market vacation packages. U-travel is one such name. They also sells Travel protection insurance as a way to rip people off for additional money. In short, they are a time-share company, trying to get people to buy almost worthless timeshares around the country and the world. We learned this through the recent pandemic... these companies cannot be trusted. You are making a mistake by giving them your credit and debit card number and even if you catch on to them, you might lose a few dollars before you can stop their charges against your account. You will need a good lawyer and they do prey on the young and the elderly.

I am not sure why travel companies are allowed to be so deceptive, over the telephone and in sending email materials.
Claimed loss: So far... at least $1616.64
Desired outcome: Refund of all my money
Is Monster Reservations Group legit?
Monster Reservations Group earns 91% level of Trustworthiness
SAFETY NOTICE: ComplaintsBoard has analyzed Monster Reservations Group and determined that it has perfect credibility and is completely trustworthy, with a legitimacy rating of 91%.
Monster Reservations Group has claimed the domain name for monsterrg.com for a long time, which suggests that the website is established and has a history of being in operation. This is a positive sign, as it indicates that the website has been around for a while and may have a reputation to maintain.
Monsterrg.com has a valid SSL certificate, which indicates that the website is secure and trustworthy. Look for the padlock icon in the browser and the "https" prefix in the URL to confirm that the website is using SSL.
Our scan shows Monster Reservations Group website is free from malware and phishing activities, which are types of online threats that can include viruses, worms, Trojan horses, ransomware, and other malicious code, as social engineering tactics used to trick users into sharing their personal information.
Monsterrg.com has been deemed safe to visit, as it is protected by a cloud-based cybersecurity solution that uses the Domain Name System (DNS) to help protect networks from online threats.
A trust mark has been identified for a monsterrg.com, but it is important to verify the trust mark and its source to ensure that it is legitimate. Ensure that the trust mark is genuine by clicking on it and verifying its authenticity through the issuing organization's website.
According to our analysis, Monster Reservations Group appears to be offering travel services on their website. While many travel companies are legitimate, it's important to be cautious and do your research before booking a trip to ensure that you are getting a good deal and not falling victim to a scam.
Several positive reviews for Monster Reservations Group have been found on various review sites. While this may be a good sign, it is important to approach these reviews with caution and consider the possibility of fake or biased reviews.
However ComplaintsBoard has detected that:
While Monster Reservations Group has a high level of trust, our investigation has revealed that the company's complaint resolution process is inadequate and ineffective. As a result, only 2% of 38 complaints are resolved. The support team may have poor customer service skills, lack of training, or not be well-equipped to handle customer complaints.
Monster Reservations Group protects their ownership data, a common and legal practice. However, from our perspective, this lack of transparency can impede trust and accountability, which are essential for establishing a credible and respected business entity.
The website belonging to Monster Reservations Group has a low number of visitors, which could be a red flag for users. However, it's important to conduct additional research to fully evaluate the website's legitimacy and trustworthiness.
Our Verdict: Monster Reservations Group is highly recommended company, but beware of poor customer service. Their 2% Resolve Complaints rating is a cause for concern. We advise using their services securely and reviewing complaints beforehand.
sold a bill of goods
I initially had purchased 8 trips from them. I received a phone call and they said they were selling booking fees at a discount rate for the 8 trips. They charged me an additional $649 for the booking fees on the 8 trips, so I was told. I went today to book a trip and they told me that the $649 was for an additional 6 trips. I was sold booking fees for the initial 8 trips. I DO NOT NEED 6 more trips. I asked for a refund and they could not grant it. I spoke with a guy named Michael Peterson and he said he could not give me his supervisors # nor transfer me to them. I was sold something and they switched it to something else. DO NOT DEAL WITH THIS COMPANY!
Desired outcome: Be refunded the $649 or apply the $649 to booking fees on the initial 8 trips I already have. I was told the $649 would cover booking fees on the initial 8 trips.
Customer sevice rep canvas.
Was suppose to refund all my money but did not, 16 bucks short. I canceled within your 7 day trial period but what a hassle Canvas the Rep was the worst person I ever had to deal with. What lies about fee's, deposits, hotels. Your 150 plus bucks to reserve the room does not go to the hotel but to monster res group. You do not get your deposit until after the presentation you have to go to. when I canceled Canvas the Rep. said I would not get my deposit back.
Desired outcome: I want my additional 16 bucks refund
This review was chosen algorithmically as the most valued customer feedback.
The Booksi.com (aka Monster Reservation Group) has charged me total amount of $1,071.24 so far ($648.83 for initial reservation for the hotel package and $422.41 for resort fees + taxes, which were not explained on their advertisement). We have not received any invoice or receipt for the resort fees + taxes. We purchased the Wyndham Grand Cancun All...
Read full review of Monster Reservations Group and 1 comment
This review was chosen algorithmically as the most valued customer feedback.
I was scrolling through Facebook, saw an ad for a Myrtle Beach vacation and clicked to read more. I was required to input contact information before continuing, which I assumed was for solicitation purposes. To get an idea on the prices, I clicked to view vacation options. My credit card is on file to auto fill, but I didn't realize this would complete a...
Read full review of Monster Reservations Group
This review was chosen algorithmically as the most valued customer feedback.
Subject: Formal Complaint Against "Monster Reservations Group" - Additional Charge of $271.41 (on top of $349) after recent vacation booking. Urgently Seeking REFUND of $271.41. I am writing to formally register a complaint against Monster Reservations Group regarding a deeply unsettling experience I had yesterday on August 31, 2023. After putting...
Read full review of Monster Reservations Group
Zachary Goldverg
I was contacted by this vacation group and spoke with Zachary Goldverg? He promised all the things that are listed on this site and complained about. When I asked him about this he suggested told me to go to their website to look at the reviews and see how many were resolved. Thank you folks so much for this website and your reviews this helped me save my money and not be conned into buying this vacation scam!

Sincerely

Elisa Havranek
Desired outcome: I hope more folks google this company and complaints before they purchase.
Vacation
We booked a 4 day 3 night vacation at Calypso Cay. Michael, the customer service representative at Monster Reservations, could see that in our reservation, but the property switched us to Silver Lake without notification. Nothing can be done. Seriously? Switching locations of a vacation is kind of a big deal! What a great start to the vacation. Not. Really poor customer service. Buyer's remorse is setting in not to mention I am embarrassed as I have been recommending Monster Reservations to all my friends and family. Rectifying that now!
Desired outcome: I desire a refund. This is not the vacation I booked.
Customer service representative Tory Chestnut
I have asked repeatedly for over an hour to speak to a supervisor or manager. Me. Chestnut refused to transfer my call, and kept repeating that he is the best person to help me. He told me throughout the over an hour call that there was no one else available to speak with me & that they had a very high call volume. I insisted many, many times to speak with another person & still he kept repeating the same things over and over again. As if he was reading from a script. When I asked to speak with Eli, who my daughter had spoken with previously for help, Mr, Chestnut informed me there was no such person. I told him I know that's a lie, because we have spoken and gotten help from him multiple times. We are now an hour and eight minutes into the call and still have been asking to speak with another person.
Desired outcome: I'm trying to get my money refunded for the white glove service.
when we purchased the program it was supposed to not have an expiration date
Now we get all of these companies calling saying they are from the close out or expiring travel time. like 3-5 calls per day, they want an additional amount of money to keep the travel going.

then they say we need to pay a booking fee.

originally they said all we needed to do was call them and book it, now they want a booking fee. originally we were supposed to have it was not supposed to have an expiration date, now we get calls from a company to have more money to keep it from expiring.
Desired outcome: stop calling us, and honor what we they said in other words, they need to book it for already fee paid
Bait and Switch
I called the Monster Travel group and they were only to happy to take my money, saying could go to Cabo and stay at any on of several locations. I was upfront an told them I had traveled with them before, 11 years ago.

When I went to book I was told that I cannot stay where i want to and for that matter I pretty much cant go to Cabo unless i stay at some resort not near the beach. They say it is because I stayed at the Villa Del Palmar, part of the Villa group. All the properties are Villa Group!

They refuse to refund my money.
Desired outcome: Please either book me at a resort or refund my money.
This review was chosen algorithmically as the most valued customer feedback.
My experience with Monster has been non-stop lies and I don't know how they have such great reviews. When I first purchased a package, I was told I would go on 1 timeshare presentation, which was fine. After purchasing I began receiving non-stop phone calls trying to upgrade me to VIP. That was the first lie, there is NO VIP. They told me I would never...
Read full review of Monster Reservations Group
Service
Well, where do I start. The agents are not trained properly. When I booked, I was told that I can use my passport because I will not have a valid driver license. Now that's not true, I spent an hour on the phone with an agent because of their blunder funds paid or not refundable. So, well I was promised I would get to keep mt white glove guess what LIE. I was promised that I would get an extra vacation that I can make arrangement online LIE. To me this company needs to be closed. Run do not book with them or else you will be left holding the bag. You will not be the winner believe me you will be the loser. Guess what I recorded my conversation.
This review was chosen algorithmically as the most valued customer feedback.
Don't do it! You have to sit through a timeshare sales presentation for every vacation you go on, in order to get the discount that monster promises you. That is the only way monster gets paid for you going on these vacations. You get put in crappy rooms because they are their marketing rooms. We were lied to and told you don't have to go to a sale...
Read full review of Monster Reservations Group and 1 comment
This review was chosen algorithmically as the most valued customer feedback.
My experience with Monster Reservation Company was nothing short of a scam. The reservation process turned into a nightmare due to the deceptive practices of their agents. I had planned a family trip to Myrtle Beach for five people, but the agent misled me by stating that the reservation was only for four individuals. However, she claimed to have a...
Read full review of Monster Reservations Group
Vacation Package
I purchased a vacation package from monster travel for a total of $800 plus dollars. I've tried making reservations and booking with them on several occasions. Each time I've tried to book with them the dates were not available. I asked to be refunded because they never had any availability for my travel dates. I was told I can not be refunded because I was passed the refund period. I am demanding a refund. I have purchased a vacation package and I am not able to use it when I need to. SCAMMERS.
Desired outcome: Be fully refunded for the vacation package I purchased. Which is a total of $871.
Booking of storm damaged properties and not disclosing that prior to taking non refundable booking fees.
I recently booked travel to Daytona Beach Florida to stay and use this vacation package while attending daughters college graduation. I booked this on March 28, 2023, and requested the Plaza resort and spa. I was told it was not a guarantee but would most likely be accommodated and would receive a call within a few days to confirm. A week later I called back to complain about not confirmation call and after, my daughter, who was attending Embry Riddle Aeronautical University, told me that the Plaza resort was closed for the entire year and would resume operations in 2024. That would explain why i could not get ahold of the Plaza resort and spa by phone. When I got through to Monster Reservations group they did tell me that the Plaza was not guaranteed as i was informed but there were several other locations that they were going to place me at such as the El Caribe resort and the Best Westen Anu Tiki inn. I informed them that I would like to stay closer to where the graduation was being held and would like a refund. I was told that i agreed to pay the 150 fee and would be refunded that money back to my card on my next stay and the 99 dollar fee for white glove service was nonrefundable. I then informed them that the reason i was cancelling more than 30 days prior to my travel was that the property that i was asking about and was initially told was available but not guaranteed, had major foundation damage and would not be open for the entire year that means it they are not keeping up with the conditions of the properties that they are selling and representing as quality locations to vacation at. The conversation ended with someone with customer service will get back with me. That has not happened yet. Furthermore all of the other locations in Daytona Beach have minor to major damage that makes them not the locations portrayed by monster reservations group, the other two locations i was going to be booked at the El Caribe and The Best Western Anu Tiki Inn had major damage to sea walls, recreation areas and other facilities at each property that monster reservations group did not convey to me. I am totally dissatisfied with them
Desired outcome: Refund of the vacation package price i have not used and paid for.
cruise certificate
I am retracting my previous 5 star review, which was based on the agent who tried to help me. Monster was supposed to provide me with a cruise certificate which was included in the package I purchased. They have failed to provide it or to make sure I received it. Just "thank you for your patience" for something that never arrived in the mail. SCAM SCAM SCAM BEWARE, TRAVELERS. The agents are apparently not well trained to really help customers. They try but all they can say is "thank you for your patience." Then I get an email saying "recap of your conversation" which is not a recap, but just says call us anytime. There is nothing the agents can really do to help. They are not well trained. Every agent I have talked with has had a different story. My cruise certificate was supposedly shipped but never arrived, and every agent has had a different version of how or when it would or might arrive, with no idea of what to do when it didn't. SCAM SCAM SCAM BEWARE!
Desired outcome: Get my 2 cruise certificates, both purchased, supposedly sent, neither has arrived. Totally unacceptable customer service - nice reps but differnt story from each one.
Collect Your Trust Badge
Be recognized for outstanding customer service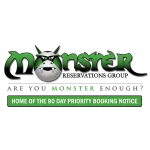 Monster Reservations Group

contacts
We are here to help
19 years' experience in successful complaint resolution
Each complaint is handled individually by highly qualified experts
Honest and unbiased reviews
Last but not least, all our services are absolutely free