Eldo Coaches complaints
122
Eldo Coaches
-
The busses used are unreliable and dangerous
My mom traveled from Johannesburg on Sunday morning, the bus was suppose to be at 7:30 am but was delayed until 9 am, the bus was going to Pietermaritzburg /Durban, the bus broke down 3 times, we were unable to get a hold of anyone from the bus company, my mom was traveling alone and her battery died we were scared to death, the passengers had to stand on the road as the bus was smoking, it was freezing cold and extremely dangerous, instead of sending another bus they kept sending mechanics which only helped for a short distance! My mom only got home 12 midnight! This is really ridiculous and we should get a refund! My uncle also left Jhb on Tuesday morning at 7:30 with the same issue, he reached 7:30 the next morning😡😡😡😡we had a death in the family hence my family we traveling to Jhb, and Eldo coaches just made our lives even more stressful, I would not recommend this bus to anyone!
Desired outcome: We require a refund!!!!
Eldo Coaches
-
ticket refund
i bought tickets on nov 2020 for 10 passengers travelling to the eastern cape

we all know covid 19 hit and we travelling was forbidden

i then contacted eldo and was told i would be given my refund

it is now June 2022 and i have still not received my refund

i would never travel with this bus company as they incompetent , i want my money and i bought this with a debit card below is my cancellation number

Ticket cancellation / ABKW6K
Desired outcome: i want my refund
Eldo Coaches
-
The bus never arrived and I never got my money back
It was the 25th of may I bought a ticket from Johannesburg to Durban with pick up point at Southgate shopping center I waited at the designated area from 19:20 till 21:00 the bus was supposed to arrive at 7:35 I never received any communication, I tried calling numerous times. Even when I took the next bus home, when I arrived at your Durban offices they were not able to help me they tried calling back to JHB but no one answered. I have been sending emails but I have not received any response
Desired outcome: Any form of response would be appreciated
Eldo Coaches
-
Worse service ever!!!Very disappointed
I booked a trip from pietermaritzburg to Pretoria from 22:30 to 07:39 with eldo coaches bus. So 1st the bus arrived @ 23:00 so we left pmb @23:15 then left and the bus got stuck at Herrismith and we were asked to move to other bus but when we get inside the bus was full so had to stand from herrismith to Pretoria. This was a nightmare..I travel long distance every month using eldos n I hv never come across such a nightmare but tonight will be my last trip with eldo. This shows that eldos does not take their customer serious.
Eldo Coaches
-
Refund AB5U3N
Original booking was for the 15th of December 2021, it was cancelled on time and all relevant documents were submitted to eldo coaches, but up until today I have not received my refund and I have made various follow ups with no response. The calls I make and e-mail I sent goes unanswered. Today it's the 11of May 2022, I want my refund which is for the amount of R3500. Reference number AB5U3N. This is totally unacceptable and if Eldo coaches does not want to refund my money this must be communicated so that further action can be taken.
Desired outcome: My refund to be paid ASAP
Eldo Coaches
-
Refund
I requested a refund on the 12th of Jan 2022, it is now the 4th of May 2022 and I have not received my refund as yet. I bought 2 return tickets for myself and my mom amounting to R1280

They keep on telling me about a backlog.This is really frustrating and unfair.I would never recommend anyone to use Eldo Coaches, worst service ever.

They also do not respond to my emails. The customer care line agents told me that I might have to wait longer and that is highly unacceptable.

Ref AB8GEG/ AB8GEF
Desired outcome: To be refunded
Eldo Coaches
-
Cockroaches, aircon and general service
I travelled from Uitenhage to Pretoria. The bus was full of cockroaches walking up amd down the aisles on the windows. Very creepy.

When the bus driver was told about it, he said what is he supposed to do about it.

The airconditioner wasnt switched on the whole route, I was burning.

Driver irritable and rude.

Bus arrived 15 min for pickup.

Not a good service for such a long journey. Never again.
Desired outcome: These things to be looked into and corrected.
Eldo Coaches
-
Refund not processed
We booked a bus Ticket on the 30th January 2022, we never traveled and asked for a refund. All necessary documents were submitted on the 17th of February 2022 and were given a 21 days waiting period which ended on the 18th March 2022 and still no refund, no communication whatsoever. Another communication sent to Finance Supervisor on the 30th March as follow up but still nothing and today on the 20th April 2022 we have been waiting for an hour but no assistance whatsoever, we are given a run around. No communication means to Management and any other superiors is allowed.
Desired outcome: Refund paid today: 2022/04/20
Eldo Coaches
-
Refund
Good day

I'm a very angry and annoyed customer.

I Have requested a refund since the 18th of December for booking. I have cancelled. I have sent all the required documents already on the 18th at the Lenasia office and was told I will receive my refund in 21 days.

I want a full refund because I have been waiting for too long and have been calling in using my own airtime and the consultants are useless , holding on the phone for too long also promised to be called back but nothing.

Name: Nompumelelo Hlungwani

Contact details:0829330527

Reservation number:ABNAYP

ID number:9611040367083

Account number:1464445484

Name of bank: Capitec

Type of account : Savings.

Looking forward to hearing from you soon.
Desired outcome: I WANT MY FULL REFUND
Eldo Coaches
-
Horrible horrible experience
I want my full refund back asap. I am super, super angry with everything about this bus.

1. Bus was late

2. Got stuck on the road and I'm travelling with my children.

3. Luckily bus was close to my grandparent's town so like 85 km away so I asked them to pick us up instead of sitting and waiting for no assistance and communication. My kids needed to eat and surely I cannot as a mother I cannot sleep in the bushes with my children only to wait for you to dispatch a bus in the morning to rescue us or so.

This is unfair on us as customers, we are trying to call no answer, we WhatsApp, we email we do everything but you guys treat us like nothing really, no one communicates, no one calls back just to hear us out on our problems, so exactly who are the managers and how can they best assist us in these types of matters?
Desired outcome: Call me and refund my money i must pay school fees for my children . This is by far no where my problem , or my fault.
Eldo Coaches
-
Cockroaches infestation
Would not even give this company a 1 star rating as they are not worthy of it. Customer service is absolutely terrible... The bus is full of ****roaches more like infested, when I tried to complain to the staff they told me call the call center as there's nothing they can do, I tried asking if they could buy a bottle of doom as we where at PMB station and they blankly ignored me as a customer I feel that they only want our money and are not interested in customer service... This bus is broken and in a very bad state I will not be traveling by this bus ever again and would not advise anyone to take this bus this is absolutely disgusting. Wish I could have put a picture or a video so everyone can see the condition
Desired outcome: Something needs to be done and I would like a feedback
This review was chosen algorithmically as the most valued customer feedback.
The MOST Unreliable with ABSOLUTELY EVERYTHING. The first time I used Eldo, about a month back, as I'm traveling back and forth between Klerksdorp and Johannesburg, they were 2 AND A HALF HOURS LATE. THIS time round, I booked the earliest I could, which was for 4.30am Monday 28th March, without any communication from Eldo coaches, and the timing was of...
Read full review of Eldo Coaches
Eldo Coaches
-
Ticket refund
So yesterday I bought two tickets from Cape Town to East London and I missed the coaches however I tried to call before the departure time because it was obvious I was gonna be late, I called the telephone numbers provided but I couldn't get through, I even tried calling the WhatsApp number but it was on voicemail. So today I called to see if maybe me and son could be slotted in for today's bus but little did I know that my ticket has already expired and no refund will be implemented. I see no point of not being refunded or offered a new ref number seeing that in your systems it shows the ticket was not used. Please do attend to this.
Desired outcome: I would like to be given a new ref number not the money because I didn't use the current ticket, it doesn't matter the date.
Eldo Coaches
-
Delayed bus arrival and no explaination
I booked a 9pm bus from Durban to Pretoria. What a terrible mistake. Thanks to them I was late for work. The bus arrived 1hr30min late at the beach front pick up. It took us to the bus station downtown and we were told to get off. 3hrs later I was still waiting for a bus to Pretoria. I have never been so disappointed and let down like this before.

DO NOT BOOK ELDO COACHES
Eldo Coaches
-
The bus and lots more
I am at present sitting on an Eldos coach and sweating as the air-conditioning has been turned off.The bus Left Midrand over an hour late and then went to Park station after we were told it's wasn't going there.Aparently the Aircon is turned off when going uphill.What does that say about the condition of the bus.I will not be using them again.further I will speak to everyone I know about this trip
Eldo Coaches
-
Short changed
Boarded a bus today and was advised that it was R390 and was given change in the form of a single R10 note. I was just buying the bus last minute in a hurry to board but upon inspecting the ticket I see the amount listed as 385, service rep at Durban station( Ntombi2) on the 13th of March 2022 10h55 failed to mention the price nor did she ask me to check the ticket. Now I am R5 short.
Desired outcome: I would like this amount promptly returned to me or the server dealt with. I can only imagine how many R5 coins are collected by your consultants, they're making a killing, at customers expense.
I've been in this bus for 6 hours and it's only now reaching the half way point. I will run out of transportation at my departure point if I didn't care about arrivals times I would have boarded later at DBN but I boarded a 11am bus so I would get taxis when I arrived in JHB. This service is so inconsiderate why don't the busses get checked before they operate? What happened to standards. Now I'll have to sleep on the streets because the company doesn't maintain their busses.
This review was chosen algorithmically as the most valued customer feedback.
I booked a bus 04/03/22 from Park Station to Durban Station and it was supposed to leave at 7:30. We received messages from y'all saying that the bus will arrive at 08:30 and it never did, it only came 09h30 and whenever we asked the staff they were ignorant to us and got irritated by the fact that we asking. I tried reaching out to your Whatsapp line and...
Read full review of Eldo Coaches
Eldo Coaches
-
Online booking at eldocoaches.co.za
I booked tickets this morning from eldo's website the payment went through however I didn't get any communication nor reference number from them, I advised them on whatsup no response when I look into my statement it does reflect eldo coaches it reflects David long distance services and they have kept quite, this is extremely frustrating i need to leave Cape Town Wednesday afternoon eldo coaches get back to me asap.
Desired outcome: I need my tickets or my money back
This review was chosen algorithmically as the most valued customer feedback.
2 March 2022, I was booked on one of their busses Eldo coach to travel from Pretoria to Durban. From Bosman station to Durban Station. Firstly the bus arrived a whole hour late at Bosman station. Then they told us that this is not the bus we will be taking, it's just a shuttle service the actual bus is at park station. We travel to park Station we get there...
Read full review of Eldo Coaches
This review was chosen algorithmically as the most valued customer feedback.
Today we experienced the worst service ever from Eldo Coaches. We were expected to depart at 7.20am and had been waiting since 7am this morning other passengers since 6.30,only for the bus to arrive at 9.20.With no explanation or apology whatsoever. Then we had to travel on a bus that was in such a terrible state. 3/4 of the charging stations were not...
Read full review of Eldo Coaches
We are here to help
16 years' experience in successful complaint resolution
Each complaint is handled individually by highly qualified experts
Honest and unbiased reviews
Last but not least, all our services are absolutely free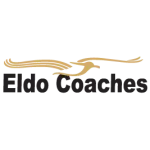 Eldo Coaches contacts