Eldo Coaches complaints
165
Newest Eldo Coaches reviews & complaints
Safety of passengers
On 12 May 2023 I was traveling from Cape Town To Johannesburg using 13:30 bus

The drivers were under the influence of alcohol and along the way the were still drinking and they made stops on alcohol selling places to buy their alcohol

They were drinking from Capetown until in Johannesburg

I tried to contact Eldo Coaches Office to let them know but they blocked my number
Desired outcome: Train your drivers on safetyDon't hire alcoholicsAnd I demand an apology for not enjoying my trip
The bus not being serviceable
The bus was scheduled to depart 22:00 date [protected].It departed at 23:00 one hour late arrival time was gonna be the next day 05:55. then along the way it broke down by 02:00 at the middle of the road. We then had to stay inside the bus as it is very cold these days waiting for another bus which was only coming in the morning by 10am to take us to Johannesburg.The car that was waiting for me in Johannesburg has gone due to my late arrival i don't know how i will go about now.I am very disappointed and angry about this company/bus Eldo Coaches.
Desired outcome: I need a refund
Not the bus I booked, no toilet arrived late!!!
Also coach has the worst service they keep disappointing me but I keep trusting them again! I'm soo done! They sent an old "school bus" of which we didn't book! The bus was soo full we had to sit with our suitcases inside! Mind you I'm travelling with a baby! The bus was soo full soo slow no toilet! It had broken things! Arggg I'm really disappointed and fed up!

Let's stop using this bus! They don't consider their customers I mean we pay for such disrespect!
Is Eldo Coaches legit?
Eldo Coaches earns 36% level of Trustworthiness
SAFETY ALERT: Our evaluation of Eldo Coaches found a legitimacy rating indicating a low level of trustworthiness at 36%.
Malware has been found on a website in the past,it is advisable to avoid visiting websites that have been reported to have had malware in the past as it may pose a security risk to your device. Instead, consider using a reputable website for the same purpose. It is also important to have up-to-date antivirus software installed on your device and to exercise caution when downloading and clicking on links from unfamiliar sources.
Exercise caution when using eldocoaches.co.za as it may have lower quality content or a poor user experience, leading to fewer visitors and lower traffic.
We have detected an internal review system on Eldo Coaches's website, which can be a positive feature for customers looking to make informed decisions about the company's offerings. However, we recommend that you take the time to research the reviews and verify their authenticity before trusting them entirely
However ComplaintsBoard has detected that:
We found clear and detailed contact information for Eldo Coaches. The company provides a physical address, 4 phone numbers, and 2 emails, as well as 3 social media accounts. This demonstrates a commitment to customer service and transparency, which is a positive sign for building trust with customers.
Eldocoaches.co.za has a valid SSL certificate, while Scammers can obtain a valid SSL certificate by using fake information or by using a stolen or hijacked domain. In some cases, they may even use a certificate issued to another legitimate website.
Our scan shows Eldo Coaches website is free from malware and phishing activities, which are types of online threats that can include viruses, worms, Trojan horses, ransomware, and other malicious code, as social engineering tactics used to trick users into sharing their personal information.
Eldocoaches.co.za has been deemed safe to visit, as it is protected by a cloud-based cybersecurity solution that uses the Domain Name System (DNS) to help protect networks from online threats.
Our Conclusive Verdict: The company has a low level of trustworthiness. We advise being cautious when dealing with this company and to read reviews carefully, being mindful of any negative comments or concerns before engaging with the company.
Bus, timing, pregnant woman, no charging blocks
Hi, we had to wait 2and a half hours for this bus to come, my daughter is pregnant she had to stand in the cold all seats where taken inside refer to my attachments..ur staff at the window is rude ur staff directing us where to stand and wait is rude and speak in his language we didn't understand. There was no communication from ELDOS Staff, I want my money back I refuse to take this bus back Sunday the 14th I'm going to the police as everybody on ur platform and whatsapp lines is ignoring me 4660 I want it back. No charging point change ur adds on the site of u lie man. I'm an upset customer which had 3 kids with me. AL is want is my money. Read my emails below I have send to ur head office. [protected] Zahrah
Desired outcome: I want my money back I'm not going to use u going back to johannesburg I'm here for my father's funeral but Eldos made it unbearable
A [censored]ty bus, literally and figuratively
I don't know where to start!

The bus was VERY late

The was SMELLY! The toilet was out of order so the whole bus smelt of URINE and STOOLS

The bus was SLOW!

There were no opening windows

The front sit window was broken and patched with cardboard

WORSE EXPERIENCE OF MY LIFE

I WILL NEVER EVER EVER TAKE THIS BUS AGAIN!

22h00 bus from Dbn Station to Park Station Jhb

[protected]@gmail.com
Desired outcome: I'd really appreciate a refund because what the hell did I just go through???! 9 hours of PURE HELL
The service
On the 23rd of March the bus got delayed by almost 3 hours at Park, without any logic explanation. Today on the 27th at Durban we were suppose to board at 8:45 but the bus arrived around 10:30.what worse is when we arrived at Park we had to wait AGAIN for almost an hour for a bus to take us to pretoria. I'm totally unhappy with your service and it was definitely my first and last time using your busses.
Desired outcome: I'd like an apology a very sincere one.
6 months of waiting for my tickets refund
Hi, please note that i have been since waiting for my ticket refund from last year September to date and been calling somedays the calls don't even go through. or I'm told of a backlog. 4 tickets that i cancelled and i still have not received my refund.

I do not know where to escalate my problem because I'm sent from pillar to post. can anyone assist me with getting my refund after all the required documents were submitted to serval email addresses and follows being done with no success.

it Eldo all a scam?
Desired outcome: My refund money paid out to me
Service delivery
On the 06th of February 2023 I booked an online ticket from East London to Johannesburg.

According the ticket, the bus was supposed to leave 16h30. We only left East London at 18h00. When we arrived in Queenstown On the 07th February 2023 because my mother in Johannesburg had a stroke and was hospitalized. I waited more then hour for the bus at the Windmill, East London to Johannesburg. When we arrived in Queenstown, no one of the staff said that we can not get off to go to the shop at Engen garage, so I got off when I got back the bus started and drove while I was next to the bus. I knocked at the door and the staff of Eldo coaches refused to open the door. I had to walk fast next to the bus into the water as it was rainning. The passenger inside the bus started shouting because the driver wanted to leave me behind intentionally. Only after the passenger started shout they stopped and opened the door. This matter will not be left unresolved. I am urgently waiting for a response. If I don't receive any response from your offices I will proceed legally. I can be contacted on my mobile number [protected].
Desired outcome: Money back or disciplinary action must be taken against the staff on the bus.
Incompetence
2 February 2023

My sister took the Eldo coaches bus from Pretoria to Cape Town. When they got to jhb, they were changed into another bus. They left and just when they got to the first Tollgate, they were told they have to wait 5+ hours for another bus( Next to the road). The charging points were not working and the overall service is just HORRIBLE!
Desired outcome: If you know your busses are not ready, why even sell the tickets? Why take people into remote areas and then tell them they have to wait 5 hours? Rather leave people in Park station where it's safe and can have other options
Bus services cancelled at the last minute with no alternative offered
I bought my bus ticket on the 16th of Jan for the 21 Jan 2023, only to get a call during the day while hard at work to tell me that my bus has been cancelled without valid reasoning, no alternative option was offered to me instead I was told to apply for refund that will take up to 21 days regardless of the urgency of my travelling reasons. I had to fork out more money to get another bus with a different company while waiting for 21 days for my refund with Eldo coaches. I'm not at all happy with their service.
May as well take a taxi
Good Day
Please may I have some assistance.
On the 20th December 2022 my son caught the Greyhound bus from park station to Durban Beach Front.
The bus was supposed to leave at 10pm. It leaft at 1am on the 21.12.2022
Then he was dropped by DBN station and not the beach front.
He has a return ticked from DBN back to JHB on the 27.01.2023 BUT now we do not know if they will be leaving from the beach front or from the station.
I have tried to call [protected] and keep being put back in a loop. No one answers.
I need help please or is it necessary for me to go to social media?
Thank you
Brigitte
Desired outcome: Information
Bus keeps losing power
We're on route to Johannesburg from P.E. The bus keeps losing power. We managed to get to Graaf Reinett after almost 4 hours and We're told they can't help us there, the driver must struggle until he gets to Colesburg for help.

This is so unprofessional and dangerous for the passenger's. Why can't help come to us? It's so negligent for the driver to force driving with us in the middle of nowhere.

I am never using this bus again. My first and last time.
Desired outcome: Fix your buses and stop putting people in danger cause of greed.
They don't service their buses our bus broke down.
Eldo coaches bus broke down they don't service their buses, our bus broke down after leaving king williams town from then onwards drivers kept on trying to fix the bus waited for hours at a place called cartcart enroute to queenstown late at night around 10 o'clock very frustrating and apparently this has been a norm with eldo coaches had I known I wouldn't have booked with them.
Desired outcome: Inspectors or investigators must be sent to inspect their buses we can't have people complaining about the same thing over and over again if they don't meet the required standard they must be stopped from operating
Time management
Time management was a problem bus 09:30 bus from PTA only ledt JHB at 13:00t

Lack of communication to your clients.

No one offered the pasasags how long it was going to be 2hrs delayed.

Now the bus is over heating and the driver just contacted the office we will stop at Villiers help.

Hyiegiein a huge problem.. spriny cleaning highly recommend. I7
Desired outcome: Improve the service for your buses
I am complaining about the service
Dear Eldo coaches (Bus B790) Registration HJ44 YH GP

As I am writing this complaint I'm in the bus heading to Cape Town the bus is over heating, firstly the bus was late and now this incident. I am going to the interview in Cape Town, my interview is at 2 pm the bus was suppose to be in Cape Town 12pm / 9 December 2022, if late at least 1 but now I doubt it will make the time.

Please tell me what do I do now since your bus will make me loose my interview, what do I do from now on.
The bus
Eldo coaches has a very poor service. They broke my suitcase. Got stuck in the middle of nowhere for 6 hours with no water and no food. Drivers took out water to try and fix the bus but it did not work. Im a sick person and it compromised my health, my work and endangered our lives. The bus was not even ok when we left jozi. It smelled like something was burning but management did not care at all about or lives and told the drives that they will see what they can do. You guys need to stop playing with people's lives. As we speak I am sick coz I was stuck in tbe middles of nowhere without medicaation, food and water.

I would never recommend this bus ti anyone nor ever use it again.

Poor service
Desired outcome: I need my luggage to be compasated
Service
I booked a 12h05 bus on 03 November 2022, the bus on arrived at 14h46.

The waiting room has no functional bathroom, tne elderly are expected to walk across to McDonald's.

The but itself has broken seats and the toilet stinks just like Eldos Service.

The ticket was bought at the African Link offices at the corner of Commercial and Burger Street. The staff wwas friendly and helpful.
Desired outcome: They should be tired of apologizing as the service is deteriorating over the years. They must do better by their customers
Very rude and bad customer service
The service I received in Pretoria Bosman from Patience Mathebula was pathetic. I have a child traveling with their bus from Cape Town 18h30 29 October 2022 to Pretoria 13h00 30 October 2022 and I have been waiting the since 12h45 and the bus have not arrived when I went inside to ask about the whereabouts of the bus she rudely told me that they don't check on arriving busses but the ones that are departing while talking to me she was uninterested and busy eating. Busses gets into accidents from time to time and I'm not sure if she doesn't understand my concern or that is how they are trained at eldo coaches but I need that lady to be disciplined as she has no manners and customer service..
Desired outcome: Disciplinary should be taken and she need to be removed from facing clients because she does not like what she does.
Late bus with no information
At 08/10/2022 myself and the other people boarding the bus which was supposed to departure from Pretoria bus station at 18:30 to arrive at Durban Bus station at 4:15, experienced the at most shocking and disappointing customer service. Whereby our bus only arrived at the station to board us at 19:40 and only left the station at 20:15, with poor communication in relation with why our bus was late and was only informed once we asked the Administrator. The message of apology only came through to us a hour later after asking repeatedly where's our bus. This also caused chaos in regards to board our bus whereby there were other people waiting for there bus that's travelling the same route.
Desired outcome: Better communication
Bus delays and not being attended
We are here in Park station with no couch or someone to address us as passengers. Our bus was suppose to leave at 20:30 going to Queenstown. an hour later nothing ! Sickly old people and small kids are in a long lines waiting. I can't believe I paid my hard earned money for this rubbish. Who is responsible for this as this is the second time experiencing this with this bus on the same time slot.
Desired outcome: Be on time and respect us as your customers or else stop this time slot so we can go support other coaches who know why they are in business.
Collect Your Trust Badge
Be recognized for outstanding customer service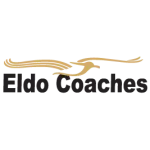 Eldo Coaches

contacts
We are here to help
19 years' experience in successful complaint resolution
Each complaint is handled individually by highly qualified experts
Honest and unbiased reviews
Last but not least, all our services are absolutely free