TumbleDeal.com complaints
13
TumbleDeal.com
-
disappointed with them
I bought incredibly beautiful 18K Gold Plated Graduated Multi-Color Crystal Hoop Earrings- Made with Swarovski Crystals - Yellow Gold. I was so excited to get the earrings, but when I saw them I was extremely frustrated.
Two of crystals were missing and they weren't inside the package.
Not that I would be embarrassed to wear the earrings, I doubt anyone would notice, but I didn't pay for this, I want to replace them.
Been on the phone for 40 minutes, waiting for them to pick up. Oh, I'm not impressed at all.
This review was chosen algorithmically as the most valued customer feedback.
Good morning, my name is Viola Peterson, I ordered a Coach purse from your company awhile back but when I got it the size was smaller then I wanted. I returned it and was given a store credit. I was told that I would be able to get the same purse in a larger size since it had been available on the site before but I would just have to wait until it wa...
Read full review
This review was chosen algorithmically as the most valued customer feedback.
Contacted TumbleDeal on instructions to return a purse I ordered. Emailed them early this morning by email (which is how they said to do it) and reply said a rep was looking at this and would get back with me. No one has returned email yet. Why is this so difficult to return items. I sure wish I had read complaints on this company. I order tons of item...
Read full review
TumbleDeal.com
-
Can't contact customer service
I need to return a defective item which I received from TumbleDeal but I have no idea how to contact these people!
I sent them numerous email but did not receive a reply. Then I found their phone number but they never picked up. I'm not sure if they are a scam or not, but it's quite obvious that they are not interested in helping their customers.
Maybe someone know some additional ways of contacting TumbleDeal? Please, I really need help!
TumbleDeal.com
-
Coach Purse
Don't believe the hype of this site. I was under the impression that the items the site is selling are authentic but the purses come from China. I will be filing a complaint with the BBB and also sending an email to the real Coach manufacture and letting them know that Tumble Deal is selling knockoffs with the Coach name on them. It's illegal.
Pissed Off
This review was chosen algorithmically as the most valued customer feedback.
Purchased a purse from TumbleDeal one month ago, and received in reasonable time. I was quite excited when I received the package and surprised that my order arrived in time. But I was extremely disappointed, when I saw the purse. I paid over $100 for it, but it was not authentic. I have owned several purses like that, and the one I received was completely...
Read full review
This review was chosen algorithmically as the most valued customer feedback.
I am not sure where they get all the positive reviews, but I think Tumbledeal is a real scam! I read some reviews about them and decided to order some tings. But now I know that all the reviews were fake, and they probably post the positive ones themselves! I purchased some items and they charged $400 from my card. Few months later I didn't receive anything...
Read full review
The complaint has been investigated and resolved to the customer's satisfaction.
The company has left an official comment on the complaint.
This review was chosen algorithmically as the most valued customer feedback.
In mid October 2015 I ordered a handbag from tumbledeals.com. The bag they shipped me was not the one I paid for. I sent an email and explained that I had used a shipper as I was in the Caribbean was asked if I wanted an exchange or a refund, as I really like the bag I purchased I opted for an exchange. They sent me a return label that I could not use as it...
Read full review
TumbleDeal.com
-
Handbag
After ordering what I thought was a Michael Kors bag and receiving a cheap knockoff I found I was unable to return it and they want to give me credit to a business I would no longer engage with . I am fighting through my credit card company to get the charges reversed all because of their deceptive practices at a time when most online businesses give returns on their merchandise and have a 100% satisfaction guaranteed or your money back. Buyer Beware
TumbleDeal.com
-
Products
THANK YOU!. We're it not for this Complaint Site and people caring enough to warn others I would have ordered items today. I read an article about this site and the designer purses that were available at huge discounts. The article claimed the items were products that were from over produced because of mistakes in sales projections for the year. The information was on a very reputable news site. I feel for anyone who were victims of this SCAM SITE. DO NOT ORDER FROM TUMBLEDEAL.
TumbleDeal.com
-
Scam / Rip Off / ONLY Store Credits Given!
BUYERS BEWARE!

I purchased 6 items from this company 2 weeks ago and when the first 5 arrived yesterday...they were terrible! Everything was misrepresented in the pictures and details on their web site that I received!

I have sent many emails to customer service and all I get is... if I am unhappy...they will give me a store credit. I don't want a store credit...
I don't want anymore of their junk!

So if you buy from them...don't expect a refund...this is a scam company that spent tons of money on a impressive web site to lure you in. I didn't spend much $ and it wont break the bank...but it is the principle of the deal! I did not get what I ordered off the web site and would not wear it, or even give it away. It is cheap looking, terrible
quality and looks nothing like what is on their web site!

After some research, these people are the same ones that own Qui-Bid and if you Google it, you will find the same complaints. I am writing the BBB and the Attorney General and will contest these charges with my American Express explaining to them what kind of a scam company this is!

Here is some info on the owner of TumbleDeal. Notice he was too stupid to get a new email address. Just used his Qui-Bids one!

Owner: Tim Heaton
Owner Address: 1601 NW Expressway
Owner City: Oklahoma City
Owner Postcode: 73118
Phone Number: 15732895376
Email: [email protected]
This review was chosen algorithmically as the most valued customer feedback.
This Tumble Deal are a bunch of scammers👿I thought I would try them out cause like a lot of us I'm a online shoppers.So I gave them a chance guess I shoulda read the bad reviews first bought product paid $60 for what they said was a 1carat diamond sterling silver tennis bracelet sold at there discounted price that I froze on their website had it 3 wks it...
Read full review
This review was chosen algorithmically as the most valued customer feedback.
Don't buy from the seller www.tumbledeal.com. They provide false advertisement. They offer to buy one things, but in reality they don't have such things at all. I ordered 2 Michael Kors handbags, but after 3 weeks I only heard some stupid excuses, why the order still hasn't been delivered. These people are scammers and liars, who take money and provide nothing. Please post your comments about this company.
Read full review
We are here to help
16 years' experience in successful complaint resolution
Each complaint is handled individually by highly qualified experts
Honest and unbiased reviews
Last but not least, all our services are absolutely free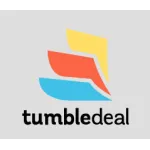 TumbleDeal.com contacts