SkipTheDishes complaints
155
SkipTheDishes
-
Missing order
I ordered a piece of wood breadsticks and never got it. They claim it was delivered but I never was. Thankfully I got them to refund me but still I'm thinking the driver was hungry and so he claimed that I was delivered even though he knew for well he didn't deliver it. The driver's name Dinesh. This is in Saskatoon Saskatchewan Canada.
Desired outcome: More accountability
SkipTheDishes
-
Order charged 3 times
Hi,

Last night I ordered on your website.
My order was taking more than 10 minutes to confirm and I never got a confirmation.

I then tried to place the same order again and the same thing happened. I clicked cancel and restarted.

I received my order, started eating and then got a second delivery, which the delivery guy told me would be refunded since I already got my order. He brought back the food with him.

I have been charged 3 times on my credit card. I contacted your customer service by chat and the agent refused to refund me.

You will find the screen shots of my order history as well as my conversation with your agent.

Thank you for your quick response.
Desired outcome: Refund of the two extra orders
SkipTheDishes
-
Order not received
Did not receive my order. I opened a chat to complain and was told that the driver confirmed making the delivery to my address. He also confirmed seeing my identification apparently. (It was an alcohol order)
1. I always meet the driver outside when ordering. This time it was left on my step apparently. But then how did he see my ID?
2. The front door of the house is not even my residence. There are multiple suites in the house and my door faces the back yard and is behind a locked gate. That's the reason I always meet them in the front. There's no way he delivered it to my door.
3. IF somebody showed him ID, it was not me and the name on the ID MUST match the name on the order. I asked the person in chat to ask the driver what type of ID i showed and never got an answer but the TRUE answer is quite specific and I can pretty much guarantee he would not be able to answer that question specifically.

I was charged just under $30 and got nothing but bad customer service in return. I consider that robbery.
SkipTheDishes
-
delivery time
I placed my order at 6:35 and was not delivered yet . its 9:06. I am very disappointed please get beck to me ASAP My guests are hungry.
My phone number 7808196729. I don't think i will us your services any more.
We need 350 characters to be legit so i ma writing to let you know that i am very disappointed. If i would know you are so overwhelmed with amount of orders i would not use your services.
SkipTheDishes
-
Cannot place orders within the app, can't use Skip Credit
My sister recently gifted me $100 in SkiptheDishes Credit for my birthday to my Skip account. However, I found out very soon that I was not able to place any orders, no matter how many times I have tried (using cell 4G, Wifi, my computer, other devices).

I was later told by support staff through chat that my account was flagged for suspicious activity and because of that I am unable to place any orders. Since then, I've been trying to get through Support staff on the SkiptheDishes website repeatedly but they leave as soon as I ask for my problems to be solved! Sometimes, without even saying anything!

What am I supposed to do with the credit that I received? I would like a refund for this credit as soon as possible so that my poor sister can get her money back!
Desired outcome: Full credit refund
SkipTheDishes
-
Getting terrible food and no refunds.
I got literally inedible food; it was as hard as a rock. I spent 30 minutes to get 50% of the wrong order refunded. I still have to order food for my partner now who didn't eat because of the bad food. I get it's complicated, but wtf I have to throw the dice and hope it'll be good this time now. I have under $5 of skip credits to order another $20 worth of a meal. I'm absolutely irate right now that I've supported you guys for so long and can't get more than a "go away" response.
Desired outcome: Fix your refund for long time customers of particular restaurants
SkipTheDishes
-
Courier Success Team
I think the Courier Success team has recently been outsourced to India, as I get a lot of Indian sounding names up there lately.

The quality of service the Courier Success team provides has gone way downhill. Last night alone I had a guy who didn't read who tried to tell me I didn't give him the order # of the order when that was literally the first thing in the chat.

I had another agent who tried to tell me that the contactless delivery mandate "only applies to couriers" which makes no sense and is obviously wrong - the customer website of Skip itself contradicts this.

Then I had another agent who claimed that my report of a full contact delivery incident was after an order was delivered (not that that should matter anyway, but I digress...) when I reported it during my shift.

Complete and total incompetence. It's incredibly frustrating to deal with.
SkipTheDishes
-
My delivery
You guys use to have great customer service. I ordered from wendys and my order was not at my door when I went to get it! Chat froze or the guy just didn't get back to me. I put in for a refund and it was declined. no number to call and then chat turned in to message only. Now I get an email saying that my refund is refused.
Hours later I had a neighbor knock on my door the found my Wendy's order four doors down and it was on the sidewalk and looked like it had been mauled. I can only assume a racoon? Shit happens. But how can I continue to work with a service with little to no customer contact or care at all. If only to cover your drivers ass why wouldn't you want to follow up?
Desired outcome: You guys need to be able to be contacted!!!
SkipTheDishes
-
Subway kanata centrum shopping center
Order # 3425-25447

Order was incorrect and the restaurant refuses to make it over again and deliver it to us.

Apparently if we want it replaced we are expected to drive to the restaurant and return the incorrect item before they will make a new one.

The reason I had the delivery by Skip The Dishes was because I can not go to the restaurant today.

This is totally unacceptable.

If you are smart you will remove that restaurant from your delivery service as they are not doing your firm any favours to your reputation.

Also, your driver did not have the items in a insulated bag so the sandwiches were cold.

This is not the performance I expected and paid for.
Desired outcome: Get rid of Subway Kanata Centrum from your available restaurants.
This review was chosen algorithmically as the most valued customer feedback.
I went online (skip) to order Tim Hortons, options to add and subtract toppings are awful. I went over to the chat center to see if I could ask some questions. I was told that I had to make my ORDER first in order to add something and it was to be under $5.00, which again makes no sense. I was super confused and skeptical I did it because I was starving. I...
Read full review of SkipTheDishes
SkipTheDishes
-
Order item 337553589 was never delivered. Refund does not include total amount paid for
I placed an order 337553589 for an item to be delivered to an address with a unit number (421) in the notes section (as the website instructed). I am not able to enter the unit number anywhere else.

I paid $27.08 in total including a delivery fee, tax, and tip (Tip is for a job well done). The item is completely missing.

The courier only texted at 2:23pm and made no call. I tried calling back at 2:32pm (9 minutes after the text) and the call can no longer be placed. I'm charged for wasting my time, spending time to correct this mistake.

Refund is only a Skip credit of $20.48 from the restaurant.
Desired outcome: Full monetary refund of $27.08
SkipTheDishes
-
Rude behaviour of jaspreet k and skip points
Rude behaviour of Jaspreet K and even getting response from previous customer service for my problem resolutions, I haven't get anything, just rude behaviour of representative
SkipTheDishes
-
The meal was an epic fail
Caramel sauce all over burrito, missing milk, missing crustos, taco salad bowl was burnt, no caramel sauce left for churros. This was the worst meal ever. It all went into the compost - at least the items we did receive. Quite upset about this waste of $71.72. I AM NOT SURE IF I WILL EVER TRUST SKIP THE DISHES AGAIN. IMPOSSIBLE TO CONTACT WHEN THERE IS A REALLY BAD PROBLEM.
SkipTheDishes
-
Refund
Just wanted a refund like originally offered.. everything needed for information should be in the photos that I have attached.
SkipTheDishes
-
Missing item and lack of communication
I ordered multiple items one eve, got a call stating one item not available and git skio credits for that item. Once received order, another item was missing. I was chatting with the app support online messaging and then was cut off. When tried to reconnect, it said no one available to chat. Tried again everyday since that day and I have yet to receive a response. Very unhappy with lack of response from this company. They used to be on top of things before, now they lack in that field.
Desired outcome: Refund missing item. Still on the bill
SkipTheDishes
-
Courier & customer service reps
I placed an order on Aug 27 2021 at 5:37pm for my family. Order number 323239345. My couriers name was Annika. Basically my food didn't arrive. I reached out to the Skip the Dishes team and they said we are sorry and gave me a refund. I told them I have a family with a child waiting for food and to call the driver. They said that the courier was 'unavailable'. I asked twice and they said the same thing. They also said to reorder, which I though was rude since it would take an hour to get it.

What's upsetting is the lack of transparency. There are no repercussions for the courier at all. It's a poorly designed system and the Skip the Dishes reps must be able to get in contact with the couriers at all times.
Desired outcome: Fix the system
SkipTheDishes
-
Missing item/customer service
I placed an order today and only received half the order. I called the restaurant and they said they had packed the full order and I needed to call skip the dishes.

I did, and when I finally got a hold of someone they said my account had been flagged due to high refund's……? So in the past, they have issued me refunds due to similar issues and now I am flagged and will not be reimbursed for missing items in my order? Oh, then the customer service rep hung up on me 👏🏻👏🏻👏🏻👏🏻

Great customer service @skip the dishes, criminals.
Desired outcome: I don't want my money back, I want this a$$holes exposed
SkipTheDishes
-
Delivery
Hello,
I have contacted Skip the Dishes several times for a refund regarding my order. They have yet to respond to me. I requested a full refund for my order - it was late, mishandled, and bad service from courier who also did not adhere to public health guidelines for a mask.

My order number for that is 316596632. I am requesting a refund of $ 55.14. Please let me know if you require additional info.
Sabareena Chowdhury
[email protected]
Desired outcome: Refund of $55.14
SkipTheDishes
-
Wendys Courrier delivery
I am contacting you regarding the horrible customer service that we recieved today. I am a gold status member of skip the dishes but will not ever be ordering from you guys again. Your courrier accepted my trip and was supposed to be driving to the restaurant. Instead of going to the restaurant they sat in the same place for over twenty minutes. When I contacted support I was told "you can cancel and have no refund" the support team was very rude and unhelpful. I will tell everyone I know to never deal with skip the dishes after today. You lost a very faithful customer and gold status member. Hanoor was the name of the customer service person and the reason that we will never be back. I've added a snap shot of our convo
SkipTheDishes
-
Driver
At about 8 pm on August 3 a lady driver delivering to 1144 Adamson Drive Edmonton Alberta drove through our community which Has one way in and out but she did not want to turn around so she drives across the grass of one of the homes around the Barriers to proceed into the next community of 1144 Élan and then parks in a Handicap parking stall I walked over to where she was parked and asked her if that looked like a road way where she drove and she could have easily broke the water shut off valve in the grass of that home. She yelled at me she was sorry but then continued to yell at me to get a life and a few other things, I walked back to my community and on her way out she stopped and yelled some more at me. This is not the first time drivers from skip the dishes have been in our community and been obnoxious one time a driver delivered to the same address 1144 and his passenger got out a urinated on a neighbours lawn this was 2am in the morning and when I confronted him he asked if I had nothing better to do than be up at this time of night. I told him my camera woke me when they drove in and I thought he was case out the neighbors but he was urinating on the grass
We are here to help
16 years' experience in successful complaint resolution
Each complaint is handled individually by highly qualified experts
Honest and unbiased reviews
Last but not least, all our services are absolutely free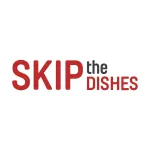 SkipTheDishes contacts
SkipTheDishes representatives

SkipTheDishes

SkipTheDishes