Miles Kimball complaints
27
Miles Kimball
-
My order never went through
I need to have a Easter letter before Easter I'm not happy at all with this service you tell me that I have to pay xtra to get a letter for Easter in time I want my child To have a Easter letter in time for Easter I've ordered for this company for years now my child will be disappointed with no letter from the Easter bunny I should get my letter and the Easter stickers in time since this is not my fault I called April 2 I was told it could take up to 24 hours to go in my account I called today and got told nothing they can do but give me free shipping so now I will have a very unhappy little girl this company could at least gave me the priority for free so my child would get her letter in time
Desired outcome: Get a letter for Easter on time
The complaint has been investigated and resolved to the customer's satisfaction.
The company has left an official comment on the complaint.
Miles Kimball
-
Credit Card still pending, but I don't have any information or conformation on a order I made online.
I placed an order online on January 15, 2022. As of today I have not receive a confirmation email on the order. Nor have I received an email on the order being received.
But the Credit Card I used has a pending transaction on it.
I will send a print screen on the transaction below if possible.
The order I placed was a Woodgrain Elasticizes Table cover Item # 1365 color 230 Mahogany I wanted four (4) of those $12.99 each. 1- Air deflector Item # 310808 $6.99. The order total was $63.87 Free Shipping.
Miles Kimball
250 City Center
Oshkosh, WI 54906
Source code: 10102510600 Customer#:1015264663
Desired outcome: I would like my funds returned to the Credit Card so I can place the order again.
Resolved
The complaint has been investigated and resolved to the customer's satisfaction.
Miles Kimball
-
Therapeutic lumber support
Per your catalogue, I ordered the therapeutic lumber support #337744 size no 212 which is suppose to fit a 40" waist. This support is only 33" long and I have a 39" waist which should be large enough per your catalogue. This is false advertising and I want it replaced with size no 213 which is suppose to fit a 45" waist. PLEASE MAKE SURE that it will handle a 39"waist. Your catalogue should be corrected with the right waist size. There should be no additional charges because of the false advertising and the catalogue should be corrected. I will return the support when the prepaid shipping label arrives. Advise.
Desired outcome: I want a replacement that fits a 9" waist and a prepaid return shipping label.
Miles Kimball
-
Ordering Online
Trying to place an order online with Miles Kimball is RIDICULOUS! First of all, there is no option to use your preferred credit account when ordering online, so you always have to call! Secondly, when trying to order via phone, you can never just place the order and get your total and hang up. The customers service agents (through no fault of their own, they are just doing their jobs) have been instructed to offer a gazillion discounted products before they will let you end the call. This is very time consuming and irritating.
Desired outcome: It would be great to be able to call, get the total of your and order and then hang up!!!!!
Miles Kimball
-
An order
I ordered some items on the website and it would not take my order. I really wanted the vacuum and the toy box. I worked on ti all week even a 1 am and I never could get it to go though. I finally called the number and the lady was confused she could not help me. I am so upset. I wanted to scream. I still want to order the items but I do not know. The sale may be over. This is heartbreaking to me and my family.
Miles Kimball
-
MAiling Labels
I ordered mailing labels - $30 and the print is so small and smudged, they are unreadable. If I want to return them, I have to go to my post office and pay for the postage to mail back. Then, because I didn't see a box that needed to be unchecked, I was charged $14.95 to be in their VIP club. I called customer service - they said this happens all the time. BBB needs to look at this company.
Desired outcome: Bad business
Miles Kimball
-
Customer service
I had placed an order with this company last week. I called the next day to cancel one item on the order and they ended up Cancelling the entire order on me. I spoke to a horrible customer service rep named Rochelle who initially told me that I emailed the cancellation of the entire order. Then she backpedalled and stated that it was assumed by the company that I didn't want any other item in the order. I then come to find out that they were charging me $16 a month for some ridiculous Vip rewards program. I never ask for this and while they refunded me 6 months of The payments it was stupid that they had somehow enrolled me in it.
Miles Kimball
-
Charging my credit card extra fees monthly
I placed an Order #SO257319962 on January 19, 2020 for $17.38. Miles Kimball started charging my credit card $14.95 each month. I did not ever give Miles Kimball permission to do this. Why would I agree to a monthly charge of $14.95 per months on such a small order.

My credit card statements say "Miles Kimball VIP Rewards". I had a hard time paying my bills this past year, and did not check my monthly statements like I should have. This is a company taking advantage of people during difficult times. They charged me for 11 months, how can this be legal.
Desired outcome: refund for the charges
This review was chosen algorithmically as the most valued customer feedback.
On August 3, 2020. I received an invoice in the mail from Miles Kimball (MK) claiming I owed them $55.70 for an online order (which I never placed). I called customer service and explained to her that I never placed an order with them and was not paying the invoice. It didn't even state on the invoice what it was that I supposedly ordered. She said I...
Read full review
Miles Kimball
-
Bad customer service
Terrible customer service — I have placed 3 orders and have yet to receive any of them — before I placed the 1st order I called to see how they ship and was told by ups — now I received an email telling me the usps tried to deliver order to my office on a sat when office is closed — I was lied to as they sent ups and it transferred to usps called surpost - I would never have ordered had I known because we have extremely bad usps service and I never order from anyone who ships this way terrible customer service!
Miles Kimball
-
Vanilla toffee and almond fudge.
This item was ordered on November 2019. All but this item in my order was shipped to me. I have called Miles Kimball and went to online website. The online operator transferred me to a website to speak to a lawyer for $1.00. Then I waited 30 minutes for a customer service representative before I hung up in frustration. The telephone number I called indicated no tracking number, but implied my order had been returned. All I want is my order or a refund. Does that require talking to a lawyer?
Miles Kimball
-
rewards program
I will NEVER use Miles Kimball again for any orders! I was automatically charged for a rewards program without my consent. I called and had it cancelled and promised a refund back to my account within 2-5 business days. Today is day 8 and I am on my FOURTH phone call, including a transfer from the rewards customer service line to Walter Drake company, who had nothing to do with my account. Their customer service line was even more rude than Miles Kimball! I shouldn't have to FIGHT to receive an amount of money that I never authorized to be pulled from my account in the first place! Now, I am on the phone AGAIN and the representative is now completing another ticket to refund the money and in the meantime, my bank account has been short this amount of money for 8 days! I realize we're only talking about a small amount of money, but when my purchase was a treat to myself that I had to save for, an unexpected amount of money being pulled from my account, when I have limited funds to begin with, is a HUGE inconvenience! This is the absolute WORST experience I have ever had with an online order! NEVER SHOP MILES KIMBALL!
Miles Kimball
-
customized ornament
I ordered a customized Christmas ornament on 11/30 and the last estimated delivery date given at the time of purchase was 12/13. On Monday, 12/10 I still had not received the tracking number showing it had shipped out. This was a gift for a Christmas party the evening of 12/13. I called them the morning of 12/10 and asked when it would be sent out. I was told since it was customized it takes longer to get it sent out. I explained that the delivery date said by 12/13 and that I needed the product. I was told that my order was in "pick" status which meant it would ship that day or the next. The rep told me that she would reach out to the shipping department and have the shipping changed to expedited and get it out ASAP. On 12/14, I still had not received a tracking number showing it had shipped so I called again. They had no record of them telling me they would expedite the shipping and get it in the mail. This time they told me that it would go out within 48 hours and that I would receive it by Christmas. I asked to speak with a manager because I am getting the same info that I was told 4 days prior. The Manager then tells me that there was an issue with their engraver and that is what the delay is and that is will for sure be arriving before Christmas. About an hour after getting off the phone that day, I received a tracking number. Today is 12/19 and the USPS tracking shows that they are still waiting to receive the package from Miles Kimbell. Basically, a label was created, but they do not have the package yet. I called again today (12/19) to find out why it still has not been sent. The person I spoke with tells me that she does not know where my package is at, but it will be arriving by Christmas. Not believing them at this point, I asked to speak to someone who can figure out where the package is at. I was put on hold for several minutes, then the same woman gets on the phone and says that her Manager said the item will not arrive by Christmas, they do not know where my package is, and they can't replace it because the item is no longer available. The only thing she can do is issue a refund. So, I tell her to go ahead with my refund. She then says I will receive it within 1 to 2 billing cycles. I then ask her what is a billing cycle and I am told 1 to 2 months to get the refund. This was my first and LAST time to order from this company! They have the WORST customer service and WASTED my time and money!
Miles Kimball
-
the bill
When I paid my bill by phone the person said if I paid 24.00 for the month of July (because i've Been paying 20.00 when my bill is only 13.00) that the month of August will be a free month so I didn't pay for the month of August then I got the bill in September with a 15.00 late fee plus the actual bill when I called they said they don't do that and got real nasty and called me a worthless piece of trash...for that nasty comment I WILL NOT PAY A SINGLE CENT
Miles Kimball
-
brushed sock booties seven pair
When I received these socks I was extremely disappointed. They were so thin plus when you washed them, they fell apart. They were supposed to be one size fits all. I don't think any grown up could wear them, they barely covered my feet & my feet aren't big. Was going to send them back but there's nothing to send! I've shopped with them before and haven't received anything this tacky. I also ordered some shirts and they are awesome, especially the ones with the kitties on them. I'd send you photos of the socks, but like I said, they fell apart, so they're dust.
This review was chosen algorithmically as the most valued customer feedback.
4-28-18 Item #360725 Non-Stick Ceramic Copper 13" Countertop Electric Grill by HMP: Arrived without any cooking instructions on temperature or time for different foods. No recipes. Obviously a cheap knock-off of the Gotham brand product shown on TV that comes with all of the above. Definitely NOT smokeless. Smoked so much I had to open windows on first use and it is NOT as easy to clean as advertised. I am VERY disappointed. Kay
Read full review
Miles Kimball
-
pet memorial stone
I bought a pet memorial stone for my dog in August 2017. Well, it is a piece of junk. I put it on my pet's grave but It did not make it through the winter. It crumbled and turned to dust. I called the Miles Kimball customer service to complain and they said they have a 45 day return policy. I said but it did not make it through the winter - I told them I would be happy to send them a picture of what it looks like now. They offered me $10 toward my next order. I said forget it - they should make me whole and give me my money back and the S & H I paid. I will never order anything from their catalog or their store again. For $35 they lost a customer for life - that is how much they value their customers. By the whole, the piece of junk pet memorial stone is still offered for sale in their catalog. Buyer beware!
Miles Kimball
-
cream leather patch multi zip handbag
I received two handbags on my order #SO187854051 It was item #345763. I opened the box and the whole thing smelled like mildew. It was nasty. I've put it outside during the day but it still isn't taking the smell away. I'm not going to send it back because the little handbags are cute for gifts. I just hope I can get rid of the smell by Christmas. You need to get in touch with the people who send these bags. Their storage area must really smell rank. They smell like they have been in a basement. It made everything else in the box smell, even the packing paper. If you have any idea's how I can get rid of the smell, please help me.
Miles Kimball
-
Awful
I beg you guys not to ever use this service.
If they promise they deliver something within a couple business days you convert these days into weeks. The shipping and delivery take forever usually. Saying that because I ordered from them three times and every single time I was disappointed. No, I 'm not a capricious customer who never likes anything, I don't even write complaints, but in this case, I just can't be silent. I have been waiting for 8 weeks for my order to arrive, even though they said it will arrive within 7 days! Don't they see the difference? Oh well, I think they just don't care...
This review was chosen algorithmically as the most valued customer feedback.
I tried to cancel the order (three other things in order - sucessfully cancelled) immediately when I saw how long it would take. Other sellers responded and cancelled they would not. Product came - didn't work AT ALL - contacted them and they say return at my expense - this would cost $5 shipping (the company is trying to charge more than the item i...
Read full review
We are here to help
16 years' experience in successful complaint resolution
Each complaint is handled individually by highly qualified experts
Honest and unbiased reviews
Last but not least, all our services are absolutely free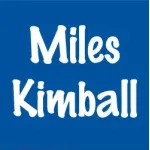 Miles Kimball contacts