Lastman's Bad Boy complaints
228
Lastman's Bad Boy
-
Appluance
I ordered a fridge in January 2022. If has yet to be delivered. Last enquired in August and they said they might have if in the warehouse end of Sept. They keep pushing the date. I have requested a refund but was told all sales final - which implies goods were exchanged for money but I have not received the item. I was told at least 3 weeks ago a manager woukd contact me but I have never received a call.
Lastman's Bad Boy
-
Purchased item not available and company not cooperating
We purchased a built in refrigerator on-line. The company sent an email that they would confirm the order within 48 hours. Our credit card was charged for over $12,000 and no order was ever confirmed. Each time we call they state they will have someone call us back… but nobody ever does. We are ready to proceed with legal action, as this is fraudulence and theft. I urge everyone to STAY AWAY from Last Man's Bad Boy!
Desired outcome: Refund immediately
Lastman's Bad Boy
-
Samsung 11.1.4 CH Soundbar HW-Q990B/ZC
I placed order for Samsung 11.1.4 CH Soundbar HW-Q990B/ZC in May and still don't know when I'll receive it! It's price also reduced 500$ and available on all stores but whenever I call Badboy Customer Center they gave me new delivery date! Even visited the store in Ancaster but didn't receive any feedback! They are also not ready to refund the amount! Will never buy from Badboy in my life and advising same to everyone. Send them emails also but no response!
Lastman's Bad Boy
-
Washer and dryer
I ordered a stable able washer and dryer on April 9, 2022 I paid in full with my credit card told me 2 to 3 weeks. 4 weeks go by I called for the ad save the tax and was told I would be refunded $200.00 but the machine was not ready yet.

In June I got an e-mail the appliances would be delivered the next day 12.00noon to 3.30pm. No show my machine was never on the truck. lies. 2 weeks later another e-mail my appliance would be delivered Friday. another no show I was told the appliance was damaged. I keep calling them I want to talk to a manager but for some reason he is never there. At this point all I want is my $1806.87 that I paid for nothing. I am a widow I don't have money to throw away. I don;t know who to call anymore maybe I should call citypulse. I am still waiting for my $200.00 save the tax refund. another lie. How do these people stay in business.
Desired outcome: I want my refund they have had enough time to get my machine.
This review was chosen algorithmically as the most valued customer feedback.
I paid $30 each for Old Appliance Removal (Full Removal), but your delivery refused to remove the appliance. Please have them removed ASAP. orders: [protected] 6/21/22 [protected] 6/21/22
Read full review of Lastman's Bad Boy
Lastman's Bad Boy
-
Botched Dishwasher installation
I purchased a brand new dishwasher in February 2021 that was installed by BadBoy. After about 6 months of use the dishwasher stopped working. I discovered a severely kinked waste hose. The hose could not be straightened, it had to be replaced. BadBoy refused to replace the hose.

It was obvious that the hose was either installed with the kink in it or Badboy kinked it when installing the dishwasher. In both cases, its BadBoy's responsibility to resolve. They refused to fix it.

After a long and frustrating email discussion (yes, that's right, they don't want to verbally talk to their customers) they stood their ground and refused to pay. This discussion went on for about 5 weeks. Imagine

Please don't give them any business. They don't deserve it.
Desired outcome: BadBoy should've replaced the kinked hose on the dishwasher.
The complaint has been investigated and resolved to the customer's satisfaction.
Lastman's Bad Boy
-
Order## [protected]
I purchased a twin bed on line on March 7, 2022. I was told that due to Covid the bed was in back order and it was expected in 2 weeks. I called on March 16 band was told in April. I said I wanted to cancel because it was too long and besides my son whom I purchase the bed for was moving. I was told that I would get a refund on my credit card within two weeks. I have been calling ever since and I am always told that someone will get back to me. I am still waiting for a call and refund. In the meantime I am paying for something I never receicved.
Desired outcome: Refund my credit card.
Resolved
I got a phone call from Bad Boy today and they will be refunding my card. If that does not happen I will refile. No explanation as to why it takes this long.
Lastman's Bad Boy
-
online order#[protected] on March14, no stock available, no refund
I ordered a range online on March 14th, 2021 from Lastman's Bad Boy website, and the order number is #[protected]. I received phone call from the company and a staff told me that there was no stock available at the moment, the item could be delivered at the end of May. Since I need the item urgently, so I ask them to cancel the order and refund me the payment made. After the phone call, I wrote email many times to order support( [protected]@nooobody.com) and customer [protected]@nooobody.com), and also called and talked with many people with regard to this cancelation and refund, spent many hours on this matter. They all made notes, and a gentleman told me clearly that I would expect to receive the refund in 7 days. However. It has been more than 3 months ...I urgently need the refund since I have no money to pay for credit card. I just request a refund ASAP. The total amount is $958.24.
Desired outcome: Refund as soon as possible
This review was chosen algorithmically as the most valued customer feedback.
It's been almost 5 months since I've emailed them regarding my couch condition,trying to call many times still haven't heard from them...
Read full review of Lastman's Bad Boy
Lastman's Bad Boy
-
Refund on order that I cancelled an hour later as I found out the delivery date was in 2 months and I needed the dryer ASAP
Order # [protected]

I placed this order May 27th and promptly cancelled it because of the wait time. It is now June 2nd with no communications from anyone from your company. I want a refund, yet no one has processed it. It is like you are keeping my money hostage because you don't want to bother with the hassle of a refund. I have contacted them multiple times, via email, chat and I even tried to PHONE and NO ONE answered except the receptionist, who said she couldn't help me and promptly linked me to customer service and I waited on the phone for close to 2 hours one time with multiple disconnects. I am on disability and saved for months for this dryer and this is how I get treated? If the dryer wasn't in stock I would never have given you my money, via Debit Visa.
Desired outcome: A promp full refund so I can go purchase a dryer elsewhere!
Lastman's Bad Boy
-
[protected], a&c furniture leather air sofa in grey 6150
I purchased a sofa on Apr 23rd but still have not received the product from them, I have spent lots of energy calling them or mailing them no one is reachable in giving information on when they do my shipment. I have Visited Store in person multiple times and they are not responsible as I purchased it though Online and price mismatch to be taken care of (almost 500 CAD difference). I have got two small kids and no one care and don't care about the shipment. I am an eCommerce Web developer and facing the worst ever service with this company. It's like a fraud service, Kindly don't ever buy any products online
Lastman's Bad Boy
-
bedroom set
I ordered a bedroom set and part of it was delivered 3 weeks later. They only sent me 2 of the 3 parts for the bed. The mattress does not fit properly and it is difficult to get in bed from a wheelchair. So far they have not returned emails or phone calls. They should be put out of business as they don't care about the customer as long as they have your money. Biggest mistake of my life.
Desired outcome: I want the missing part sent and assembled ASAP
Lastman's Bad Boy
-
Product order never delivered over 7 months calling emailing and all lies from you
I want a full refund now. I have been jerked around for 7 months. no more promises date lies. Sent 10 emails, hours on hold and hours on chat lines. Give me my money back! Send to management

Your Order #[protected]

Placed on November 21, 2021 at 10:54:02 PM EST

Billing Info

Brian Bochek

[protected]@northernselect.com

Shipping Info

Brian Bochek

Payment Method

Credit Card

Credit Card Type Visa

Credit Card Number xxxx-9111

Transaction ID [protected]

AVS Response Y (Street address and Postal/ZIP match.)

CVV Response 1

Delivery Method

Delivery Method - Local Delivery

Items Qty Price

Signature Design by Ashley Valebeck Series Dining Room Server D546-60

SKU: 127192

1 $1,208.00

Subtotal $1,208.00

Delivery & Handling $0.00

Discount (extra 5% off) -$60.40

Tax $149.19

Environmental Fees $0.00

Grand Total $1,296.79

www.badboy.ca

This email is a service from Lastman's Bad Boy. Delivered by Zendesk

[3PPW59-W5RL]
Lastman's Bad Boy
-
Bed
I been waiting over 2 year bed damage wrong bed bad customer service put u on hold 3 hours wen u call cant get to no one to talk to very unprofessional theif very rude worse furniture company my son been sleeping on the couch for 2 years because of these plp an its still not delivered an its 2022 I purchased sense 2020 I called I called Terrible company to buy furniture don't do buisness with them garbage garbage garbage I hate this company don't buy here
Desired outcome: Nothing still waiting on my bed I call everyday
Lastman's Bad Boy
-
Furniture
*! Warning!* save your money!

Hello everyone,

I purchased a product in november 2021 with this multi million joke of a company, and never saw my product even after I waited more than 11 weeks. Do not purchase anything. The "manager" they have evan is useless he does not follow up, lies, rude, entitled, procrastinates, and neglectful. Evan does not get the work done, he makes up excuse and all employees of the sales department are trained to promise you one thing and when you are having problems with the product or need a refund because you will never received what was purchased they will tell you bad boy does not do refunds! There is no one higher than evan to complain about this company so please do not waste your time! If you need to purchase appliances, furniture, etc do not shop at bad boy seek other companies or the facebook market.

Please escalate your complains to the customer complaint [protected] (toll free); [protected] (toronto area) ontario government
Desired outcome: Change in Management, Quicker respond time, Better Customer Service,
This review was chosen algorithmically as the most valued customer feedback.
I bought the sofa in July last year, but I contacted your customer service staff in February, because the zipper of the sofa cushion is broken and needs to be repaired. Until now, no one has contacted us for repair. I need an explanation, please reply, thank you
Read full review of Lastman's Bad Boy
Lastman's Bad Boy
-
Damaged goods delivered and bullying managers
BEWARE OF THIS CRAP STORE AND THE MOST TERRIBLE STAFF! Unfortunately bought a sofa from this store. Got the delivery of a damaged product and then starts their ACTUAL CUSTOMER SERVICE which is just horrifying. We followed up on the phone, emails and went in store sooo many times but were always stalled with an excuse of low inventory and fake promises to resolve the issue and asking us to wait for a month. After 3 months of playing catch with them, when followed up again, that fake and lying manager characters MANNY AND ABHISHEK say that they forgot about our issue. And their audacity to misbehave over phone and in person at the store. They dont give a damn about your experience or the worst quality of product that they delivered but come around saying that they are the BOSS OF THAT STORE and will not apologize for anything (just PURE SHAMELESS ATTITUDE and no remorse at all for their brat-like behaviour or the type of service they gave). Behaving like bullies and challenging to report them anywhere as they well aware of who have hired them.I just pray well for the new buyers and hope that those 2 clowns get thrown away because they have no ethics or etiquette for the positions that they have been assigned to in that store. MAJOR REGRETS OF BUYING FROM BADBOY BUT REPORTING THEM AT EVERY PLACE/SITE IN MY MIGHT. Well now we know why the store is named BADBOY…
Lastman's Bad Boy
-
No delivery no refund
I ordered a bedroom set from Lastman Bad Boys online in October 2021. At the time the particular bedroom set was listed IN STOCK, AVAILABLE and EXPRESS DELIVERY. After 2-weeks I received a call that the set will be delivered in 6 to 8 weeks. I called numerous times but no one picks the phone. I left messages but no call back. No one responds to emails and only once they told me that they will only issue a credit. However, Bad Boys has no bedroom set in in stock. It is just a viscous cycle, provide a store credit, book another set and wait for indefinite period. The order number details are as below:

Order number [protected] dated October 24, 2021

Contact Number: [protected]
Desired outcome: Full Refund - no store credit.
Lastman's Bad Boy
-
Fridge
We purchased a fridge online from Lastman's Bad Boy on August 29, 2021 for the amount of $2836.48. It was delivered on October 26, 2021. It was extremely late and it did not fit in the space. So we immediately contacted Bad Boy to request a refund.

After hours and hours of arguing with them, they agreed to provide a refund, minus a $500 restocking fee, which would be refunded to our visa.

The fridge was picked up by Bad Boy on October 29, 2021. The refund of $2346.58 was promised within 15 days. On November 19, 2021, I followed-up with Bad Boy, who said it was with their finance department. This day we received $565 credit on visa, which is far below the promised amount. On November 21st, I followed up with the finance department asking for the correct refund, where they promised it would be looked into the next day.

It is now February 21, 2022.We have no fridge and no refund from Lastman's Bad Boy.

How is this even possible?
Desired outcome: $2346.58 refund
Lastman's Bad Boy
-
Paying for a television which we never received.
So our ordeal with Badboy began on Christmas day 25th Dec 2021, when we ordered a 82 inch TV online for 2300 CAD (includes 110 CAD of admin fee) using Flexiti payment program. Next day Dec 26th we got a call from BB rep that the TV won't be delivered until end of January 2022. We waited patiently as we thought that maybe due to pandemic there are supply chain issues and hence waiting one month is ok. In the meantime we got this first statement from Flexiti and had to pay the first payment. Now come February 2022, we did NOT hear anything from Badboy. Tried calling the customer care and after 90 mins of wait talked to an agent who said that "oh 10 TVs are arriving next week and let me schedule your delivery". Next week, a big NOTHING. Again called Badboy, after 70 mins got connected to cust care rep and shockingly she said "oh the TV we booked is discontinued by the manufacturer" and asked us to re-select the products to which I politely said that NO we want our money back , please process our refund. Then again on Feb 13th i called and again after long wait a cust care rep gave me phone number and email id of their ecommerce manager who goes by the name Clint. Clint never picks the phone or respond to countless VMs I left for him. Email to Clint bounces back after 3 days. SO no luck. Suddenly on Feb 15th i got a call from BB that since I waited so long Badboy has upgraded us to a 85 inch TV for which I have to wait 3 more weeks to deliver to which I categorically DECLINED and said I just want Badboy to process my refund, to which she said ok and just hanged up. Now today Feb 19th I called the Badboy again and still the refund is not processed, apparently this Clint guy has to approve it and now again my 2nd Felxiti payment is coming up...I am not sure which doors to knock so that they refund me my money and then after that I need Flexiti to process me refund for the payments I made to them. Dealing with Badboy has been a nightmare for us, friends had warned us not to deal with Badboy but we never thought they'll be this BAD. They are just living unto their name.

Whoever from BB is reading this, I am requesting them to refund our money back ASAP.
Desired outcome: I Just want our money back that's the least I can expect from BB.
We are here to help
16 years' experience in successful complaint resolution
Each complaint is handled individually by highly qualified experts
Honest and unbiased reviews
Last but not least, all our services are absolutely free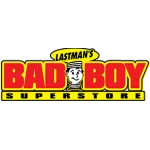 Lastman's Bad Boy contacts