Newest Deem Finance reviews & complaints
DDA abuse
i have been paying my card but when i fail to do so deem charges outrageous amounts and no justification at all to directly debit to my current salary account. they are not responding to request to cancel DDA and even move the dates of dues in consideration of the salary credit dates. its very bad. bad and scamming of people. its a big mistake to lean on to them at times you need to use credit card.
Desired outcome: remove DDA and change due dates
Annual fee
They have call me again and again then ask me to purchase a card its totally free no any charges is there. They call again and again then compelled me to take a card. Then i accept it. When i am received the card i kept in my bag i didn't use i didn't do anything on this card. But now one year completed they are send a message to me annual fee like that. Last month while i have received a message i thought this is something wrong message but this month the amount is multiple and they are asking to pay minimum payment. Just now i call to customer care i have informed about this issues the said within 7 days agent will call you back. But I need to cancel the amount and also the card immediately. Please help me to proceed.
Credit card and customer care
My wife has deem finance credit card which was forced on her by a sales person. Last month she received annual membership fee on card while it was told that it is free card. We tried calling deem finance customer care umpteenth number of times and remained on hold for more than 30/40 minutes but no one attends. We wrote emails to deem customer care for waiving off the annual fee but no response. We have tried applying through app but it does not accept the request of annual fee. however, requests benefitting Deem finance work well on app. My advice to all is to live without anything but dont fall prey to Deem Finance.

In nutshell there is no way to get in touch with Deem FINANCE unless you are willing to talk to customer. Now i will be taking my complaint to customer protection department and Central Bank customer complaints on services.
Desired outcome: Waiving off annual fee which was levied last month that is in September statement
Is Deem Finance legit?
Deem Finance earns 28% level of Trustworthiness
SAFETY WARNING: ComplaintsBoard has reviewed Deem Finance and found it to have a very low level of trust of only 28%. Our analysis indicates that the website may pose a risk to users.
Based on our evaluation, Deem Finance has resolved only 27% of 121 complaints, indicating a severe lack of commitment to customer satisfaction, trustworthiness, and responsiveness. This may suggest that the company is apathetic or disinterested in addressing the opinions and concerns of its customers.
Deem Finance protects their ownership data, a common and legal practice. However, from our perspective, this lack of transparency can impede trust and accountability, which are essential for establishing a credible and respected business entity.
The website belonging to Deem Finance has a low number of visitors, which could be a red flag for users. However, it's important to conduct additional research to fully evaluate the website's legitimacy and trustworthiness.
Deem Finance appears to provide lending services or information on their website. It is important to be cautious when using lending websites, as scams and fraudulent activities are common in the financial sector. To protect yourself, it is important to carefully review the terms and conditions of any loans or financing products, to only work with reputable lenders, and to avoid sharing sensitive personal information with any suspicious websites.
We have identified high risk financial services or content on Deem Finance's website. It is recommended that you use trusted sources and do your due diligence before engaging with any offers or services.
We conducted a search on social media and found several negative reviews related to Deem Finance. These reviews may indicate issues with the company's products, services, or customer support. It is important to thoroughly research the company and its offerings before making any purchases to avoid any potential risks.
However ComplaintsBoard has detected that:
We found clear and detailed contact information for Deem Finance. The company provides a physical address, phone number, and 2 emails, as well as 3 social media accounts. This demonstrates a commitment to customer service and transparency, which is a positive sign for building trust with customers.
Deem Finance has claimed the domain name for deem.io for a long time, scammers and fraudulent websites can also claim domain names for a long time and use this as a tactic to appear more trustworthy.
Deem.io has a valid SSL certificate, while Scammers can obtain a valid SSL certificate by using fake information or by using a stolen or hijacked domain. In some cases, they may even use a certificate issued to another legitimate website.
Our scan shows Deem Finance website is free from malware and phishing activities, which are types of online threats that can include viruses, worms, Trojan horses, ransomware, and other malicious code, as social engineering tactics used to trick users into sharing their personal information.
Deem.io has been deemed safe to visit, as it is protected by a cloud-based cybersecurity solution that uses the Domain Name System (DNS) to help protect networks from online threats.
Several mixed reviews for Deem Finance have been found on various review sites. While some customers have had positive experiences with the company, others have reported issues with their products or customer service. It's important to read and consider a variety of reviews before making a decision to purchase from this website.
Our Conclusive Verdict: The company has a weak level of trustworthiness. We advise that you take precautions to protect your personal information when using this website, and be cautious when dealing with this company. Please reading complaints beforehand to gain a better understanding of their track record.
This review was chosen algorithmically as the most valued customer feedback.
I have been defrauded into paying penalties and charges which were wrongly applied on my credit card bill belonging to Deem. I made several attempts to connect with the customer care however, the scam involves such that you will never be able to contact them over the phone and on the email they are not addressing the issues and deliberately waiting for...
Read full review of Deem Finance
Deem cc
I received the statement with interest charges which I was not aware of. when I call the customer care, they said it is membership fee for 2nd year but I don't understand why are they charging me in the beginning of the year.

Please I would like to request the team to reverse these charges as It happened due to miscommunication from the girl who offered me this card from DEEM. she said its free but now I am being charged.
Desired outcome: Please reverse these charges and I will use my card otherwise I would like to close this Card as my first experience is bad with DEEM.
This review was chosen algorithmically as the most valued customer feedback.
I took a personla loan in deem year 2016 and provide me a crefita card with a limit of 6800 and I closed my personal loan from 2017 and my credit card last 2021 january and then from 2016 its showing that they provide me another credit card showing credit limit of 55000aed and since then I didnt recieve and used the card but I am trying to email to them yo...
Read full review of Deem Finance
This review was chosen algorithmically as the most valued customer feedback.
Dear Deem Management, I want to lodge a strong complain about one of your team member Mr. Faizan. His contact number is [protected]. On 11th July 2023, he called me for asking the reason of not paying on time. I clearly told him that I took the amount to support one of my friends business. Who is currently going with rough time still he managing to pay...
Read full review of Deem Finance
Credit card wrong charges not resolve and no updates/response on follow ups more than 7 days.
Complaint no.:[protected] no response remains unresolved

Wrong charges of late payment fee and VAT on late payment fee, because of your late posting. Not my fault that your staff was late in posting.

For this, I had over the credit limit fee which I should not have! Kindly process the reversal for all wrong charges.

If I will not pay for sure you will call me right away?
Desired outcome: Reversal of late payment fee, VAT for late payment fee and over the credit limit fee.
Wrong over due information submitted to credit bureau
Dear Deem Bank,

I am writing to you in regards to my credit report which has been negatively affected by an incorrect report that was submitted by your bank to the credit bureau. I was surprised to discover this error and I am writing to request that you take immediate action to rectify this matter.

I understand that errors can occur and therefore I am not making any accusations. However, the wrong report has had a significant impact on my credit score and if this matter is not rectified soon, I will have no other choice but to escalate this issue to the Central Bank of UAE.

I am requesting that you take immediate steps to correct the error in the credit bureau. This will help to rectify the issue and allow me to continue with my financial plans. I also request that you provide me with updates regarding the progress of this issue so that I am fully aware of the steps being taken to rectify the issue.

I believe that my credit score is important and it is important that the information in my credit report is accurate. Therefore, I hope that you will take this matter seriously and rectify the issue as soon as possible. I hope that we can resolve this issue amicably, without the need for me to escalate it further.

In conclusion, I appreciate your attention to this matter and I look forward to your prompt response. I hope that this matter can be resolved quickly and efficiently. If you have any further questions, please do not hesitate to contact me.

PLEASE CHECK THE ATTACHMENT WHERE ITS SHOWING OVERDUE AMOUNT WHICH I DON'T THINK SHOULD BE THERE BECAUSE I PAID EVERYTHING ALREADY

Sincerely,

RAJA JOSEPH
fake and cheat charge annual fee
-fake commitment on free for life card

-charged annual fee on free card

-executive fake commitment and begged, cry for except credit card,

-Twice charged late payment

-again charged late payment even paid on before due date finish

-don't except amount on Saturday but provide due date for Saturday.

-unprofessional,disgusting, lier and thief's,
Desired outcome: 212.35 dhms
-Deem credit zero positive and proper answer by calling people ,

- playing with dates to charge no reason payment ,
Credit Card
Dear team

my name is shahbaz ali chauhan, my application number is [protected]

i applied for credit card one month before. 2 times your team visited my office i provided every documents. I got an email that my card is approved. But still i didnt get my card. Is this kind of service you people are providing to your customers?

shahbaz ali

[protected]
Not updated in credit bureau after settlement
I have requested to update my name in credit bureau as I clear my outstanding in deem finance. However, there's no action taken yet with my request. This is misleading as they sent me email that it's been updated (march20) but when I request a credit report in AECB (march 25) i still have outstanding balance with Deem.

CIF number [protected]

Email: [protected]@yahoo.com

Dob: June 08,1990

Mobile: [protected]
Desired outcome: Update my name in credit bureau
Deem credit card (noon gift voucher)
I am using deem credit card for last two years and I am very disappointed because of services and customer service response.

I got around six text messages and promotion mail showing offer for purchasing more than AED 3000 using Deem credit card and will get Noon Gift Voucher AED 150 before 10th February 2023.Because of this offer only I have done purchase for AED 3000 before 10th February 2023 and I am waiting for Noon gift voucher.

I contacted with customer service more than 7 times and I send mail to Deem customer services for more than 4 times for last two months. Every time once I call customer service they are confirm that will provide with in one week and till now I didn't receive any Gift Voucher.

One of customer care executive miss behave to me and he is not willing to hear my arguments also.

I receive one Auto reply mail (Your request is being reviewed by our Customer Care Team and you will hear from us in seven working days.) from Deem and there is no response from Deem.

I feel Deem like an irresponsible company towards customer.

I have same experience before also with Deem.

If the company cannot provide such offers don't deceive customers by showing fake offers.
Desired outcome: I need immediate response , provide Noon gift card which is my right, and apologies for delay and irresponsible behavior from DEEM
Compensation not received
I had raised a complain with deem before a couple of month and deem officially confirmed that they will provide a compensation of AED 300.

On January 4th, 2023, it was officially confirmed that I would receive this compensation on my next statement, which was due on February 15th, 2023.

However, despite numerous calls and emails since February 24th, I have yet to receive the promised compensation. I have been given different dates, but the compensation has still not been provided.
Desired outcome: Deem to provide the agreed compensation of AED 300
Deem credit card cancellation
Please note that one of your DEEM Finance employee (Mr. Prajwal) has compelled me to receive the DEEM Credit Card for his personal benefits.

He told me that, he couldn't go for vacation without my DEEM Card registration.

He also informed me that he will cancel the card whenever I want.

In fact, I was not interested with credit cards, but only because of his personal request, I have bought the card.

Also He informed me that He will receive some amount if I activate the card and I have activated my DEEM Credit Card in January 2023 but never used it.

Since I am about to receive termination from my company within one month, I need to cancel my credit card. I have requested several times, but he was informing all the time that, cancellation request has been raised. From the past three days, he is neither receiving my calls nor answering my messages.

Hence kindly cancel my DEEM Credit Cars at the earliest and also kindly take action for such people like Mr. Prajwal for misleading the customers.

My Details mentioned as below :-

Name : Prashantha Kumar Shetty

DEEM Credit Card Number : [protected]

Validity till : 11/25

Mobile number : [protected]
Desired outcome: My DEEM Credit Card need to be cancelled and strict action shall be taken to Mr. Prajwal (DEEM Finance Employee) for misleading the customers.
Deem Credit Card Offer
As per the Deem sale person guildline, 6 months before i have taken Deem

creed card and spent more than AED 10000/- and part of the Deem sales person offer me that 10 % rewards, which i never received. When i raised complaint with Deem customer service and i spoke to Deem Customer Service Team Leader, they accept there mistakes, but they are not ready to offer me any compensation, which i spend and Deem Customer Service Team Leader not ready to escalate this issue higher level.
The complaint has been investigated and resolved to the customer's satisfaction.
Deem Finance has left an official reply on this complaint.
Wrong deduction late payment fee
Pls note myself paid all due amt on time. Then they also posted my payment 2 days after the due date. Called customer care executive and they informed me it's deem mistake will reverse the interest and late payment charge within 7 days. Now, 30 days expired after the expiry of 7 days.
I called customer care team around 9 times and still saying ref under process.
And couldn't transfer the call to concerned department.
Thus is my experience.
Desired outcome: Need to refund the late payment fee and interest ref no [protected] as agreed by your team
Resolved
This complaint has been resolved automatically due to user's inactivity.
The complaint has been investigated and resolved to the customer's satisfaction.
Deem Finance has left an official reply on this complaint.
DEEM Credit Card - Annual Charges
The Sales Agent told me before that the Titanium credit card is Free for life (Annual Charges) but on 10th December 2022, i noticed that i was charged by AED 200 annual fee, and my statement date is every 10th of the month but i was charged late payment on 01st January 2023 , from my payment history , i never did a late payment because i'm paying before the statement generated,

another thing is that they took some amount from my auto debit savings account without notifying me.

i sent an email to customer care but no one is responding, i tried to call the contact support but no one is answering for hours.

requesting you to please update and review my account !
Desired outcome: Please reverse my annual fee and late payment fees !
Resolved
This complaint has been resolved automatically due to user's inactivity.
The complaint has been investigated and resolved to the customer's satisfaction.
Deem Finance has left an official reply on this complaint.
Issue
Hello

I have written to you on several occasions but you have ignored me.

How do I contact your complaints department?

I have been changed a late payment fee even though I did not recieve any payment reminders, which I had requested via phone. I do not agree that I should pay this late charge, given you weren't able to offer a simple reminder service that you said you would.

I understand calls are recorded so listen to the call recording and see for yourself. I also wish for you to send me a copy.

Please do the courtesy of replying.

Regards

Farshad
Desired outcome: Refund of late payment fee
Resolved
This complaint has been resolved automatically due to user's inactivity.
The complaint has been investigated and resolved to the customer's satisfaction.
Deem Finance has left an official reply on this complaint.
Credit card collection and customer service
Dealing with your collection department and customer service is like going to dentist appointment... They rude, unprofessional and have no idea how to communicate with your client in a satisfactory manor. Taking this credit card has been one of the WORST decisions I have ever made and I have no problem relaying this message to anyone who asks me about my experience with Deem Finance.

1. They don't support either of my banks for online payment, even after I was assured that I will have no problem with the app to make "easy direct" payment online.

2. When I applied for the card, they told me the due date for the card will be on 1st of each month, due to the fact we get salary on the last day of each month. Not true! My payment is due on 25th of each month but these people will start calling 2 weeks before, every other day, being extremely rude, raising their voices at you insisting on payment, threating you with late payment fees and degrading you. I have reach a stage, when I see it's Deem calling that my anxiety and blood pressure shoot through the roof!

3. I was advised to make transfer in their account for card payments and submit the proof of payment to the email address. Every month they keep calling me to my work and cell accusing and threating me of non payment or late payment. Some months even charging me fees. I'm submitting the proof of payment 4 to 5 times a month.

4. They keep changing how I'm suppose to make payments towards the credit card. Now they have "closed" the bank accounts we use to make the payments into and they don't support any of my banks on the online payment portal and I can't load this card on my banking as a beneficiary because the bank does not support it...

NOTHING HASSLE - FREE ABOUT DEALING THIS CARD OR DEEM FINANCE. 1/10 WOULD NOT RECOMMEND! MY EXPERIENCE HAS BEEN NOTHING BUT A HEADACHE
Desired outcome: Train your staff! Find solution to add the other banks (ENBD - LIV and NBF) on the app so we can make direct payment.
Resolved
This complaint has been resolved automatically due to user's inactivity.
Collect Your Trust Badge
Be recognized for outstanding customer service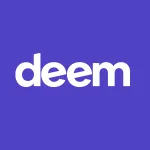 Deem Finance

contacts
Deem Finance representatives

Deem Finance

Deem Finance LLC

Deem Customer Service
We are here to help
19 years' experience in successful complaint resolution
Each complaint is handled individually by highly qualified experts
Honest and unbiased reviews
Last but not least, all our services are absolutely free