This review was chosen algorithmically as the most valued customer feedback.
**BEWARE** Never ever shop with them online. They are a bunch of thieves. Placed an order with them on 08th of Oct with delivery scheduled for same day between 08-10 pm. Waited all evening with no delivery and when I called the next day, the ridiculously pathetic customer service staff answers saying I don't have the system to see your order number and...
Read full review
Carrefour
-
Delivery missing items, and wrong items
The delivery was over an hour late, finally arriving after 20:00. The order had one wrong product, a 4 pack of 1.5l schweppes agrumes, should have been diet, but is not. Worst of all, Gerlinéa Mijn Maaltijd Afslankrepen Chocolade Smaak, one of the most expensive items on the order is entirely missing. You've basically stolen money from me. What are you going to do about it?
Desired outcome: Refund of missing and incorrect items
Carrefour
-
My club a/c customer service
On my new phone I tried to log in to My Club. I was told my password was incorrect and a code would be sent to my mobile and email address. 10 minutes later a code was sent, too late. I tried a few times, same issue.
I tried contacting you in a message but as usual there was a problem. I called customer services, I was told the code will only be sent to the mobile number not email, despite having received 4 codes by email!
I informed the employee that the last 3 digits are incorrect and 2 digit is missing. He told me I have to re-register and all points would be lost.
I tried to re-register and even though I entered the correct mobile number i received a message to say this number was already in use and to log in not re-register.
I am not able to log in or re-register.
Hopeless.
Desired outcome: Club account to be restored
Carrefour
-
Missing Delivery
I have made an order for I Phone Xs through the mobile App in UAE on 2nd of October, estimated delivery date was between 3 and 6 of October. today is 10 of October, i haven`t recieved the device yet and i called the call center many times and every time i call i get different information. Today is 10 of Oct., i haven`t recieved the device yet and i called call center many times and every time i get different information. today durring they said, device not yet recieved from the distributor & they asked me to cancel. if I wish. I ordered this mobile for my son for special ocassion that was on 8th of october. i missed to give him a gift.
please contact me on my email [email protected] or call on my cell phone: +971564114965
This review was chosen algorithmically as the most valued customer feedback.
Carrefour does not know about the customer rights. Dear Carrefour, Sorry to inform that this is the first time any company is providing worst services, Even the manager doesn't care about the customer and telling that he is the management. He really don't know what is the customer service. I want to know only let me know why there was no call from...
Read full review
Carrefour
-
mandine microwave
I bought the Mandine microwave from Carrefour two days ago.
I have come to install it today only to find that the instruction manual does not have an English version/translation.
I have been online to try and resolve the problem but unfortunately i cannot source any microwaves made by Mandine.
Please help with an English version handbook/manual for this product.
Thanks and regards
Norman Croft
ps my email is [email protected]
Carrefour
-
No delivery of EKG61 1A1OX - Electrolux stove as promised on September 25, 2021
Hello,
Let me introduce myself as someone who has just relocated to Dubai with family and was very much excited to shop from Carrefour for the first time.
I purchased Electrolux stove (gas burner) from Carrefour Dubai festival city store and was promised to deliver on September 25 which did not happen. no response from poor customer service agent.
Desired outcome: I want to cancel the order as dont want any relationship with carrefour
Carrefour
-
Worm in Product
I purchase a Carrefour Chocolate product yesterday 22.09.2021 with the following details :

Barcode 3 560070 776238
10 2021 C
L 0289 M3 21: 08 03

I was surprised today (23.09.2021) when I see a live worm crawling. I went to Carrefour Al Ghurair Branch, I was so disappointed on how they handling this kind of situation. I am not after for the refund but more on awareness.
Desired outcome: Heightened Your Quality Control
Carrefour
-
Refund not received
Below two orders were not delivered on 30th August.
20486312460173
20446711165198
I was told, there is some technical issue and I will get the refund. Ever since I am chasing for refund and have called dozen of time without any resolution.
Carrefour
-
Refund of the fees
I want to make serious complaint as my already registered 4 complaints with Carrefour have not heed any results. It is pathetic that every time, I called (I must have called 20 time atleast in last 3 weeks) the Customer service just do lip service say sorry and do nothing. Even once Manager came on phone and did nothing. All I am asking is my refund !
On Sept 7 2021 i place online orders (20632175621747 and 20632168321654) using Carrefour app.
The LPO issued by Carrefour to Al Gandhi was cancelled by supplier citing no delivery possible for Abu Dhabi (Supplier has no jurisdiction in Abu DHabi). This info I came to know from AL Gandhi, Carrefour never told me. the app shows items delivered and my refund never came neither the machines. I ended up paying credit card company huge amounts as statement was over due. Carrefour to date has not refunded nor updated cancelled status in the app. Would someone care to resolve this ? Lesson learnt, no more purchases from Carrefour.
Carrefour
-
JVC TV took and not replaced yet
Hello, I have bought a jvc tv 58 inch 29-07 and it had a display issue . I have loadeged a complaint on this and they have took tv . Now it is more than two weeks I'm waiting for the replacement and nothi came . I called up the service centers and people and and i getting a very poor experience from them . Even from the call center they have not tried to resolve the issue . Now Iam in stuck with no tv and no money back from there service center . Not sure loading a complaint over here will help . But hoping some thing will happen .
Desired outcome: Money back
Carrefour
-
Ordered but no delivery inspite amount is charged and Invoiced
Dear Carrefour Higher Management,

Am a regular customer of Carrefour, i had good views for carrefour and many times i told my friends to go for carrefour.

On 8th September i placed an order for 2 Nescafe with 60 min delivery time. they charged by card, but till today (14th Sep) i didnt received the order yet,
Below for your reference,

Order No. : 20646397463107 الطلب رقم
فاتورة ضريبية رقم 20558513. : No Invoice
Invoice Date : 08-Sep-2021 التاريخ
Exp. Del. Date : 08-Sep-2021 (09:15 PM to 10:15 PM) التسليم تاريخ

We need your action on this, its shame that Carrefour cannot help on such small thing.
Carrefour
-
No Refund Received/No Return has been collected
Good Afternoon

I ordered a cooker and a Fridge from you that was supplied by Geepas.

1 - The refrigerator I ordered I DO NOT WANT IT. I called the day after it was delivered to have it collected and to have a refund issued, not one person has come back to me to arrange collection and I have no refund - this was delivered on the 21st of August. I have called customer service 10 times regarding this. I called Geepas directly who informed me that Carrefour is to arrange for collection as well as the refund and they have ZERO requests in their system for the above mentioned - the order number is 20253753337529-A, ONE of the complaint numbers is 446253.

2 - I ordered a cooker which did not even leave the truck, the driver informed me that the electric outlet does not work in that area and he cannot install it so he will not deliver it. I have no refund for this, this order delivery was suppose to happen the same day as the refrigerator, the 21st of August and it has now also been 3 weeks. I have called 10 times regarding this issue too. I have had no response. I got into contact with Geepas who claimed that the Stove was delivered to us and there was no return on their system and no request for a refund made. I contacted the driver who claimed he did put the request through from his side and he sent me the proof that he did so. The manager of Geepas called me and said the Stove was actually damaged upon delivery and that is why it was not removed from the truck. So I do not know who is lying and I dont care, I still have no refund for this - the order number is 20192993529818-A, ONE of the complaint numbers is 446284.

If you insist on not giving me my refund then I want that Cooker - in mint condition - I then want it delivered to my house! I am sitting with a refrigerator that I do not want and money I spent on a cooker that I do not have! I cannot afford to replace these items because I have no refund, so I am now sitting with a family that cannot eat proper meals because of yours and Geepas disgusting customer service and so called 7 day refund policy. Your customer service agents have been trained in parrot communications to only say "we have marked it high priority" "someone will be in touch soon".

I suggest that you learn how to deal with customer service and You can also be rest assured that in the future I will not even buy a single AED 1 bottle of water from your store, I would literally rather dehydrate to death.

Regards from a disappointed Ex-Customer

Rowan Barnard
Desired outcome: I want a full Refund for Both Items and I want the Fridge out of my house
Carrefour
-
Delivery failure at scheduled time
I made an online purchase of fruit with delivery between 3pm and 7pm on Saturday 04/09 it was for a dinner. There was no notice of the delay, I sent a message by phone, called and sent an email saying that as it was not delivered at the chosen time, I no longer needed the purchases. No one from customer service gave me an answer. Purchases were prepaid.
The complaint has been investigated and resolved to the customer's satisfaction.
Carrefour
-
Did not receive refund, received a broken TV
Order Number 20152102520982.

It took them two weeks to even arrange for the pick up of the TV. I had to follow up with Seller several times to even get the TV picked u.

Carrefour seems have no good customer care. I called them, raised complaints on app with no response. Its been two weeks, the faulty tv was returned on 24th August and I still did not receive the refund
Resolved
I reached out to Carrefour via Twitter and got my issue resolved
Carrefour
-
No refund received, no product received
I ordered a stove and a fridge from carrefour. The fridge was delivered but not to the standard of what I ordered, I asked to have it returned and refunded, I have called 5 times to follow up and no one has contacted me.
I ordered a stove, the power outlet does not work in this area so upon delivery the driver did not remove the product from the truck and I was told it would be canceled from his side, I would have to call and cancel from my side and request a refund, I did this. I have not heard back and no one has been in contact, I Have also called 5 times. This is not acceptable, it's 1600 Dirhams that I have not been refunded and a fridge I have no use for.
Desired outcome: I want a refund and the fridge to be collected.
Carrefour
-
Out of stock
I have sent to emails asking about my order and why u accepting out of stock orders items and holding my money no one responded to me please contact me u took my money and u didn't commit my email is [email protected]
Check your inbox, check my order number
Desired outcome: Immediately response and compensation
This review was chosen algorithmically as the most valued customer feedback.
Yesterday, we bought two packs of fresh tuna steak (300gr each pack). The products seemed a bit chilled, definitely not cold as they should have been. Minutes earlier, we had returned a pack of chicken for the same reason. Unfortunately, we decided to buy the fish and after two hours in our fridge, we decided to cook it. The smell was somehow but we decided...
Read full review
This review was chosen algorithmically as the most valued customer feedback.
Dear Mr. Majid Al Futtaim, As an Expat been living and working in the Arab World for more than three decades, I can, with certainty, confirm that I have seen my fair share of good and bad situations, as well as types of people. A couple of years ago, I truly believed that the Carrefour chain was the benchmark for good international retail business and...
Read full review
Carrefour
-
product not received
I complain about the order details in below from online Carrefour Egypt because I haven't received the product yet.
I have complained many times by phone, but the problem has not been resolved yet.
This is very disappointed from a company like Carrefour.

Best regards

[email protected]
+201003000674
Order No. : 19767254169220
Invoice No. : 11362801
Invoice Date : 17-Jul- 2021
We are here to help
16 years' experience in successful complaint resolution
Each complaint is handled individually by highly qualified experts
Honest and unbiased reviews
Last but not least, all our services are absolutely free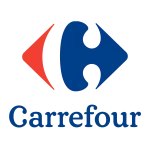 Carrefour contacts