MyGiftCardSite complaints
58
MyGiftCardSite
-
VISA gift card
We purchased Visa gift card prior to Xmas 2021 and gave it as a gift to someone. When they opened they could not see the last 4 digits and wanted to use it online so we went back to Kroger to request a replacement. It has not happened , they referred us to Visa, we called them million times and they are IMPOSSIBLE to reach as they don't care about the customer! We paid $300 for the card and have not received a product we can use so that is FRAUD! Horrible customer service both on Kroger's as well as Visa's part. Both incompetent companies!
Desired outcome: New card of full refund of $300
This review was chosen algorithmically as the most valued customer feedback.
Had 2 cards both for $25 dollars that got misplaced. I call to find out the the balances only to be told they can't find the one card and the has no funds because of the $2 monthly charge. So basically why have an expiration date if it has to be used in a year without the value depreciating. Sad that my mother like to save hers for bigger purchases and to...
Read full review of MyGiftCardSite
This review was chosen algorithmically as the most valued customer feedback.
I have a gift card that will not work. I went online and called, I entered the number on my card as prompted and it says "Not Found" then hangs up. There is no way for me to talk to anyone. I have done it a half dozen times both phone and online and nothing.
Read full review of MyGiftCardSite
MyGiftCardSite
-
Mastercard - debit card
I received a gift card with $100 on it. I NEVER used it and when I sent to activate it I was told there was $1.+ on it. I called the Cust. Serv and since May have gotten the runaround. I kept faxing in what they requested, then I had to call them, more requests, more calls. Then on Aug 13 I was told the card would be replaced, but when the replacement card showed up it was for $1+ not $100. The manager, Amber said I needed to complete paperwork from the "Disputes Dept", which would come in the mail, but so far nothing. When I asked what information was needed, she repeated everything they already had.
I feel like I've been put off & possibly ripped off. I'm attaching PART of the communication I've been working on. More is available.
Desired outcome: NEW $100 gift card
MyGiftCardSite
-
Never received my ecard / no one answer calls or emails
On August 13, 2021 I went online and spent $100 in a e-card for a friend who was getting married.

I supposed to receive an email within 2 days with the e-card witch I never arrived. A week later, I had called twice to [protected] in August 19 and August 20 and left messages; and I sent two emails using the Contact Us section of the website. No one is replaying or answering the calls or email.

A photo of the confirmation with all the information is provided.
Desired outcome: Refund of my money. I had to buy another e-card for my friend.
MyGiftCardSite
-
Gift card
I tried to use my gift card ($100) it was declined. When I finally found the site it stated that I had $4.18 not $100. They begin charging $2 a month the moment of the purchase not when you activate. They do not make that clear to the buyer or receiver. This should be illegal! I will never accept or buy a mastercard or visa gift card. As much as I hate american express I will only purchase and accept gift cards from them.
Desired outcome: They need to put back the money they stole in illegal monthly fees
This review was chosen algorithmically as the most valued customer feedback.
Do not purchase gift cards from this site. They put a long expiration date on the card but eat up the balance on the card long before the expiration date with fees. i spoke with a representative about fee reversal. she filed papers & told me to wait 24 hours for resolution. After 48 hours card still shows balance of $0
Read full review of MyGiftCardSite
MyGiftCardSite
-
$100 Giftcard
I have been complaining this card for the last 9 months already and spoke to one customer service to another and faxed a replacement card request 6x already and it is still unresolved until now. Never got a call or any status update from my request!

I got this card as a gift. It was sealed and I was the one who opened it myself. I used it in one of the store and the card was denied. I checked the balance when I got home and it says it has a balance of $2.00 and it belonged to Jacob Waggener (have no idea who this person is). I've explained to them that I don't know the person and all they do is tell me to fax a request to replace my card to the same number [protected].

9 months of regularly following up and 6 successful sent faxes later... Still none!
MyGiftCardSite
-
Inactivity Fee absorbed the balance
So I received a gift car for $100. Never used or activated the card ever. I went ahead and activated it for the first time and it has ZERO balance, showing "card activity" transactions for INACTIVITY ince 2015!? Really!? The $100 dollars were absorbed by the inactivity fee... they're GONE! THIS IS RIDICULOUS! I Called the number given [protected] and Andrea the representative taking my call was rude as hell! Please dont waste yoir mkney on mastercard giftcards!
MyGiftCardSite
-
Gift car
I was given a Mastercard gift card of $200. It was new, never opened and sealed. Upon registering it on www.mygiftcardsite.com, I found that it was registered already to someone else I've never heard of and the balance was only $16.02. There had been two transactions on it from someone in Alabama. I live in Virginia. I called their customer service number and was basically told that since my name wasn't registered on the card they couldn't help me. I left my number for a call back and guess what! no call! This is a rip off! And criminal. I will be reporting them to the FBI.
MyGiftCardSite
-
$50 gift card scam
My mother, who is 80, gave me a $50 visa gift card purchased at kroger for my birthday.
Now, like any adult with elderly parents, I don't need nor do I want her spending her money on me. I simply planned to go online and send her flowers or buy a fall wreath for her door.
Instead — mygiftcard.com stole her money — - and with complaints going back to 2011- visa and kroger are complicit.

It doesn't let me register my card because it doesn't 'recognize' the number... When it transfers you to 'customer service' it just disconnects.
Calling kroger & corporate to ensure they do not allow mygiftcardsite to scam any of their customers again
MyGiftCardSite
-
Mastercard Gift Card
My card had been used through Amazon marketplace for small transactions that depleted the funds on the card. The card was never out of my home and never used for online purchases. So after filing a claim, a division of the company sent me paperwork that the claim was ruled in my favor and that the transactions were not made by me or through my Amazon account. The total lost was just over $300.

I have been promised that a new card has been reissued and mailed to my home address six times. The card has never shown up. Turned the matter over to the Attorney Generals office with all of the contact information on the card and from the paperwork on the claim. Every time someone calls regarding the complaint somehow they are not the company that handles that card. I cannot get a new card to be able to get my money. This is certainly a scam.
MyGiftCardSite
-
Unusable gift cards
Purchased two 25.00 gift cards for my daughter Christmas 2018. We Just realized that the cards have expired on 5/2019 so we are Unable to use. A gift card should have no expiration date.. it should be considered theft from the company. These gift cards were paid for and people are not being able to use what they paid for. That is disgusting and an awful way to do business
MyGiftCardSite
-
$50.00 prepaid mastercard gift card expiring in california.
Received as a gift a $50.00 Gift which was valid through 05/19. The card was misplaced and recently found. I Connected to the site online and was shown balance but do to the card expiring I was given a customer service phone number to call. Called that number multiple times, put in required card number and operation date and was put on hold and immediately disconnected. Would like a replacement card.
MyGiftCardSite
-
Gift card received, why do they charge a monthly fee and expire cards
My daughter received a $25 gift card and it was misplaced, and she recently found it while cleaning through stuff while on pandemic lockdown, when trying to reach company to check on it, the recording says it can't be found, to report it lost or stolen then will charge $5.95 to issue new card, but you don't get an option to speak to a person ever, and the system just hangs up on you. They do not provide any other method of contact either. [protected] and their website mygiftcardsite.com is a joke. So they have kept the gift that was given to her, unbelievable!
MyGiftCardSite
-
Mastercard gift card
My gift card is dormant due to inactivity so cannot be accessed online. The [protected] phone # automated service says card is inactive, switching to live customer service. But the phone just hangs up after one ring. There is no way to contact a person, no email address. The Contact and FAQ section on the website is blank.

There is almost $100 left on the card and no way to access or spend the money.
This review was chosen algorithmically as the most valued customer feedback.
This is a total scam! They wiped-out my $50 balance with $2.00 monthly inactivity fees! The card is valid till 02/25 but I have my money to spend after www.mygiftcardsite.com robbed me! Please don't ever buy this type of gift card because the company is a SCAM! I'm so annoyed because there's tons of other gift card options but I had to choose the worst company ever! Buyer beware!
Read full review of MyGiftCardSite
MyGiftCardSite
-
card won't work on 25 card
I have tried to activate this card multiple times and each time it tells me the card is not found. I have tried via the phone and website on different days and even different months. I also tried to use it at several different stores. It's very frustrating to have twenty-five dollars that can't even be used. I will never accept cards from this site again nor will I recommend them. TOTAL SCAM!
MyGiftCardSite
-
mastercard gift card
I received this gift card as a gift and put it away for emergency use only now when I'm ready to use it I find out they took $100 away from me as they took out $2.00 every month. I called them and all they gave me back was $24. They said they could only go back a year. So then she said I could fill out a complaint form and they will call. They never called.
MyGiftCardSite
-
gift card for $50.00. monthly fees wiped out value of gift card
Avoid purchasing any type of Gift Card from this My Gift Card Site. I recieved a $50.00 Gift Card 3 years ago and was saving it to use for a large purchase I recently made. I tried to use this card and it was declined said it had a zero balance. I immediately checked on line and saw the balance was zero so I called and was told due to inactivitty on the card for 12 months, I was charged a monthly fee of $2.00 per month. I explained to them that the expiration date on the card was until 08/2023 but was told that on the back of the card the $2.00 fee was explained which I needed a magnifying glass to read it. I asked if it was possible for them to put the money back on he card. I was told to check the balance in 24-48 hours which I did and their was now a balance of $12.00 and not the $50.00 that I expected. I called again and was told that it was out of their control and they would forward a complaint to the bank and it would be their decision and someone would get back to me, well of course no one did. I called today and was told the my complaint was closed. I asked to speak to a Manager and she told me the same thing that this complaint was closed and I could call back as often as I wanted to but the answer would still be the same. I did learn from the conversation that the Gift Card Company and US Bank are the same company, so in my opion they had the power to refund me the total amount of $50.00. This to me isn't even about the money at this point, it's the fact that they already charged the person a $5.95 fee to activiate the Gift Card and then find a way around getting all their money back and then some. The person that bought me this Card spent their hard earned money to give me a nice gift and I would never have the heart to tell them what happened. Just a heads up to all please beware and do not buy any Gift Cards from MyGiftCard.Com that are funded by US Bank in Hackensack NJ.
We are here to help
16 years' experience in successful complaint resolution
Each complaint is handled individually by highly qualified experts
Honest and unbiased reviews
Last but not least, all our services are absolutely free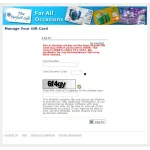 MyGiftCardSite contacts