Mustafa Centre complaints
28
The complaint has been investigated and resolved to the customer's satisfaction.
Mustafa Centre
-
Pillsbury chakki atta
I bought Pillsbury Chakki Atta on 13th June 2022(13:59) at Mustafa Center, and today When i opened the pkt at home there are webs and small white worms. which you can see through the photos uploaded by me.

Mustafa Center is known for its good quality, but how can we buy it again after seeing all this?

You can contect with me +6589017560 For solving
Resolved
They exchanged packets of flour for me.
Mustafa Centre
-
Female indian cashier 10th may 7pm. Cashier near electric tester counter.
10th May. 7pm. 2 indian female cashiers. Cashier nearest to the electrical tester counter

I was helping to take out my items from the basket and onto the counter. What a big mistake. I shouldnt have helped. The cashier raised her voice at me and said: Why you put your things in front of my scanner? How im going to scan?

Its not even ALOT OF ITEMS IT WAS JUST A FEW PLATES AND BOWLS. DONT NEED TO BE SO DRAMA.

I work in retail. Everyday I get shouted by customers. So now, I am the customer and the seller raised her voice at me? What the hell is this stupid service? Why cannot just say thank you or just shut up and just count my purchases? Its not that difficult. Shit cashiers.
Mustafa Centre
-
Philips Radio with clock
I seriously regret buying things from Mustaffa. First and foremost no proper customer service and I bought a Philips radio with alarm clock and its seriously a product no one should buy it. Its so complicated and when I asked the customer service uncle he said all is good but when I on and off it all the functions are totally gone and I have redo it. I don't want it and I want a refund for it so disappointed and will never recommend people to buy from there.
Mustafa Centre
-
FarmFresh Milk
My mother in law purchase the milk today 12-03-2022 at Mustafa and pass it to me for my wife who is in KKH to drink as she wants Milk to help with the delivery but end up the milk taste sour and also bubbling as well. PLEASE REFUND US BACK THE AMOUNT. The expire date as you can see is 22-03-2022 but the milk is so diluted and unable to drink. Even the staff nurse took the milk and say the milk colour is already different and please check all the FARMFRESH MILK at the fridge you have there. Thank you
Desired outcome: I would like a refund for the Milk that i purchased. Consider the milk it taste sour and bubbling . This for my PREGNANT WIFE and she already taste it and it sucks. PLEASE REFUND US BACK THE AMOUNT.
Mustafa Centre
-
Overcharged for Kohinoor Paneer cubes code 939719
Date - 12.02.2022

Time - 20:26

I bought only two packets of frozen Kohinoor paneer packing ( 2 x 1 kg ) . But I have been charged for four packets ( 4 x 1 kg)

Serial Number in my payment receipt - 939719

It seems to be an error when keying in the number.

I request reimbursement of my extra paid 2 packets ( 2 x 1 kg )

To reimburse 2 x 10.90 = SGD 21.80

My Contact Details

Ajay Kumar

Contact Number - +65 97100082

10 Lorong Ah Soo, #01-10,

Urban Residence

Singapore 534051
Mustafa Centre
-
Stealing goods and selling outside Mustafa Centre
There is this man named Rasali, i bought some 3in1 coffee Packs outside Mustafa centre somewhwere closer to ABC in Saravana Bhavan.

Try to keep up the good name of the Mustafa centre.

Staff as such as Rasali, a black mark for the company.

As I feel like he is taking goods(steal) without knowing to the Incharge from the workplace and selling outside as making dealing for commissions.

The 26 years of Mustafa by Mr. Mustaq Ahmad shall rise with respect and love.

Please do clear the Black Marks by bad staffs!
Desired outcome: I am also trying to keep away the black marks of Staff affecting the great Mustafa Centre
This review was chosen algorithmically as the most valued customer feedback.
Sales person : jaya Immediate supervisor: Yasser Arafat Long story short: Out of 2 bags, 1 bag is not handed to customer (me) after paying 💵 cash. When realised, immediately rushed to cashier and asked politely "Mam did u found 2 bag which I paid for just few mins ago" Cashier : "I don't know, why asking me!!! Some one took it. ALAMA ITS CLOSING HOURS...
Read full review of Mustafa Centre
Mustafa Centre
-
Pattu Maida (Plain Flour)
I bought Pattu Maida 1Kg pkt on 19-Nov-2021. When i opened the pkt at home there are webs and small white worms. It was so shocking we buy these premium products but missing quality.

Let me know if i need to report to Singapore Food and safety advisory board which happens to be very stringent

This is 2nd time with me & I also reported you last time on other make .Appreciate your action not just for this but better to fix it permanently and for other products too.

You may contact me on 98630276
Mustafa Centre
-
Rude exit personal
I am writing in to inform you of a nasty unpleasant rude experience I had with your exit staff at exit probably 1-3
I can't recall at 11am -11:30 am yesterday Sunday

I am 60 & was carrying 2 heavy bags after shopping in a hurry to locate my husband
On exit a tall big sized Indian man told me check out
I did, but my token cannot register
It could be due to your system not sensitive
He said again, cannot
I took out my token wave at the laptop
Cannot
I have to tell you 3 times to do it properly

This remark is totally uncalled for
Isn't that is his job ?
I never encountered someone in the front line so rude as your staff
I love Indian food, your spices
This experience left me unhappy I will not be back again
Are your staff trained to speak this way ?

Kerry
Desired outcome: An apology
Mustafa Centre
-
Staff
Your stuff here fucking rude, im not sorry for my words . I've been walking around asking the staff but they keep on directing me to different area which is pissing me off . I tried being nice but your staff me doesn't bother to be nice but instead very busy sitting down and talking to each other having a good time chit chatting this is the worst experience i ever had
Mustafa Centre
-
Customer servicing.
I've been moved to Singapore since 2019. And ever since that literally every week ive been visiting mustafa. I have notice so many thing that i notice and unhappy and today i think Ive reached to a point where i must write in.

- Everywhere people practicing no plastic and save the earth policy. But in mustafa there's no way for us to say no to the plastic bag and the cable tie. Seriously? How is it not a customer choice ? And the workers they'll be putting out of 10 items literally two items in one back and cable tie when there's so many space in at the first bag that she took . Please consider asking us first if we want to avoid plastic.
- The toilets to very unhygienic. I wanted to use toilet once istg i vomited after see the condition. There's not even a hand wash.

- Mustafa is a huge place with many worker but i dont understand why is it so dusty and dirty everywhere.

- 7/10 Around 11pm. i went to see sports shorts but i couldn't find any shorts in size S. There was a woman siting wearing black clothing not mustafa uniform, Asked if she works here as i have notice her there before. Asked her to help me if can find me some S. The first sentence she said was if there's none in the section that means no S. Without even looking. Then she walked to the section and showed me a S but swimming pants. I said im looking for shorts for gym. After 5 mins of helping me she verbalize im sorry i end shift already and i cant help. That is very disappointing. I am a healthcare worker and i know how a customer servicing should be. Kindly reorientation your staff on this.

Meanwhile i also want to say kudos to your staff nawas at fossil watch section. I was just passing by all the watch and he literally help us to understand each watch specialty by explaining well and we was truly impressed that we actually end up buying two fossil watch.Also notice that he doing the same to everyone where your other workers at watch section don't even entertain us if we walk and see the watches . Must call them to ask the information of the watch.

- For more info please feel free to contact me at [email protected]
Desired outcome: Improved customer service. Cleaner enviroment.
Mustafa Centre
-
Gowardhan ghee
Just now I bought Gowardhan Ghee from Mustafa centre, Singapore. After coming home, I saw the bag containing ghee was oily. The ghee was leaked out from the container. When I opened the container, I was shocked as the seal was opened as someone has already opened it to use. I regularly buy groceries from Mustafa but never have experienced this. I am attaching photo along with bill.
Hope the complaint board will take action.
Leena Dutta - contact 91610830
Mustafa Centre
-
Premier Trendy Black Cucina IB Pressure Pan
I brought this Pressure Cooker at Mustafa Singapore a few days ago.

When we started using it, the smaller handle keeps burning, and loosening every time.

When I checked why, it is because of a design flaw/mistake in the cooker design.

There needs to be a strong metal piece on the small handle, to avoid burning.

Please look into this, and let me know if you will allow me to replace another cooker for it.

I have also emailed the company and Mustafa Feedback team with photos
Desired outcome: Exchange to another cooker
Mustafa Centre
-
Gold ring
Bought a ring on 25 May 2021. The gold rate as displayed and confirmed in Mustafa that day was $77.50
But I was charged Rate/gram 82.925

My bad on not checking the rate on the receipt. I noticed when I got back home. Tried calling but no one pics up the phone.

I have the receipt (Cash Bill ZT/3346402)

Please look into it. Charging more than the day gold price per gram is wrong!
Desired outcome: Refund the extra gold/gram rate charged
Mustafa Centre
-
889424 (whirlpool fridge wgd-45ssw05) price-$259
We bought whirpool fridge wgd-45ssw05 on 16-jan-2021 invoice no- (ca-78979) price-$259.
Fridge door not properly closed and water leakage
kindly please help to service.

Thank you

revathy

tel- 66559052
bbg engineering pte ltd
Mustafa Centre
-
Social distancing service
Some of your staffs has to standby the lifts in every level as customers who want to take the lifts, they do not follow the maximum only four people in one lift rule. So when I went into the lift today, many people just started coming inside the lift, I had to tell them only four people in a lift.
Even some people do not care or act like they cannot hear. Your staffs need to make sure that customers do not crowd in lifts. If not there will be possiblity spread of covid-19.
This review was chosen algorithmically as the most valued customer feedback.
Amazing place under one roof But the worst customer service we have ever seen especially being a tourist !!! Went to the gold floor, no one interested to sell or talk ??? Then went to a lady for gold chain, she served for 5 min and the left saying she is going for a break ?? And left us alone. All workers working on gold section seem either brain dead or...
Read full review of Mustafa Centre
This review was chosen algorithmically as the most valued customer feedback.
Maybelline magnum mascara 1pc Maybelline volume express mascara 1pc Gabrini black eyeliner 1pc Is not inside my plastic bag but i paid for it. COL TWISTER T/B buy3+2FR 2pcs, i did not buy but the counter charged me Enchanteur powder - i want to purchase (inside the push cart, together with the other items) but did not include in the billing process
Read full review of Mustafa Centre
This review was chosen algorithmically as the most valued customer feedback.
Your billing department one girl nisha I never buy the one thing then she charge the bill .thats this is first time I noticed that .becouse I never buy the jeans jacket ($24)then she charged my bill after I reach home then only realise that some or I going back to India on leave that'sfy .i want remind you all I don't how many times your all charging without buying items also.
Read full review of Mustafa Centre
Mustafa Centre
-
samsudin - men's jeans section staff
Hi I tried to shop for men's shirt and jeans .. I encountered number of rude remarks now and then during my search for the right apparel from this customer service employee named samsudeen. Not only that he never helped on any simple trying to give negative or lame responses. As u usually buy once a year I did browse for few sets so does the trials. He kept pointing to me they staff abt this and at one pointgave feedback as if we r. ignorant. When I question his authority he express no regret instead challenge us to go any supervisor . Totally pissed of and he kept arguing back with no regrets and fear ..: very very unfriendly and total lack of customer service skills

My contact is 90099590
My email is [email protected]
We are here to help
16 years' experience in successful complaint resolution
Each complaint is handled individually by highly qualified experts
Honest and unbiased reviews
Last but not least, all our services are absolutely free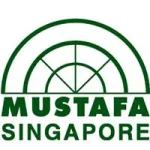 Mustafa Centre contacts