Holsted Jewelers complaints
80
This review was chosen algorithmically as the most valued customer feedback.
I ordered two rings @ 1.95 each from this company in October/November 2015. I did receive the items in the mail late November. I was the subsequently charged $66.98 two times on December 14th & 15th. Which overdrafted my account and was charged $35 two times. And because my account was overdrawn for more than 10 days, I incurred another $20 charge. I only...
Read full review
Holsted Jewelers
-
Offer to receive free ring
I received an offer to receive free rings and just pay the shipping charges. I have tried repeatedly to contact customer service to cancel this order as I have noticed that they are trying in different ways to submit charges on my credit card. I was notified by my bank and started calling to no avail. I do not wish to do business with this company and have made arrangements with my bank not to put through any charges received from them. I would appreciate your assistance in handling this situation immediately. Thank you in advance. Margie L. Abel
Holsted Jewelers
-
Being double billed
Ordered an inexpensive piece of jewelry, they charged me 69.96 twice in the same day, now I get another charge for the same amount. Have been trying to email them about the account with no luck. Will have to call them tomorrow about it I guess. I have not placed anymore orders at all for anything. After looking them up online am finding that they are a scam.
Holsted Jewelers
-
Unauthorized charges
I was stupid. I took up the offer for a 3.00 ring, I am a senior citizen on a fixed income, I told the company that I wanted only the three dollar ring, they told me by phone the had cancelled all other orders, to my suprise, the too 66.00 off my account unauthorized, my food money, my light and gas money, and I am truly hurt, they said they sent some earrings I did not order, and I have yet to recieve them, so I can ship them back to get my account refunded, I and sick, and afraid I will not get this jewlery to return it, and my lights will, be turned off, please help me.
Holsted Jewelers
-
Service Personnel Hiring Practices
I am an American and have a very hard time understanding the Pidgeon English spoken by native Farsi, Hindi, Arabic, and Eastern European Language (Russian) speakers. Their English is horrible at best. Why can't I speak with an American in an American (?) Company ? Can't Holsted find native English speaking employees, or does Holsted hire strictly in 3rd world countries ? If this company can not find American employees in the United States instead of Lahore, India, perhaps they should try. I feel we should put unemployed American workers to work in THIS country before worrying about the economy in India, Pakistan, some eastern European bloc country or anywhere else besides the United States of America. Why is this so hard to do ? Please explain...or better yet; HIRE AMERICAN if you want me to buy your products... I am wary of any third world involvement in any economic dealings I transact in due to possible terrorist involvement by these same individuals I am talking to; disregarding Holsted, on the phone and giving them personal information. All I am asking is that in todays world; with terrorism; be it econo-terrorism or physical acts of terrorism, it is safer to deal with an American Company STATESIDE than it is with an individual in INDIA...BUYING AMERICAN TO SUPPORT AMERICAN LIVES...or NO SALE...be aware that if I have to speak with another Indian from Lahore India about a missing item, I am cancelling out all my orders...I will NOT support India's economy while ours is crumbling and our American citizens are homeless and on the streets, some with children who would love to have a job with Holsted Jewelers instead of eating out of dumpsters. GOD BLESS AMERICA and VOTE FOR TRUMP...Make America Strong Again...
Holsted Jewelers
-
Fraudulent charges to debit card
I responded to a mailing from Holsted Jewelers, not realizing the headaches I would have. A few weeks after receiving the "free" rings, my debit card was twice billed for $66.98. Thankfully, my bank notified me of these fraudulent charges, closed my account, and issued me a new debit card. I also contacted this company, asking to be removed from their files. Now, on Christmas Day, my NEW debit card was billed, twice again, for $66.98. I did not authorize these charges. Again, I have to go thru the agony of closing this bank account, and being issued another debit card. I will be contacting this company again, during business hours next week, to have them cease and desist, and if need be, contact my attorney.
Holsted Jewelers
-
Unordered jewelery
yesterday I filed a complaint about being charged for jewelry I did not order. I received an e-mail this morning letting me know there would be a credit for 59.99 twice and I was to keep the jewelry. The problem is I was told the credits were to be in the amount of $66.98 each. I refuse to pay shipping on items I did not order, I will contact my attorney about the shipping and the fact that my credit card was charged without my authorization if this matter is not resolved to my satisfaction. Holsted Jewelers is a scam company whom I plan on reporting to the BBB Please resolve my issue with me or resolve it with my attorney, up to you.
Holsted Jewelers
-
Unordered jewelry
i won a quibids auction for two rings for $1.00 each. A few weeks later I received two pendants and two pair of earrings, I did not order or ask for. I called the company and after 10 mins on hold, was told all I had to do was return them. I told them I was not going to pay the shipping costs for something I did not order and that I wanted a call tag and a refund to my credit card, that I never authorized them to use. she refused to send me the call tag to pick up the product I did not want. I explained to her that the law is if I receive something I did not order and did not ask for, it is considered a gift and it is free. she discussed it with her supervisor and told me she would issue a refund and for me to keep the product I did not order, I received an e-mail informing me the credit had been issued, but I was to return the product. That was not the deal I made and have no intention on returning the product without a call tag. the product arrived on 12/17/15. I called them on the same day, the e-mail arrived the following day 12/18/15. If I have to take legal action, not a problem, my best friend is an attorney, so I am more than willing to take them to court to resolve this issue.
This review was chosen algorithmically as the most valued customer feedback.
I received a notice in the mail stating that if i wanted to cancel the membership to fill out the bottom portion of the form and send it back to the company way before 11/26/2015. On 11/30/2015 i saw a charge on my bank statement for $72.98, which i called the company to let them know that i sent the notice back and to give me back my refund. The...
Read full review
Holsted Jewelers
-
Taking money off my card without authorization
Money was taken off my card without me knowing anything I don't have any of y'all products nothing I did not order anything I would like it if you put my money back on my card it's for my rent I'm a single mother of two and y'all took my child support money for my bills which I did not authorized please return my money back to my card
Holsted Jewelers
-
Unauthorized charge to my debit card
I purchased rings online for $1.99 in November which I was charged for . now they charged my card an additional $72.92 in December I didn't authorize this charge I never ordered anything else the stuff I garbage I sent a letter to [email protected] complaining however they don't respond. I want the money they took without permission which Is $72.92 when I noticed the charge I called y bank and canceled my card and also started an investigation thy shouldn't be able to get away with this ANN OWENS
This review was chosen algorithmically as the most valued customer feedback.
I was doing the surveys trying to win a 100.00 dollar Walmart card. Holsted Jewelers popped up says two free rings worth 60.00 for only 4.95 S&H cost. So I said sure, on the left side of the screen it had purchase these earrings with your order, I checked the no box, because for one I dont wear earrings, for two I cant afford it. So I just received my ring...
Read full review
This review was chosen algorithmically as the most valued customer feedback.
I canceled my account a week ago for order #B62403622. I told them not to send anything else and do not charge my debit card. Today they charged my account 2 fees one for a dollar and another for 66.98. When I called about this they said that they didn't see a cancelation but they would cancel today but that they sent out earrings and that was what the...
Read full review
Holsted Jewelers
-
Unauthorized charge on debit card
I received a card in the mail for free Jewelry all I am to do was pay shipping and handling with no requirements to purchase anything in the future mind you this was in September. Now skip forward to December and I have a transaction all of the sudden for $56 from Holstead Jewelers . I called the company waited a hour for someone to talk to about this matter only to be told that i had to pay $56 for a pair of earrings I never received. I ask for there supervisor and they said I am speaking to them and refused to allow me to speak w anyone and wouldnt refund my money till I Send back the earrings.
Holsted Jewelers
-
Free ring, gift card, free necklace
Received a card in the mail offering me to pick 2 rings from 3 shown, and they would send them if I would pay shipping, handling and taxes. I checked them out on the internet and see the complaints. In had put the payment to them on my Visa card. Visa flagged the company as fraudulent and declined any use on the card. My husband called Visa and was told Holsted Jewelers was fraudulent. Then I called Visa later that afternoon and was told there were 2 charges that showed up today. I told Visa I didn't want to pay the charges, so she flagged it, cancelled my card and issued me new cards. Anyone having problems with Holsted Jewelers, call your Credit Card Company, tell them you don't want to pay the current charges and you want to cancel your credit card and have new ones issued. If using ATM, Debit, etc. Contact your bank and have them help you, but, do it ASAP so, you don't get your bank account drained, or ATM maxed.
Holsted Jewelers
-
Free rings and walmart gift card
I called and the rude lazy customer service representative whom i spoke with just let me stay on the line for over 10 minutes. The rep said he will just activate the code and asked me to stay on the line. However, he was just there on the other line letting me wait for nothing.i can hear people talking on the background and he was just there quite, not saying anything. I spoke up and said "maybe you are a scam, you're not interested talking to me? Neither do I." And i hanged up.
Holsted Jewelers
-
Unauthorized credit charge
yes i paid shipping on two free rings. i received them in the mail, then i realized that i was being charged 66.98 twice on my account. i called and they said it was for some ear rings that was coming in the mail. i was told when i received them to return them for a refund. i still have not received the ear rings. i'm on a fixed income and my bank account is minus because they charged my account. i am going to have to pay overcharge fees and i can't afford that. how can companies get away with this? can you please help me get a refund thanks
Holsted Jewelers
-
Unauthorized charge
I ordered two candles on 10/14/15. I received them and received a card stating I had two free rings to call and pay 3.99 only. I called and chose the two rings I wanted. At that time I was asked to stay in the program and receive jewelry and have my credit card charged until I either accepted or mailed back the product. I refused that offer at that time at least twice. I received these rings but on 11/15/15 my credit card is being charged $66.98 and I have not authorized this. I want these charges removed and my account annotated that I DO NOT want to be enrolled in your program not now or from the first call. Debbie Morris 601-543-6636 [email protected]
Holsted Jewelers
-
2 free ring and get a walmart gift card
I ordered the 2 rings and I got a 25 dollar gift card I have received the cheep rings they look like toy rings but I still have not gotten mt walmart card from them I have called them and every time they tell me two weeks well its been 4 weeks now and still nothing. So I did some looking on line and found a site that talks about ordering things on line or over the phone or at a store if there is something you order and its not what it says and they that company will not help you or if you did not get the hole order you can do something that is called a charge back you call the company in witch you use the card on and tell them you want to do a charge back they will help you and also if you get the charge back the card company take your money gives it back to you then charges that company 25 dollars for you having to do the charge back. Please google charge back and see if you can do one it will help get your money back it also works if someone takes money out of your account without you saying they can. Look up charge back
This review was chosen algorithmically as the most valued customer feedback.
I got a online offer two rings for 1.99I order just the rings and canceled five days later . The next month there's two charges for 66.89 66.89 holsted jewelers so I call they say I ordered them with the rings I said then why didn't they come with the rings every said I would not order earrings I have no pierced ears she said they were already being sent to...
Read full review
We are here to help
16 years' experience in successful complaint resolution
Each complaint is handled individually by highly qualified experts
Honest and unbiased reviews
Last but not least, all our services are absolutely free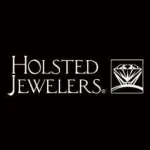 Holsted Jewelers contacts