Hillarys Blinds complaints
59
Hillarys Blinds
-
Blind cord broken
Hi,

I called hillarys explained I have a cord broken that needs replacing they said that is fine we will send a cord out look on you tube and try and fit it if not we will send someone out but there will be a charge of £25 I agreed a lady came out and said she cannot do it we will get someone else then Hillary called and said no we will not fit help as I had them 2019 out of guarantee why say yes in the 1st place

annoyed customer
Desired outcome: need someone to fix the cord as i cannot open and close the blinds
Hillarys Blinds
-
Shutters
Ordered shutters in October, contacted Hillary's and asked to put them on hold we are moving house. No response dispute several emails and phone calls.

Next contact was an engineer stating they are outside waiting to install, now being bombarded with debt collection and constantly wanting to contact me.

Appalling customer service from start to end, please stay away from this company.
Desired outcome: I would like a refund.
Hillarys Blinds
-
Shutters
Hello,

Today from 10am I have spoken to Shubana and Megan and both times have been reassured I will be receiving a call from Emmanuel today to discuss all the ongoing issues I have had with my shutters since summer 2021.

I asked for this to be escalated to a senior manager and advised that Sophie Telford could not talk to me about this as Emmanuel will be contacting me. However once again I have not heard back from Emmanuel.

I have also just had the installer contact me that the faulty replacement parts that were meant to be installed today 29.3.2022 have not been delivered yet and that I will have to wait another week ! If I had known that Hillary's is such a mickey mouse company, I would take my business elsewhere.

I will be writing to trading standards and the consumer ombudsman and also want a full refund for my orders so that I can take my custom to a professional shutter company.
Hillarys Blinds
-
Curtains
Invoice No 91091340

Order No H3563

System Order No 304844711

Curtains Fitted 2 Mar 2022

1. Mrs Marston (Nam on all paperwork incorrect) complained that the curtains did not reach the floor. Fitter said this could be fixed and lowered the curtain rail. NOT HAPPY because this did not match spacing on window and the wall needed redecoration. This was eventually done.

2. I tried to get an explanation as I was NOT HAPPY. The advisor said that he had not got a thing wrong in many years.

3. Options - Incorrect measuring and/or incorrect manufacture.

4. The old curtains were measured and were just under 4 cm longer and the curtain measured was exactly as per the order/invoice.

BAD JOB but paid for anyway.
Desired outcome: COMPENSATION for what is considered to be a very, very, disappointing outcome.
This review was chosen algorithmically as the most valued customer feedback.
We have had a full 3 bedroom room house installed with Hillarys blinds. We have both manual and electric blinds. The electric blinds have stopped working within a year and upon notifying the install engineer(Robert Skidmore) he simply disappeared. We have left numerous voicemails and emails but no response. Upon contacting the head office, suddenly we...
Read full review
Hillarys Blinds
-
Incomplete shutter installation order no: SHHQ5190
Hi,

My shutter installation happened on 18-Jan-2022. The installation was incomplete and two shutters were not installed correctly (they were faulty and had wrong measurements). The installer told me he made some manual orders for the faulty shutters and provided me with the attached manual order form.

When I spoke to your customer care person over the phone (on 16-Feb-2022) to check the status of the manual order, he told me the manual order was never made by the installer. The customer care person was apologetic about it and promised that my account manager would call me and provide me with an update (and offer me some compensation). I have not received any call yet and I am very disappointed that I have to go through this.

I would like to raise a formal complaint on this matter and would request answers below:

- Why was the manual order (order form attached) never made by the installer?

- When will the installation be completed? I NEED TO HAVE A DATE.

- What compensation will I receive for the amount of time I have to wait unnecessarily and for the trouble I have to go through?

Regards,

Yahiya Hamsa

07909122604
Desired outcome: Completing installation
This review was chosen algorithmically as the most valued customer feedback.
Good Morning Hillary's I would like to raise a complaint so please pass this email to someone who can look into this further. I have called and called since January chasing up to go ahead with my quote that was carried out by Gurjot on the 8th jan as below. I have called your main number and spoken to lots of different lady's who all promised to arrange...
Read full review
This review was chosen algorithmically as the most valued customer feedback.
order placed end of april 2021. We ordered curtains and paid nearly £100 for really poor service. We had fitter who put curtains and they looked bad but we were assured that they would settle but still awful after a few days. Rang your company many times to get someone to come to fix. After many weeks and calls second fitter came and agreed they were bad so...
Read full review
Hillarys Blinds
-
Ceiling blinds too short
On the 2nd September I ordered ceiling blinds from Hillarys Blinds
They were eventually fitted but 4 out of 10 blinds were too short
I complained and they sent the same fitter out who said there was nothing he
could do as they don't make them any longer. The four were shaped the others more square. He said he would come back and fit a bit of plastic round
the missing pieces of blind so it wouldn't look so bad. Not what I want.
It has cost me £3, 060 for a bodged job I emailed them on the 17th December and was told I would get a reply within 7 days. Not happened. I have e mailed them again and still waiting for a reply
Desired outcome: 4 blinds the right length 50 Charlesford Ave. Kingswood ME17 3PH
Hillarys Blinds
-
non receipt of goods - Shutters
Ordered bespoke shutters in April 2021, chased in September as no after service received once paid half the cost up front, and was told they were still not in country.
October 2021 received a call that blinds had arrived and fitter will arrange to fit in next few days. Waited another week called fitter, he said he no longer worked for Hillary's.
Called customer services and sent several emails, was given conflicting information. Asked for refund, no response.
November 2021, called Customer services again, apparently blinds have meant to be sent to a new Advisor/Fitter, who is on holiday!. Promised a call back in a few days. I have waited 7 months so far and still no date of when to expect. Would not have ordered if it was to take this long, misleading timescales and appalling customer service.
Desired outcome: Fitted Shutters by the end of November
This review was chosen algorithmically as the most valued customer feedback.
I was replacing my existing blackout roller blind with perfect fit blinds. I had discussed at length with my consultant that the light seepage at the side of the blackout blind was quite annoying, as my neighbours have solar lights on all night. He recommended the perfect fit blinds. Whilst reviewing the fabrics he suggested the Marco fabric which I wa...
Read full review
Hillarys Blinds
-
Motorised awning
I ordered this awning to be fitted asas, it wasn't cheap at £3, 638 ' I have until today 20/9/2021' made several phone calls and complaints, but I am getting nowhere, one they can't get hold of their fitter he is not responding to any calls or texts from the line operators, I am now at my wits end and am thinking of cancelling, because I've already payed half of the total, would not recommend hilarys ever again, they take your money and leave you high and dry, disgusting behaviour Mrs s kesby
Desired outcome: None what so ever
Hillarys Blinds
-
Customer Service (Refund of Deposit)
A sales rep visited and presented the product on July 5. We received a quote on July 7, and set an appointment for a surveyor to visit on August 4, for taking dimensions and ensuring fit. At that survey, we mutually agreed that Hillary's did not offer a product suitable for our application. The surveyor said he would initiate a refund of our deposit (1, 525 GBP). That was on August 4th. Today, September 7, I have yet to see the refund on my credit card!

On August 6th, I received an email stating it would take up to 10 WORKING DAYS to see the refund. Why so long? It only took 1 day for the charge to appear. Surely the company isn't so inefficient that it takes 2 weeks to process this. Or maybe they have an intended "float" in their financial management plan?

Anyway, the two weeks pass, then another week, then 4 weeks, with no refund posting. I sent an email on September 4, asking for an update. I received an email on September 6, advising that they had a "system error" but they are re-issuing the credit, AND THAT IT WILL TAKE ANOTHER 5-7 WORKING DAYS! I replied with a very terse complaint that this is ridiculous, and that they should immediately process this and possibly make amends for my troubles. Crickets. No reply. No courtesy call. Have they decided they do not want me as a customer since I cancelled an order? Do they think I wouldn't tell anyone about my experience?

So, I called their "Customer Service" department today, September 7. Total frustration. The agent refused to let me speak to a supervisor or manager and, incredibly, said I needed to go back to their website and submit a "formal complaint", as if my calls and emails were not enough for anyone there to see that I AM COMPLAINING!

Absolutely the WORST CUSTOMER SERVICE possible. Someone needs to send the organization back to customer service 101. They need remedial education. The CEO should ask the Financial Manager why he is holding customers' money like this.

Buy something at John Lewis. Take it back. Get a refund posted to your credit card THE SAME DAY, one day later at worst. This isn't rocket science. It's thievery.
Desired outcome: Immediate Refund. Apology from Senior Executive. Revise their ridiculous policy of taking 2 weeks to refund to a credit card. Compensate me for my troubles (50 GBP sounds reasonable).
Hillarys Blinds
-
blinds
In August of 2020 I made and appointment for a quote for blinds and curtains the fitter quoted me a price and I made it clear that I would have to sleep on it he told me not to worry no order would be made until I paid a deposit. However the following day I called to make sure to cancel any order made. Two months later I start getting phone calls and letters saying the order has been marked as complete and demanding payment for items I have not got. I have let them know I do not have the items and did call to make sure it was cancelled. I have had letters threating to take me to court and now letters saying they are going to send debt collectors. The entire thing has been and still is a nightmare. and to top it off the customer service advisors are extremely rude and abrupt.
Desired outcome: To stop contacting me about money I do not owe
Hillarys Blinds
-
SHUTters
Our shutters were fitted in May. Love them. BUT I phoned on Monday 14th June 2021, to report a problem. Part of the fitting is dropping down. I was told that the fitter would be contacted. I t is now Wednesday and we have heard nothing. I would expect at least a phone call to acknowledge my problem. Your after sales service leaves a lot to be desired.

Yours KATE NEWELL, 9775706. Order nos .SHH5809.
Hillarys Blinds
-
Lack of after care with your customer service team following the fitting of two un useable blinds.
My customer service number is 8038363. All the notes regarding contact I assume will be fully available on your computer system as my attempt to resolve the 'issues' are too lengthy to list.
I have, after almost 30 emails, been issued a 50% refund for the blinds I had fitted in February 2021, two of the four blinds are in useable.
The remaining 50% refund is due to take place when the blinds have been removed, however, I receive no response to my frequent emails.
I wish to have the remaining 50% refund prior to any blinds being removed... if nobody responds now, I will stand zero chance of receiving any communication/refund when the blinds are removed.
I have tried on numerous occasions to request the contact details of Mr John Risman.

I would like to think I have just been unlucky..
Please respond advising of when the remaining 50% refund will be processed.

Regards
Lynda Larner

07841196769
Desired outcome: Final 50% refund being issued prior to blinds being removed
This review was chosen algorithmically as the most valued customer feedback.
We placed an order for shutters in February with an expected installation date in May. On 24th March we were informed that due to Covid 19 all manufacture was paused. On 2 nd May after my contact I received an e mail response stating that an advisor would be in touch. There was no contact. On 14th May I contacted Hillary's stating that I had e mailed twice...
Read full review
This review was chosen algorithmically as the most valued customer feedback.
I purchased vertical blinds for my patio doors on the17/09/2019. I had a problem with one of the slatts that kept twisting so phoned customer service to inform them of my problem. I was told that it was not a problem it " just needs resetting " so whilst on the phone the young lady told me how to reset the slatts, I expressed my concern at the time that I...
Read full review
This review was chosen algorithmically as the most valued customer feedback.
Hillarys Reference: 9358842 There are two make to mature Black Out Blind I have ordered to Hillarys through their sales man, who done all the measurement and placed the order in October 2019. I have confirmed with him these has to be black out Blinds as one of the blind is for bedroom. Once he received the blinds from his Company (Hillarys) he bring the...
Read full review
Hillarys Blinds
-
customer service
Suzanne from West Midlands came during black Friday sale booking she measured gave quote I signed machine confirming price £120 she then said she made mistake it is £15 more!she then said her card reader and mobile phone was dead could she take my car charger for the day as she has many customers to visit!I refused fitting was arranged for today 20 December.I called you to report incident your gentleman said he had no order for one kitchen vertical grey blind, no price, no ref etc ?I cancelled order via email because I am concerned I received email you would email me I am disabled with impaired hearing, no email? Then fitter turned up, he just entered my house walked into my kitchen without being invited I was in nightclothes because I am ill I found this very upsetting, he said you had not been in contact with him!I find this disgraceful service, I needed blind fitted for Christmas with shutters and conservatory blinds new year but I have no faith in Hillary's blinds I look forward to hearing from you via email
We are here to help
16 years' experience in successful complaint resolution
Each complaint is handled individually by highly qualified experts
Honest and unbiased reviews
Last but not least, all our services are absolutely free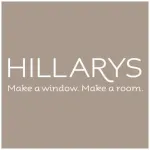 Hillarys Blinds contacts