Overview of Hebeos customer experience
Hebeos is an online retailer specializing in wedding dresses, prom dresses, and special occasion outfits. The company offers a wide range of stylish and affordable designs, but customer feedback has raised concerns about product quality, customer service, and overall satisfaction. Many customers have reported receiving dresses that didn't meet their expectations in terms of design, fit, or material quality. Some have also experienced issues with sizing, with dresses arriving too small or too large despite providing accurate measurements. Additionally, consumers have encountered difficulties with the company's return policy, which can be stringent and challenging to navigate. In some cases, customers were unable to secure a refund or exchange, leading to disappointment and frustration. On the customer service front, Hebeos has received mixed reviews. While some shoppers have had positive experiences with responsive and helpful representatives, others have reported long wait times, unresponsive communication, and inadequate resolutions to their concerns. It is crucial for potential buyers to be aware of these issues when considering purchasing from Hebeos. Reading detailed reviews, analyzing customer photos, and understanding the company's policies will help ensure an informed decision and a better shopping experience. Overall, Hebeos offers a vast selection of stylish and affordable dresses, but potential customers should weigh the pros and cons carefully before making a purchase.
Newest Hebeos reviews & complaints
returning my dress
I ordered a dress and it doesn't fit me so I contacted Shriner service to return the dress ASAP Bec I'm going on vacation very soon. They kept asking me to take pics of myself with the dress as a proof that it doesn't fit. This first of all is ridiculous because I didn't feel comfortable taking any pics with this dress and the zipper of the dress didn't close because of how tight it is. Even though I wasn't comfortable sending these pictures, I was forced by the customer service to send them regardless to give me a return label. After I sent the pictures, they asked my about some measurements and I did provide them with the measurements even though I wasn't sure if I was correct or not Bec I have never done this before. All the dresses I have are size 4 but Because the measurements that I provided that I wasn't sure of weren't a match of size 4, they are refusing to return my dress and they are forcing me again to keep it and said that I should go alter it to make it fit me. This is actually ridiculous of how you force customers to wear something that they don't want to wear. In addition to the size isn't good, I really don't like the material of that dress. So, I need someone to actually provide me with a return label because I'd like to return this dress and if that won't happen soon, I'll file a bigger complain and keep writing reviews of how bad your customer service is and how they force their customers to take pictures to proof them wrong. I'm not going to stop till I return this dress.
mother of the bride dress
The dress I ordered is too small and extremely poor quality. I have been informed that it can't be returned. Before I purchased, I read all the information about the great customer service and return policy. I followed all instructions, posted pictures and have sent over 10 emails to customer service. They are now ignoring my requests.

I have looked and can't locate a phone number or address to reach out to corporate headquarters to get the matter resolved. I must comply within 7 days and running out of time.

This company is a scam! I want my $190 back!

Lynda Jackson
Jun 29, 2019
11:54 am EDT
This is the poorest customer service I have encountered in online shopping. I thought you were a great company. Evidently, you are scamming ladies looking for a dress.
prom dress
I ordered a prom dress for my daughter on May 25th and there was only 2 shipping options available. 1 was 4-6 days and the other was 2-4 days expedited shipping I paid 29.00 for it to arrive faster. I emailed them 4 days later to inquire about the shipping because I hadn't received a email to say it shipped. They then precede to tell me that I wasn't going to get this dress until 6/10/19. I explained that I paid for expedited shipping and my daughter prom was June 6th. They claimed they would rush it out but because their dresses were made to order it would take longer. So I then ask why do they have this shipping option if they couldn't meet the deadline. Their response was if I canceled I couldn't get my refund because it was pass the 48 hours their site policy notes. When I received my dress and open the package it was a totally different dress from the one I paid for. The materials were all wrong, the dress has snags all over the bottom, and they didn't put the designs on the mermaid part of the dress as it's shown on the website. I contact them immediately and for days we we t back and forth emailing and every time they refused to send the return label. I even sent pics of their return policy and pics of the the dress I ordered and the one they sent. Showing how different they are. They then mentioned that the dresses may be a lil different from the website because they were made to order and to top it off they offered to give me 10% of my money back. I paid $159.00 for this dress. After several email back and forth it went up to 25% and that was their final offer. I'm so upset and hurt that these people would do this to not only me but dozens of other customers because I've read all these reviews that I wish I had seen prior. This is so unfair and something needs to be done. This website needs to be shut down because they are taking money from
Hard working individuals such as myself. I had to run out and buy my daughter a last minute dress days before her prom and spent way more money that's really didn't have, because it was her senior prom I couldn't let her go without a dress. To be inconvenienced and robbed is truly hurtful.
wedding dress 2019
I am so so disappointed with how this company is handling this. I purchased this dress for my wedding coming up in november 2019. I realize the dress was only $200, but it is nothing like the picture. I figured how bad could the dress be? It is the worst. The way I am able to describe it doesn't come close to the let down in person. The quality of the lace, the pattern on her chest, and the material of the dress is nothing like what is represented in the pic. It is a completely different dress. The material is very thick, stiff, and heavy.in the pic, it almost looks see-through, very light, and perfect for a beach wedding. The lace on the chest does not have the distinct and beautiful flower pattern. It came with just a generic cheap lace; similar to a child's halloween costume type of quality. When I kindly asked for a refund, (immediately after receiving the dress), they said no!. They replied with one sentence. They said there is nothing wrong with the dress. That's it. I will never buy from this company again> scam artists. I feel like I literally got robbed out of my money.
a-line/princess tulle lace spaghetti straps sleeveless floor-length wedding dresses sku pon1506ev914
This company is a joke. I was so excited to wear this dress for my wedding. I had 100% intentions to have this dress tailored as soon as it arrived. The package came within reasonable time. When I opened the package I rushed to my closet to try it on. Much to my dismay the dress was atrocious. It is seriously nothing like the pictures show. The material in the top is nothing even similar. I ordered a dress that would fit my 34d boobs and likely need a little tailoring. The dress literally flops open so wide there is no way a women with 38ddd could fill out this top. My tailor said it was absolutely unworkable unless we reconstructed the entire top.

Secondly, the fabric on the top is no where near the same as the mannequin and there are these horrific white pads to cover your nipples that look like headlights.

Thirdly, the "fitted flower portion under the tulle (on bottom half) is a balloon! It's as wide as the tulle... Not fitted like it shows.

When I attempted to return it like their website touts they asked me for my measurements to see if the dress was maybe just sewn improperly. Then when I responded with my exact measurements
Hips 37 ½
Waist 29 ¾
Boobs 39 ½

"they responded with this: please understand that items that do not fit properly but in accordance with the specifications you ordered cannot be returned or exchanged. Your option is to look for a local tailoring service at your own cost. Please note that if your order specifications differ greatly from the final sizing request, resizing may not be possible."

I asked them exactly what dress I should have ordered. They said you should have ordered a custom made dress.

I feel this company is complete false advertising. Do not order anything from this company!
wedding dress
I ordered a dress from Hebeos on 25/04/19 and paid for expedited shipping, the dress arrived later than expected. I ordered a size 8 which my measurements were an exact fit for, however, when it arrived it was too big for me and the material had a shiny effect to it that was nothing like the image on the website. I have been in contact with the customer services team who are quite simply trying anything to avoid giving me a return address. They have requested that I send them photos of the product which I have, then they cheekily asked me for 'actual' measurements! I have responded to this email also, stating my measurements are exact to what their size chart shows for a UK 8 (the size I ordered). The website states 'worry free returns' clearly not the case! All I would like is an address to return it to so I can get a refund!
refuses to supply returns form/address
I ordered a dress for my daughters prom on 24/05/19. She has previously ordered a
size 10 dress from them for a party it fitted perfectly and she was happy with it.
But the the second dress arrived it was not the one she ordered, completely the wrong colour and style and fitted appallingly. Couldn't zip it up and too much material over stomach and not a size ten. Every time i have asked for the return form or address they send rude emails saying get it adjusted locally implying her measurements have changed. I included photos. I know they are breaking the consumer regulations and are trying to stall for the 14 days from when it arrived. Why is there no information on this website. Clearly stealing £100 of pounds off people and getting away with it. Why is it coming up on search engines when clearly operating with such bad practices.
disappointing product delivered with no customer care to resolve issues
Order reference number G97190414140315809

I ordered three Dresses to wear for two weddings . One was to be on Saturday 4th May 2019 and the other on Friday 7th June 2019. On the Heboes website pre- order I was told that the dresses would be delivered on 29th April 2019. I was happy about that as I though I had time for the 1st wedding.
I waited until the 29th nothing was delivered. When I contacted Hebeos on their contact at their after sales email there was no response. two days later I checked my order update which said my dress had been dispatched and would be delivered within 5 to 8 days.
I then sent them an email to say immediately to say that i had actually ordered three dresses and not one and wanted to know when they would arrive. There was no response. then two days later i received an email from them asking if I had received my dress yet? I replied back to say that I hadn't received any dress and reaffirmed that I was expecting three dresses, not one. Then on Tuesday 7th May 2019 a package finally arrived. When I opened it there were two dresses vaguely resembling what I ordered and one missing. the ones that were delivered were a far cry from the pictures on their website. I contacted them to say was greatly disappointed with the two dresses they delivered and informed them that one was still missing anyway.
up to today i have not got any response from them
I'm deeply disappointed and I don't know what to do. The two dresses they delivered are grossly horrible, i cant wear any of them! The third one has'nt been delivered and I don't know if it'll ever be delivered

Right now I just want my money back.

I don't want anything to do with Heboes anymore!
May 09, 2019
12:48 pm EDT
Horrible, horrible online shopping site. AVOID AVOID!
return com
I brought two wedding dresses size 6 from Hebeos. They arrived 4/22/2019. I just found out we are pregnant and can not fit into these dresses. I have sent an email everyday asking for the return product code. The first email they sent me the tracking number (which I already have the product). Then they just sent me an email telling me to take a picture of what is wrong with the product - (HELLO nothing I am going to have a baby in my belly so the size 6 will not fit) I am trying to get my money back before the 7 days return policy but they are making it so hard to reach them.
one email from them:
Dear customer,
We are so sorry to hear that there is something wrong with your item.
Would you mind taking some photos to show us the problem exactly?
After confirmation we will resolve this matter for you ASAP. Your cooperation would be much appreciated.
Looking forward to your reply.
Sincerely,
Anne
Another email from them:
Dear customer,
Thank you for your email.
Your order has been sent out. Your tracking number is [protected].
and you can check it by the link of http://www.cn.dhl.com/en.html.
Sincerely,
Anne
prom dress
I ordered my daughter prom dress and paid for expedited shipping. The dress still arrived a week after the given date. The dress was a different color and does not look like what was ordered. I reached out to them and all they said it was the same, clearly I would not be complaining if it was. This is a horrible company, I will report to BBB and I will be filing a lawsuit! They prey on people and get their money and as they like it's nothing. See you in court! First picture is what was received, second is what was ordered.
I paid for my dress and is not gonna arrive on time, so I want my money back.
I would like to request a refund, I ordered my dress since march 23, on march 29 I told them to cancel the order, but I read the return policy and thought that due to the time it would be impossible for my order to be canceled, then I was just waiting for them to send it, because they did not tell me if the order had been canceled. And yesterday they told me that they canceled the order and that now the dress will not arrive on time, so I would like to recover my money. How can I get my money back?
grad dress
I ordered a dress and I accidentally gave them the wrong address (my fault) but I have emailed them multiple times concerned about it and they emailed me back telling me that they would change the address but whenever I looked online to track my order it said the old address I gave them. I emailed them three times regarding the address and they all said they changed it but I never seen a change whenever I logged onto the hebeos website, I emailed them recently and they said it was too late to change my address because my dress has already shipped. I emailed them multiple times and now they won't respond to my emails. I just want to know if they were able to change my address like they said and if they hadn't i'd very much like a refund because the management said they would change my address but didn't.
horrible company, do not buy from them!!!
We received my daughter's prom dress on 4/11/19, tried it on immediately. It was too small and so when she really tried to wiggle into it, the seam split up the middle. I immediately emailed the company, it was too late to get a new one since prom was 48 hours away but at least if I knew we were getting money back we could find one at the mall. I sent the company a picture, it was clear it was too small and she's a size 0. They said they wouldn't refund it because they said they made it correctly, well clearly they did not. This is the worst customer service I have every dealt with. Stay away!
product i
It is April 12th and my daughters prom dress never arrived. I have spent my hard on money on purchasing my daughter the perfect dress to only dissappoint her that her dress is not coming. We have invested time and preparation for this special occasion and we wanted it to be memorable. I would like my money back in full for the day that was taken away from my daughter. And it is sad that we cannot shop safely online. I just wish I would have done my research on you guys first.
wedding dress
I am trying to return a dress that came to me with packaged very poorly, discolored off white in spots, and and small stains (looks like burns). It would more than the cost the price of the dress to fix all of these things and I want a full refund and return this dress to you. It honestly looks like minor water damage from poor packing on arrival.
I send pictures already and emailed customer service and someone named Alice keeps avoiding addressing the issues and is not offering me a return label. I spoke to someone prior to my order and they said if I have any problems the return is worry free! Well that is not the case now. If I do not get a return shipping label and progress with this case soon, I will have to resort to legal action. This is negligence on your companies part.
prom dresses
In March 2019, my daughter ordered 2 Prom dresses to compare fitting and keep the one she feels is suitable. They were both nothing like those advertised on the website. She contacted the customer service to request for a return address, so she can return them for a full refund. The customer service agent is "Flora". She apologized and requested that my daughter should take photos in the dress and send to her, so she could see exactly where she was having issues with fitting. My daughter sent the photos, but after that she got another email asking for more photos with the dress. So I got involved and sent an email saying that my daughter is not sending any more photos, we just want the return address and our full refund. I informed "Flora" that I was displeased and upset with the manner of customer service that we received. After my email, Flora stopped replying to my daughter's email.
I am still sending emails to "service@hebeos.co.uk", but have received no reply for more than 2 days.
It is very upsetting for my daughter because she doesn't have the dress she wants for her Prom and for me because I don't know if I will ever get my refund .

I tracked these 4 telephone numbers to the company, not sure if they are current and I am yet to try them.
They are: 003707273858; 1-626-456-6688; +[protected]; 532-5377-7251
dress orders
This company will not allow you to return merchandise if you are not satisfied with the fit not the color! They took my $342 dollars and would not allow any returns. Biggest scam company. Do not buy from this company. They will take your money and run! This would never happen in the usa. I will never order from company again. I tried to reason with this company but they make you take pictures of you in the unfitted dress and make you send the pictures to them. They make you send your measurements after the fact. They should ask up front for measures! Embarrassing company to work with I have never felt more degrading ever with a merchandise company.
buyer beware! hebeos.com is the worst!
Don't order from hebeos! We ordered my daughter's prom dress and were told it would arrive by march 21st. When that date came and went and the dress had not even shipped yet we became worried and started trying to contact them. No response other than an auto response "please be patient.. Blah blah". We had no choice but to order from another site and cancel the order with hebeos. It hadn't shipped and we explained that there was no way the dress would be here in time, but they wouldn't cancel or refund our money. So - prom is this week and there's no dress and no refund. They will not answer emails or respond at this point.
dress custom ordered
Ordered dress March 6, 2019 and asked presales through chat with Jason which I have if it can be modified and was told yes. Just received dress today and NOTHING was done on modifications and bottom of dress was NOT satin it is dull. I cant believe I fell for this SCAM! LIARS Specifically told them the neckline needed to be 2" and 1" over shoulder and the custom size was not custom at all. Paid $172 and I doubt will get a refund and alterations won't be cheap so upset! Don't order from these liars!
I am complaining about a dress I ordered that came with poor quality and poor customer service.
Earlier this month i ordered a dress. The dress was supoosed to be a Satin pale pink dress. When it arrived it wasnt satin instead it was a cheap see through material. Upon this realization I contacted customer service to proceed with a return. I read the return policy and read that a return was possible for the issues that came along witj the dress. However customer service said I could not return it and it wasnt their fault and they had rude and unprofessional responses. I want my money back asap.
Frequently asked questions (FAQ) about Hebeos products and services
Collect Your Trust Badge
Be recognized for outstanding customer service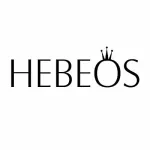 Hebeos

contacts
We are here to help
19 years' experience in successful complaint resolution
Each complaint is handled individually by highly qualified experts
Honest and unbiased reviews
Last but not least, all our services are absolutely free