Bigger Books complaints
9
Bigger Books
-
Etextbooks
I needed a textbook for a college course I was taking, wanted the e-version for my kindle, and found a match for the ISBN on BiggerBooks. I should have known that having the best price online was a red flag. BiggerBooks had the e-textbook rental listed for something like $20. I ordered the textbook, and importantly, the listing included no other information other than that it was a rental of an e-textbook. Usually, the material will download to your kindle or send a link to your email automatically, but BiggerBooks sent a code through the mail. The code arrived in an envelope that said "once opened code is void" or something like that - warning that it could not be returned. I thought this was no problem, as I had no reason to think that there would be a problem with my order. However, the code they provided was a code that required a specific access link from a college teacher in order to be able to log onto the textbook website and THEN use the code they provided to access the text book. Well, of course I had no special code from a teacher. When I reached out to BiggerBooks about this, they had no special codes to provide either- so there was NO WAY for me to access the materials I paid for, AND NO WAY for me to know that I needed a special code prior to trying to access the materials on the textbook website. It was not listed in the BiggerBooks materials listing ANYWHERE that ANYTHING other than the rental fee was needed to access the materials OR that they WERE NOT PROVIDING A COMPLETE PRODUCT. They refuse to refund my money, saying I had opened the envelope. This practice is misleading and they did not take into account thier own misleading listing when "trying" to resolve my issue. Feels like a scam.
Desired outcome: Refund of my textbook rental fee.
Bigger Books
-
Poor shipping practices
I placed an order for a textbook about three weeks ago and the order said it would arrive in about 10 days. It finally arrived at the post office a few days ago. However, it is now being sent back to the seller because "they don't deliver to PO boxes". Bigger Books: maybe you should state that you don't ship to PO Boxes like every other company! Don't allow the transaction to go through if you're not planning on delivering the product!

I called the customer service number and the woman said that I would be refunded when they received the book back. They were unable to re-route the book back to me.
Bigger Books
-
shipping
Ordered my book on the 9th of September, didn't arrive until the 24th. Paid for higher priority shipping as they give that option, not knowing that it was a scam. Promised date was the 15th with that extra payment on shipping (almost $10 extra). I emailed multiple times about my refund on the pointless payment on shipping as my order was most definitely not prioritized at all. Didn't receive any reply until today (Oct. 1st) and they themselves said that the higher payment options on shipping don't make it ship faster at all amongst saying that it did deliver on time which was nowhere close to what happened even with the new delivery date they gave me on their package tracking which was the 20th (that I only found out days after it was originally supposed to be delivered.) They're literally misleading and stealing money from people. They're refusing to refund the shipping I paid when I could've just selected free shipping and got it on the same date or not used them at all as I could've gotten my book anywhere else in less time. Horrible customer service, horrible business. Their books are also not lower pricing either, get your books literally anywhere else. Amazon has way lower prices and guaranteed shipping for what you pay and also don't treat their customers like trash. DO NOT BUY FROM HERE ITS A FREAKING SCAM. THEYRE JUST STEALING MONEY FROM STUDENTS WITH NOTHING TO SHOW FOR IT. NOT WORTH IT AT ALL. IM LIVID.
This review was chosen algorithmically as the most valued customer feedback.
After reading many reviews that sound a lot like what I am dealing with, I have a feeling my situation will end badly. I am going to say now that if I don't have the book next week I not only plan to file a BBB complaint, I will also be filing a banking fraud complaint with their credit card company as well as the bank that holds their merchant account. I...
Read full review of Bigger Books
This review was chosen algorithmically as the most valued customer feedback.
Run as fast as you can away from this business. I ordered a book from the company and was immediately charged for the book and shipping. Two days later, the company advised me that it did not have — and could not get — the book I ordered. The company then refunded the price of the book but has refused to refund the shipping charge. I have contacted the...
Read full review of Bigger Books
This review was chosen algorithmically as the most valued customer feedback.
Update 9/12/18 Biggerbooks.com received the return of my college algebra book on 8/27/18. It has been 16 days and they still have not refunded my credit card! Two days ago, on 9/10, I called & waited on hold 29 min before a rep finally answered & told me she is sorry but there has been a delay at the warehouse. I asked to escalate to management, she put me...
Read full review of Bigger Books
Bigger Books
-
textbooks
I placed an order for a textbook I needed on 8/25/2018. I paid extra for 2-day shipping as I needed the book before my exam. It is 9/11/2018 and I haven't received my book! I have tried to chat with them and the First Lady ignored my message and closed out of the chat. Which I have a picture of. Then I tried again and they said it was shipping from one of their vendors to wait more. I already purchased the book from another source and i have been trying to cancel with no success. They're doing fraud that's all they're doing with students. Books aren't cheap! I'm out out $250.00 plus $150 for a different book with no answers!
Bigger Books
-
worst return policy
Bought a textbook from www.biggerbooks.com and had the worst time. They promised fast shipping and when my order did not arrive I asked about my order status and they claimed that order was shipped. Then I asked for a tracking number and got another empty promise.
I contacted their support and asked them to cancel my order and they said that I have to wait for my book and then I have to ship it back and that was the only way to get a refund. What a joke.
Then they said that I will have to pay for return shipping, and will be charged a restocking fee! I must say that Biggerbooks has the worst return policy.
Will not buy from them again!
The complaint has been investigated and resolved to the customer's satisfaction.
This review was chosen algorithmically as the most valued customer feedback.
I ordered a new book from them and received, after a pretty long shipping time, a clearly used book with a cracked dvd in a broken case. After several attempts to contact them I finally got a note that they would take a return. This is a college text book - if I wait for anotuer book to arrive from them the semester will be over. They are slow to ship and...
Read full review of Bigger Books
We are here to help
16 years' experience in successful complaint resolution
Each complaint is handled individually by highly qualified experts
Honest and unbiased reviews
Last but not least, all our services are absolutely free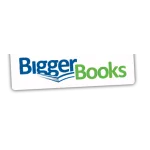 Bigger Books contacts