MyFlightSearch complaints
107
Newest MyFlightSearch reviews & complaints
Will not refund cancelled/changed ticket cost
I ordered a ticket for a round trip flight to Canada, Booking Number FSON640287. Within a day or so there was no confirmation number given so they cancelled that flight and agreed to a refund of the ticket price in writing. They did so on October 24, 2022 in the amount of $568.92. They then issued me a new flight ticket from TravelReImagine, a different company. TravelReImagine overcharged me and agreed in writing to refund me that overpayment on November 10, 2022. I am still waiting for the refunds. Their "customer service" is not in the US and their goal is to wear you down so you give up on the refunds. I called MyFlightSearch 7 times today and was cut off or hung up on every call. Both of these companies, located in different states, are a complete scam. MyFlightSearch is in Nevada and TravelReImagine is in Colorado. I plan seek assistance from each states' respective Consumer Fraud Division with their Office of Attorney General.
Desired outcome: Refund my money.
Refund on a flight
I booked a flight with them on April 28th of 2023 and they called me the next day saying they could not get the flight on the days and time they had agreed upon for my round trip from Norfolk, VA to Phoenix, AR. They tried to accommodate me with other times and days but we needed to be there for a college graduation. So, they agreed to give me a refund with no service charges taken out. On April 30, I received an email explaining it all. It has now been almost six months, and I have yet to receive my $417.56. I keep calling them and their response is we escalated the problem and I should receive it in 7 to 14 days. Well, it has been longer than that please help as I am on a fixed income and I do not have money to just give away. I advise no one to use them because they will promise you something they cannot provide.

Thank You,

Dissatisfied Customer
Desired outcome: I would love to have my money back.
MyFlightSearch Refund
Finally got a refund almost two and one-half months after initial "booking " of non-existing flight. My initial excuse that I was given when I learned I had no flight actually booked, was that the flight was not available, 5 weeks before the actual flight.

I persisted with repeated phone calls and filing complaints, throwing the words fraud around to the three supposedly different people, all named John, with middle eastern accents, who spoke to me on the phone!

I guess the squeaky

wheel gets the oil.
Is MyFlightSearch legit?
MyFlightSearch earns 31% level of Trustworthiness
SAFETY ALERT: Our evaluation of MyFlightSearch found a legitimacy rating indicating a low level of trustworthiness at 31%.
MyFlightSearch protects their ownership data, a common and legal practice. However, from our perspective, this lack of transparency can impede trust and accountability, which are essential for establishing a credible and respected business entity.
We have received reports that the website associated with MyFlightSearch is selling fake products. If you are considering purchasing products from this website, it's important to do additional research, verify the website's legitimacy, and consider contacting the manufacturer to determine the authenticity of the products.
Complaints Board has received reports that the website may be a possible fraud. To protect yourself, consider using a different website. If you find that the website is indeed fraudulent, report them to us, to help protect other consumers.
We conducted a search on social media and found several negative reviews related to MyFlightSearch. These reviews may indicate issues with the company's products, services, or customer support. It is important to thoroughly research the company and its offerings before making any purchases to avoid any potential risks.
However ComplaintsBoard has detected that:
We found clear and detailed contact information for MyFlightSearch. The company provides a physical address, 2 phone numbers, and email, as well as 3 social media accounts. This demonstrates a commitment to customer service and transparency, which is a positive sign for building trust with customers.
MyFlightSearch has registered the domain name for myflightsearch.com for more than one year, which may indicate stability and longevity.
Myflightsearch.com has a valid SSL certificate, while Scammers can obtain a valid SSL certificate by using fake information or by using a stolen or hijacked domain. In some cases, they may even use a certificate issued to another legitimate website.
Our scan shows MyFlightSearch website is free from malware and phishing activities, which are types of online threats that can include viruses, worms, Trojan horses, ransomware, and other malicious code, as social engineering tactics used to trick users into sharing their personal information.
Myflightsearch.com has been deemed safe to visit, as it is protected by a cloud-based cybersecurity solution that uses the Domain Name System (DNS) to help protect networks from online threats.
Myflightsearch.com you are considering visiting, which is associated with MyFlightSearch, is very old. Longevity often suggests that a website has consistently provided valuable content, products, or services over the years and has maintained a stable user base and a sustained online presence. This could be an indication of a very positive reputation.
According to our analysis, MyFlightSearch appears to be offering travel services on their website. While many travel companies are legitimate, it's important to be cautious and do your research before booking a trip to ensure that you are getting a good deal and not falling victim to a scam.
MyFlightSearch website is deemed to be popular and indicating that it receives a high volume of traffic. It is important to be cautious when using a highly trafficked website, as it may be a target for cybercriminals looking to exploit vulnerabilities or steal personal information.
Our Conclusive Verdict: The company has a low level of trustworthiness. We advise being cautious when dealing with this company and to read reviews carefully, being mindful of any negative comments or concerns before engaging with the company.
This review was chosen algorithmically as the most valued customer feedback.
I searched February 19, 2023 for a round trip flight from Tampa to Key West. This site appears to be the actual airline. In my case Silver Airways. I booked a flight and received confirmation that I was booked and received a booking number. My Credit card was charged by what read "Silver Airways". I go to check in the day before the flight and they had no...
Read full review of MyFlightSearch and 1 comment
refund not received
I booked a RETURN flight from you May 8/23 travelling from London Ontario to Calgary Alberta. Each time i called about etickets I was told a different story. Last one was tickets would be available week before flight I called on July 823 wanting my etickets. AT THIS TIME I WAS TOLD I DID NOT HAVE A RETURN FLIGHT! VERY UPSET AS i HAVE A PRINT-OUT OF TRANSATION FOR A RETURN FLIGHT. AGENT COULD NOT FIND ME ANOTHER FLIGHT UNLESS I WAS WILLING TO PAY TWICE THE INITIAL AMOUNT CHARGED TO MY CREDIT CARD AND ALSO HAD TO FLY FROM A DIFFERENT LOCATION. i HAVE CALLED REPEATEDLY TO ASK FOR MY REFUND. i HAVE WAITED THE 28 DAYS FOR THE PROCESS! STILL NOT RECEIVED! HOW CAN ANYONE GIVE A FAVOURABLE REVIEW WHEN MY FLIGHT WAS HANDLED SO AWFULLY!

I APPREICATE RECEIVING $ OWING TO ME ASAP $1002.34 CAN!

JOAN WESTGATE, WATFORD, ON CAN.

UNSATISFIED CUSTOMER
Desired outcome: BE REIMBURSED FOR WHAT PAID! $1002.34
Refund for tickets not received
We booked a flight to Cancun, October 23, 2022, on Air Transat out of London, Ontario to fly on January 21, 2023 on MyflightSearch.com (Booking # FSON877382). In January no tickets had been issued and delivered. I phoned them at [protected]. They said they could not get the tickets at the price quoted. They did not contact us to tell us that tickets could not be issued, but the $950.76 USD had already been charged to our Master Card on October 23, 2022. They offered to sell us tickets for $1500 USD.

We requested a refund for the amount already paid. They said they would refund the amount paid. They followed that with an email on January 2 saying that the refund has been requested but it may take one or two billing cycles to be reflected on our billing statement. We have called several times and when given our account number they have disconnected the phone. I emailed them and they replied with a form letter stating that a customer care team representative will contact us soon, if a response is required. To this date we have not heard from them.

ETKT AIR TRANSAT ABT was the name of the company that appeared on the credit card statement on October 23, 2022

We would like your help with this.

Janet and David Brent

dave.[protected]@execulink.com
Desired outcome: Refund and flag MyFlightSearch.com flagged as a bad company
Tickets not issued, money paid and not refunded.
We booked a flight to Cancun, October 23, 2022, on an Air Transat flight out of London ON, Booking #FSON877382. In January no tickets had been delivered so I phoned there number [protected]) They said they could not get the tickets at the price quoted. They did not contact us to tell us that but $950.76 USD was charged to our master card on October 23. When I phoned on January 2, 2023, they offered to get us tickets for $1500 something USD but we requested a refund of the amount paid. They said they would refund the amount paid. They followed that with an email on January 2,2023, saying that the refund has been requested but it may take one or two billing cycles to be reflected on our credit statement. We have called them at least three times and they have hung up. I emailed them and they replied that a customer care team representative will contact us soon, in case if it requires a response.

"ETKT AIR TRANSAT ABT was the name of the company that appeared on the credit card statement on October 23. Is there anything we can do to get the money back?
Desired outcome: Our money back and others told no to deal with "myflightsearch.com)
Travel
I called on March 11 to book a flight from PVD to Ft Lauderdale fl. I was told it would be 106.77. The money was taken out that day. I assumed I was booked. On March 19, I got 195.92 taken out of my account. Today my friend who I am flying with calls me and told me she called to check on her ticket and was told there was not ticket, it was on hold and the new prices is 180 more to confirm. I was furious. I asked for my money back immediately but unfortunately the card I used the bank took because of the 195.92 charge that was not authorized. This is a terrible company, at no time did anyone tell me the price of 106 was not a confirmed flight. Shame on your company for misrepresenting someone over the phone. Your e mail you send after the fact is disgraceful, I see why you have so many complaints and a 3 star rating. Please forward a check in the amount of 106.00 along with a 500.00 mis representation fee. I am reporting this to frontier, who you are suppose to represend and the attorney general

Cheryl DeNinno Brown

571 Narragansett Pkw

Warwick RI 02888

[protected]
Desired outcome: Send me my refund
Refund
My Cancellation number is FSON808155 under Carlos A. Salazar for air flight that was canceled within a day of purchase on 10/4/2022 I have made several phone calls requesting my refund back of $1,285.54 I have not received my refund yet, they keep saying you will get it in 3 to 4 weeks or they only inform me ,they will forward the request. No supervisor is ever available to talk to, also they customer service people are very rude very unprofessional it all they hung up the phone on me. take this problem seriously. I WANT MY REFUND BACK...
Myflightsearch - Refund
I purchase a flight on December 9th at MyFlightSearch.com and at the same day I had to cancel it.

They said they would refund me the money in 10-15 business day. It passed already 1 month and I didn't get my refund back.

Every time I call them they either say to wait a little bit longer or the hang up the phone on me!

Booking number is FSON638148

Amount is $331.94 dollars
Promised refund for cancelled booking
Booking No. FSON474244

Oct. 2022: Booked two (2) round trip tickets via Canadian carriers YYT-YYC for Dec. 2022. E-tickets not issued. Cancelled booking & promised full, no-penalty refund by MyFlightSearch.com, to be issued within one to two billing cycles.

Almost three (3) months and several phone calls and emails later, still no refund has been issued back to my credit card. I am out +$2000 USD and desperately need MY money back, but am at a loss on how now to handle this?

Very unprofessional on the part of MyFlightSEarch.com
Desired outcome: Full, No Penalty Refund
Never received refund
Flight cancelled in July 2022. Called several times to get refund, and it was promised, but never given. It is now. Nov. 2022 and still no refund.

Flight cancelled by agent on 2022/07/12 (for a 2022/07/16 departure). YYC to YUL flight with Air transat. Booking reference ABON415963. Was told via email that refund was automatic. Called multiple times in Sept., Oct. and Nov. 2022 and was always told that it would come soon, but it never came. I was promised that someone would phone me back and no phone call ever came.

I would get hung up on at the call centre repeatedly. The call centre refused to transfer me through to a supervisor.
Desired outcome: I would like a refund and an explanation of what happened. I incurred increased costs in re-booking alternate travel arrangements and I would like those costs covered.
Booking number FSON149879
Dear Sir or Madam,

On 9/26/22 at 10:06 PST, I booked a flight from Kansas City to Bangor, MN for $705.20 (FSON149 879) At 1:46 p. m the same day, I requested the booking to be cancelled. My Flight Search approved the request with no cancellation fee.

A copy of both the booking reservation and your approved cancellation are attached.

On 9/29, I inquired as to when the charge on my credit card would be reversed and was told it would be within 21-28 days.

Thirty two days later, on November 1, 2022, I called your office and talked to Mona. She confirmed that the booking had been cancelled with no fee and that I should expect the $705.20 on my credit card would be reversed within 7-14 days.

Well, fourteen days have passed and the charge is still there. In addition, I've been charged $12.07 in interest. I tried calling today but was left on hold in dead silence for 20 minutes. Ridiculous.

Enough is enough! I WANT MY MONEY BACK NOW!

Thank you for your prompt attention to this matter,

Michael McCord

913.907.4061
Desired outcome: Reverse $705.20 on my credit card.
No refund after 5 months
Booking number FSON303866 on 15th of January 2022. I paid HUNDRED of dollars, but will probably never see it. I have called this useless company for months!

NO REFUND FOR 5 MONTHS! what a scam!

lying agents on the phone... each one like a robot, spitting out lies

same story... wait for refund, nonsense
No refund, no communication... I am still waiting

Contact me on francisanelle@gmail.com
no refund, lies from agents... no refund, no communication from myflightsearch.com

my booking number is FSON303866
FSON489965
My flight from Burbank to Santa Rosa, via Sky West (Alaska Airlines) was cancelled. I never received notice of this cancellation. There were no other flights to Santa Rosa that day.

Alasaka Air issued me a refund as I had to book another airline to get home.

This was a great inconvience as the ticket was a premium price and to another city, from which I had to find a way home.

The Alaska refund #M020403203 was issued to My Flight search 2/6/22 by card ending in 9871 for $79.00. The money was never returnd to me.

Several emails to [protected]@my flightserach have been ignored.

I TRIED TO CALL THE NUMBER ON THEIR WEBSITE THREE TIMES. EACH TIME I WAS PUT ON HOLD AND DISCONNECTED.
Desired outcome: I would like a refund of $79.
My refund
I have cancel my trip due to Covid, booking references number FSON136207 on November 11,2021 my flight was booked. On January 5th. I was informed that I will get my refund in full, however it was not. I am calling but people hanging up on me. Please refund my money ASAP.
Desired outcome: I woul appreciate your respond and refund ASAP
Refund for a cancelled trip
I purchased tickets back in November, 2021 to Ocean City, Maryland (booking number is FSON689928. This purchase was cancelled because there ended up not being a return flight home so I needed to book a different trip with them. That was successful, but I still haven't received my refund of $329.80 for the original cancelled trip. I have been calling the customer care number since November and still have not received my money. They keep telling me it's in process, but still no refund. It's been 5 months since my trip! This is ridiculous!
Desired outcome: I want my money deposited back on my card immediately or I will pursue other avenues. I'm tired of the runaround.
Cancelled Egyptair flight
Frequent card

[protected] ( suppose to be a grey ! The smart Egypt air people downgraded to blue!)

I really regret the years i have spent flying with that failed company!

But anyway its a waste of time to keep complaining about company thier goal is just to make money!

I am suppose ( me & my son) to fly on 03/31/2022..

We did not fly and they let us on the street of NEW YORK cos they couldn't get us a place to stay till the next day!

Finally they found a place ,we arrived at 2 am when we stayed in jfk airport since 1pm!

Anyway,the hotel at that night had no meals for us!

We had to spend $80 for dinner ( me and my son) !

What a national airline company!

I feel shame for you that you guys represent the great country of Egypt!

I ( and everyone else was on that flight) will make sure that our voice is heard by the star alliance & and every where else !

Disrespectful Egypt air
Airline ticket refund request
In Dec of 2021 I purchased airline tickets thru my flight search. After two weeks I still had not received my confirmation so I called them. I was told that my flight had been cancelled and I would be getting a refund.

Now, three months later and phone calls to the company and promises of getting my refund I still haven't received it.

This is definitely not good business.
Desired outcome: My refund of $397.44
air tickets scam
I have booked my flight through this company on February 15th 2022 to fly from Rochester, NY to New York, NY and back (dates March 12th and March 20th, 2022) with JetBlue. When I came to check in on March 12th to Rochester Airport it appear that there is no booking on my name and JetBlue suggested me to check with Myfligthseach.com. Customer service on myflightsearch.com kept disconnecting at the point when they hear my booking number. After numerous attempts to reach them, they blocked my number.
Desired outcome: return my money back
Collect Your Trust Badge
Be recognized for outstanding customer service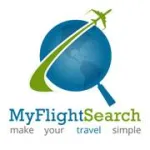 MyFlightSearch

contacts
We are here to help
19 years' experience in successful complaint resolution
Each complaint is handled individually by highly qualified experts
Honest and unbiased reviews
Last but not least, all our services are absolutely free