Lalitha Jewellery complaints
33
Lalitha Jewellery
-
Complaint regarding wrong calculation of old gold exchange
GST Bill No. EGCP2223PU35

DATE 2-APR-2022

I was told the old gold bangle that i gave for exchange was 20 carats purity i.e. per industry standard it's 83.3% gold i.e purity based wastage should 16.7%. But the estimator at the desk had put purity based wastage as 18%.

My 3 questions

#1 how can you deviate from the standard and minus 18% purity wastage while your are allowed only 16.7% for 20 carat? Is this right?

#2 your staff are not giving any proof of caratage of the old gold from the machine check. How are we to believe it's 20 carat or 22carat?

#3 after deducting the purity based wastage, the result weight means it's pure gold after deducting the alloy weight based on purity caratage. Then it should be ideally be exchanged on 24carat rate. But they have taken the nett weight at 22carat gold rate only. Is this right?
Desired outcome: Refund based on above corrected calculation
This review was chosen algorithmically as the most valued customer feedback.
I am an old customer of Lalithaa Jewellery, Jayanagar Showroom. I have joined for Eleven Month 'Jewellery Purchase Plan and continuously paid all monthly instalments and my last payment was made in the month of Mar 2021, but due to present lockdowns, we unable to visit showroom to purchase of Gold. On 04-09-2021, Visited the same showroom for purchase and...
Read full review
This review was chosen algorithmically as the most valued customer feedback.
Be aware of the Fixed rate savings schemes. You will be fooled. The repeated TV advertisements are tricky!!! Lalitha owner Mr. Kiran Kumar emotional speech will be like caring of customers. They will flash frequent TV Ads during the gold rates are high. During purchase of scheme they will say you have one time option to change the fixed rate. Once we paid...
Read full review
Lalitha Jewellery
-
orders
HI This is chinni,

I escalated this is issue regarding orders dept.. I visited 2 days ie(24-07-2021) back that is in Kannada lalitha jewellery I explained my requirement to orders detp..person MR.Varma as we discussed I said 40 grams taali chains along with pendent after that he said inform the same issue to Chennai dept but still I didn't get any call from him and doesn't have proper responsive from him, as well there is no responsibility to take an order form customers so.. I escalted this issue to the concern dept..! Please let us know my order status issue. because once the requirement is fulfilled i will pay the amount quickly.
Lalitha Jewellery
-
Scheme
Bond scheme they mentioned if v come before 5 mths if gold price reduces they offer that day price before 5 months and if v wait till 5 mnths they reduce 5% VA and it can be claimed even a month before. But wen I went to purchase things are completely opposite. They lie to customers to make them pay for bonds. Very worst experience with lalitha and would never recommend to family and friends!
Lalitha Jewellery
-
Worst experience
I had exchanged my old gold bought at Lalitha Jewellery (T.Nagar branch) and ordered for bangles. It took more than 25 days so I went to get it on 31st March. They informed us to pay extra since the bangle weight might be greater or lesser than the ordered weight. So we paid the original amount plus extra amount as well. When we went to receive the bangles, the weight was less and they informed that they will return 5800 Rs. Then another person came and informed that they will return 9800 Rs. Again another person came and informed that we will give only 4800 Rs. We were shocked by the behavior of the workers in the order section. How can the amount vary so much while the reduced weight remaining the same. What kind of measures are being taken? How did the calculation vary person to person? And more over they did not want to repay the money and compelled us to buy a gold coin. When we enquired about the calculation, simply they told that we can understand by reading the bill. How can they expect to us to understand the bill without clarifying us. Either they don't have knowledge or they are deliberately cheating us. The response was not at all satisfying and not clear at all. The way you are advertising cannot be experienced in the shop. PLEASE DON'T MISLEAD WITH FALSE ADVERTISEMENT THAT YOU VALUE HARD EARNED MONEY. Very bad experience and you are only CHEATING us . Very WORST experience. Will never recommend anyone to buy jewels from Lalitha Jewellery hereafter. Also, the bangles which I got had the inner plastic ring broken!
Lalitha Jewellery
-
Complaint about Lalith Jewellery
I have paid Rs 1L under advance gold purchase @Rs 5301 per gram, about 5 months back now the rate is reduced to 4500, when I reaching them they said one time customer can re-confirm the gold rate but it should be either purchase date or present day gold rate, so I thought to wait for some days to re-confirm the rate one fine day I made a cal and saying to the same guys that I coming today to reconfirm the rate simply he saying now the rule had been changed you can't change the rate at any circumstances, u can cancel it but we can't return the cash you have to purchase gold for that too the rate should be 5301 per gram and gst will be applicable added to that, Lalitha jewellery owner is saying everyone is cheating and stealing hard earned money from publics but real fact is rest all jewellery are far better that Lalitha jewellery, please don't enter into Lalitha jewellery they are the real thief.
Lalitha Jewellery
-
Impolite and rude behaviour towards customer by branch manager Balu, Jayanagargar
Impolite and rude behaviour towards customer by branch - we had given a cheque for the purchase of jewels but not sure if the cheque was presented to the bank, the amount was not transacted even after a week and when questioned regarding why there was no further actions carried out as we needed the jewels on an urjent basis. The response from the show room manager was rude and told we were supposed to go to the show room to follow up. We as customers believe it's Lalitha jewelry's responsibility to followup with their tied up bank. But didn't expect this impolite behaviour from the reputed jewelry showroom.
Lalitha Jewellery
-
Your employees are not wearing masks properly!
Your employees are not wearing masks properly. They cover just their mouth and not the nose which isn't a right way of using a mask. You very well know the present situation. In this pandemic situation it's very much risky to even enter ur shops. But still out of emergency we r buying. If u do not take it seriously, it's even more risky for us! Atleast instruct your employees and workers to take precaution properly. This will help us! And also, provide them with good masks not the small size ones!
Lalitha Jewellery
-
Ring
I bought a ring on 11th oct 2020. While wearing the ring at my baby shower the ring broke.

What kind of product you are selling. I went to complain about it on 30th oct but they r not ready to exchange it either and in turn blame us for not checking it before.

If I have to do the quality check then what you do at your factory.

First time I bought a product from you and worst experience I have. Worst product. Please don't cheat customer this way. This is not some daily use product to ignore... Gold is something emotionally for a function.

If you can't sell a good quality product why do you give fake hope in the advertisements?
This review was chosen algorithmically as the most valued customer feedback.
We are facing problems in your chromepet store, we paying 11 month schemes in your store.. in lockdown we have paid payment through online by 25th May 2020 wrongly in acchai thiruthi offer. Immediately I called your tnagar branch ask them i made payment wrongly can you refund it or change the payment to 11 month schemes i have asked im.. but they said not...
Read full review
Lalitha Jewellery
-
Scheme
I had paid the monthly scheme in Lalitha jewellery in Vizag branch after completion of the schem I wanted to collect the ornament for this schem I wanted to redeem my gold grams totally I should get 23 grams of gold but they said I got 20 grams and they are about to bill my oranament also after I realized the issue they got fumbled and did corrections after that also they had taken almost 1600 extra mone for wastage I need them to return back my money or else I will file a complaint against them in a station
This review was chosen algorithmically as the most valued customer feedback.
Have put a chit scheme before the covid impact and it has finished at March on quarantine starting time. After quarantine can't able to move towards Lalitha as we have stucked at Madurai. Some days back I have went to Simmakkal Lalitha Jewellery for claiming the chit, At first the counter employees informed that can't able to claim the chit and after...
Read full review
Lalitha Jewellery
-
Kakinada
Sir.. Iam recently vist newly open brand on kakinada.. Here seals manger not doing his job.. He want to take order his own.. His name sandeep.. While iam entering on showroom. He asking want u want.. I am replied.. I want to buy bangles.. He simply replied.. Me and my father is goldsmith we doing gold ornaments in home.. Please give me order.. We prepared in home.. It want lessthan here princess, lalitha jewelry bangles weastage 8 % + st gst+crt gst.. We will do below 5%.. He bargains the order iam really shocking on that time.. Iam stay there in 1 hour.. Every customer numbers sandeep sells manger will take to do.. His side business.. It's very lose to lalitha jewelry.. Please take immediate action to his... Thank you
Lalitha Jewellery
-
Service!
Recently I have purchased 4 lakhs worth gold, while coming out of the store I saw a beautiful bracelet and asked the sales person to show the item . he said to wait for 5min . After waiting for some time I asked him please can you show me the item as I was already late . To my surprise that person said if you have time then wait or you can go !.
And without any fear he asked me to go to manager .
I was furious and went to manager and complained. Instead of asking him to apologise to me, the manager told we never do that . What does that mean ? Is he saying me a liar !?
I had been a regular customer of Lalitha for at least 1.5 year ...
And that's how you treat me !?
Never going to visit the store nor recommend anyone.
Branch-Punjagutta
Section- ladies bracelets (ground floor)
Lalitha Jewellery
-
worst service at jhumka and hangings section
I have arrived there and searched at every place where can I get the required jewellery on my own and stopped at a place where I feel I can get something there. To my surprise, no one responded and no one came to me.. I waited for almost 15 mins, still no one attended. Being furious, I wrote the same thing in feedback book.

If you cannot show me a jewel, why do you people have such big shop.?
Lalitha Jewellery
-
I'm complaining about my product which is not yet delivered
My name is sairabanu I ordered one muppu chain on 8th January 2020 but till now it is not delivered (order number is 4716 ) so that I am very disappointed of you for this activity because I am one of the best customer in your purasawakam branch. I have purchased from your show room for every year more than 10 lac you go check my profile I will give you one suggestion that don't open more branches it will not make more sales pls satisfy every single customer to make more sales. So by now this order is my last purchase in your show room hereafter I will never come to your show room. Please take care every section this is my humble request thank you.
This review was chosen algorithmically as the most valued customer feedback.
I joined in monthly invest scheme in kakinada branch. I would like to pay the instalments through online. pls inform the process of online payment . The staff in kakinada were not able to explain the process.
Read full review
Lalitha Jewellery
-
monthly scheme
Dear Team,

I would really say that your customer service is one of the worst services I have seen in my entire life. There is no proper response from your team for any queries. Please respond to queries ASAP or else please stop your scheme as your team are very less aware of procedure and it is quite confusing.

If anyone is planning to take a monthly scheme in
LALITHA JEWELLWERY I would suggest better invest in some where else it is waste of money and time.
This review was chosen algorithmically as the most valued customer feedback.
Initially old gold invested and encash some amount by purchasing new ornament remaining amount conveyed for fix but they didn't fix. After visiting 8 months they are telling same amount can purchase will not add any additional amount/additional benefit. The Manager is telling fault by customer and his response is very carelessness show bad attitude toward...
Read full review
We are here to help
16 years' experience in successful complaint resolution
Each complaint is handled individually by highly qualified experts
Honest and unbiased reviews
Last but not least, all our services are absolutely free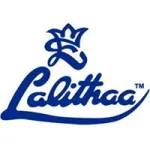 Lalitha Jewellery contacts