Faraz Auto Sales reviews & complaints
Faraz Auto Sales complaints
7
Bought a car from these guys less than a year ago. Our family has grown and we need a bigger vehicle, so I was in a different dealership getting a trade-in value. They ran the car-proof and looked...
Read full review
Faraz Auto Sales
-
Good Service and Great People
Finding and purchasing the right used car can be a challenge for anyone, but many of the common difficulties of such a task can be easily mitigated by doing the research needed to understand your wants, needs and expectations before you head to the dealer. When I started the task I visited this site and reviewed both the reasonable and unreasonable complaints about Faraz. In spite of some hostile and perhaps unreasonable comments, I was very impressed with the way Ali Hemmati positively responded to each and every customer complaint. Accordingly I then emailed Faraz to set up an appointment to view a vehicle. When I got there I was greeted like a long lost relative and the car I wanted to review was parked out front waiting for an introduction and a test drive.
They were knowledgeable about the vehicle and it's options and it's faults, they shared it's history, (including the details of their purchase of that vehicle) and finally sent me on my way to "sleep on it" before a purchase. They also have a very large showroom with many competing vehicles so it was easy for my wife and I to review other potential brands before making our final selection.
I did buy the car the next day... 10 days ago... and absolutely love the vehicle and more importantly, the way my wife and I were treated throughout the entire experience. Faraz is a large organization and to me, it looked like these folks have a lot of happy customers who we don't hear from. So I thought I would share my very positive experience to add some perspective to these reviews.
Faraz Auto Sales
-
Amazing professionals
I recently made my second purchase from Faraz Auto Sales. Since I had spent quit a bit of time shopping around at different dealerships and reading reviews on the internet before making any car purchases, I feel compelled to write about my own experience with Faraz Auto.
I first visited the dealership two year ago to purchase a car for myself. I was looking for a reliable and economic vehicle that didn't require much maintenance; and my budget was limited. I met with Ali and he carefully listened to my concerns and understood what I was looking for in a car. After showing me the options I had, he assured me that I could take the car to the mechanic of my choice and make sure its in good condition. I returned to the dealership a few days latter with my family to finalize our decision, and decided to go with a VW Jetta. My mechanic approved of the car being in great condition and we made the purchase through financing. The car has been working like a clock and never given us any trouble. This year we decided to purchase our second vehicle from Faraz Auto. Since we had a more flexible budget this time around, we had a greater range of options to choose from.My family and I visited the dealership a few times; Ali answered to all of our questions and concerns and really helped us in making a smart decision. We finally decided to purchase an Audi Q5. During our entire experience with the dealership we realized Faraz Auto is a family business and the staff are all passionate about their work. I have never purchased a new car in my life, so I've had the experience of dealing with various used-car dealerships. I have never known of any car sales staff who are as caring and professional as the ones in Faraz Auto. This all made sense to me once I found out they are a family business; and for that, none of the staff ever opt out of taking the responsibility in providing great costumer service. That's exactly what you would want in a car dealership, a team that support each other! (otherwise, a lot of things could go wrong, trust me i've been there!). I've been to enough dealerships with salesmen who try to make their commission by any means necessary and not care about they're companies name and reputation. Thats definitely not the case at Faraz Auto, they are honest, informative, and not pushy because they care so much about they're company's name. Just by reading their responses carefully on this forum, anyone can realizes that the staff are responsive and and do not discard any concerns. All it takes is a little bit of common sense to know your shopping at the right place.
Purchased a used 2010 G37s Coupe in late August 2014...After making the deal and was originally going to have the car delivered from there office in Toronto to st, john's, Newfoundland was first told...
Read full review
Purchased a used 2010 G37s Coupe in late August 2014...After making the deal and was originally going to have the car delivered from there office in Toronto to st, john's, Newfoundland was first told...
Read full review
I saw Faraz Autos lottery. I completed the scale and received a large print page saying congratulations I had won a $18, 000 dollar car. After I did not receive the car I talked to them on the phone...
Read full review
My son bought a car from Faraz auto sales and traded in his Mazda 6 .The dealership put on new plates (without asking if he wanted new plates), so when he arrived the new car had new plates. the...
Read full review
We are here to help
16 years' experience in successful complaint resolution
Each complaint is handled individually by highly qualified experts
Honest and unbiased reviews
Last but not least, all our services are absolutely free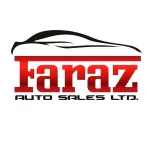 Faraz Auto Sales Company contacts