Defy Appliances / Defy South Africa complaints
272
Defy Appliances / Defy South Africa
-
No spare parts available for defy gas hob: model dgh129
On 14/06/2022 I took my Defy Gas hob to Lategan & Van Biljons (authorised Defy Service centre in Gezina, Pretoria. On 17/06/2022 I was informed they are done with my stove.

On Collection I was informed that they do not have stock any where in South Africa for the part I wanted (top spiral jet)

I feel this very bad service and I am very unsatisfied with the service I received over all with your Service department at Lategan and taking my unit back again after it is still not working.
Desired outcome: I would like for the top burner spiral jet part be available at Lategan & Van Biljons for them to install 21/06/2022
Defy Appliances / Defy South Africa
-
Toploader 14kg
I bought a washing machine in December 2021. It worked fine for about a month when water stopped draining in and out of the machine. A call was logged with the store where I bought the machine on 7 March 2022. At this stage the machine was already not working for about a month. I could not report without an invoice number and struggled to find my receipt. The defy agent came out and reported a faulty part (on the new machine). The part was ordered and installed on 3 May 2022. The 1st time we used the machine, after being fixed, the spin did not work. I reported it again and I'm still waiting for someone to come and have a look. At this point I feel it is only fair to replace the machine. 2 faults on a new machine is unacceptable
Desired outcome: Replace the machine
Defy Appliances / Defy South Africa
-
Stove
Bought a Defy Kitchenaire Ceramic Hob Stove last June 2021, only started using it in August 2021. Within 3 months one of the elements in the oven burnt out as well as the oven light blew. Defy sent out a technician to repair. 7 May 2022, the inner glass of the oven door shattered for no apparent reason. After numerous phone calls to Defy and the matter being "escalated" several times, no one has called to come and repair.
Desired outcome: Repair or replace asap!
Defy Appliances / Defy South Africa
-
defy stove DHD 412
I Bought my lovely stove with touch buttons within 12 months it was not working.it had burnt my motherboard. I am a huge fan of defy. The stove has disappointed me from the fridge, aircon, oven, and microwave.is there a way to get my stove fixed I have kept it as damaged as is? I phoned DEFY to buy another one they kept on saying the stove is still not available.

0605711008
This review was chosen algorithmically as the most valued customer feedback.
I bought a brand new Defy Fridge with water despenser from Game in Greenstone Mall on the 24th of November 2021. I paid R7261. 00 for the fridge. This fridge was on promotion at the time. 4 months ago this fridge has been running very loud. It sometimes so loud that it keeps us up at night. I did complain to salesman at Game and he logged a compliant...
Read full review of Defy Appliances / Defy South Africa
Defy Appliances / Defy South Africa
-
Washing machine
Hi i purchased a washing machine which I'm not happy about.. It take 3 hours for 1 load, does not do a extra rinse all the settings are completely useless , i have to keep interrupting the load because it's to long or have to put a extra rinse which the button those not allow that. The machine makes so much noise and does not even give a good wash.. I feel that I have wasted my money if I knew this in the shop before purchasing I would of took a better machine with much more options and settings
Desired outcome: I would like to get a better washing machine
Defy Appliances / Defy South Africa
-
Defy combi fridge freezer 453 series
I had a technician of defy at my house on the 04/03/2 to fix a sensor on my freezer side after they fix my freezer I see that there is visible damage in my freezer where they have worked, the back panel of the freezer is damage when they try to remove it, and the bottom of my freezer is cracked when they try to remove ice on the bottom of the radiator

I have send an email to thato. Fansi to explain to him what happened but no response.

Kind regards

Dricus

0845083255
Desired outcome: fixing my freezer to its original state
Defy Appliances / Defy South Africa
-
Poor service received from the East London service centre.
The Model no. is DSS449 STOVE - DEFY 731 M/F (BLK) Serial no. [email protected]

The complaint is about poor service received from the East London Service Centre. I had to take my unit back 4 times already. Each time it is kept for a couple of weeks before I get it back. The last time I returned it on 17 Feb 2022 and every time I need to do follow ups. They do not keep the customer informed. I live 80km from East London and cannot just travel up and down. Today I was in East London and called the Defy to find out how far the unit is. They informed me it is ready. I collected it and traveled 80km back home. Only to find that the electrical cord/plug is not attached. Why was it removed in the first place? I am so angry! What type of service is this. They are so unprofessional and disorganised! I demand that the plug be delivered to my home by end of business day tomorrow 29 March 2022. If not, I will be taking the matter further!

This is really not on.
Desired outcome: The technicians should take pride in their work. Do checks before the customer takes delivery of their unit. The staff should also keep in contact with the customer, keep them informed of progress.
Defy Appliances / Defy South Africa
-
Complaint about a double door fridge I bought less than a month ago
I bought a double door frigde and stove and cooker hob at makro in amanzimtoti branch on the 25th february 2022. I much say I very disappointed and unhappy about the cooler compartment, it is not working at all actually its like a storage box. Temperature is set according to what it's supposed to be but still I can't keep food items there because it to warm. Actually I am waiting to get time off at work to return it to the store.
Desired outcome: Please attend and rectify the problem emmediately
Defy Appliances / Defy South Africa
-
Website queries and questions never gets answered. Return calls never happen
7/03/2022: after holding the line to listen to endless product advertising someone answered and I requested a call back to find out where I can purchase a km630s spare jug. I am still waiting for the call.

I have requested feedback on the website about a defy dss430 835 stove and have not received any feedback after more than a month.

I stuggle to get defy products... And wonder why. If this is the service I would rather look into other manufacturer's product.
Desired outcome: I just need answers
Defy Appliances / Defy South Africa
-
Defy refridgerator
I logged a complaint last week and I was promissed that my problem would be resolved by yesterday. But to my suprise no one pitched I had to call back again yesterday still nothing happened...I called again now, I still got no straight foward response. My Ref is 1588493. This is not any other appliance its a fridge and there is no alternative way I can use.
Defy Appliances / Defy South Africa
-
Defy fridge damaged after opening and removing from box
I purchased a Defy 740L fridge at Pick & Pay Hyper Boksburg (East Rand Mall) on the 24th February 2022.

The service was Excellent at Pick & Pay (Hyper ERM) the SALESPERSON Thulani was brilliant. He went the extra mile to arrange for the fridge to be delivered before 13:00 on the 24th February 2022

I was so excited about my new fridge. I have only opened it on Friday the 25th February and realized that the door on the right top corner was faulty. The door is uneven and it looks like that there are skrews missing. I am extremely unhappy and disappointed with the Defy product. I always trusted the products from Defy. Definitely a disappointment this time around.

I want the product to be replaced or my money refunded please. I cannot pay for a damaged item
Desired outcome: Refund or full exchange with a new fridge
Defy Appliances / Defy South Africa
-
Defy ceramic plate
PC board was faulty and cause plate to switch on and burn cover and course damage to 3 plates. Defy Bloemfontein in, Andre said that has been the customer fault over cooking and abuse, which is not true. It was inspected by Rudy the technician and said that the whole plate must be replaced.

So we are not happy with Andre's finding. We are in possession of a video and photos that can prove that it was not our fault. We want the plate to be replaced because it cannot be used as course by faulty PC board.

Thanks

[email protected]

0823399300

Ref NR 1579575
Desired outcome: Replace with new plate please
Defy Appliances / Defy South Africa
-
Defy stove
Hey I had a problem with my stove not warming and the found that the ellement and door needs to be replaced now I have been waiting for 2 weeks now going on 3 telling me they waiting for spares, this is not exeptable to me not being able to make food, so if you dont have spares replace the oven! Coz im not a happy customer and will not buy defy again if this is how you going to treat a customer plus no feedback on what going on not once please sort this immediately you can contact me on 0813995329
Defy Appliances / Defy South Africa
-
Defy after sales service
We reported a fault on our Defy fridge freezer. Informed that it was under guarantee and sent a reference number and advice that the technician will make contact within 5-7 days. This was all done as promised, however, the caller made two calls in quick succession, and when the call was not answered there was no way to call back the number. We called again to report, was again given a reference number with the same advice of 5-7 days response. Yet again, two calls came in quick succession and I was unable to take the call. Job was cancelled with the technician logging that they had made numerous attempts to contact us. This was clearly inaccurate. In addition, no further attempts are made to contact us by some other means. A call was again made and the fault reported. We expressed our concern that the process of setting up the appointment was flawed. To date no response received. Reference numbers 1568186, 1574173, 1579386.
Desired outcome: We would like to have the appliance fault attended to as per the Defy guarantee.
Defy Appliances / Defy South Africa
-
Fridge /freezer
Hi i bought this fridge and the model number said what model it is but this can not be found what type of company is this ?, to get spares is so bad with Defy ,it is a very bad company and you do not get any joy from the service ,i will never buy any Defy products in my house again . There standards drop so much down and it is so long in business

the model number is :F-600LM AND Refrigerant is HFC-134a

09/02/2022

Can not find any spare part.

And i only need the ice try for this machine ,it always brake ?
Desired outcome: Please tell me how to resole this problem .How to get spare parts there is so big place in Johannesburg but to spares .
Defy Appliances / Defy South Africa
-
Basket front covers part - 1523017d
I have ordered the front covers from Defy Montague Gardens and spoke to Jason, Jason did not want to help me and told me to talk to Morné, I have been phoning and sending email on email to find out if the covers had been ordered. No returns on my cals or my emails... I keep on phoning and asking for the manager at the spares department to call me, but she never do. I do not know how long I still need to wait for those covers. I am truly unhappy about the service I have received from Defy. Can someone please come back to me and just let me know what the problem is, why do they not answer my calls or emails and I am still waiting from the product. Please do something about this.
Desired outcome: I need those covers as soon as possible please.
This review was chosen algorithmically as the most valued customer feedback.
Good day Kindly note I am reporting a defect on my refrigerator again for the 3rd time now over a period of 3 months. I have labeled the job reference number on the subject for easy reference. October 2021 In October 2021 I had reported a fault with the same product indicating that the refrigerator is not getting cold, a technician was sent out after a...
Read full review of Defy Appliances / Defy South Africa
Defy Appliances / Defy South Africa
-
After sales service and customer care
This is my second complaint with regards to the same problem, I have bought a washing machine at the end of September, it makes an awful noise. Went back to the store, Defy took about 2 weeks to send a tech, who didn't bother to let me know what the problem or solution was. I followed up with the store, they told me parts needed to be ordered, beginning of December they told me that my machine would be replaced, they should have done this in the first place. Beginning of January they were waiting for stock, end of January, where we are now, and I still dont have my new working machine which I paid for 4 months ago. Best of all is that Defy themselves have not bothered to contact me once. I have only spoken to the lady at the store, and it seems that they are also not going to get back to me.
All my appliances are Defy, I will definitely make sure that when they need to be replaced it will be with another brand.
Desired outcome: My machine should be replaced immediately
Defy Appliances / Defy South Africa
-
After sales service
I have bought a Defy portable Aircon and in the manual it gives me a number to call for any questions or problems. It states "if you have followed the instructions and still have a problem, contact the customer care line on 0861003339. THEY WILL BE ABLE TO ADVISE YOU ON ANY ASPECT OF THE PRODUCT" this is furthest from the truth, I have called multiple times and no one can help me with a question I have, they all just tell me that they don't know and can't help me or put me on hold until I give up or they hang up on me. I will never buy another defy piece of shit product again. These people are all a bunch of idiots.
We are here to help
16 years' experience in successful complaint resolution
Each complaint is handled individually by highly qualified experts
Honest and unbiased reviews
Last but not least, all our services are absolutely free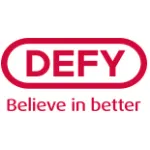 Defy Appliances / Defy South Africa contacts
Most discussed Defy Appliances / Defy South Africa complaints
Fridge