Crystal Travel reviews & complaints
Crystal Travel complaints
6
I had booked flight tickets on February 13th and the amount was transacted on February 15th from my bank account. When I called up to check for the change of travel dates, it came to my notice that...
Read full review
Crystal Travel
-
Customer services
Great price & the assistant was polite, but keen to sell baggage allowance when the airline don't charge for the first hold bag or hand luggage, in the effort to make extra money he even tried to plant the doubt that I would have to pay double or treble at the airport for my bags, this tactic almost made me go elsewhere for my ticket even if it cost more, because it isnt just about price its about trust ! also had to email 3 times to get my E tickets, Could do better Crystal travel .!
I am e mailing to ask who I need to complain to/alert about the false advertising and resultant mis-selling of a flight I purchased in August for Jan 2016. I have today received an e mail from the...
Read full review
Crystal Travel
-
miss selling of ticket
I was sold a ticket by an agent called sean. He didnt tell me the terms before selling. and emailed some terms to me with my e ticket after i paid. He knew i didnt have a visa for my trip and would have to postpone if the visa took long. when i called to ask for price i made it clear i wasnt sure of a date. and that i may have to change the date of the ticket depending on when i got the visa. When he sold me the ticket he didnt tell this would cost me a £100 (not in terms) if i needed tochange the date.i had to postpone the chosen date several times, when the visa was difficult i tried to cancell. he said it would cost me £100. and encouraged me to postpone again. when i decided i would wait for the visa and cancell, and i agreed to pay the fine, he said i changed the date three times so its £300. He then encouraged me to pay the full fare for the ticket to be booked as it lasts a year. So i had the peace of mind that it was valid for a year. When i had to postpone again he asked me for £350. I said why didnt he advise me? he said i didnt ask. (not in terms as well) So i paid. When i had to postpone again, he told me it costs £350 everytime i postponed (not in terms) I called to cancell the ticket because it was a bad mistake to start with, no visa, he said ill loose all of the money i paid £1200. And hung up the phone.
Crystal Travel
-
AWFUL SERVICE
NEVER EVER EVER USE CRYSTAL TRAVEL THEY ARE A GOD AWFUL COMPANY THEIR PRICES ON LINE ARE ALMOST ALWAYS INACCURATE, WHICH I THINK THEY DO DELIBRATLY TO LURE CUSTOMERS IN, YOU RING UP AND SPEAK TO A ROBOT IN INDIA! AND GOD FORBID SOMETHING SHOULD GO WRONG LIKE IT DID WITH ME AND MY MRS. ON OUR HONEYMOON OF ALL TIMES..YOU WILL SPEND HOURS ON THE PHONE..SPEAKING TO ROBOTS AND EVEN THE MANAGERS ARE JUST AS BAD.. I SPOKE TO ONE CALLED ROHIT WHO WOULD REFUSE TO GIVE ME HIS SURNAME AND THEN TURNED AROUND AND SAID HE DID NOT EVEN HAVE A SURNAME? FORGET CUSTOMER EMPATHY THIS SO CALLED ROBOT MANAGER TOLD ME IT WAS ALL MY FAULT!?! YEAH LIKE I ENJOY LOSING £420.00 AND ABOUT £20.00 ON PHONE CALLS. THE COMPLAINT WAS THEN ESCALTED TO THER (NON) CUSTOMER RELATIONS DEPARTMENT SPOKE TO A MEMBER OF STAFF WHOM SPOKE VERY LITTLE ENGLISH. AKSED IF SHE WAS INDIAN SHE SAID SHE WAS POLISH? IN A NUT SHELL JUST TOLD ME THAT THEIR WAS NOTHING THEY COULD DO..AS I SAID NON CUSTOMERS RELATIONS! I STRONGLY ADVISE THAT YOU STAY WELL AWAY FROM THIS COWBOY COMPANY! AS I WOULD NOT WANT ANYONE TO GO THROUGH WHAT I DID.. AND IF YOU CHOOSE TO IGNORE MY ADVISE.. THEN YOU BETTER PRAY TO GOD OR YOUR LUCKY STARS OR WHOM EVER YOU PRAY TOO THAT NOTHING GOES WRONG..BECAUSE IF IT DOES ALL I CAN SAY IS I TOLD YOU SO, I TOLD SO! TAKE MY ADVISE OR LEARN THE HARD WAY UP2U!
The complaint has been investigated and resolved to the customer's satisfaction.
This company works unprofessionally with their clients. They don't know how to properly book the clients plane trips with the international flight times. If there incorrect with the flight time the...
Read full review
We are here to help
16 years' experience in successful complaint resolution
Each complaint is handled individually by highly qualified experts
Honest and unbiased reviews
Last but not least, all our services are absolutely free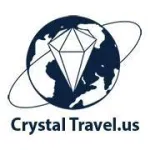 Crystal Travel Company contacts