Nitro Type Customer Reviews
11
Rate your recent experience
Pros and Cons of Nitro Type: A Review Breakdown
Nitro Type is an online typing game that has gained popularity over the years. The game has received rave reviews from its users, with many praising its competitive gameplay and simple mechanics. One of the most positive aspects of Nitro Type is its community-driven approach, with players joining teams and participating in races to improve their typing speed and accuracy. Additionally, users appreciate the game's accessibility and seamless integration with various devices.

Nitro Type's user interface is another key feature that has received high praise. The sleek and modern design of the website allows for easy navigation and quick access to all the game's features. Furthermore, the website makes it easy to track progress and track achievements, which adds a layer of motivation for users.

Many Nitro Type reviews also highlight the game's educational benefits. As an online typing tutor, Nitro Type aims to teach users to type faster and more accurately. The game's competitive nature provides an engaging platform for users to practice their skills, making it an ideal resource for students and professionals alike.

Overall, Nitro Type has received overwhelmingly positive reviews from its users. The game's competitive nature, user-friendly interface, and educational benefits make it a top choice for anyone looking to improve their typing skills.
Disappointing Changes Ruin Childhood Favorite: A Review of Nitro Type
I remember playing Nitro Type back in middle school when I had computer class. It was one of my favorite games to play during that time. The game had everything that made it enjoyable and less like a boring school lecture. I loved the thrill of using my money to buy cars, nitros, and other various items in the game. It was exciting to see my collection grow and to show off my cars to my friends.

However, I recently revisited the game and was disappointed to see that many of the features that I loved are now gone. The cars that I used to be able to buy are now either gone or only available during certain seasons. I also can't buy nitros anymore, which was one of the most exciting parts of the game for me. It's like the developers are trying to cash in on the popularity of games like Fortnite by adding seasons to the game.

The shop has also been completely ruined and is now a shell of its former self. It's sad to see that the game that I loved so much has been ruined by the developers. They have removed many of the enjoyable parts of the game, and it's not as fun as it used to be.

Overall, I'm disappointed with the changes that have been made to Nitro Type. It's not the same game that I used to love playing. The developers have ruined a fun childhood game for me, and I'm sure that many others feel the same way. It's a shame that they couldn't keep the game the way it was and continue to make improvements without ruining the core of the game.
Review of Nitro Type: A Fun Way to Improve Your Typing Speed, but Beware of Changes and Difficulty Leveling Up
Nitro Type is a website that has truly changed the way I type. I have been a dedicated user of the platform for three years now, and I've got to say that without Nitro Type, I wouldn't be nearly as fast at typing as I am today. When I first started playing, my typing speed measured in at an average of only 13 wpm. Since then, I've picked up the pace, and today I can type fluently at an average speed of 80 wpm. Nitro Type has become a key tool in helping me improve my typing skills, and it's done so in an engaging and fun way.

However, I cannot give the site a full five stars due to some poor changes they've implemented over the years. For instance, three years ago, users were able to purchase Nytros – virtual, in-game boosts that could be used during races. At that time, players were able to use three Nytros per race, giving them a significant advantage. But now, Nytros are no longer for sale, and players can only use one in a race. While I don't mind this change, what really frustrated me about it was that I had accumulated 900 Nytros – totaling around 500,000 in-game money – before the update occurred. After the update, I never received any refunds for my purchases. This is a real drag for longtime players like me who had invested significantly into the game.

Another drawback of Nitro Type is that gaining levels in the season pass can be difficult. It takes an enormous amount of time and energy to level up in the game – on average, 40 races must be completed to increase the level. This can be time-consuming and detract from the fun of the game.

Despite these issues, I still recommend Nitro Type for those looking to sharpen their typing skills. The site offers a dynamic and engaging way to practice typing, and the sense of competition that it fosters among players adds extra excitement to the experience.
Review: Nitro Type - Can it Help Improve Your Typing Skills?
Nitro Type is an online gaming platform that aims to improve typing speed and accuracy through various competitive game modes. While some users may be drawn to the prizes and flashy cars that come with leveling up in the game, the truth is that it can be quite a grind to achieve these rewards. Many players find themselves spending hours typing away in order to earn the necessary points.

One major issue with Nitro Type, as some users have noted, is that many of the features and rewards offered are only available to those with a Gold membership. This can be frustrating for players who don't want to shell out extra cash just to fully enjoy the game.

In addition to these payment-related issues, many players have reported experiencing lag and connection errors while playing Nitro Type. This can be particularly frustrating during competitive matches, as it can cause players to lose out on big rewards or even be disqualified from the game entirely.

Another major point of criticism for Nitro Type is its toxic community and the prevalence of cheaters and hackers within the game. Some players have noted that there is a lot of arguing and negativity within the community, which can make the game feel less enjoyable overall. Additionally, the presence of hackers can make it difficult for honest players to achieve high scores or compete on a level playing field.

Despite these drawbacks, Nitro Type may still be a worthwhile option for those looking to improve their typing skills in a competitive setting. However, those looking for a more immersive and enjoyable gaming experience may want to look elsewhere.
Improving Typing Skills with Nitro Type: A Review by an 11-year-old Typing Whiz
Nitro Type (nitrotype.com) is an extraordinary game that I would highly recommend to anyone seeking to improve their typing skills. As a seasoned player, I can confidently say that it is one of the most beneficial games I have ever played! In the span of just seven months, from October 2020 to May 2021, I have been able to skyrocket my typing speed from a measly 42 words per minute to a staggering 70-80 consistently. Even my warm-up speed has improved dramatically, now comfortably sitting in the late 60s. My high speed, on the other hand, has an impressive record of reaching up to 90 words per minute. Given that I am only 11 years old, I believe that Nitro Type has allowed me to type pretty darn fast!

The gameplay is simply so addicting that I find myself coming back to it every day. The only reason I hold back from giving it a full five-star rating is because of a few gameplay mechanics that could be refined. For instance, the leaderboards were once a driving force in motivating players to be competitive. It was exciting to see who could do the most races, or who could complete the most races in one sitting. However, for some inexplicable reason, the developers decided to get rid of that feature. As it stands, we can now only see the top teams, which has significantly reduced the game's competitive edge.

Despite this, I must admit that Teaching.com, the brand behind Nitro Type, has done a stellar job in crafting an impressive game that is both entertaining and educational. If for any reason, you don't fancy Nitro Type, or are simply looking for other options, then they have got you covered. Overall, I would definitely advise anyone seeking to enhance their typing skills, while also having a thrilling gaming experience, to give it a shot. It is certainly worth it!
Nitro Type 2.0 Review: Disappointing Quality and Poor Support
As an avid player of Nitro Type, I was excited to return to the popular typing game and pick up where I left off. However, I quickly noticed that the quality of the game had greatly diminished in recent updates. The gameplay had become sloppy, sluggish, and unresponsive, making it difficult to enjoy the game as much as I used to.

One of the biggest issues I encountered with Nitro Type 2.0 was the frequent crashes and freezes during gameplay. It was frustrating to race against other players, only for the game to randomly freeze and crash before the race was even over. This not only caused me to lose valuable race progress, but it also wasted my time and patience.

Another major issue I faced was the frequent communication error messages that popped up during gameplay. These messages would often appear after the game had frozen or crashed, causing me to wait a minute or more before being able to restart the race. Even worse, sometimes the game wouldn't let me race again for 2-5 minutes, causing even more frustration and annoyance.

My experience with Nitro Type 2.0 has been even worse due to the lackluster support provided by the game's developers. I submitted a report about the bugs and issues I was experiencing, but I haven't received a response in over two weeks. I even tried reaching out through the support page provided by Nitro Type, but still, no response.

Overall, playing Nitro Type 2.0 has been a major disappointment for me. Unless the developers improve the game's quality and address the many issues that have arisen in recent updates, I wouldn't recommend it to other players.
Review: Nitro Type - The Ultimate Typing Racing Experience
Nitro Type is an incredibly engaging and interactive website that allows users to engage in a high-speed, adrenaline-fueled racing experience. What sets it apart from other casual gaming websites is that, rather than relying on button-mashing skills or quick reflexes, Nitro Type requires players to tap into their typing skills to get ahead in the race. As players continue to compete and win races, they earn money that can be used to purchase different cars, accessories, and achievements.

One of the coolest features of Nitro Type is the inclusion of a bot named Wampus that players can try to beat. If they manage to do so, they will receive a cool reward in the form of 50,000 dollars. Additionally, players can acquire Nitro gold, which opens up the possibility of unlocking exclusive achievements and items that are not available to regular players. Earning money and items is not limited to just racing – leveling up during seasons can also provide users with a significant boost in resources.

Another great aspect of Nitro Type is that it is a very social platform. Players can find and friend other users, join teams, and even create their own teams to compete with others. The website is powered by teaching.com, which is a renowned platform for educational resources and materials.

While Nitro Type is an overall amazing experience, there is one feature that many users have requested but has yet to be implemented – a chat system. Currently, the options for communication during races are limited to basic phrases like "Hello," "I'm ready," and "Well played." While they are functional, a chat system would allow for much greater flexibility in terms of communication and interaction. For instance, it would be useful to be able to chat with friends during races, exchanging tips and advice on how to improve their typing speed, etc.

Overall, Nitro Type is a fantastic website that offers a great mix of gaming, learning, and social interaction. It's an excellent platform for anyone looking to sharpen their typing skills, compete with others, or simply have fun on a fast-paced, high-energy website.
Review: Nitro Type - Frustrating Flaws and Unfair Advantages
Oh, where do I start with Nitro Type? It has its fair share of flaws that make it nearly impossible to enjoy. Firstly, the game is extremely prone to lag, making it frustrating and difficult to compete in races. It's disheartening to be running 10 seconds behind when you've only just started. To make matters worse, the computer fails to recognize when you've typed the words correctly, leaving you feeling defeated even when you've done everything right.

At first, I thought maybe it was just me, but after some investigating I discovered that even my dad couldn't escape Nitro Type's faults. Despite typing perfectly, he was still put in 5th place due to the game's inability to comprehend how fast he was typing. It's unfair and annoying to work so hard only to be left in a lower rank than you rightfully deserve.

The game also has a major issue with Nitro Gold, which is essentially an expensive game pass that unlocks benefits for players. If you haven't purchased Nitro Gold, it's practically impossible to keep up with other players. This creates an unpleasant environment that doesn't make for a fun and fair game.

Moreover, there are numerous bugs and glitches that need to be fixed. The constant lagging is the main problem, but there are other issues that need attention. Despite these problems, I've heard that there was a better version of Nitro Type in the past, which makes me wish the original creators would revert the game back to how it was before.

Overall, I wouldn't recommend Nitro Type to anyone. It's far from perfect, and the amount of aggravation it causes just isn't worth the time and effort put into playing. I only hope that the developers take players' feedback seriously and make necessary changes to improve the game. Until then, I'll be staying far away from Nitro Type and saving my patience for something worth my time.
Review: Nitro Type - A Fun but Frustrating Typing Game with Addictive Elements
Nitro Type is a popular online game that challenges players to type sequences of words as quickly as possible in order to win virtual races and earn in-game currency. Although they enjoy the game, many players find it to be frustrating and time-consuming.

One of the main issues with Nitro Type is that it can be very laggy and slow to load on certain devices. For some players, this takes away from the overall enjoyment of the game and can make it difficult to compete effectively against other users.

Another potential problem with Nitro Type is that it is highly addictive. Many players find themselves spending hours on end playing the game and becoming immersed in the world of virtual racing and car customization. This can be a problem for people who are trying to balance their gaming habits with other aspects of their lives.

Additionally, some players find that there are too many game elements that are not directly related to typing or other educational skills. While there are some games within Nitro Type that focus on finger dexterity or other aspects of typing, many of the upgrades and features of the game are purely cosmetic or based on in-game currency, which can be a turn-off for some players.

Overall, while Nitro Type can be a fun, engaging game for some users, it may not be the best choice for those looking for a more comprehensive typing experience. Alternatives like Typing.com or TypingClub may be more suitable for players who are looking for guided instruction and a more focused approach to improving their typing skills.
Beware the Toxic Typists: A Review of Nitro Type's Competitive Gaming Strategy
Nitro Type, a website designed to help individuals hone their typing skills through fun and interactive games, has seemingly become a nightmare for many. While the concept of leveling up your account by earning awards, achievements, and buying different cars seems promising, the reality is far from it. Nitro Type has adopted a competitive gaming strategy wherein the best typists reign supreme, and there is little room for anyone else. They not only hog the spotlight but also bully and even cheat to maintain their lead.

One of the most egregious aspects of the game is the way the top typists operate. They seem to go out of their way to make sure other typists never have a chance of winning. It's a rigged game that clearly favors a certain top team of typists who refuse to let anyone else have a fair shot. But it's not just their domination that's a problem. It's their attitude. They are rude, egotistical, and mean-spirited both in and out of the game. Staff and administrators, who happen to be part of this team, are incredibly condescending and unhelpful to anyone else.

Instead of nurturing a sense of camaraderie and sportsmanship, Nitro Type has become a hotbed of petty rivalry and personal vendettas. The game's very essence has been ruined due to the toxic behavior of some of the best typists on the site. As a result, for those who are not interested in competing, the game is still enjoyable. However, attempting to compete is a lost cause. Unless you are a part of the top team, your chances of winning are negligible. Such dominance has made it difficult even for beginners to improve because they are continuously being put down by the top typists.

In conclusion, Nitro Type has lost all essence of goodwill and sportsmanship that the game was intended to provide to users. Those who are interested in improving their typing skills in a fun and interactive way can still use the site to practice. However, if you are looking for a fair shot at competition, we would instead recommend looking elsewhere. It's disheartening to see a game that was designed to bring people together through a shared interest become a battleground of negative emotions and animosity. Let's hope that Nitro Type takes the necessary steps to regain its lost reputation and restore a sense of fairness and kindness to the game.
Enhance Your Typing Skills with Fun and Engaging Nitro Type Website: A Review
Nitro Type is an excellent website that helps you practice your typing skills while also being fun. I have been playing this game since I was nine years old, and at that time, I could only type 15 words per minute. But after dedicating my time to this game, I have improved greatly and can now type at a speed of 90 words per minute, which is quite impressive.

Not only is Nitro Type educational, but it also has a variety of interesting features that keeps players engaged. One gets to earn cars and titles, and regular updates make sure the game never gets monotonous. However, I must admit that sometimes glitches can be quite annoying. One time, I faced an issue where I was automatically logged out repeatedly, but these issues are not common.

Despite the occasional glitches, I would still recommend Nitro Type to anyone who wants to enhance their typing skills. I have noticed that a lot of reviewers have based their ratings on one particular aspect, which is not fair to the website. Gold membership is one such aspect that has gained some criticism. However, it is important to remember that we pay for gold membership and therefore receive certain benefits, and most people who are active on the website already have one. The cheapest deal costs only ten dollars, which is a reasonable price for the features offered.

Moreover, some users claim they have been unfairly banned from Nitro Type, but I have been on this website long enough to know that people get banned for legitimate reasons. It is easy to blame the website for one's mistakes, but it is essential to understand the rules and guidelines and abide by them. For instance, one user got banned because they were pleading too much. It's important to work together, communicate and follow the rules in any community.

There are also limited edition cars that may seem out of reach to some users. However, these are often expensive, and most people who can afford them would already have purchased them. It's important to note that the shop does bring back limited edition cars, but their prices may vary widely, and that is something to consider before purchasing them.

Overall, Nitro Type is an excellent website for anyone who wishes to become better at typing. While some features might face criticism, it is important to remember that no website is perfect, and it's essential to enjoy the experience rather than dwelling on the negatives. A lot of hard work has gone into the making of this website, and it deserves some recognition.
Type Your Way to Victory in Nitro Type: The Addictive Online Racing Game
Nitro Type is a highly addictive online racing game that requires players to type quickly to guide their cars to the finish line. Launched in 2011, Nitro Type has become a popular choice among typing enthusiasts and race car fans alike.

The game has a simple and intuitive interface that allows players to quickly get started. To play, players must first create an account on the Nitro Type website. Once their account is set up, they can choose from a variety of different cars and tracks to race on. Each race consists of a series of typing challenges that the player must complete in order to move their car forward. The faster and more accurately the player types, the faster their car will go.

One of the things that makes Nitro Type so engaging is the variety of challenges that it presents to players. Each track has its own unique obstacles and typing challenges that require different typing skills to overcome. Some tracks, for example, require players to type quickly and accurately, while others require players to type long paragraphs without making any mistakes.

Another great feature of Nitro Type is its community aspect. Players can join racing teams, chat with other racers, and compete in tournaments against other teams. This adds a social element to the game that makes it even more fun and engaging.

Overall, Nitro Type is a fantastic online game for anyone who loves to race and type. Its intuitive interface, engaging challenges, and social features make it a great choice for both casual and hardcore gamers alike. So if you're looking for a fun and addictive online racing game, be sure to give Nitro Type a try!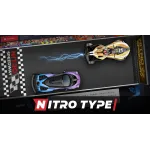 Nitro Type

contacts
Website
www.nitrotype.com
Your Voice Matters: Our Commitment to Genuine Reviews
Empowering Real Experiences
At ComplaintsBoard, we believe in the power of true customer stories. Our platform is a space for authentic voices, where experiences, both good and bad, are shared openly and honestly.
Dedicated to Authenticity
ComplaintsBoard is vigilant in our fight against false reviews. Our team employs robust verification methods to ensure every review reflects a real customer experience, upholding the integrity of our platform.
Encouraging Detailed Feedback
ComplaintsBoard values reviews that come with real evidence. Whether it's a photo, a detailed account, or additional documentation, such substantiation adds credibility to your story, helping others make better-informed decisions.
Balanced and Constructive Conversations
We're more than just a complaints board; we're a community for balanced dialogue. ComplaintsBoard encourages reviews that not only highlight issues but also acknowledge positive aspects, fostering a fair and comprehensive understanding.
Free and Fair Platform
ComplaintsBoard's commitment to maintaining a free and unbiased platform is unwavering. Every review is treated equally, ensuring that your voice is heard and respected, regardless of the nature of your experience.