Overview of Nitro Type customer experience
Nitro Type is a racing game defining itself as "the most addictive typing game on the planet." However, this platform seems to be receiving various complaints from consumers. Players expressed their disappointment on Nitro Type's slow loading times, frequent glitches, and bugs. Users also reported problems with Nitro Type's leaderboard, typing tournament, and challenges. Consumers are also displeased with Nitro Type's lack of moderation, which leads to trolling and inappropriate behavior within the game. Ads on the website are another significant factor causing frustration. Overall, Nitro Type received widespread criticism from users for its numerous and persistent technical issues, slow loading times, inadequate moderation, and intrusive ads.
Newest Nitro Type complaints
Review of Nitro Type: Lack of Fairness and Emphasis on Paid Features
Nitro Type, an online typing game that allows users to improve their typing speed, accuracy and overall skill set, has recently come under fire for its apparent lack of fairness and the prominence placed on paid features. While the concept of the game itself is engaging and could be beneficial for users looking to improve their typing abilities, the drawbacks may outweigh the benefits for some.

One of the primary concerns raised is the focus on paid features, specifically Nitro Gold. According to users, Nitro Type seems to push players towards purchasing this membership by offering various rewards and prizes exclusively to those who are part of Nitro Gold. This could potentially give an unfair advantage to those who are willing to spend money on the game versus those who aren't, which ultimately creates an environment that is not conducive to fair competition.

Another complaint about the game is the seemingly intentional speed increase of the "wampus," a virtual creature that players are supposed to type out in order to earn in-game cash. As it gets faster, it can become increasingly difficult for users to keep up, and the speed increase seems to be timed strategically in order to keep players from collecting the full 50,000 cash reward.

The game's propensity for glitches and lag also detracts from the overall gameplay experience. Users have reported that the game often doesn't recognize certain letters or commands, resulting in frustration during play.

Lastly, there seems to be an issue with fairness in terms of gameplay against players with higher typing speeds. While it's natural for experienced players to be faster, the game doesn't seem to do an adequate job of matching up opponents with similar skill levels, creating uneven matchups that can be discouraging to those who are still learning.

Overall, while Nitro Type does have its benefits in terms of providing a fun and engaging way to improve typing skills, its apparent obsession with paid features and lack of fairness may make it less appealing to some users. With more development and attention to player feedback, it's possible that Nitro Type could become a more enjoyable and equitable game for all players.
Review: Nitro Type - A Fun and Addictive Typing Game with Some Flaws
As a typing enthusiast, I have spent countless hours exploring various typing games online. One such game that caught my attention is Nitro Type. After playing the game for an extensive period, I have garnered a mixed review of sorts that I am more than happy to share with other typing enthusiasts out there.

Let's start with the positives, shall we? The game itself is quite fun and addictive. Nitro Type brings a new dimension to the otherwise tedious typing exercises by blending racing elements into the game. The concept is simple - the faster and more accurately you type, the quicker your car will move. As you progress, you can unlock various new cars and customizations to further enhance your play experience. The game also boasts a multiplayer function where you can race against other players, which adds to its competitive appeal.

However, the game is not without its flaws. One recurring issue that I have experienced while playing Nitro Type is the frequent lag. It is frustrating when you are in the middle of a winning streak, and suddenly your typing speed drops to a crawl due to lag. Another irksome problem is the delayed countdown glitch, which can affect your game pace and cause you to lose precious seconds.

Furthermore, one of the most pressing issues with Nitro Type is its typing accuracy score mechanism. While it is an excellent idea to incentivize accuracy, things often go wrong with this feature. As we all know, no one is perfect, and typos can be quite common while typing. Unfortunately, if you accidentally type a word wrongly, you will have to stop typing and correct it, losing your rhythm in the process, which is quite frustrating. Additionally, there are times when the game doesn't even recognize a correctly typed word, causing you to miss out on points.

In conclusion, I would say that Nitro Type is a game that has its pros and cons. While playing, you are bound to have lots of fun, but there will also be moments of frustration. Ultimately, it is an excellent tool for improving your typing speed and accuracy, and I would recommend it to anyone looking for a fun way to get some typing practice.
A Fun Typing Game: Nitro Type - But Technical Issues Can Make It Frustrating
If you're looking for a fun and competitive typing game online, Nitro Type could be right up your alley. However, while enjoyable, there are some issues that can make playing the game frustrating at times. One of the most significant problems is its glitchiness. It's not uncommon for players to experience unresponsive gameplay or everything freezing up. Often, even their mouse will freeze, forcing them to restart the computer altogether.

Additionally, players have reported problems with losing their progress. From claiming achievement rewards to purchasing cars, the server seems to struggle to keep track of all the data, leading players to have to start all over again from scratch. It's a frustrating experience for anyone who is genuinely committed to moving up the ranks and improving their typing speed.

Another frustrating aspect of Nitro Type is that sometimes the game allows players to race but makes them invisible, essentially rendering their efforts useless. It can be challenging to compete with other players when they can't even see where you're at on the screen. These glitches can be a bit confusing and annoying, which can be discouraging to avid players who want to consistently enjoy the exciting elements of the game.

At the end of the day, Nitro Type is still a fun and engaging typing racing game. Nevertheless, its consistent technical problems can take away from the player's overall experience, leading to frustration and loss of progress. While the game's developers continue to work on these issues and improvements, it's something to keep in mind if you're considering playing this game. However, if you can look past these glitches, you'll undoubtedly find yourself spending hours improving your typing speed and racing to be the best in the game!
Is Nitro Type legit?
Nitro Type earns 91% level of Trustworthiness
SAFETY NOTICE: ComplaintsBoard has analyzed Nitro Type and determined that it has perfect credibility and is completely trustworthy, with a legitimacy rating of 91%.
Nitro Type has received 5 positive reviews on our site. This is a good sign and indicates a safe and reliable experience for customers who choose to work with the company.
Nitrotype.com has a valid SSL certificate, which indicates that the website is secure and trustworthy. Look for the padlock icon in the browser and the "https" prefix in the URL to confirm that the website is using SSL.
Our scan shows Nitro Type website is free from malware and phishing activities, which are types of online threats that can include viruses, worms, Trojan horses, ransomware, and other malicious code, as social engineering tactics used to trick users into sharing their personal information.
Nitrotype.com has been deemed safe to visit, as it is protected by a cloud-based cybersecurity solution that uses the Domain Name System (DNS) to help protect networks from online threats.
Several mixed reviews for Nitro Type have been found on various review sites. While some customers have had positive experiences with the company, others have reported issues with their products or customer service. It's important to read and consider a variety of reviews before making a decision to purchase from this website.
We looked up Nitro Type and found that the website is receiving a high amount of traffic. This could be a sign of a popular and trustworthy website, but it is still important to exercise caution and verify the legitimacy of the site before sharing any personal or financial information
However ComplaintsBoard has detected that:
While Nitro Type has a high level of trust, our investigation has revealed that the company's complaint resolution process is inadequate and ineffective. As a result, only 0% of 10 complaints are resolved. The support team may have poor customer service skills, lack of training, or not be well-equipped to handle customer complaints.
Nitro Type protects their ownership data, a common and legal practice. However, from our perspective, this lack of transparency can impede trust and accountability, which are essential for establishing a credible and respected business entity.
The registrar associated with Nitro Type has been found to be used by several spammers and scammers, which could indicate a potential threat to users.
We conducted a search on social media and found several negative reviews related to Nitro Type. These reviews may indicate issues with the company's products, services, or customer support. It is important to thoroughly research the company and its offerings before making any purchases to avoid any potential risks.
Our Verdict: Nitro Type is highly recommended company, but beware of poor customer service. Their 0% Resolve Complaints rating is a cause for concern. We advise using their services securely and reviewing complaints beforehand.
Rev Up Your Typing Skills with Addictive Online Racing on Nitro Type
At first glance, Nitro Type may seem like a simplistic game. After all, it's just typing the same phrases over and over, right? But when you start playing and really get into it, you'll find that it's actually quite addictive.

One of the things that sets Nitro Type apart from similar typing games is the competitive element. You're not just typing to beat your own high score; you're racing against other players online. This makes the game much more exciting and engaging, especially when you're up against skilled opponents.

Another aspect of Nitro Type that I really appreciate is the customization options. You can test your typing skills in a variety of different game modes, such as 1v1 battles, tournaments, and even team races. Additionally, you can customize your car and your avatar with a wide range of colors and decals. It may seem like a small touch, but it really adds to the overall experience.

Of course, no game is perfect. Some users have criticized Nitro Type for being too repetitive, but I find that the increasing difficulty levels keep things challenging and interesting. And while some may find the loading times a bit frustrating, they're generally quite fast and don't detract from the overall enjoyment of the game.

Overall, I think Nitro Type is a great option for anyone looking to improve their typing skills or just have some fun online. It's easy to pick up and play, but challenging enough to keep you coming back for more. Give it a shot and see for yourself!
Review: Nitro Type - Fast-Paced Typing & Racing Fun with Limited Rewards for Free Users
Nitro Type is a highly immersive and entertaining game that has captured the minds of many. With its fast-paced typing challenges and sleek racing cars, it's no wonder that players find it semi-addictive! However, one significant downside to the game is the limited rewards available to free plan users. While it is possible to earn prizes and bonuses, they are often far less substantial than those given to paying subscribers.

It's understandable that many players feel that they miss out on a lot of the exciting features that are exclusive to paid memberships. For instance, subscribers get access to an impressive range of super cool cars that can help boost their chances of winning races. Unfortunately, free users have access only to basic rewards, which result in a more limited gaming experience.

Despite this, many players still flock to Nitro Type to test their typing speed and compete against others in thrilling racing battles. One such enthusiast is Danhausen, who runs a small YouTube channel under the name "Going Dauntless." His channel has a few videos on Nitro Type, including a head-to-head challenge against a fellow racer named Xavier Walker. Those interested in learning more about the inner workings of the game and how to master its challenges should check out his channel.

Overall, Nitro Type is a fantastic game that provides endless hours of typing and racing fun. The only small hitch is the restricted rewards for free users. This shouldn't discourage players from trying their hand at the game and enjoying its fast-paced challenges. With enough dedication and practice, anyone can become a Nitro Type champion!
A Review of Nitro Type: Engaging Typing Game with Technical Glitches
As an avid typist who has played Nitro Type, I wanted to share my experience with this online typing game. Although it does have its positive aspects, there are some significant issues that cannot be ignored.

First and foremost, a primary concern I have with Nitro Type is the participation of underage players. When 14-year-olds report issues with gameplay, it indicates a significant flaw within the system. As responsible developers, it is important to address and resolve all issues as soon as possible, particularly those related to minors.

Unfortunately, the game is associated with persistent lagging, making it incredibly challenging to maintain high typing speeds. Often, users are expected to guess what they are typing due to the lags, which certainly disrupts the typing flow. Personally, I have experienced difficulties achieving any place other than fifth place, despite having remarkable typing abilities. I would love to demonstrate my talents on Nitro Type, but the lagging frequently obstructs progress.

Another issue that needs addressing is the game's frame rate. Playing with Nitro Type's 800 frames per second rate is remarkable in concept, but when it creates technical complications, its appeal diminishes. The game is already challenging enough without the additional pressure of overcoming technical errors.

In conclusion, Nitro Type captures the essence of a very engaging and edu-taining typing game, but the technical glitches associated with it can be incredibly frustrating. As a typing enthusiast, it is disheartening to see a promising game getting bogged down due to lagging and frame rate issues. I hope that the developers will address these concerns, allowing users to experience what could be a truly world-class platform for testing and improving typing skills.
Nitro Type Review: From a Robot's Perspective - A Nostalgic Look at the Evolution of the Racing Game
review from a robot to a more human-like perspective:

When Nitro Type first stormed onto the scene, it truly felt like a breath of fresh air. The website was packed with exciting races, excellent graphics and a fun-filled community. Best of all, it was completely free.

As time went by, however, Nitro Type seemed to morph into something more business-like. Many of the once free features had begun to require payment - including the ability to freely give money to friends. Now, if you want to give your buddy some in-game cash, you'll need to fork over your hard-earned money for a subscription.

And then there were the "Seasons"...it seemed that Nitro Type began to get carried away with these. The website updated to season 32 in a blink of an eye! It almost seems a bit excessive, doesn't it? While these updates do add a new excitement to the game, it can be overwhelming at times for those of us who miss the good old days of simple racing.

Overall, Nitro Type continues to deliver an enjoyable user experience with many fantastic features. However, for those of us who preferred the old days where everything felt more basic, there is some nostalgia and longing for the past. It's understandable that Nitro Type would want to monetize their site, but hopefully the creators will still continue to provide an experience that their users love.
Nitro Type Review: Is the Game Too Focused on Gold Memberships?
When Nitro Type first hit the scene, it came under fire from certain quarters for appearing to prioritize players who invested in gold memberships. To some, this gave off the impression that only those with deeper pockets had access to the more thrilling aspects of gameplay, such as being able to show off their membership status via a shiny, gold name tag attached to their virtual car.

However, more recently, it seems that the focus on gold memberships has only intensified with the game now requiring players to have one to experience the full range of features on offer. What's more, players used to be able to send in-game cash without needing to purchase gold membership status, but the rules have since changed and now, even this activity is for gold members only.

These developments have left many users feeling frustrated and disenchanted with Nitro Type, with some even finding that their perfectly good typing skills are deemed 'wrong' by the game. Meanwhile, non-gold members have little to do and less to enjoy.

All in all, some are calling for Nitro Type to up its game and ensure that it caters to all players, regardless of whether or not they choose to open their wallets. It seems the tide is turning away from gold and towards a more egalitarian approach to gameplay.
Nitro Type: Glitches and Freezing Ruin the Fun of Typing
I have always been fond of typing, and I used to enjoy playing Nitro Type, the popular online typing game. However, my enthusiasm for it has dwindled significantly due to some of the issues that I have been facing lately. While I know for sure that I am an accurate typist, I have noticed that the game begins glitching and freezing during gameplay, disrupting my performance in the game. It is frustrating to deal with this recurring problem, especially since I am confident that my keyboard is not at fault here.

I have experimented with many other typing websites, and nothing comes close to the issues that I've been experiencing on Nitro Type. It is beyond irritating how the game's bugs and technical glitches can throw my accuracy off, and the fact that it freezes suddenly is mind-boggling when I have a stable wifi connection. I have even tried resetting my laptop, but to no avail.

At this point, I feel exhausted and frustrated with the absolute [censored] that I have had to put up with on this platform. The glitches and freezing not only throw me off my game, but it also detracts from the overall experience of playing Nitro Type. Despite my fondness for it, I am seriously starting to consider moving on to another website for my typing practice.
Review of Nitro Type: Recent updates have made the game less enjoyable and caused frustration among users
Nitro Type, a popular online typing game, has been making some recent changes that some users are not too happy about. While the website initially gained a following due to its engaging format and competitive nature, it seems that the recent changes have made the game less enjoyable for some.

One common complaint is that the updates have led to the removal of certain features that were popular among users. For example, the ability to sell cars has been taken away, leading many to feel that the game is now less customizable and less engaging overall. Additionally, some users have criticized the new customizer and shop as being "dumb", "trash", and "disgusting".

Another major issue that has been brought up by users is that the game is starting to have problems registering keystrokes. For those who type quickly, this can be incredibly frustrating, as their hard work and progress can be undone with a simple lag or glitch. Furthermore, many have reported that the game can cause significant lagging issues on their computer, leading some to abandon it altogether.

A number of users have also expressed frustration with the game's "premium" features, such as The Wampus and Golden Nitro. According to some, these features are simply a scam, designed to lure players into spending more money on the game. Even worse, some claim that Nitro Type used to allow players to send cash without Golden Nitro, but this feature has since been taken away.

All in all, it seems that Nitro Type has gone downhill in the eyes of many users. While it might have been a fun and engaging game in the past, recent changes have made it less enjoyable for some, leading to frustration and disappointment. If you're looking for an online typing game that's both fun and reliable, Nitro Type might not be the best choice for you.
Collect Your Trust Badge
Be recognized for outstanding customer service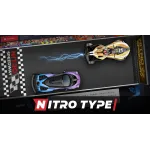 Nitro Type

contacts
Website
www.nitrotype.com
We are here to help
19 years' experience in successful complaint resolution
Each complaint is handled individually by highly qualified experts
Honest and unbiased reviews
Last but not least, all our services are absolutely free