Medicross Health Care Group complaints
14
Medicross Health Care Group
-
Service
05-08-2022

Mediclinic Boksburg Barden

I called the clinic to book and appointment appointment for my daughter who is not on the same medical aid as i am.

I spoke to a guy by the name of Mxolisi he explained the documents required from me as i am not a main member of the medical aid, when i got to the clinic the same guy tells me a different story without even looking at documents he personally said i must carry with me and requested for the main member to be here with me physically

In short my daughter was denied the medical attention she needed.

Mxolisi's customer services is unsatisfactory.

Thanks
Desired outcome: For the receptionist to be transparent and honest
Medicross Health Care Group
-
Unprofessional Service & Treatment of Dr Dorman at Randburg medicross
To whom it may concern

It is with great regret that I lodge a formal complaint. After visiting medicross since 2002, I have never experienced and been treated the way I was treated today. How inhumane can a medical dr be?

My husband & I visited medicross on 29 June 2022 . Our appointments were 15:00 15:15 respectively.

Initially we had an appointment with Dr Alex, but the receptionist called to inform us that Dr Alex is unavailable. However that Dr Dorman is available at the same times.

We were not well since Sunday, and we thought we needed to see a dr.

Dr Dorman called us in at 16:20 , after a 15:00 appointment. Absolutely no apology., which we accepted. We did not even mentioned it.

As soon as we stepped in her room, we noticed an attitude. She asked what is wrong.

When I explained our symptoms & our experience, dr Dorman's words: "dont tell me you are here for fever blisters…..,,, implying we are wasting her time.

She then examined me and told me that there is nothing wrong with me. And told me she is not giving antibiotics for the sake of antibiotics.

In the first place, I never asked for an antibiotic. I went to seek medication that will help both my husband & I.

She then proceeded by saying she has 42years of medical experience……we exchanged a few words and told her I also have qualifications.. I told her that I would not been here if I was feeling well.

And since I have body aches, feeling cold, cough through the night, and mouth ulcers and ear infection etc. She carried on…,…and I kept quiet .,,only after she examined my husband, she said she will attend to my symptoms. By then I told her that she does not have to give me anything since there is nothing wrong according to her and her 42 years experience. She implied I am wasting her time. ……I told dr Dorman I was disappointed and disgusted in her behaviour and that I have never heard of a medical practitioner bragging about her years if not showing any empathy.

It appeared that she was highly irritated, most probably we are not her regular patients to start with.

In this day and age, It is disappointing for the level of treatment that we were exposed to for merely seeking medical attention when we needed it most. We are not regular walk-ins, and Dr Ekonomakis & Dr Adri Rosch can attest to this.

For a medical dr, who was not prepared to listen, already made up her mind. This was not a free service, we have medical aid that covers the consultation.

I request that that this matter be addressed as a matter of urgency, to avoid other patients experience similar treatment. This might result in negative publicity to the medical centre, which I feel it is not warranted since my family and I are patients of Dr Alex the past 20 years.
Desired outcome: Dr Dorman must be disciplined because of her rudeness & unprofessional work ethic. She owes an apology.
Medicross Health Care Group
-
Clicks pharmacy and 2nd in charge manager in my understanding that I can even change my GP
I as a patient only believe in Medicross. My GP is fantastic. But please don't tell me if you are unhappy with something. You are told put in a complaint and also change your pharmacy and doctor. My doctor is my Hero GP at Medicross.

I feel sorry for the staff that are overworked.

I don't want to put in a complaint. 99% of the staff are so friendly and helpful. Date 22 June 2022.
Desired outcome: I just want certain staff members too realize we are all human beings and when we phone most like me are using a cell phone. We can't hold on forever. Medicross will always stay my 1st choice
Medicross Health Care Group
-
Refused Treatment
My husband and I tested positive for Covid on 05/05/2022, however my symptoms started on 04/05/2022. I was struggling with a cough where I could not cough up whatever was on my chest and I am 8 weeks pregnant so I was concerned. It was not a medical emergency as I was not short of breathe or anything like that, I literally just wanted a Qualified Practitioner to listen to my chest and advise something that is safe during pregnancy that would help with the cough. I am situated in Brackenfell, Cape Town so we contacted Medicross Brackenfell on 06/05/2022 but they were unfortunately fully booked, however they were willing to accommodate me for an appointment on 07/05/2022. My husband decided to try Medicross Langeberg and he was informed that there was an appointment available at 16:30, when he told the Receptionist that I had Covid and why I needed to see the Doctor, she politely told my husband that she would phone him back. 5 minutes later she phoned back and informed him that they were not equipped to deal with Covid patients and that I should go to Cape Gate Hospital. I took the appointment for the Saturday with Brackenfell Medicross and was treated exceptionally well and given Expigen which helped me. How is a medical practice 3 years later NOT equipped to deal with Covid patients especially since last year they put "suspected covid patients" in separate rooms and charged an additional fee for this but a year later they not equipped? I think it is absolutely disgusting to discriminate against a patient who has Covid versus someone coming in there with "Sinus symptoms" that actually has Covid but does not know - surely when a patient is known to have Covid, extra precautions can be taken and the patient seen or is it only hospitals that need to take the load of a virus that is affecting thousands of people and becoming part of our every day life. The receptionists at your branches are giving you guys a bad name and they really need to be taught Patient Care. I am a qualified Radiation Therapist and I actually feel like reporting this incident to the HPCSA, even the Brackenfell Branch was shocked when I told them what had happened. They are a far smaller branch and yet they could accommodate me without making me feel unwelcome or discriminated against. I feel the receptionist did not even bother to speak to a Doctor and rather spoke to a colleague or made her own conclusion that the risk was not worth a patient having access to healthcare. I would like to understand exactly why they are not equipped to accommodate Covid Positive patients that just need mild treatments like any other sick patient especially since last year they did not blink once to charge my Medical Aid extra for me to sit in an isolated venue due to possible Covid symptoms which turned out to be Sinusitis. I would also like the Reception Staff to receive adequate Phone Etiquette and Patient Care training so they can stop making patients feel so unwelcome and discriminated against due to an illness that was not asked for. They get paid to do their jobs and us being sick is what pays their salaries so they need to really think of that when they treat patients like an inconvenience.
Medicross Health Care Group
-
Security
In October 2021 i took my daughter to the Medicross in Tableview Cape Town. When i got back to my car, 2 of my wheel caps were stolen. The security guard said that she didn't see anything, she didn't even want to log the incident but was eventually forced to. I never got a follow up call from Medicross to ask me what happened. I reported the theft at SAPS. I spent R2000 to replace the wheel caps.

On the 21st of December 2021 i went back to the same Medicross. Came out of the Medicross and another 2 of my wheel caps where stolen. We even had cable ties on them which was cut in the parking. The security again says they did not see anything. The practice manager (Shameema Gallant) said i must send her an email which i did. Today the 22nd of December still no call from Medicross or reply email from Shameema. This is a place we go to when we are ill, and now we are no longer safe. It seems like security of their customers are the least of their concerns. I can't believe that no one contacted me even to advise on the way forward or if there is something they can do from their side to assist with the replacement of these wheel caps. It's fine to say park at your own risk but this is supposed to be a secure parking for customers.
Medicross Health Care Group
-
Medicross Edenvale
I have been a patient with Medicross Edenvale for over 15years. On the 2nd of July @ 13:36 I contacted Medicross Edenvale to renew my sons script as per the doctors instructions as it is a repeat script and no need to come in to renew. No one not even the doctor called back. I called again on the 13th of July @ 10:41 and the receptionist said she will hand the message to the doctor to renew still nothing was done. Called again on the 18th of July at 15:06 and was stated by the receptionist again the doctor will call me back. Called again on the 28th of July @ 15:55 where is it took a 45minute conversation with the receptionist where as she is stating im a very confused person and I have never been a patient with Medicross Edenvale and I do not know what im talking about after a huge fight she transferred me to my doctor Dr De Froncesca which I then proceeded in explaining to her that the receptionist refuses to give messages and stating im stupid I have never been a patient with Medicross Edenvale. Dr De Froncesca has been my sons doctor for 18months and every 3 months I contact her to renew the script and leave it at reception for pick up I have never been charged for the renewal but this time the doctor and Medicross charged me R 385.00 for a telephonic renewal and a so called medical consultation over the phone which was never done I lodged a complaint with the doctor regarding the ill treatment from the receptionist and then the doctor charges me for lodging a complaint against medicross? I have never been charged for the renewal of the script!

I feel Medicross Edenvale, is being unreasonable as after 18months of no charge to renew script over the phone is being charged now? Medicross Edenvale is unwilling to resolve the situation. I urge them to credit my account as I have never been charged for any renewal of the script and I have not done any Medical consultation over the phone either. I merely lodged a complaint against the service with he doctor!
Desired outcome: Account to be reversed
This review was chosen algorithmically as the most valued customer feedback.
We took my brother to medicross silverton today the 16.09.2018 around 9, they stiched the wound.nurse Alley Alivier didn't dress and clean the wound, when I went back with my brother full of blood asking why she didn't clean the wound, She just gave him a towel saying he must go to the bathroom and clean himself on top of the pains he was feeling. I had to force her to do it. I'm so dissappointed and disgusted.
Read full review of Medicross Health Care Group
Medicross Health Care Group
-
Poor dental workmanship
My fiancé went to medicross Benoni yesterday. For dental repair work on 1 tooth. This was for resin top on her tooth. Last night after having a meal the completevresin started coming off of her teeth. This making going through the whole procedure useless. And as it was a after hour procedure we also had to pay in 300rand additional on our medical aid.

Account 101168
This review was chosen algorithmically as the most valued customer feedback.
On 25-05-2016 early in the morning I contacted Medicross Boksburg and spoke to Jane about what effects I was feeling and the effects were worse then when I went to see Dr.Coetsee about my ADD effects and how badly it was effecting me. I was told that I would need too see a Neurologist by Jane and Dr.Coetsee as he was a bit stumped as what was wrong but...
Read full review of Medicross Health Care Group
This review was chosen algorithmically as the most valued customer feedback.
I arrived 10min late for my tooth cleaning appointment, was told to reschedule as the lady already started with another patient that was pushed in by a dentist. all ok as I was late and they can't wait for me. The previous day I had an appointment with the dentist, this day I arrived 20 min early, waited for my appointment as well as 25min longer for the...
Read full review of Medicross Health Care Group
This review was chosen algorithmically as the most valued customer feedback.
Good day, I went to visit the Benoni Medicross on Saturday afternoon due to falling ill with flu, there were only 2 doctors at the medicross whom I was not familiar with as my family Doctor Marius Le Roux was off on the Saturday. I was advised by the receptionist that i could see Dr Chen. I waited several minutes before seeing Dr Chen who had my previou...
Read full review of Medicross Health Care Group
The complaint has been investigated and resolved to the customer's satisfaction.
Medicross Health Care Group
-
ACCOUNT PROBLEM
VERICRED THE LEGAL DEBT COLLECTORS FOR MEDICROSS HAVE BEEN PESTERING ME WITH A ACCOUNT FOR MEDICROSS EDENVALE FOR THE YEAR 1998. WE HAVE NOT RECEIVED ANY STATEMENTS SINCE 1998 REGARDING THIS ACCOUNT. WE HAVE CONTACTED VERICRED SEVERAL TIMES AND EXPLAINED THE SITUATION TO THEM THAT WE DON'T CARRY ANY KNOWLEDGE OF THIS ACCOUNT AND WE WERE NEVER CONTACTED ABOUT THIS ACCOUNT UNTIL
OCTOBER 2010. WE ARE STILL WAITING FOR A STATEMENT TO PROOF TO US WHAT MONEY IS OUTSTANDING AND THEY ARE THREATENING US THEY WILL HAND US OVER TO THE ATTORNEYS TODAY IF WE DON'T PAY THE ACCOUNT. MEDICROSS DID NOT SUPPLY THIS ACCOUNT ON TIME TO MY MEDICAL AID AND NOW THEY WANT ME TO CARRY THE COST FOR THEIR NEGLIGENCE.
Resolved
The complaint has been investigated and resolved to the customer's satisfaction.
Medicross Health Care Group
-
Long outstanding accounts being claimed too late
I visited a dentist due to an emergency October 2008. I was told that he was contracted in to medical aid and that was the last I heard from them. June of 2009 I received and account with names that were not at all familiar to me saying that I owed a dentist money. I was confused since I have one dentist whom I have been seeing since I was 8yrs old and this account was not from him. I called the number on the bill and behold it was Medicross. They claim that my medical aid didnt pay my bill and I now owed this money. I received no notice of this at any date before June 2009. How is this possible. I have since changed medical aids so it is pretty obvoius that they wont pay it now but the lady in the accounts section still tried to submit it to them. So I asked that if she submitted it then, the day I saw the dentist, and it was declined, why did she not contact me then? I dont deny that I saw the dentist but I saw no reason why my medical aid did not pay as I had ample benefits which I checked myself. A few weeks after my telephone query, I received an sms telling me that I have been handed over to Vericred and would be blacklisted as I had not paid this bill.
The complaint has been investigated and resolved to the customer's satisfaction.
Medicross Health Care Group
-
Terrible Negligence
I brought my wife in due to a accident she had at work on 16/1/2010. The Mail Service Centre where she work could not complete a I.O.D. form due to their own stupidity. Her hand were caught and bumped between two mail containers which they have to move around in a insufficient supplied for area. After getting her file from the front desk we were sent to another area, here a nurse/sister or whatever took her to a cubical were I waited with her for further attendance. After a while this person came back and ask us at a distance of roughly two meters away what is wrong, we explained. She then ask if my wife must go for X-rays, I told her it is not for us to decide what action is to be taken, can you believe this!

She left and came back with some form in hand, and told us to go to X-rays. At this point in time neither she or the Doctor examine or even bothered to LOOK at her hand. At the X-ray department they wanted to take X-rays of her WRIST because the form said so. The personnel there were highly upset to here that nobody had looked or examine my wife's hand. They took X-rays of her hand and we went back to this cubical after handing over all X-rays at the counter. Some of the other patients were starting to get fed up waiting so long for attendance from the Doctor. Every time they and we were told Doctor is busy in Pediatrics ? but in the meantime he were actually taking midday lunch. Eventually he came back strolling in as if on a Sunday picnic, now this is the spits, really I've never though I would see such nonchalant and don't care attitude from a Doctor. After this "thing" looked at the X-rays my wife were told her hand is just badly bruised, she were giving one injection and a sick note for two working days and a prescription, this sound fair enough OK? Well we went to the front desk to hand in her file, here the woman behind the desk looked at the forms and asked us if my wife BURNED her hand? From there we went to the payment desk to settle the account, low and behold here this person asked us exactly the same question. I WOULD LIKE TO KNOW WHAT THE HELL IS WRONG WITH THE PERSONNEL IN THAT BUILDING.
One more thing on the receipt it clearly STATES "FRACTURE OF THE..." and there this explanation ends.
I' am not a friendly person by nature, but I also not unnecessary difficult. I intend to take this matter much further and will even deal with it in a public domain if I have to. I am also waiting on advise from the Medical Counsel. The Doctor were A. Aldous at Medicross Boksburg, Gauteng, South Africa

My wife: Mev. C.E. Minnie [protected]

Account number: 047806
The general Services of any nature are extremely poor in South Africa
Resolved
The complaint has been investigated and resolved to the customer's satisfaction.
We are here to help
16 years' experience in successful complaint resolution
Each complaint is handled individually by highly qualified experts
Honest and unbiased reviews
Last but not least, all our services are absolutely free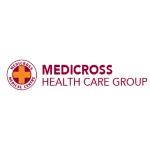 Medicross Health Care Group contacts