Light Impressions complaints
10
Newest Light Impressions reviews & complaints
Non-delivery of product, lack of any customer service
I used to love this company and had ordered many times in the past, not now.
I placed an order on September 20, 2020 for some beautiful archival boxes. I was charged $142.84. Since then I have called twice, left a message the first time. The second I just got a busy signal which usually means they don't want to be bothered. I have emailed twice but no follow up.
Their website needs to be taken down.
I'd love to get the product but I've lost hope...
Order
I placed an order with this company a month ago and was charged the day I placed the order but never received a confirmation email or tracking number. I have called them almost daily but am always directed straight to a voicemail where I have left 3 messages. I've also emailed them but no one has reached back out to me. I needed the product by this week and now am left trying to find another solution. Completely fed up. Will be contacting my bank to get a refund. Do not order from this company.
order placed on march 8, 2019
I've received nothing from this company. I have followed up with emails, phone calls where I have left messages and actually spoke to a CSR yesterday. She said their server was down and she couldn't look up the order. She didn't call me back yesterday as I requested. I called again today and left another message. Still no response. Order #B77162.
I have ordered from this company before several years ago but had good service then.
Is Light Impressions legit?
Light Impressions earns 71% level of Trustworthiness
SAFETY SUGGESTION: ComplaintsBoard has evaluated Light Impressions and determined that it has an excellent credibility, highly trustworthy level of trust, with a legitimacy rating that is more or less around 71%.
Lightimpressionsdirect.com has a valid SSL certificate, which indicates that the website is secure and trustworthy. Look for the padlock icon in the browser and the "https" prefix in the URL to confirm that the website is using SSL.
Our scan shows Light Impressions website is free from malware and phishing activities, which are types of online threats that can include viruses, worms, Trojan horses, ransomware, and other malicious code, as social engineering tactics used to trick users into sharing their personal information.
Lightimpressionsdirect.com has been deemed safe to visit, as it is protected by a cloud-based cybersecurity solution that uses the Domain Name System (DNS) to help protect networks from online threats.
Lightimpressionsdirect.com appears to have online shopping features, it's important to know that the platform supports an extensive range of payment methods, making it convenient and easy to complete your transaction. The payment procedure on the website is also relatively simple and straightforward, ensuring a smooth and hassle-free experience for buyers.
However ComplaintsBoard has detected that:
Light Impressions has been found to only resolve 30% of 0 negative reviews, indicating a lack of commitment to addressing customer concerns. Many customers have experienced long wait times for responses or resolutions, unhelpful or inaccurate answers to their questions, and a lack of follow-up or updates on the status of their issues.
Light Impressions protects their ownership data, a common and legal practice. However, from our perspective, this lack of transparency can impede trust and accountability, which are essential for establishing a credible and respected business entity.
The website belonging to Light Impressions has a low number of visitors, which could be a red flag for users. However, it's important to conduct additional research to fully evaluate the website's legitimacy and trustworthiness.
We conducted a search on social media and found several negative reviews related to Light Impressions. These reviews may indicate issues with the company's products, services, or customer support. It is important to thoroughly research the company and its offerings before making any purchases to avoid any potential risks.
Our verdict: Light Impressions is safe to work with, and you can proceed with confidence when using their website. However, their 30% Resolve Complaints rating is concerning. We recommend approaching their services with caution and reading reviews before making a decision.
no communication, no order received
Sixteen weeks ago, I ordered archival boxes from Light Impressions. Initially I was told that the manufacturer was having trouble producing the product and that my order was delayed. For the last month, I've been calling the Light Impressions customer service number requesting my receipt of payment (I was charged six weeks ago) and an update on my order. Half the time that I call, I have to leave a message which is never returned. The other half of the time that I call, I get the same woman (Dominique Robinson) who tells me that she's not in the office and can't get me my receipt or my order status. Lately, she's been telling me that her boss ("Billy") will call me back, but he never does. The topper was today's comment from Dominique that when "Billy" isn't in the office, she doesn't go in either! Plus, they use a speaker phone that produces audio feedback so that I can't even hear Dominique. I've never encountered such unprofessional and insulting customer service in my life! This company is THE WORST!
archival storage boxes
My order for approximately $100 worth of archival storage boxes was submitted more than eight weeks ago and there is still no word when the shipment will be sent. My credit card has been charged yet their toll-free "customer service" department has never answered my calls, nor responded to voice mails. I have spent well over an hour waiting on hold during five or six calls. These people are scam artists. Their website continues to list Rochester, NY as their place of business but I believe it has moved somewhere in California and been subsumed by another company--yet they continue to do business as Light Impressions Direct. Avoid doing business with these people.
Concealed communication
I called (quoted) "Light Impressions" --- as that being how I knew the company [as I categorized below], and that be how they still being listed on internet. But FDM being the name as answered. I asked to "speak to upper management." In reply, I was told by the female who originally answered the phone "There's a bad connection." To follow saying that she could not hear me. She asked for "your phone number." (mine) Expecting me to assume that I will be called back; THAT SHE DID NOT SAY OF A CALL-BACK. I would not have taken her testimony at all. (as I be with any business). Businesses that say to call back, DON'T return calls. As a common business: when I called back, the answering machine took control. This is the game that customer service of any business is protocol.
Canceled Order-No Refund
I ordered a product online which was acknowledged via email. The item was ordered with expedited shipping which was promised within 2 days. Two weeks later, I canceled the order after finding out via a call to the company that I could not receive the item by the time needed because the item was backordered until May, 2011. I was promised a refund within 2 weeks. On April 18, I was promised a refund by check by the end of April. Having not received the check, on May 2, I again called the company and was told that my refund will be issued by May 20. That's almost 2 months since cancellation! A complaint to the Better Business Bureau has gone unanswered by the company. A phone call to the company VP was not answered. Don't even think about dealing with this company!
The complaint has been investigated and resolved to the customer's satisfaction.
Order not received; cannot contact company
I ordered some matting and framing materials on Feb 23rd from Light Impressions, the total amounting to $143.00. I was sent one item which cost $9.00, but was billed for the entire order. I am unable to contact them either by phone or through their website. All I know is they said on their invoice slip "rest of the order is back-ordered). This was a simple order, invoiving items they claimed were in stock. This is a warning to anyone planning to order from Light Impressions.
Resolved
The complaint has been investigated and resolved to the customer's satisfaction.
The complaint has been investigated and resolved to the customer's satisfaction.
Failure to ship goods
I ordered three expensive but very nice archival grade scrapbook sets from light impressions direct in March. The sets include a three-ring binder, cover slip case, large pages, and backer inserts.

To date, they have still not completed the order and email requests for and ETA or information go unanswered. When I ordered in March, all items were in stock. I haven't heard from them at all in seven months other than a reply to one (of many ETA requests) that the items shipped that week. Unfortunately, it still wasn't the complete order!

Don't work with LID if you are in a hurry and prefer a hassle-free life.

Follow Up (12/20/2010). Nine of the items I ordered in March 2010 for over $100 are "still on backorder until late January 2011". They charged my card for the complete "in stock" order in March 2010. You could go to their website today and place an order for the B/O items. They lie.

I've received no follow-up messages from them about the back order status unless I ask, and then, only occasionally.

They do business as CenturyPhoto.com, LightImpressionsDirect.com, and several others under the umbrella of newcenturydirectbrands.com.

I don't believe they should be in business.
Resolved
The complaint has been investigated and resolved to the customer's satisfaction.
The complaint has been investigated and resolved to the customer's satisfaction.
canceled order not refunded
I ordered some glass from this company on January 6. My check card was immediately charged $65.35. But, nothing arrived. I called several times - no one ever answers. I sent several emails that went without response. Finally on the 26th I got someone on the line who told me my items were backordered (they couldn't tell me sooner?) so I cancelled the order. I am still waiting for the original charge to be refunded. I've tried calling them everyday for over a week and no one ever answers. Now even the "call back" option doesn't work.
Resolved
The complaint has been investigated and resolved to the customer's satisfaction.
Collect Your Trust Badge
Be recognized for outstanding customer service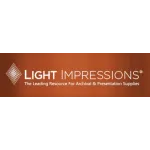 Light Impressions

contacts
We are here to help
19 years' experience in successful complaint resolution
Each complaint is handled individually by highly qualified experts
Honest and unbiased reviews
Last but not least, all our services are absolutely free