Overview of Bubble Arena customer experience
Bubble Arena, a mobile game by mobilefox.club, has received numerous complaints from consumers. Players have reported frequent crashes, glitches, and freezing during gameplay. The game is also plagued with excessive ads that interrupt the gaming experience. Users have also expressed frustration with the game's pay-to-win model, where players must spend real money to progress. The customer support team is unresponsive and unhelpful, leaving players with unresolved issues. Overall, Bubble Arena has failed to deliver a satisfactory gaming experience, and players are advised to avoid this game.
Bubble Arena complaints
25
Newest Bubble Arena complaints
Asking for my personal information , beware !
A hold was put on my account because my credit card was compromised , that was taken care of and the $4.99 game was paid for . They asked for another $5 to continue playing and I said just take it out of my balance because I have over $50.00+ in there . They asked me for my passport or drivers license pictures of the from and back for KYV verification . I will not do this and give my personal information . No game should ask for personal information like this , players beware !
Fun game, but a bit deceptive with withdrawals
I like the aspect that it's a bubble game. There are different paid levels.

You do win money, but the withdrawal is deceptive. They do not tell you upfront before buying that bonus cash is not allow to be withdrawn and it's seem to scale to no matter what amount you with drawn. Also there is fees for withdrawal if it's less than a certain amount.
So if you paid 30 and get 30 bonus cash, it will subtract the amount m. So if you bet and loose 30, the game see it as you lost 30 dollars.
Clearly rigged
The game isn't even subtle. I got first place in every game I played until I was just under the limit to start buying in to higher payout games. I chose not to sink actual money into it, and I lost literally every game after that. I've been playing bubble shooter games since the late 90s, so I'd like to think I'm decent at them by now, but somehow when it got to the point that I could start winning actual money, I start losing unless I put money into it? Nah, fam; this ain't the game if you want fair play
The falsest of false advertisements
You have probably seen those ads about people making large sums of money from playing simple games. There have been so many…

Anyways, I decided to give one a try. Nowhere in the ads is there mention of the need to deposit money to play the bubble events where money is the award for winning. If you don't do that, then you are stuck playing events where you win in-game coins, which are basically worthless.

Even though I downloaded this game for free, I still wish I could get my money back for the time wasted.
You can never cash out
So while the game is fun and all, you will never be able to cash out from what I am experiencing.
I have been playing for a couple of weeks now and have made a small deposit to check it out. All of your winnings will be considered "bonus cash" and when you try to withdraw your winnings, ot will not allow you to withdraw "bonus cash".
So there you have it folks! This is a very real experience and review so if you are playing to try to earn/win money you can withdraw to your bank, this isn't the game it claims to be.
Collect Your Trust Badge
Be recognized for outstanding customer service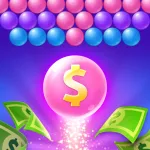 Bubble Arena

contacts
Website
www.mobilefox.club
We are here to help
19 years' experience in successful complaint resolution
Each complaint is handled individually by highly qualified experts
Honest and unbiased reviews
Last but not least, all our services are absolutely free