Overview of Bubble Arena customer experience
Bubble Arena, a mobile game by mobilefox.club, has received numerous complaints from consumers. Players have reported frequent crashes, glitches, and freezing during gameplay. The game is also plagued with excessive ads that interrupt the gaming experience. Users have also expressed frustration with the game's pay-to-win model, where players must spend real money to progress. The customer support team is unresponsive and unhelpful, leaving players with unresolved issues. Overall, Bubble Arena has failed to deliver a satisfactory gaming experience, and players are advised to avoid this game.
Bubble Arena complaints
25
Newest Bubble Arena complaints
Receiving winnings
I have complained within the game chats about games I've won but never received my winnings I have posted screenshots to no avail I love playing the game but if I am paying and I win it would be nice to receive what is owed me I don't know if it is a glitch in the system or they are just crooks I know they owe me at least a couple hundred dollars I won't deposit any more of my money into this crooked game
Desired outcome: Get my money back and fix the game so it pays you when you win
Frozen withdrawal
I've been trying to withdraw my funds from bingo arena and first it says invalid email when I know it's the right one because there sending me emails from my gmail the same email so then once I was able to put it in it was a hold the. All of a sudden it says frozen withdraw like how? And I've been emailing [protected]@mobilefox.club but I'm getting the same response and now I'm not getting any type of response now at all
Claimed loss: I'm owe 17.6$ and still haven't got it
Desired outcome: I just want my whole refund back
Pay pay transaction
I've won $3.50 for the first time and it's a really cool game I wanna keep playing it but the money hasn't deposited into my pay pal account which a registered and verified email has already gone against, because the email is to say that have been paid and should have recieved my transaction but my payment hasn't been received after the withdrawal there is no evidence completely and yet the email says otherwise, I'm very annoyed. What should I do I want the money been send so I can carry on playing the game in full faith.
Claimed loss: $3.50 to [protected]@gmail.com
Desired outcome: Full payment
Is Bubble Arena legit?
Bubble Arena earns 78% level of Trustworthiness
SAFETY SUGGESTION: ComplaintsBoard has evaluated Bubble Arena and determined that it has an excellent credibility, highly trustworthy level of trust, with a legitimacy rating that is more or less around 78%.
Bubble Arena has received 3 positive reviews on our site. This is a good sign and indicates a safe and reliable experience for customers who choose to work with the company.
Mobilefox.club has a valid SSL certificate, which indicates that the website is secure and trustworthy. Look for the padlock icon in the browser and the "https" prefix in the URL to confirm that the website is using SSL.
Our scan shows Bubble Arena website is free from malware and phishing activities, which are types of online threats that can include viruses, worms, Trojan horses, ransomware, and other malicious code, as social engineering tactics used to trick users into sharing their personal information.
Mobilefox.club has been deemed safe to visit, as it is protected by a cloud-based cybersecurity solution that uses the Domain Name System (DNS) to help protect networks from online threats.
Mobilefox.club you are considering visiting, which is associated with Bubble Arena, is very old. Longevity often suggests that a website has consistently provided valuable content, products, or services over the years and has maintained a stable user base and a sustained online presence. This could be an indication of a very positive reputation.
Bubble Arena website is deemed to be popular and indicating that it receives a high volume of traffic. It is important to be cautious when using a highly trafficked website, as it may be a target for cybercriminals looking to exploit vulnerabilities or steal personal information.
However ComplaintsBoard has detected that:
Bubble Arena's complaint resolution process is inadequate and ineffective. The support team lacks customer service skills, training, and resources, resulting in only 0% of 17 complaints being resolved.
Bubble Arena protects their ownership data, a common and legal practice. However, from our perspective, this lack of transparency can impede trust and accountability, which are essential for establishing a credible and respected business entity.
Keywords related to scams and fraud were identified in our analysis of Bubble Arena website, which could indicate that the website is engaging in illegal or unethical activities. It is crucial to approach the website with caution and conduct proper research before taking any action.
Our verdict: Bubble Arena is safe to work with, and you can proceed with confidence when using their website. However, their 0% Resolve Complaints rating is concerning. We recommend approaching their services with caution and reading reviews before making a decision.
Refund my $10 (£8.26)
I played the game twice, then at lightening speed bonus this bonus that, then in bright lights $10, it made me feel i'd won $10. So I accepted it and okayed my bank card, only to find out i've been charged $10, what a scam.6th october 2023. 😡
Many winnings they took them away
The night I played my winnings were well up close to $60, I didn't not to press my luck to so I ask cash out. I get an email Nextel morning saying there was a glitch and people weren't properly matched. Sounds like a YOU problem not in mine. They added bonus cash into our account the but the only we can deduct it is is makes well above what they have is, which just won't be this is scam! They agree all areni
Desired outcome: My winnings back to do with as I please.
False advertising!
Surely there has to be a governing body, like the 'Advertising Standards Agency'. 'ASA' will get involved if they find that Bubble Arena are making false claims.

The 'ASA' have the power to investigate, and even to shut them down if necessary.

I have no idea what the equivalent of an 'Advertising Standards Agency' is in USA, but I'm sure you'll be able to find out in one of your search engines.

The more people who report these false advertising claims the sooner they will intervene.
Desired outcome: The people that created 'Bubble Arena' need to be more transparent with their claims.
Bonus cash is my actually money…
Hi,

I've put in roughly 50 dollars total to "recharge" my account when prompted by the game advertisements. Now it's considered "bonus cash" that cannot be withdrawn? What is even the point of bonus cash if you want withdraw it…. I will not be recommending this game to anyone ever and will warn anyone you currently plays this game as a massive scam.
Desired outcome: Give me the money in the account
Scam
This app is a scam guys. Don't believe the bought out "good" reviews. Honestly, your better off completing surveys. You make more actual money that way even though it's time consuming. This app makes you believe you're winning money, but when it comes to withdrawing your winnings, you just can't. They don't let you. I'd add a screenshot if I could. Don't fall for this guys.
Scammy
Don't do it. Better of going to the casino!
This game is sus. Whenever I run low on money I somehow win, makes me think it's all bots playing to make me think I can win. On top of that, withdrawing money is just the worst experience. There's a fee that comes with it and they also deduct the number of free cash they've given you. I wouldn't waste your time playing this game.
Crap
Made 0$ on this game. Each time I get a good run I get balls that don't make sense and if I win with a score of oh 11000+ somehow I still end up in 2nd or third. Only time I win is when it's a smaller pot than 1$ but still lose by anywhere from 10-100 points… not worth the time or energy to be stressed about time and a computer AI that makes sure you lose more than you win…
So where's my money
I downloaded this app because the ad i watched said "play for 1 hour =you get $200". It also said "you just need download bubble crush that pays you $530 per day" (screenshots to prove its this game and there is no disclaimers or anything stating otherwise) I've had the app for over 3 weeks now and by my calculations that's $11,130 that I should at least have. So where is it?
Confused player
I really rather not do reviews; however, when I play games, again I say games and I am in 1st place awaiting one other player to play and when they are done and I fall to the bottom I find that to be suspect because how did I fall to the bottom of other players.

I at one point really would have given a five star, at this point I wish there was a way to rate a zero

Not a happy camper
How so many stars?
I have NO idea how people rate this so highly. Even when you have $60+ in your account it says it's all bonus cash and you could cash out $3. It will use all of YOUR cash first, then use bonus cash. You'll never actually be able to cash out. Only reason I rated it 2 stars is because actually playing isn't all that bad but a HUGE crock if you think you're actually going to win anything. It's a joke.
It is actually a scam
The game itself is fun but they advertise that you are winning all this money whether you play the cash games or the free games and when you go to make a withdrawal you are not actually able to withdraw any of the "bonus" cash whatever that means. I had $22.50 in my "bank" but I was only allowed to withdraw $2.

Don't fall for this scam. They should be sued for misleading advertisements and winnings.
Not consistent
Between the rewards and how badly the system works against you, it's definitely a deep hole to lose money in.either they need to make the prize money be 2$ for first and 1.5$ for 2nd place and 1$ for third. Or they need to fix the algorithm so that the match doesn't interfere with you. Too many times have I been denied a good run by random infinite loop of one color that I can not use.

Stinks of scam.
Fraud
Does not allow withdrawal of all of your money. The game requires forfeiture of most of the money earned. There are fees of at least 15% upon withdraw and your account will be frozen. In addition, your personal information, including your birthdate, is required to withdraw. The developers are probably using that info for nefarious purposes or, at least not transmitting information securely. This app needs to be removed immediately.
Cashing out
So the first time I cash out it was a Saturday night so granted I figured I'll have to wait the week out by Monday night or Tuesday I got paid so I continue to redeposit again I win time to cash out a second time ok let's me submit but it's beeen 3 days not one response from support like the first time I've emailed them I've text them threw their app no response so what I pay one time then next fk u wow I just want my pay that's all
Fake Game!
It says you don't have to use money to play but every time you want to play a cash game it's asking you to add your own funds! So I did a small amount $10 and then you play the games "against" other opponents and divide the winnings but you can cash out what you earned! Or even get your own money back that you put in! They said it's bonus earnings so when you go to withdraw you only getting back $3 out of the money it claims you earned.
Money losing game
Straight up false advertising led me to this game, showing people making money daily. You only make money if you bet your money AND get first place! 2nd place you break even, and all other spots you lose your money. I'm pretty good and win sometimes, but then it evens out with all the times I don't get first place, so eventually lose any money I put in. So don't play unless you are confident you can get first place basically every time
Pink Bubble vs Red Bubble = You Lose!
Games is OK if your looking to kill time.
The thing is it's very hard to play competitive when the developers have two bubbles that are so close in color you consistently fail. The pink and red ball are so close in color that it's very hard to distinguish between them and you place them in the wrong stop, piss poor. Then again knowing the new culture of gaming now a days it's more then likely designed that way intentionally so you do lose. I will be deleting this app.
Collect Your Trust Badge
Be recognized for outstanding customer service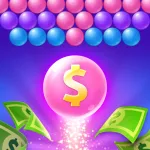 Bubble Arena

contacts
Website
www.mobilefox.club
We are here to help
19 years' experience in successful complaint resolution
Each complaint is handled individually by highly qualified experts
Honest and unbiased reviews
Last but not least, all our services are absolutely free