Youdagames
-
A misbruik by mistake
I am a very loyal customer of your game gouvernor of poker 3
I buy frequent chests and piggybank spending 100 euro almost every month now
I've bought the piggybank Just yesterday when it was ×2
Today i see it had changed to ×3 so i decided to buy it again even though i had spend my weekly budget Just yesterday .
I MADE A MISTAKE AND ACCIDENTLY BOUGHT THE PIGGYBANK GETTING 5M chips instead of 50M for 25 Euro . Surely you understand that i did not ment to do that. Trying to contact you by the setting in the game gave a very unpleasant feeling making me dont want to play anymore if we cannot resolve this. As a good paying customer and fulltime player of this game i would like see 50M worth of chips added to my account to compensate the purchqse of 25 euro . When i get no response by e-mail of you i Wil not continue playing,
Already left my clan and removed the app from my tablet
I really enjoyed the game and would be dissapointed with no feedback from you otherwise so long
Desired outcome: To be compensated
Youdagames
-
Acheter plus de 2000 euro en 5 mois
Bonsoir j'ai acheter pour plus de 2000 euro de pack dans Gop3 et je perds toujours aucun geste de la part des contacts sur le jeu je trouve ça déplorable. J'ai les preuves de mes achats en captures d'écran.. J'ai encore des photos je rachèterai que si Gop3 fait un geste commercial
Desired outcome: Un geste de votre part car j'achète souvent
Youdagames
-
Governor of Poker 3
Hello, I don't know if I'm on the right page, but I am looking to file a complaint about the game Governor of Poker from Youdagames. I have contacted their technical support with my problem and they are flatly ignoring me. Something rather serious has happened and I was tricked into buying something in the game that ended up being false advertising quite simply to get people to buy it, only to find out (after I purchased it) that it is not in any way that which the advertisment banner calimed it would be. I was conned (BY THE GAME) into pruchasing something for almost 1000 Czech Crowns and I DID NOT GET WHAT THE ADVERTISING BANNER PROMISED. I would therefore like to find someone who will help me get my money back from these people.
Can someone here assist me please? I am ready to provide detailed explanation to what exactly has occured as well as photos. I just need to know if you can help me with this matter. Thank you.
David Sir
Desired outcome: Please contact me with whether or not I am complaining in the right place.
Youdagames
-
governor of poker 3
My name is Todd Fielder I'm from Minnesota USA. I am a leader of a poker team called the real cowboys, I have complained to the game support about not receiving my winnings numerous times to no avail, they so far owe about 10-15 billion in winnings. I go by the name Hondo in the poker app my team is called (Real Cowboys) I have spent up to $10, 000 dollars on this game at least they can do is be fair on my winnings, if I am given my chips I will consider this matter settled, if not I plan to get a attorney and explore my legal options.
Youdagames
-
governor of poker 3
I lost my progress of 2.5 years after the last update.
Since then i keep getting automated messages saying it will be looked at.
Then support stopped replying.
It has been over 3 weeks of frustration, my last reply is that it would be resolved during the past week.
Nothing has been fixed, and i cant access my old profile.
What do i have to do to get an answer or get my profile back?
No one is replying or seeming to help?
Being a VIP+, i thought i might at least get an answer or a resolution?
This review was chosen algorithmically as the most valued customer feedback.
I just purchased this game less than 7 days ago & have yet been able to play it even once. It doesn't seem to be finished loading into my system, it says it is in the reports I've in file but I can't see how if I can't even open much less play it. My e-mail address's [email protected] . I'd like to use what I've paid for. Sincerely, George Schreiner
Read full review
We are here to help
16 years' experience in successful complaint resolution
Each complaint is handled individually by highly qualified experts
Honest and unbiased reviews
Last but not least, all our services are absolutely free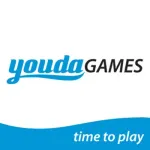 Youdagames contacts