The United States Social Security Administration complaints
44
This review was chosen algorithmically as the most valued customer feedback.
Ms. Clara Jolicouar social security monthly funds have been cut by $300.00, she would like to know why this happened and why she wasn't informed by mail before this happened. And can the money be repaid?
Read full review of The United States Social Security Administration
This review was chosen algorithmically as the most valued customer feedback.
I am the rep payee for my daughter during the start of the pandemic I was told by her case manager that she would be taking care of the reporting of child support through her contact person at the Idaho department of child support. A while after during the reconsideration determination I was notified of a huge overpayment of the SSI I contacted the local...
Read full review of The United States Social Security Administration
This review was chosen algorithmically as the most valued customer feedback.
My name is maria garcia s.S. #[protected] date of birth 10-02-1966 alien no. A021-773-351 drivers lic. G620-[protected] i have been disable since july 9 2021, i was shelter at camillus house shelter there is where i applied for disability because of an anal cancer. I was given a homeland cd with the credencial of my immigration file and prove of legal...
Read full review of The United States Social Security Administration
The United States Social Security Administration
-
Medicare
On March 22, 2022 my husband retired and we both applied for Medicare B as our group insurance coverage ended on that date (I had retired earlier and was covered on his group insurance until his retirement). Forms were sent in with an effective date of 4/1/2022. My husband's Medicare B issued quickly, mine did not. I resubmitted, and then realized I was missing the Employment Verification Form CMS-408 for the dates I carried my own group insurance. Was never informed of the needed form, I figured it out on my own. Resubmitted all materials on 5/18/2022. Did not hear back. Called on 5/23 and was told application was in "payment processing" and would be another 45-60 days. Was told it would be backdated to 4/1/2022. Was also told it would be dated as of issue date. Also learned that both my husband and I (despite all the pertinent information on our applications regarding the termination date of our group insurance) are listed as "Working Elderly" with Medicare secondary to our former group coverage. So at this time I am paying out of pocket for medical bills.
Desired outcome: Medicare B coverage back dated to original start date requested of 4/1/2022. Removal of "Working Elderly" designation so Medicare A and B will be primary.
The United States Social Security Administration
-
Social Security Administration
June 13, 2022

My name is Elvia Sisneros

I called on July 15, 2021 to file for widow's benefits but was told there were no appointments available. I was never called. I was finally able to reach someone after so many calls and the person realized someone else had entered an incorrect telephone number. The phone number was corrected. Again there were still no appointments available.

I kept calling again and again and was finally given an appointment for December 7, 2021. The day before I was supposed to receive the call, I received a message reminding me of the appointment. I now knew my telephone number was correct. The next day, I sat at the table and waited for the call 30 minutes before the appointment and waited 40 minutes afterward in case they were busy and never received the call.

I called several times and the call would drop. I finally called to find out what happened to my appointment and was told, you never answered your phone. I told her I never received the call. If someone did call, they misdialed my number because someone was able to leave me a reminder the previous day.

I finally found a Widow's form online which I filled out all the necessary information and mailed it and my husband's death certificate and our marriage certificate to the local Social Security Office in Albuquerque almost 3 months ago and haven't heard anything from them. A year will have passed around July 15, 2022 since I contacted Social Security.
Desired outcome: I would like to receive my Widow's Benefits as of July 2021.
The United States Social Security Administration
-
Social Security Disability
SS has claimed that I have been overpaid. I have requested a copy of the Social Security payments for 2017 the year they claim to have overpaid me. I have requested these records numerous times both in person at the local office and by letter. Social Security has not provided the requested records. How can SS claim to have overpaid me but not provide any documentation or valid reason for the alleged overpayment? Local office staff is rude, stonewalling, and flat out denying me any information which established any validity to for the alleged overpayment. I have been dealing with this since 2017 with no resolve.
Desired outcome: I want a copy of the requested records. I want Social Security to review and find their mistake because I have not been overpaid but actually underpaid.
The United States Social Security Administration
-
SS Benefits not paid
2 issues

1. DOD triggers living spouse to receive higher of both spouse's payment. This did not occur.

On 5/18 called SS to fix. 90 minutes on the phone. Received confirmation letter and now payment is still wrong. Payment remained living spouse amount of $723 per letter. Not deceased spouse.

Amount should be $1552 (Richard Cole's) amount. Elvera's spouse amount was $723.

Owed for March, April, May and now June

2. DOD 2/28 930pm

This person lived the entire month of February yet the February payment was reversed. That is horrible and a gross miscarriage of justice nor does it abide by the SS rules. SS rule is that the person lived the entire month which is true in this case.

Thank you

Bnc# 22t2283c70958-a

Elvera S Cole
Desired outcome: 1. Payment changed to $1552 effective 3/12. Payment for both spouses for 3/1, March
The United States Social Security Administration
-
Complaints about SSA Office Chicago Heights
Is it possible for an office to turn off the phones service? When I call The office, after dealing with the menu, a message says " All of our representatives are busy, please call back later". The phone hangs up, end of story. How can you contact the office if they turn off the phones. In February 2022, I was angry because after waiting in the phone queue, the phone hangs up. After a few times, it made me angry. I called again and while waiting I said to my wife "These damned stupid people keep hanging up the phone". Do you know that the operator was listening, got angry and said " I heard that, now I will hang up the phone". I told her that I would complain. Obviously, she doesn't care and said " go ahead, make a complaint". Really? Is this how we treat the public. Since the office was closed for COVID-19, You need an appointment. How can you make an appointment when they hang up on you, constantly. I drove to the office and was met by security. At the time, I was applying for benefits. Received a letter stating that I needed to show proof of birth and Social Security number. These are the most important documents that I have. I was not sending them through the mail so that they could be lost. The security office suggested that I leave the documents at the office with all info needed and a return addressed envelope. I asked to have my documents returned in person. Instead, the person that handled the documents called twice, within two hours at the end of the day. How was I supposed to complete my task with that short a period. Needless to say, my documents were mailed backed, even though I requested that they should not. Luckily, they made it. Supposed they hadn't? What troubles would I have to go through to replace these documents. When I applied for benefits, I request for an additional two months pay which would have been 3 month all together. Instead, I received one month. I called the national number, because I couldn't call the local one. Explained everything to a very nice rep. She suggested that I send a Request for Re-Determination or something like that. She said that it would take about two months. Haven't heard anything at all. Like the letter was never mailed. Now, the deadline ended in April. Who's fault is it again? Not mine. I did all that I was asked to do. This has been the most dissatisfying interaction that I have ever had. I need help and I need it badly. This driving me straight into depression, which I do suffer from. Blood pressure going through the roof and I do suffer from High Blood Pressure. Help me, Obi Wan Kanobi, you're my only hope.
Desired outcome: I would like to have the other two months payment. A better way to contact my local office. Reigning in employees that do not do their jobs.
The United States Social Security Administration
-
Social security administration
This complaint is for my SSD that was denied because of my work credits. The application was filed on October of 2021. There is no just cause to represent them in this litigation due to insufficient work history. Several jobs that I received

W-2's for are unaccounted for. The reason being is because there are no evidence of how many times I've filed taxes. Please be aware that producing those W-2's now will cause unsatisfactory work ethics and perjury. Therefore I need to be advised of a recount of my work history credits.
This review was chosen algorithmically as the most valued customer feedback.
It has become a nightmare to contact them. After so many calls, emails and online forms we applied for our babies' SSN cards. I asked who to contact in case we didn't receive them since getting a hold of them was near impossible. They asked us to email them. Email, no answer, online form, no answer. They changed their phone service hours to three days a...
Read full review of The United States Social Security Administration
The United States Social Security Administration
-
Under payment
I called Social Security on Jan 10th, 2022 to file for my benefits, after several calls and long waiting periods. I was told no Social Security representative was available to process my request for benefits someone would call me to get my SS completed. After a few months later I received a text from SSA for a March 3 appt. After waiting 2 months someone call in completed process my claim. If is this not my fault that your office took two months to process my later due to your understaff. I feel penalized due to of Social Security Administration delayed processing my claim, I only received ONE month of benefits. It was explained it would be one month behind, but I called and requested my benefits back in January , I should have been receiving MARCH and APRIL benefits instead of just April.

My first payment should have included March and April, it isn't my fault that they didn't complete the process in January as requested. Due to your office delay in process should not affect my income that is critical needed for my livelihood.
Desired outcome: I should have received my March benefits. My desire income is my March payment 1157.00.
The United States Social Security Administration
-
Denied name change that was ordered by the court
This issue has been ongoing for years both my daughter and I haven't been able to change our names. She has been married since 11/23/20. I've been trying to get my court ordered name change since March. Mine has been denied because the representative didn't like the paperwork I submitted even though it was a certified copy. I have been trying to resubmit another request with additional paperwork and haven't heard back. Both situations are due to a lack of communication on their part. We have both tried to call on several occasions but nobody ever answers after being on hold sometimes for hours.
Desired outcome: My daughter and I need our name changes. She hasn't been able to file her taxes.
The United States Social Security Administration
-
Social security office still closed
My local Social Security Office is still closed to the Public, address 31 Main Street Suite #1 Oneonta NY 13820, and I would like to find out why. My family member needed to pick up a copy of the SSA-1099 Social Security Benefit Statement form so she can complete the paperwork to File her 2021 Taxes. I also have a complaint regarding the Security Officer that works at this location the gentlemen was very rude towards me as well. Can someone please help me in this matter, it will be greatly appreciated. Thank you for your time and cooperation.

Sincerely,

Doria Nogueras
Desired outcome: I would like to receive an email to address: doria.[protected]@aol.com
This review was chosen algorithmically as the most valued customer feedback.
I am writing regarding the fact that all I needed was a name change from the social security office. Now, I need everything. I went to court paid a fee asked a judge and was granted my maiden name back. This was in January. I sent all required paperwork as copies to the Winchester office and was told they were not received. The lady whom I was speaking with...
Read full review of The United States Social Security Administration
The United States Social Security Administration
-
I was issued my 1099 with false information
The 1099 indicates that I received over $15,000 in workers compensation, when in fact, workers compensation terminated 10/26/2020. I submitted the 38911 form that indicates this to be the fact. I was delayed in receiving it, but I did submit it to the office 2/4/2021. This 38911 form hasn't made it to the proper authority in over one year. This not only means the my 1099 is flagrantly false, it also means that my full social security disability benefit has never been restored, and the Social Security Administration withheld over $25,000 of my entitlement, and that amount increases $1053 every month.

I want to send my documents and to proceed. First, I need to know if there are any fees to be applied here.

Thank you
Desired outcome: 1. My benefit to be distributed in the appropriate amount.2. For the administration to issue the amount that they withheld.2. Receive my 1099 reflecting the facts of this matter.
The United States Social Security Administration
-
Unable to reach anyone at the SSA office in Frankfurt, Germany since late 2021
I contacted the SSA office in Frankfurt by means of their online form to report a change of address and request a statement in autumn of 2021. No reply. I contacted them again in February 2022 using their online form for the same reason and still no reply. When I phoned SSA in the US in February 2022, I was told that they could not see my address to verify it and that I would have to contact the office in Frankfurt. I then sent an email from my person email account but never even received an automatic notice of receipt. I would like to know what is wrong at the SSA office in Frankfurt and if it will ever be possible to verify the change of address, get a statement and file for retirement benefits this year. Covid is no longer an excuse. What is wrong in Frankfurt?

If they cannot deal with enqiries and applications, please allow someone at another SSA office to take care of this.
Desired outcome: I would like to be able to speak with a representative to get the information I need and file for retirement benefits.
This review was chosen algorithmically as the most valued customer feedback.
Hello; my name is cheryl dyer my son applied for SSDI back in august of 2021 of which an intake was done over the phone, he was informed at that time that he would receive a packet of information to fill out and return to them. We received the packet of which was pretty lengthy and required obtaining varied information which took some time to obtain. we...
Read full review of The United States Social Security Administration
The United States Social Security Administration
-
calls never returned
I retired from the Bureau of Land Management on 07/01/2021. I was told at that time by BLM HR my Medicare Part B had been filed and was taken care of. I filed for Social Security on 11/01/2021 with a phone appointment. The individual I spoke with said that I had not filed for Medicare Part B and that she was signing me up then and that I would receive a notice in the mail in a few weeks. I had not received a notice by late December and I spoke with the Longview WA SS office and was told that the paperwork had been filed and to be patient about the notice. By the end of January I still had heard nothing and I called the Longview WA SS office to ask what was going on. I was told that Francesca had my file and that I needed to speak with her and was given her extension. I called and left a message on her voice mail. I called 2-3 time a week and left at least one voice mail with my call back number a week for over 3 weeks. I never received a call back. I called the office the week of 02/07/2022 and spoke with a gentleman who looked at my case and told me that the BLM HR had made an error on my paperwork (Form L564) and I had signed where the HR representative was supposed to have signed and that error was the source of the problem and that Francesca would call me by the end of the day. Francesca did not call. I left another voicemail for Francesca 02/11/2022 and once again there was no call back. On 02/16/2022 I called the Longview SS office again and tried to get the name and contact info for the office supervisor or set up a meeting in an attempt to get things resolved. The person I spoke with did not give me that information or agree to a meeting but gave me a link to fill out the form for Part B and assured me that Francesca would call me at 3:30 on 02/17/2022. I filed electronically and dropped off a copy at the Longview SS office drop box with Attention Francesca on the envelope. Once again, Francesca never called.
Desired outcome: I want to know if I am now actually enrolled for Part B. If my filing is late and I am going to be penalized I want the penalty dropped as I have been working in good faith.
This review was chosen algorithmically as the most valued customer feedback.
My wife received her 1099 5 weeks age. I have have not received my 1099. 4 weeks age I called Social Security and requested my 1099. They said it would be sent in 10 days. It has been 2 weeks and I have not received it. Can you EMail me my 1099,
Read full review of The United States Social Security Administration
The United States Social Security Administration
-
the guard at 77 street 17ave building in Brooklyn 11204
i called social security and told them i don't have a printer to print the cms 40-b form.he told me go to the nearest ss building before 12pm on tues, wed, or thurs they will give me one.i went there on 01/12/2022 to get one the nasty guard at the door told me they have no forms i told him i was told they do and i don't have a printer he told me to get away from the door they only handle by appointment only all i wanted was the form i am a customer my taxes pay this [censored]'s salary i don't like being treated like i am dirt these people need a talking too.also i will be contacting my congressmen about this treatment.
Desired outcome: people should be treated with respect and forms should be there to be handed out if people need them.
We are here to help
16 years' experience in successful complaint resolution
Each complaint is handled individually by highly qualified experts
Honest and unbiased reviews
Last but not least, all our services are absolutely free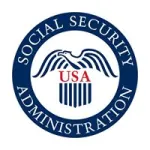 The United States Social Security Administration contacts