Overview of Svelte Media customer experience
Svelte Media is a website that offers training on various web development technologies. However, numerous consumer complaints have surfaced regarding the company. The major problems mentioned include poor-quality content in courses, outdated information, and lack of responsiveness from customer service. Furthermore, some users have reported issues such as difficulty accessing course material and unspecified technical difficulties while using the platform. Overall, it appears that Svelte Media fails to live up to its promise of delivering quality web development training and falls short in terms of customer support.
Svelte Media complaints
2
Newest Svelte Media complaints
While ordering the product it requested me to check mark for an online subscription without saying with the online subscription was or the cost
While ordering the product it requested me to check mark for an online subscription without saying with the online subscription was or the cost of that online subscription. I had already purchased a product for $29. without check marking the subscription you couldn't go any further or be allowed to use what you had just purchased for the $29. so being forced to check mark the subscription to move on to the next step I had this bad feeling we were going to get charged for something more. I was correct they charge me an additional $50 some a week later. I don't think it's right that you're forced into a subscription after paying for something already based on advertisement. Then hiding what the subscription was on top of it. And then being forced to enter into a subscription to use what you had already purchased. on top of that the website was completely unorganized and you have to download everything and figure it out yourself. Virologist not pleased with all of the back research needed when based on advertising it was supposed to be video workouts. Instead I got a lot of information I'd have to research on and a couple of videos that I could use and that was it, and based on the advertisement it was only supposed to take 7 minutes of your time. six different books, a couple of videos, and a very disorganized website is not seven minutes of your time. Product_Or_Service: Online content Order_Number: XXXXXX
The complaint has been investigated and resolved to the customer's satisfaction.
Svelte Media has left an official reply on this complaint.
Problems getting accurate information regarding my account
Problems getting accurate information regarding my account. Continued to be charged even after cancellation. First of all, they hook you in with this "free trial", or try for $29 for 14 days of various one minute workouts. It's a great way to start your morning or if you are trying to get back into shape. But then they want you to pay $49 a month to continue to view the SAME 14 workouts that you already did in the free trial. Really?! Give me a break! If you don't cancel immediately then you will be charged $49. I thought if I purchased the Svelte Life Series it would be different- nope- same shady program. A limited amount of workouts that you can view whenever you want but nothing new- oh and you get to be part of some Facebook group- wow. So I canceled this program. Through emails, through phone calls- apparently - they didn't understand when I said I wanted to stop all subscriptions or programs I purchased. They continued to bill me for three months. AThe customer representatives were not helpful- they said I was wrong and had no charges on my account and all funds were put back. Not true. I called I called my bank and they said, "ya - you definitely have been getting charged." I continued to have frustrating arguments with costumer service saying I was wrong and emails saying all charges were refunded. This was complete bull. I had to call my bank again and had to file a claim. If you are considering trying this company- DON'T- it's not worth the time or hassle after you cancel. Poor product, poor service- would not recommend to my worst enemy.
Resolved
The complaint has been investigated and resolved to the customer's satisfaction.
Is Svelte Media legit?
Svelte Media earns 93% level of Trustworthiness
SAFETY NOTICE: ComplaintsBoard has analyzed Svelte Media and determined that it has perfect credibility and is completely trustworthy, with a legitimacy rating of 93%.
We found clear and detailed contact information for Svelte Media. The company provides a physical address, phone number, and 2 emails, as well as 4 social media accounts. This demonstrates a commitment to customer service and transparency, which is a positive sign for building trust with customers.
Svelte Media has received 2 positive reviews on our site. This is a good sign and indicates a safe and reliable experience for customers who choose to work with the company.
Sveltetraining.com has a valid SSL certificate, which indicates that the website is secure and trustworthy. Look for the padlock icon in the browser and the "https" prefix in the URL to confirm that the website is using SSL.
Our scan shows Svelte Media website is free from malware and phishing activities, which are types of online threats that can include viruses, worms, Trojan horses, ransomware, and other malicious code, as social engineering tactics used to trick users into sharing their personal information.
Sveltetraining.com has been deemed safe to visit, as it is protected by a cloud-based cybersecurity solution that uses the Domain Name System (DNS) to help protect networks from online threats.
We looked up Svelte Media and found that the website is receiving a high amount of traffic. This could be a sign of a popular and trustworthy website, but it is still important to exercise caution and verify the legitimacy of the site before sharing any personal or financial information
However ComplaintsBoard has detected that:
Svelte Media protects their ownership data, a common and legal practice. However, from our perspective, this lack of transparency can impede trust and accountability, which are essential for establishing a credible and respected business entity.
We conducted a search on social media and found several negative reviews related to Svelte Media. These reviews may indicate issues with the company's products, services, or customer support. It is important to thoroughly research the company and its offerings before making any purchases to avoid any potential risks.
Our Conclusive Verdict: After a thorough evaluation of this company, we highly recommend doing business with them. Our assessment shows that they are trustworthy, reliable, and committed to providing a safe and secure experience for their customers.
Collect Your Trust Badge
Be recognized for outstanding customer service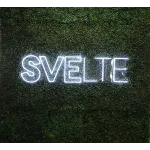 Svelte Media

contacts
We are here to help
19 years' experience in successful complaint resolution
Each complaint is handled individually by highly qualified experts
Honest and unbiased reviews
Last but not least, all our services are absolutely free