Suddenlink Communications complaints
809
Suddenlink Communications
-
will not let us out of a business contract when they do not provide service at new address
We connected suddenlink service with our business november 2015. They owner of the building that we rent, sold the building and we had to move. I called suddenlink to transfer the service on december 20, 2016 and "veronica" sent me a form to fill out and I emailed the form back to her. Suddenlink, "nekisha" emailed me back on december 21, 2016 and said they did not have "a cable plant" at the new address and could not provide us service. I found out that att uverse handled that area and connected service with att. I emailed "veronica" on december 29, 2016 and asked her to make sure they disconnected the service on the 30th, as requested on the form I emailed her, and she did not respond to my email. So I called suddenlink back to make sure that they disconnected the service at the old address. "olga" informed me that we had a 36 month contract and had to pay out the remaining 23 months of the contract. I explained that we tried to transfer the service and suddenlink said they did not provide service at the new address and she said that did not matter because I signed a contract. She also said she would not disconnect the service until the next billing date? Even though new owners were moving their business in the building. She said I had an option to find someone to "take over the contract". Well I don't work for suddenlink and that is not my job. I asked her if they could keep the number on at their central office and we could keep the number forwarded to the new business number (And we would pay for that service) and she said no. I asked her if we could have a recording put on the number after it is disconnected to refer customers to the new number and she said they did not offer that either. This does not even seem like this could be legal. I tried to get the service transfered and they could not hold up their end. When I asked for a supervisor she advised me to call the number I called her on, so I asked for his name and email and she said she could not give me his email address. Suddenlink is supposed to be a reputable business, but I am finding out they are not. I would advise anyone thinking about using suddenlink to look for service elsewhere! The customer service lady, "olga", was rude and did not care about the situation we were in. We have about 500 people that we are in contact with through our business and I will make it my mission to make sure no one uses suddenlink. The only remedy to this problem is for suddenlink to disconnect my service now as I originally asked and terminate the contract since they could not provide me with service at my new business address. Here is the email that was sent to me advising me suddenlink could not provide me service at the new address:
Hi,
The address 1212 n bryan dr, is not serviceable. Per the tech there is no cable plant. We will not be able to transfer the service to the address.

Thanks,
Nekisha williams
Suddenlink business
1-800-490-9604

Client # 100-7025151-03
Sonya moon
[email protected] com
Suddenlink Communications
-
service charge for my elderly mother.
I have a double whammy with suddenlink. First of, its these new boxes. A piece of junk. I hooked them up and called customer service to help me because our tv would not get one of the three channels that my mother watch. She is on fixed income but yet her only entertainment is television because she has dementia. She is stall charged over 100.00 for those three channels. They need a senior citizen package. But the problem is that I called 3 times to get help with our channel six and had problems with the volume getting adjusted. It was making a sizzling sound. The ladies tried to help me but could not. My local office gave me the 800 number to call if we needed help. When they couldn't, she said she would send a tech out to help. One came and tried to adjust the volume but couldn't and said the channels will soon come in. Next day same thing. Another tech came out. He was there for 4 minutes. Looked at the tv and said nothing could be done about that sizzling sound. That is poor quality for the price we have to pay for cable. Oh yeah, the other kicker is that when I called back, some lady name Carrie (17754) said I was not on my mother's account and said she would not give me any information on her account. I told her I was because two techs had already came out. I told her that she was wrong. She insisted that I was wrong and we went back and forth. I put my mother on the phone for her to give Carrie permission. Now Carrie asked my mother for an access id. Now keep in mind, my mother has dementia. She don't even know my name most of the time so how do Carrie expect her to know an access number? This woman was short of some cards to complete a deck. She said she was putting something in the system to let everyone know NOT to give me information. I asked her what else could my mother give her for id anus she said only the access number. I hung up and got my mother dressed and took her to our local cable company and checked to see if I was on her account. Lo and behold, I was and had been for years. Carrie (17754) owes my mother and I an apology. Now to put the icing on the cake, I got my cable bill and they charged my mother 100.00 for two service calls. I called and spoke to Travis (035729) who must have been Carrie's brother because he was just as rude as she was. He reluctantly gave me his number. I explained to him that I was not told that I would be charged for those men coming out for a matter of minutes. If I was disclosed that upfront, I would have told them to keep their butts at home. They did nothing anyway. I was getting nowhere with him either. I asked to speak to someone above his pay grade. He said his supervisor will call me. Guess what? I am still waiting on that call.
Suddenlink Communications
-
vip package / expensive bill / your equipment not enough for my package.
I have been a customer for about 6 yrs. I continue haveing issues anytime I bundle the packages. These issues happened in 2014. I canceled my services and moved. Then at the beginning of the year I paid off my balance and got new service. The bills have been an issue every month. I have to call in several time a week for tech support. I have had several techs out to my property and they tried to charge me even though it was an issue with your equipment and techs said they were stumped. I finnaly got another tech out to the house and he said it was because I was on the 200mb plan the router provided by suddenlink was only capable of 100mb. How can suddenlink charge me for services that they arent even providing me. So I stopped payig the bill and told them to cancel my services. They said they can not cancel services until the balance is corrected. Now I have been charged for 2 months of services that I could not even use.
Suddenlink Communications
-
suddenlink internet billing
My name is Rebecca Richter (nee Whitehead) I think it is really dumb that you can't put down a payment of a small fee when your bill is past due, people are not made of money and struggling, I have to my internet I don't mind paying but I think we should able to put at 50 on our bill and it not get cut off, whoever came up with that rule or whatever is dumb, that is not good business, I have been using ya'll for years but it is really not right that we have to pay a large amount to keep from getting cut off, even if it's a small amount ya'll are still getting money, so what the hell. that is dumb!
Suddenlink Communications
-
cable tv/internet
I recently requested a service disconnect due to moving. The Suddenlink rep told me that I would be charged for the entire month (per notification on previous billing) rather than a pro-rated charge based on use. How greedy can you be? Well, I have made an offer to pay for the service I actually used or pay nothing at all. Two can play this game. Report it to the credit bureau and I will dispute it and sue the company for failure to communicate effectively. :)
This review was chosen algorithmically as the most valued customer feedback.
A few months ago I called suddenlink to ask what Internet services they provided and I spoke with a gentleman and he told me I would get 50 mbps and unlimited service I was happy with that because my current service said it would be fast enough for a family of 4 and 2 gamers and it was no where near fast enough so I ordered this and when we got to the end...
Read full review of Suddenlink Communications
Suddenlink Communications
-
billing
This week we were late on a payment due for internet service due to being out of town... no big deal we made a couple of payments monday and wednesday over the phone and service was to be reconnected. When I called back to verify when it would be turned back on. The rep stated Im sorry but its been cancelled. due to a debt was just discovered of $380 from 2011 for unreturned equipment. WTH?! First off the equipment was returned due to switching to dish for the TV service. and they had no problem creating an account 3 -4 years ago with no mention of this accusation. We were so pissed we demanded our late fees be refunded since there was no way we would pay a false accusation of $380 owed. The problem here is that how can we prove it, that someone at suddenlink didnt check in the equipment properly. Today I called to complain and have an investigation put on the equipment. side note the account is under my wife's name so the rep this morning stated I was not authorized to discuss this account but I had just spent quite a bit of time earlier in the week talking to reps about this acct restoring the service and they had no problem taking payments but now that I need something looked at I am not authorized ? That is just not right. My wife is too frustrated to wait and listen to that ridiculous hold advertisement and then speak to someone who is following a script and doesn't care. We are screwed because there arent many choices for internet service in this area. I think we may just decide to not deal with suddenlink with this matter or anything else again. Disappointed...
Suddenlink Communications
-
internet service
Potential Suddenlink internet customers, beware. If you sign up for their discounted internet plan, they are happy to receive as a customer. The deceiving trick they use in order not to uphold their agreement is really sly. When the installer arrives to your home and begins the instalation, he or she will ask if you want free tv for a month at no obligation. You will be told at the end of the month just to contact your local office and tell them you do not want the tv service and it will be disconnected at no charge. Now, here is the sly part, according to the local office, once you had the free tv installed, it breaks the original agreement for the discounted internet service and your bill nearly doubles. After four attempts
to remedy this situation, the manager promised she would call. That was two months ago. Still no call I just wonder how high up the ladder this scam goes. I think it would just be nice if a company would honor their what they advertise. One very dissapointed suddenlink customer.
This review was chosen algorithmically as the most valued customer feedback.
Up and down service for 2 months. From my modem and all new lines to the street has been replaced and still the problem persists. One day it went up and down 19 times. Today 10 times. They replaced the amplifiers on the street. My tap and drop. Meanwhile their bill comes and I pay. Never a mention of an adjustment for my poor poor service. I want to sell my...
Read full review of Suddenlink Communications
This review was chosen algorithmically as the most valued customer feedback.
Terrible Cable TV service! Terrible Internet service as well! Nonexistent customer service! The audio completely disappears from Cable TV and the subscriber must change channels then return to the original channel in order to get the audio to return. The video frequently freezes as well. This destroys the continuity of all cable programming. The Internet...
Read full review of Suddenlink Communications
Suddenlink Communications
-
cable tv/internet
Suddenstink! That's what we call it in no. Cal. Suddenstink is a company that acts like a two year old that keeps pooping in it's pants. The internet service and cable tv signal are so poor that we have a suddenstink bandit that goes around cutting the fiber optic cable. No worries, the service doesn't work half the time anyway. I pay my landlord $24/mo. For basic cable and as of april 1, I pay suddenstink and additional $80/mo. For internet, hbo and encore. I still have the free analog converter that they gave me years ago but as of april 1, they are now charging me for the free analog box @ $7/mo. A year ago I was paying $67/mo. For my services. Now I have fewer channels and old equipment and I pay $80/mo. Suddenstink took away all the viacom channels last year i. E. Comedy central, mtv, vh-1... And replaced those channels with glenn beck. Cable tv has constant audio cut outs (You have to change the channel then go back to the original channel to get the audio to return) and constant freezing of cable tv video. When I try to log on to the internet I get a server not found error and a yellow triangle symbol with a black exclamation point inside of it. My previous provider was cox cable. Terrible service but friendly people. Suddenstink bought them out and the last 10 years I have been with suddenstink. I've never missed a payment during my 13 years at this address and all I get from suddenstink is terrible service and terrible people!
Suddenlink Communications
-
customer service
This is by far the WORST company I have ever dealt with. Their customer Service is pathetic, you cant even call it customer service. I called today to disconnect my services. I asked if a representative could call be because I didnt have time to wait on hold, they said "No, our reps dont make calls" which is a lie because I receive calls from their reps ALL the time! After being transferred 4 times I was put on hold for over 15 minutes, actually it may even be longer than that because I am still on hold while I write this... My phone now says I've been waiting 20 minutes! This is absolutely unacceptable! Stay away from this company, they dont care about their customers and you will waste your time and money!

Still on hold by the way...
Suddenlink Communications
-
cable internet
I was a loyal customer to Suddenlink for almost 2 years. I recently moved and I turned my box in 10/31/2015. I asked if I owed anything and he said that I had a refund due and it can take 30 days for me to receive it. I gave him my forwarding address for the check. In late December I called because I didn't receive the check. The clerk advised me the check was processed and mailed on 12/17/15. I waited until 1/19/16 to call about the check and I spoke with Trina. She said the check was issued and she confirmed my address. I asked her to have them send me another check because there is no way it takes over 30 days to get a letter in the mail. I mailed letters overseas that arrived sooner that. She advised me she would reissue the check. I called again to ask about my check on 1/28/16 and spoke with Trina again. She said that it didn't get there because it didn't have my apt number. Before I could confront her on that she transferred me and still had music playing in the background. I spoke with Bennie and he stated the only check he saw mailed was on 12/17/15 and he only saw a refund inquiry on 1/19/16. He said he could not tell if a request was put in to reissue the check which means to me it wasn't done. Then he said the first check was mailed to my old address. Not sure how that error was made because I gave them my new address when I turned in my box and I confirmed my new address every time I called. This company makes millions of dollars and they can't send me a refund check for an overpayment. It wasn't their money to keep. Funny they will send people to collections for not paying them but when they owe they don't think it's necessary to pay me MY money. Horrible customer service. If you want extra channels or Internet find another way not Suddenlink.
This review was chosen algorithmically as the most valued customer feedback.
I have had $756 hustled out of me by Suddenlink.The issue started 11/2014 where my service would go out almost daily.The webpages would be blank or have error messages, saying your server isn't responding.Fast forward to 1/7/2016, I finally filed a complaint, and this is when Suddenlink's memory same to come back, again.They claim that they wasn't aware of...
Read full review of Suddenlink Communications
Suddenlink Communications
-
internet service
We have had Suddenlink as out internet provider for over 2 years now & we have had nothing but problems. Our internet service will go down even if there is a chance of rain & it always takes several days for them to restore service. It's ridiculous! I'm tired of paying $100.00+ every month & not receiving reliable service. After 2 years of complaints, you would think they would make their service better. After reading up on other complaints, I know it's not just me having this issue. It's time to find a more reliable internet provider. Enough is enough!
Suddenlink Communications
-
cable tv
Ever since they changed to digital, I'm on the phone because either on one, two or both of my TV's are out. They have sent techs out, fixed it on the phone with me only to have it work for one day or only for a few hours! This is unreal and has my blood boiling! Now someone is coming out AGAIN tomorrow, and I have to go without TV all night once again! I have never in my life seen such incompetence in a company! I am going to talk to my lawyer next to see if something can be done about it, if it isn't resolved immediately! This is ridiculous!
Suddenlink Communications
-
data usage
Bunch of BS now capping data I was never notified after 10 years being unlimited. Now 2 weeks into billing say I am at limit. well I use it for work and kids do xbox live so now what do you do. In this day and age everything is web based and they are just rippng us all off. I will be figuring something ou and dropping these crooks.
This review was chosen algorithmically as the most valued customer feedback.
Tech deceived me to go into my garage to show him the "attic access" (because I always closely watch strangers in the house), and then, whilst I was still in the garage waiting for him to return there from a trip to his vehicle, he re-entered the house (room) through the front door in order to temp. be in the room alone in order to temp. sabotage an HDTV...
Read full review of Suddenlink Communications
Suddenlink Communications
-
won't fix problem
I have been having problems with internet service for over a month. I have made numerous calls to suddenlink. They sent two different techs out but the problem still persists. The internet goes off several times a day. One tech replaced my modem with their upgraded modem. Suddenlink's modem didn't even last a week before it went completely dead. I called suddenlink and was told an agent would call me back to schedule an appointment for a tech. No one ever called me back. I called suddenlink and was told their system wouldn't let them schedule a tech appointment. They didn't care that their piece of junk modem didn't even last a week. I still have a dead modem and no appointment.
Suddenlink Communications
-
data allocations
At the end of 2014, Suddenlink heavily promoted new "FREE" speed upgrades for all its customers in this area. All we had to do was go pick up a new modem from the Suddenlink store in the mall. Three months later, while investigating an internet outage with technical support, the support rep matter-of-factly states that I've used up my "data allowances" of 250GB. I was stunned. Although he claimed I was "clearly informed in this change in service policy", I accuse Suddenlink of doing everything possible to hide this from users. In fact, searching their web site you will NOT find any mention of data allocations, nor any link from their home page to any mention of data allowances. On the page where they present available service options, not one mention of data allowances. In fact, they tout their 75Mbps service as being "great for streaming television and movies" but make no mention of the fact that you have a LIMIT to how much you can stream. At the bottom of that page, in small type (11.8999996185303px to be exact) is a link to "Disclaimers". On that disclaimers page, slightly less than halfway down the page in 12px type are the words: "Includes a monthly bandwidth allowance." No description of WHAT those allowances are, how they differ from plan to plan...nothing.
We are here to help
16 years' experience in successful complaint resolution
Each complaint is handled individually by highly qualified experts
Honest and unbiased reviews
Last but not least, all our services are absolutely free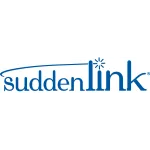 Suddenlink Communications contacts