Newest Gear-up.me reviews & complaints
Fraud
I have experienced fraud in dealing with Gear-up. I purchased a Samsung kiosk which comes in a screen + connection box.

What they send is only screen.

Upon raising a complaint about the missing box, they tried saying the price is for screen only. I produced their link through which I made the purchase. Nowhere on they could point out that it's a screen only price. Entire catalogue and link shows picture of screen and connection box.

I would urge buyers to stay away from the fraudster company. I am taking this company legal anyways.
Laptop bought in the uae delivered with european charger
Very bad customer service. They promised to send a charger compatible to UAE but nothing received.

Their terms and conditions for the return and refund have extensive constraints (e.g. They charge you 20% of the product price if you return it even sealed). Take home lesson: Do not buy again from this company.
Ge Profile Induction Range
Our 4-5 year old induction range can no longer be left turned on. After each use we have to go to breaker box and flip stove to off. Otherwise we get an F50 error and it starts beeping. We tried numerous times calling and left call back request with no return calls. We did have a repair person come out but were told repair would be at least 1k and since GE never fixed the board issue it will just happen again. We have had this issue dince year 1 but it was sporadic then. Now if left on it happens in less than 12 hours. Highly dissatisfied customer.
Desired outcome: Replace the defective board at no cost
Is Gear-up.me legit?
Gear-up.me earns 41% level of Trustworthiness
SAFETY ADVISORY: ComplaintsBoard has reviewed Gear-up.me and found it to have a moderate level of trust, with a legitimacy rating that is more or less around 41%.
Gear-up.me protects their ownership data, a common and legal practice. However, from our perspective, this lack of transparency can impede trust and accountability, which are essential for establishing a credible and respected business entity.
However ComplaintsBoard has detected that:
We found clear and detailed contact information for Gear-up.me. The company provides a physical address, 2 phone numbers, and 2 emails, as well as 2 social media accounts. This demonstrates a commitment to customer service and transparency, which is a positive sign for building trust with customers.
The age of Gear-up.me's domain suggests that they have had sufficient time to establish a reputation as a reliable source of information and services. This can provide reassurance to potential customers seeking quality products or services.
Gear-up.me has a valid SSL certificate, while Scammers can obtain a valid SSL certificate by using fake information or by using a stolen or hijacked domain. In some cases, they may even use a certificate issued to another legitimate website.
Several positive reviews for Gear-up.me have been found on various review sites. While this may be a good sign, it is important to approach these reviews with caution and consider the possibility of fake or biased reviews.
We looked up Gear-up.me and found that the website is receiving a high amount of traffic. This could be a sign of a popular and trustworthy website, but it is still important to exercise caution and verify the legitimacy of the site before sharing any personal or financial information
Our Conclusive Verdict: Gear-up.me of trustworthiness is neither good nor bad, but falls somewhere in between. We advise proceeding with caution and being mindful of any potential risks when using their services.
Monitor - b grade at best
Bought a quite expensive monitor - but on arrival the bezel was wonky and the picture had a dark shadow in the centre. Contacted them but they wont simply replace - they want to claim on the manufacturer warranty! What after a few days?! They have no returns policy - if its broken when delivered its your problem and not theirs. Dont buy anything from these guys that is expensive. They want pictures and videos and then they decide and then they will contact the warranty people etc... A good company should simply replace within a week of delivery. Really shoddy... Considering that the things they sell are high priced items avoid at all costs.
Gear-up is just scam
Bought a mouse from this site and it arrived in a terrible condition and was completely broken. I was shocked when I opened the package and saw what happened with my mouse. I contacted Gear-up customer care and they said they'll ship me a replacement. I did not believe them because that was too good to be true, and I was so right. Next time I contacted them they claimed they already shipped another mouse and said it'll be here any time soon. That never happened. Unfortunately Gear-up is just scam, don't buy from them.
They refused to repair defective items
I will never again order from the website www.gear-up.me. I bought some items from them, but the seller decided to fool me. I received the defective items. Nothing worked. I contacted the online chat agent, but he refused to take these items back for the change or repair. He told me that their technicians would be able to repair these things. It was really unexpectedly and inappropriate for such big company.
They still haven't sent me new graphic card
I ordered graphic card from the company www.gear-up.me. I got it on time, but it was defective and of course nothing worked. I returned it back to the seller, but this scammer started to ignore me and hasn't provided any help at all. It was 3 months already since I have returned the order, but still no sign of the new graphic card. Total fraud and awful customer services. Spread this info.
Agents and seller don't help
I bought processor from www.gear-up.me. I got all confirmation info and receipt, and the delivery was on time, but the seller provided damaged processor and I thought that no one checked it. I spoke with online chat agent and sent them emails, but they only promised to contact the manufacturer and help me to change it. I called them for several times, but they only promised to help. They are useless, so better avoid them or you will lose money. Share this info and post comments about your experience with them.
Collect Your Trust Badge
Be recognized for outstanding customer service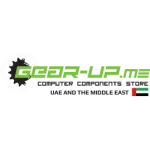 Gear-up.me

contacts
We are here to help
19 years' experience in successful complaint resolution
Each complaint is handled individually by highly qualified experts
Honest and unbiased reviews
Last but not least, all our services are absolutely free