Overview of Galanz Inc. (North America) customer experience
Galanz Inc. (North America) has received numerous complaints from consumers regarding their products and services. Customers have reported issues with the quality of their products, including malfunctioning microwaves and refrigerators. Many have also expressed frustration with the company's customer service, citing long wait times and unhelpful representatives. Additionally, some customers have reported difficulty finding replacement parts for their Galanz appliances. Overall, Galanz Inc. (North America) has a poor reputation among consumers and should be approached with caution.
Galanz Inc. (North America) complaints
4
Newest Galanz Inc. (North America) reviews & complaints
Fridge/freezer
SCAM. GALANZ IS A SCAM. Anything goes wrong and they do not reimburse as their warranty document clearly states. I am owed 891 USD and my costs and NOONE takes responsibility to ensure money is paid back for faulty goods. I am never able to speak with Billings/Finance as it seems all correspondence is done internally, in 5 months, 9 internal emails have been sent and when I have been given dates of a cheque (who uses cheques nowadays)being sent to me, this has never happened. In my opinion this company is a SCAM
Claimed loss: 891 USD. Plus 18 months of my time and money
Desired outcome: Reimbursement
customer service and refund
I bought a small refrigerator for my office, at target and it went out 6 months after purchase. Contacted Galanz company back in February 2023 for replacement but was told they couldn't replace it that I would get a refund instead. Ever since that they I've called numerous times, and they keep on saying they mailed the check then I call again and say something else. The thing is that it's been eight months, and I still haven't received a refund. Now October 2023 I've called several times to speak to supervisors which I have talked to before to ask what's going on but now, I get put on hold for over 20min and no one come to the phone. I was getting the run around but now I won't get an answer once i get transferred to another person.
Desired outcome: want a refund.
We got a microwave from Galanz Inc
We got a microwave from Galanz Inc. (North America) for $139.99 on 11/31. But it stopped working in June 2022. They said they'd fix it for free for a year, but they wanted us to send them the proof of purchase, the serial number, and the plug part of the power cord. We sent it all to them, but they said they didn't get it even though we sent it with priority mail and had proof of delivery. We asked them about our refund after 6 weeks, but they still said they didn't get it. They asked for a picture of the machine and the tracking number, but we didn't have the machine anymore. We sent them pictures of the labels on the back of the machine and the tracking number, but they haven't said anything since then. It's been 12 weeks since they got our package, and they're not honoring their warranty. Please help us get them to do what they said they would. Here are the documents we sent them. Thanks for your help.
Is Galanz Inc. (North America) legit?
Galanz Inc. (North America) earns 68% level of Trustworthiness
SAFETY NOTICE: Complaints Board has determined that Galanz Inc. (North America) has a very good credibility, and is mostly trustworthy with minor reservations, with a legitimacy rating that is more or less around 68%.
We found clear and detailed contact information for Galanz Inc. (North America). The company provides a physical address, phone number, and email, as well as 2 social media accounts. This demonstrates a commitment to customer service and transparency, which is a positive sign for building trust with customers.
Galanz Inc. (North America) has claimed the domain name for galanz.com for a long time, which suggests that the website is established and has a history of being in operation. This is a positive sign, as it indicates that the website has been around for a while and may have a reputation to maintain.
Galanz.com has a valid SSL certificate, which indicates that the website is secure and trustworthy. Look for the padlock icon in the browser and the "https" prefix in the URL to confirm that the website is using SSL.
Our scan shows Galanz Inc. (North America) website is free from malware and phishing activities, which are types of online threats that can include viruses, worms, Trojan horses, ransomware, and other malicious code, as social engineering tactics used to trick users into sharing their personal information.
Galanz.com has been deemed safe to visit, as it is protected by a cloud-based cybersecurity solution that uses the Domain Name System (DNS) to help protect networks from online threats.
However ComplaintsBoard has detected that:
Galanz Inc. (North America) protects their ownership data, a common and legal practice. However, from our perspective, this lack of transparency can impede trust and accountability, which are essential for establishing a credible and respected business entity.
The website belonging to Galanz Inc. (North America) has a low number of visitors, which could be a red flag for users. However, it's important to conduct additional research to fully evaluate the website's legitimacy and trustworthiness.
We found that the website Galanz Inc. (North America) is based in a high-risk country and appears to be selling well-known brands at unusually low prices. This could be a sign of potential fraud or counterfeit products.
We conducted a search on social media and found several negative reviews related to Galanz Inc. (North America). These reviews may indicate issues with the company's products, services, or customer support. It is important to thoroughly research the company and its offerings before making any purchases to avoid any potential risks.
Our Conclusive Verdict: Galanz Inc. (North America) is generally a safe and reliable company to do business with. However, we advise that you exercise caution and thoroughly read all complaints and reviews before providing personal or financial details.
I emailed Galanz Inc
I emailed Galanz Inc. on December 17, 2022 to let them know that I was missing five screws for a door handle on my new fridge. They asked for my receipt, which I sent, and gave me a ticket number. I never heard back from them, so I emailed them again on February 13, 2022 for an update. They responded the next day saying they didn't have an update and didn't give me a timeline. I emailed them again on February *** to ask for the name/model of the screws I needed, but they never responded. On May 8, I emailed them again and asked for a resolution ASAP. I called the service area, but they couldn't help me either. I followed up on May 12 and they said they would let me know when the parts were sent out, but that never happened. I emailed them again on August 20 and they encouraged me to return the fridge to the store, even though I've had it for almost 8 months. I can't remove the fridge since it's in my basement and all I need are five screws. I emailed them again on August 22 and October 13, 2022, but they still don't have an update. It's been almost a year and I can't find replacements at hardware stores. I've included screenshots of all the emails.
Collect Your Trust Badge
Be recognized for outstanding customer service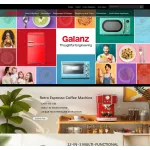 Galanz Inc. (North America)

contacts
We are here to help
19 years' experience in successful complaint resolution
Each complaint is handled individually by highly qualified experts
Honest and unbiased reviews
Last but not least, all our services are absolutely free