Overview of Cheap Tickets Deal customer experience
CheapTicketsDeal.com has received numerous negative reviews from customers regarding many issues. These include poor customer service, hidden fees, misleading information, and difficulty processing refunds. Customers have reported being charged additional fees without their knowledge or consent, and having trouble accessing their booked flights. Many customers have also reported being given false information about their flights, such as incorrect departure and arrival times. Refunds have been a particular problem, with some customers having to wait extended periods to receive their money back. Overall, CheapTicketsDeal.com has failed to live up to consumer expectations, leading to widespread dissatisfaction among its customers.
Cheap Tickets Deal complaints
3
Newest Cheap Tickets Deal complaints
Unprofessional and Disrespectful: My Experience with Cheap Tickets Deal
I recently had a negative experience with Cheap Tickets Deal (cheapticketsdeal.com) that left me feeling frustrated and dismayed. At first, I was excited to find what I thought was a great deal on plane tickets through their website. However, my excitement quickly turned to disappointment when they failed to honor the quoted prices.

Not only did they quote me a price for the tickets, but they took my credit card information and sent a confirmation that my order had been processed. I eagerly awaited the arrival of my tickets, but was told repeatedly that they were on their way.

To my shock and dismay, four days later I received word from Cheap Tickets Deal that they were reneging on the deal and would not be selling me the tickets at the quoted price. This left me frustrated and upset, as I had already made plans based on the assumption that I would be able to purchase the tickets at the advertised rate.

To make matters worse, when I tried to reach out to customer service for assistance, I was met with anti-Semitic comments that left me feeling demeaned and disrespected. This completely unacceptable behavior only added insult to injury and made me regret ever doing business with this company.

Overall, my experience with Cheap Tickets Deal was incredibly disappointing and unprofessional. I would caution anyone against using their services, as it seems that the company is not committed to honoring their advertised prices or treating their customers with respect and dignity.
Unreliable and Scammy: My Experience with Cheap Tickets Deal
I recently stumbled upon Cheap Tickets Deal (cheapticketsdeal.com) and was initially drawn in by the seemingly amazing deals they were offering. However, before booking anything, I decided to do some research and read through the reviews left by other customers. I have to say, I was quite alarmed by what I read. Many people shared their negative experiences with ordering tickets or services through the website and even went so far as to say that they felt they had been scammed. At first, I was skeptical - I mean, surely not everyone could have had such a terrible experience with this company? However, after taking the risk of booking through them, I quickly realized that the negative reviews were not exaggerating.

One of the big issues that many reviewers mentioned was that they were charged significantly more for their tickets or services than they expected to be. Some even reported that their credit card information was used fraudulently after making a purchase through Cheap Tickets Deal. This is a major red flag that no customer wants to experience! Another common complaint was that the customer service provided by the company was non-existent. People reported trying to contact the company to ask about their orders or to register a complaint, but never receiving a response. This is incredibly frustrating, and left many customers feeling helpless and ignored.

Personally, I would never recommend Cheap Tickets Deal to anyone. Even though they may be listed on popular travel comparison sites like Momondo, that does not necessarily mean they are trustworthy or reliable. After my own negative experience, I am inclined to believe the other reviews out there and urge anyone looking to book travel or services to steer clear of this company. There are plenty of other options out there that offer better prices, more reliable service, and greater transparency. Don't fall for the Cheap Tickets Deal trap!
Review: Cheap Tickets Deal Fails to Issue Refund for Cancelled Flight After 10 Months
Unfortunately, it appears that there have been some challenges with Cheap Tickets Deal (cheapticketsdeal.com) when it comes to refunding customers for cancelled flights. It's been nearly ten months since one individual's flight was cancelled by the airline, and the refund has yet to be issued by Cheapticketsdeal. The airline itself returned the funds to this company nearly six months ago, which is understandably concerning for the customer who has been waiting for their refund. This situation has resulted in the individual spending over 40 hours on the phone with the company in an attempt to rectify the situation, but to no avail. Given this experience, it seems that it may be best to avoid this particular company in the future. While we all understand that issues can arise in the travel industry, it's important to prioritize transparency and timely communication with customers to mitigate any challenges that may arise.
Is Cheap Tickets Deal legit?
Cheap Tickets Deal earns 35% level of Trustworthiness
SAFETY ALERT: Our evaluation of Cheap Tickets Deal found a legitimacy rating indicating a low level of trustworthiness at 35%.
Exercise caution when using cheapticketsdeal.com as it may have lower quality content or a poor user experience, leading to fewer visitors and lower traffic.
Cheap Tickets Deal protects their ownership data, a common and legal practice. However, from our perspective, this lack of transparency can impede trust and accountability, which are essential for establishing a credible and respected business entity.
However ComplaintsBoard has detected that:
Cheap Tickets Deal has received 5 positive reviews on our site. This is a good sign and indicates a safe and reliable experience for customers who choose to work with the company.
Cheap Tickets Deal has registered the domain name for cheapticketsdeal.com for more than one year, which may indicate stability and longevity.
Cheapticketsdeal.com has a valid SSL certificate, while Scammers can obtain a valid SSL certificate by using fake information or by using a stolen or hijacked domain. In some cases, they may even use a certificate issued to another legitimate website.
Cheapticketsdeal.com you are considering visiting, which is associated with Cheap Tickets Deal, is very old. Longevity often suggests that a website has consistently provided valuable content, products, or services over the years and has maintained a stable user base and a sustained online presence. This could be an indication of a very positive reputation.
A trust mark has been identified for a cheapticketsdeal.com typically indicates that the site has undergone a verification process by a third-party organization, suggesting that it meets specific security, privacy, or business standards.
Cheap Tickets Deal as a website that uses an external review system. While this can provide valuable feedback and insights, it's important to carefully evaluate the source of the reviews and take them with a grain of salt.
Several positive reviews for Cheap Tickets Deal have been found on various review sites. While this may be a good sign, it is important to approach these reviews with caution and consider the possibility of fake or biased reviews.
This website offers payment methods that provide the option for customers to get their money back, which could be a positive indicator of the company's commitment to customer satisfaction.
Our Conclusive Verdict: The company has a low level of trustworthiness. We advise being cautious when dealing with this company and to read reviews carefully, being mindful of any negative comments or concerns before engaging with the company.
Collect Your Trust Badge
Be recognized for outstanding customer service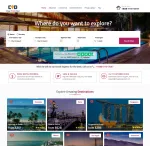 Cheap Tickets Deal

contacts
We are here to help
19 years' experience in successful complaint resolution
Each complaint is handled individually by highly qualified experts
Honest and unbiased reviews
Last but not least, all our services are absolutely free