Overview of Chan Sneakers customer experience
Chan Sneakers, purporting to be an online retailer of cheap knock-off sneakers, is a haven for scammers and fraudsters. The company's customer service is non-existent, with many consumers speaking about being ignored and mistreated by the staff. Many people have had terrible experiences with the quality of the sneakers themselves, claiming that they look cheap and are poorly made. In addition, delivery times are often grossly underestimated, with many people reportedly waiting months to receive their goods. Overall, if you're in the market for affordable, high-quality sneakers, it's best to avoid Chan Sneakers at all costs.
Chan Sneakers complaints
1
Newest Chan Sneakers complaints
Chan Sneakers Review: Great Selection & Prices, But Room for Improvement in Customer Service and Website Navigation
I recently purchased a pair of shoes from Chan Sneakers, and while I did receive them, I must confess that I was a little disappointed with the color. You see, one part of the shoe was meant to be blue, but the shade that I received was much darker than what I was hoping for. Unfortunately, when I reached out to the customer service team, I didn't receive a response.

Now, before I go on, I do want to say that there are a lot of things that I really appreciate about Chan Sneakers. For one thing, they offer a huge selection of shoes at very reasonable prices. I was really excited to find a pair of shoes that I had been eyeing for months at a price that was much lower than what I could find anywhere else. And when I first placed my order, I was really impressed with how quickly the shoes shipped and arrived.

However, I do think that there are some areas where Chan Sneakers could improve. For one thing, I was disappointed with the lack of response from customer service when I reached out about the color issue. It's frustrating to spend money on something that's not quite what you were expecting and not be able to get any help or support in resolving the issue.

Another thing that I noticed about Chan Sneakers is that the website can be a little bit confusing to navigate at times. There are a lot of different sections and categories, and it can be difficult to find exactly what you're looking for. Additionally, some of the descriptions and photos could be more detailed to help customers make informed decisions about their purchases.

Overall, I think that Chan Sneakers has a lot of potential. They offer a great selection of shoes at very reasonable prices, and I appreciate the fast shipping. However, I do think that there are some areas where they could improve, particularly in their customer service and website navigation.
Is Chan Sneakers legit?
Chan Sneakers earns 23% level of Trustworthiness
SAFETY WARNING: ComplaintsBoard has reviewed Chan Sneakers and found it to have a very low level of trust of only 23%. Our analysis indicates that the website may pose a risk to users.
Based on our evaluation, Chan Sneakers has resolved only 0% of 1 complaints, indicating a severe lack of commitment to customer satisfaction, trustworthiness, and responsiveness. This may suggest that the company is apathetic or disinterested in addressing the opinions and concerns of its customers.
Exercise caution when using chanzsneakers.ru as it may have lower quality content or a poor user experience, leading to fewer visitors and lower traffic.
Chan Sneakers protects their ownership data, a common and legal practice. However, from our perspective, this lack of transparency can impede trust and accountability, which are essential for establishing a credible and respected business entity.
The website registered to Chan Sneakers has received a phishing alert from iQ Abuse Scan, which could put users at risk of scams or fraudulent activity.
We found that the website for Chan Sneakers is very young, indicating that it may be new or recently launched. It is important to exercise caution when engaging with new websites, as they may not have established a trustworthy reputation yet and could be more vulnerable to security risks.
However ComplaintsBoard has detected that:
Chan Sneakers has received 10 positive reviews on our site. This is a good sign and indicates a safe and reliable experience for customers who choose to work with the company.
Chanzsneakers.ru has a valid SSL certificate, while Scammers can obtain a valid SSL certificate by using fake information or by using a stolen or hijacked domain. In some cases, they may even use a certificate issued to another legitimate website.
Our scan shows Chan Sneakers website is free from malware and phishing activities, which are types of online threats that can include viruses, worms, Trojan horses, ransomware, and other malicious code, as social engineering tactics used to trick users into sharing their personal information.
Chanzsneakers.ru has been deemed safe to visit, as it is protected by a cloud-based cybersecurity solution that uses the Domain Name System (DNS) to help protect networks from online threats.
This website offers payment methods that provide the option for customers to get their money back, which could be a positive indicator of the company's commitment to customer satisfaction.
Our Conclusive Verdict: The company has a weak level of trustworthiness. We advise that you take precautions to protect your personal information when using this website, and be cautious when dealing with this company. Please reading complaints beforehand to gain a better understanding of their track record.
Collect Your Trust Badge
Be recognized for outstanding customer service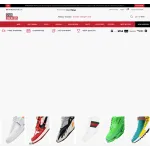 Chan Sneakers

contacts
We are here to help
19 years' experience in successful complaint resolution
Each complaint is handled individually by highly qualified experts
Honest and unbiased reviews
Last but not least, all our services are absolutely free