Balsam Hill complaints
44
Balsam Hill
-
Warranty and exchablnhe
I purchased a tree the end of October to be put up after Thanksgiving. When I started putting together this tree was not what I had envisioned. I spoke with Kelly in customer service and we decided on a different tree. She provided me with the return shipping label. I called FedEx and made arrangements for them to pick up the next Tuesday. I then received and email that they have given me my refund. I called the next business day only to be told the order was canceled and there was NO Exchange. The supervisor of customer service that I was speaking with was forwarding to the next level and I should receive a call in 2 hrs. I'm still waiting. My family Christmas is the weekend before Christmas. I was told my tree would arrive the weekend of my family Christmas. Minus Black Friday sale and free shipping. I am in awe of Balsam Hills customer service. I expect a call from someone and needless to say I don't have a Christmas Tree. What a disappointment. Mary Ralph
Balsam Hill
-
Balsam Hill Christmas Tree
Horrible customer service. Only received half of the tree I ordered and they cannot find the other box. They won't replace the tree with the same one since it's sold out. One supervisor said they would replace with a similar tree and another said they would not replace (actually she flat out told me they were busy and didn't have anymore trees). All they could offer was to pay for the shipping of the tree back to the company. Never mind, the box is super heavy and I have a bad back from working as a nurse. The supervisor, named Amy, said I had to figure out how to ship it back and they would only offer the labels.

This is not the first time Balsam Hill has dropped the ball before Christmas. Two years ago, after decorating a different brand new balsam tree, the lights stopped working. Again, they would not replace it or offer a similar replacement. Customer service just said they were sorry and made no attempts to replace with a similar tree.
Desired outcome: To replace with a similar product or better since this has been a huge inconvenience
Balsam Hill
-
Outdoor LED Wire Cone Tree Set
I purchased this item for Christmas 2020. I had them all set up in my yard and after a week two of the trees did not light. One of the three does light up. At that time I called Customer Service. The representative I spoke with informed me that these were sold as sets and they could not send just the two as well as this item was no longer in stock for 2020, but would send a new set for 2021. As of this date, 12/1/2021 I have not received replacements. Last week I contacted Customer Service to inform them that I have not received the new set. At that time I was told that I would receive an email with 24 hours as to the status. I have not received an email or the product. I would like the new replacement set, sent out today.
Balsam Hill
-
Christmas Tree
I bought a tree from company. Since then I have in vain to replace the bulbs on the tree and purchase them from you so they be exact replacement of the originals. I replace the bulbs as instructed and the new ones don't light. There is plenty of current in the socket. I have clean them, taken them apart just about every simple procedure to get them to lite. Now as far as I am concern I now wish i have purchase an inferior product and would never tell anyone to purchase a product from your company. (VERY DISATIFIED Piece of Junk as far as I am concern. Forget refund, your customer service is lousy as i have spoken to them and they offer me no help except general information that i have already done. NO MORE PURCHASE FORM YOUR COMPANY.
Balsam Hill
-
Stuck with a defective tree thanks to Balsam Hill
Bought a tree in 2018. Tree arrived during summer and when we assembled it noticed that a light was out because the wire was broken.

I called Balsam Hill and they sent me a "free string of lights" and said I could restring that section. I don't work at Balsam Hill and am not proficient at "restringing" trees. After a couple of years we reassembled the tree and noticed that a lot of lights were out in that section. I called Balsam Hill and told them that I am not happy with this tree.

They said that they could send me another string of lights, because it was out of warranty, even after I explained that I do not restring artificial trees. Why didn't they fix the tree when I reported it in 2018?Stay away from Balsam Hill Their customer service is the worst. I told The supervisor, Ryan, that I will be sending the tree back and he said "you can't do that".

I will not do business with a company that does not stand behind their products. Wish I had never heard of Balsam Hill.
Balsam Hill
-
Christmas tree, wreathe, garland wreathe storage, 120 ornament storage
First my garland had 1/3 of the lights go out. After many communications with Balsam Hill. They agreed to replace it, but that took most of a year to accomplish. Then, the lower lights on my tree dimmed and then got very bright for a few seconds and then went out. Balsam Hill thinks that might be a fuse or just one bulb. Having had two spinal surgeries with in the past 12 months, I can't check them. To wreathe has a plastic battery box with 4 tiny screws. I had to buy a special screw driver to open and close it. All it needed was a pressure snap... Much cheaper and much easier for client. I have not used the lights on it since the first year. I got a 120 ornament storage container, which is nicely made, but there is no way 120 normal sized ornaments can fit. I got a double wreathe storage. The metal ring, shown in the directions is missing. They sent a second one, without the ring. I wrote the CEO of balsam hill and got no response! Yuk!
Desired outcome: Figure a way for my tree to be fully lighted. Don't tell people 120 ornaments, when only tiny ones can fit. Send me the wreathe storage ring.
Balsam Hill
-
The master bulb
The master bulbIs not working in my tree and every time I put a new one the fuse burns out. I wanted to order new ones and there's no place that I can order them. I do not want to have to rewire this tree. What is another option to purchase the master bulb. Because it doesn't make any sense that you can purchase replacement lights but not to replace that master bulb. So I would either like the replacement master bulbs or another option so I don't have to rewire the tree. Because it is only about three years old. And for the price that you pay for one of these trees you should be able to pay for bulb replacements and not having to pay for an entirely new tree.
Desired outcome: Send me master bulbs or provide me an option to pay for them
Balsam Hill
-
Christmas Wreath
I ordered a 36" led battery light Christmas Wreath from this company, and when it arrived it was 26" on a stretched out good day. They would not give me a full refund, and said I must pay $10 for return shipping as there policy states, " For a return fee to be waived, the item received should be damaged, /flawed, /defective. To keep this short, I can only say, look up the definition of flawed, and defective, then think twice about ordering anything from this company... Godspeed.
Balsam Hill
-
Faulty garlands after little use
In Oct 2018 I purchase two Balsam Hill garlands with lights. Having used them for only two years they have already started having problems with the middle sections of both having problems with the lights - on one the lights don't work at all, the other the lights can be barely seen. They have only been used for around 7 weeks and on a timer, so not even on full time.

Having specifically invested in what are promoted as being premium products, I was shocked for find out that any non-tree product only has a 30 day warranty. While this shows a staggering lack of confidence in the quality of their own products I'm not convinced it is legally a reasonable expectation of product life, considering the price paid. I got the impression from the customer service assistant that this is a common problem and there was nothing they could do. So I'm left with a faulty product with no redress from the company.
This review was chosen algorithmically as the most valued customer feedback.
On Nov 4 2020 I purchased a 9' Sugar frosted light up Christmas tree from Balsam Hill for $822.83, I set up the tree the day of delivery and section#3 did not light up. It was down hill with customer service from there! I immediately called BH the day of delivery and reported the damaged tree and asked if I could exchange for a fuller tree with more light...
Read full review
This review was chosen algorithmically as the most valued customer feedback.
Order for new tree placed Nov 17, 2019 and received Nov 22, 2019. Advised of defective section 11/24/2019. Customer Service suggested wait a few days and try again. Follow up Dec 9th, advised still defective. Follow up Dec 10th, still no response. Phone discussion post these dates indicated tree out of stock for season, and we would have to wait for "off...
Read full review
Balsam Hill
-
christmas tree
Spent $1100 on Christmas tree in 2015 (used 3 Christmases). This year in 2019 the plastic thing that holds the wires for lights broke making the tree only usable without the lights. When speaking to representative at Balsam Hill, she could not help in telling me where I could buy a replacement for it. Totally wrong. Go with a company that is either willing to sell or replacement parts or tell you where to buy them (They refused on both counts).
This review was chosen algorithmically as the most valued customer feedback.
BUYER BEWARE! I ordered a tree, glass ornaments and 2 sets of "crystal and pearl beaded garlands". (3 garlands/set). My order was pushing $800 total and since it was over $699 I received a $50 discount. When they arrived, the garland strands were complete junk. Cheaply made and both sets of 3 wouldn't decorate a small house plant. I contacted the company to...
Read full review
Balsam Hill
-
wreath
I ordered a wreath for my door in December of 2017. The website page never showed a cord, and I thought I was purchasing a wreath with battery operated lights. I mean who wants a plug running up their door? When I got it, It had a regular plug. I had always heard good things about this company and how artificial foliage was their specialty so I didn't think I would have a hard time exchanging it for the correct one. Then disaster hits and I had to have emergency neck surgery so it sat by my front door until today. I call them and even offer to pay the return shipping to get what I need for next year. Only to hear from them that I called 30 days too late and they don't even have the item. What? I thought this company was a stable, year round company. I asked for a supervisor and was told since it was OFF Season, no one else was available. What a crock. They acted like one of these fly-by-night companies that only open at Christmas. I will always buy from a local store now, with REAL products, and with real people who have a heart.
Balsam Hill
-
please, ship my christmas tree asap
I ordered an Aspen Silver Fir Christmas tree at the beginning of November knowing how websites may work. Didn't know anything about this one, but I thought that ordering ahead of time would be a great idea.
Well, yes, actually, it is, but not on this website.
It looks great, by the way. Makes you feel how close the main holiday is. But the problem is that they haven't shipped the tree yet. I am very worried. 26 days till christmas, not sure it will arrive on time :(
This review was chosen algorithmically as the most valued customer feedback.
Ordered a 4.5 ft prelit Christmas tree for my 82 yr old mother last year. I was feeling guilty since we had just moved her out of her house and into a 55+ apartment. I wanted to get her a high quality Christmas tree to try and make the new place feel more like home. Tree worked fine last holiday season, but this year I go to set it up the second weekend in...
Read full review
This review was chosen algorithmically as the most valued customer feedback.
Bought on 12/27/14. Stored unopened for 2 years. Opened recently for Xmas now that we have a home. Product had inner branches and gaps . The inner branches were cheap substitute you would never even see on a Walmart tree for 1/3 the price. Cheap substitutes that don't look anything like a Blue Spruce. The tree was in mint condition because I had just opened...
Read full review
This review was chosen algorithmically as the most valued customer feedback.
If only I had researched this company before ordering. Although having said that, yesterday they deleted all the negative comments that so, so many people had made on their Facebook page. Ordering fro them, really has been one of the worse customer service experience ever. They do NOT answer their phones. They do NOT answer any messages, DM via Twitter, PM...
Read full review
Balsam Hill
-
Don't deal with them!!
I have ordered a Christmas tree from this website www.balsamhill.com because I saw many positive reviews about this seller, but I guess most of them were fake! I had a terrible experience with Balsam Hill and my order arrived completely damaged. I contacted them and asked for a refund and they said they need some time to decide what to do in my case. They said they will not refund me and promised to think of something else. How unprofessional, don't deal with them!
This review was chosen algorithmically as the most valued customer feedback.
Paid a lot of money for this tree and when it arrived it was defective and looked nothing like the tree we ordered. All the company did was send us lights and told us to fix it ourselves. The 1st photo is from the web site the second is the one we received. This is a Fraser Fir.
Read full review
We are here to help
16 years' experience in successful complaint resolution
Each complaint is handled individually by highly qualified experts
Honest and unbiased reviews
Last but not least, all our services are absolutely free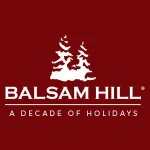 Balsam Hill contacts