Uoozee Customer Reviews
10
Rate your recent experience
Pros and Cons of Uoozee: A Review Breakdown
Uoozee is an online retailer that offers a wide range of products, including clothing, accessories, and home decor. The website has received numerous positive reviews from customers who have praised the quality of the products and the excellent customer service.

One of the most significant advantages of shopping at Uoozee is the variety of products available. Customers can find everything from trendy clothing to unique home decor items, all at affordable prices. The website is easy to navigate, and customers can quickly find what they are looking for using the search bar or browsing through the different categories.

Another positive aspect of Uoozee is the quality of the products. Customers have reported that the clothing is well-made and fits true to size, while the home decor items are unique and of high quality. Additionally, the website offers free shipping on all orders, which is a significant advantage for customers who want to save money on their purchases.

Customer service is another area where Uoozee excels. The company has a dedicated customer support team that is available to answer any questions or concerns that customers may have. Customers have reported that the team is friendly, helpful, and responsive, which has helped to build trust and loyalty among customers.

Overall, Uoozee is an excellent online retailer that offers a wide range of high-quality products at affordable prices. The website is easy to navigate, and the customer service is exceptional. If you are looking for a reliable online retailer, Uoozee is definitely worth checking out.
Uoozee Review: Total Rip-Off, Unwearable Clothes, and Unethical Practices
This company, Uoozee, is a total rip-off. I made a big order in October, but it was a total nightmare. First, they only sent me half of my order after two weeks, and the other half didn't arrive until a month later. When I finally got my order, I was so disappointed. Two of the sweatsuits I ordered had raw hems that looked like a toddler cut them with kid scissors. It was so uneven and not what I expected from the website's description.

To make matters worse, they sent me sizes that I didn't even order. I tried to contact them several times to correct the issue, but they never responded. So, I had to ask the payment processor to step in. Finally, they responded to me, but it was too late. They offered me $40 to keep the clothes, but the total of the damaged items was $250. I refused their offer because the clothes were unwearable and in the wrong size.

Then, they raised their offer to $120, then $140, and finally $150 + $12 if I write a positive review for them on this site. Can you believe it? They buy their positive reviews! I refused their unethical offer and asked for a return label to send this trash back. But, they said I was responsible for return shipping to CHINA, which would cost me $80. This was not fair because the shipping label on my package showed an address within the US.

In conclusion, I strongly advise you not to buy from this scamming site. They are not trustworthy and will only cause you trouble and disappointment.
Uoozee Review: Ill-Fitting Clothes and Hassle-Filled Returns
I gotta say, my experience with Uoozee (uoozee.com) was a real doozy. I ordered $335 worth of clothes and it took a whole month for them to arrive - which was already too late for the business trip I needed them for. And when they finally did arrive, they fit nothing like the descriptions. Two of the dresses were so big they could have doubled as circus tents, while the other two were so small they must have been made for leprechauns. Their sizing charts were completely irrelevant and the clothes were just plain ill-fitting.

So I reached out to Uoozee to try and get a refund or exchange. But they told me I had to ship the clothes back to China - at a cost of $275! The return address on the shipment was obsolete and some middle person, so I couldn't even send it back to California. I mean, who has that kind of money to spend on shipping? So I started negotiating with them for a partial refund, but it took a whole month of back and forth to finally get $200 back. And even then, I still lost $125 in the process.

Honestly, shopping with Uoozee was nothing like shopping with a US vendor. You can't expect anything to fit and you definitely can't expect a hassle-free return. It was a super stressful experience and I ended up donating the ill-fitting clothes because they were completely useless to me. Overall, I was left feeling like I had been had. The quality was bad, the experience was bad, and I wouldn't recommend Uoozee to anyone.
Uoozee Review: Cute Clothes, Terrible Customer Service, and Missing Items
I gotta say, I had high hopes for Uoozee when I first stumbled upon their website. I mean, they had some pretty cute stuff and the prices seemed reasonable. So, I went ahead and placed an order for 13 items totaling over $500 back in January and February.

Now, I've only received 5 of those items so far, and let me tell you, it's been a mixed bag. The first two items were great - a black dress and a long black cardigan that felt super expensive. I was pretty stoked about those.

But then, things started to go downhill. The next two items were a major disappointment. One dress looked nothing like the picture on the website and was basically unwearable. The other was a top and matching trousers that I paid $49 for, but the fabric was cheap and the sizing was all wrong. I wouldn't be caught dead in that outfit.

So, I tried to reach out to their customer service team about the missing items (9 in total) and the terrible top/trouser combo, but they were no help at all. They didn't even bother to read my emails and just sent me generic messages about the items being lost in the mail. No offer of replacements or anything.

Honestly, I feel like I've been scammed. Uoozee spent a ton of money on advertising and their website looks legit, but it's all a facade. They even provide measurements and material information for each item, but it's all bogus.

Now, I have to go through my credit card company to try and get a refund. It's a major bummer because I really thought I had found a great website for clothes. But, I guess it's back to the drawing board.

My advice? Avoid Uoozee at all costs. It's just not worth the hassle.
Uoozee and Other Chinese Clothing Sites: Sizing, Delivery, and Quality Issues
There are a variety of clothing designs available on Uoozee, as well as other websites like Shewe, Buykud, and New Chic. However, it's important to note that all of these items are shipped from China, which can result in lengthy delivery times to the US. Additionally, the clothes often arrive in a wrinkled and balled-up condition, which can be frustrating.

One of the biggest issues with these sites is that the sizing information provided doesn't always match up with the actual items. Despite claims that the measurements are in US sizing, many customers have found that the clothes don't fit as expected. The sites now include a disclaimer that measurements may vary due to being done by hand, but this doesn't make sense from a retail perspective. Either the items are made with high-quality standards or they are not.

Returning items can also be a hassle, as it can be expensive due to delivery costs and restocking fees. Even when items are returned, customers may only receive a percentage of the cost reimbursed. To make matters worse, the items that are kept often rip irreparably after only one or two wears.

It's worth noting that many of the positive reviews on Uoozee and other similar sites are written in English with errors consistent with non-native speakers. This suggests that the reviews may not be entirely genuine. Chinese reviews would likely be written in their native language, not English.

Overall, it's best to stay away from these sites and look for great designs manufactured elsewhere. The issues with sizing, delivery, and quality make it difficult to justify the expense and hassle of shopping on Uoozee and other similar sites.
Uoozee Review: Sketchy Sizing and Return Policy, Not Worth the Hassle
I gotta say, I'm not too impressed with Uoozee. It seems like all the good reviews are from people who work for the company or something. I mean, why else would they all be raving about the dresses and not saying much about anything else? And have you noticed how they always respond to the negative reviews, trying to make it seem like everything's fine? It's kinda sketchy if you ask me.

Anyway, I ordered a bunch of stuff from them, including a coat, a shirt, a sweater, and some boots. I made sure to check the sizing chart and everything, but when the stuff arrived, it was all way too small. Like, I could barely even get the sweater on, and the coat was so tight I couldn't even button it. The only thing that fit was the shirt, but even that was kinda snug.

So I tried to return everything, but it turns out you have to ship it all the way back to China, which is super expensive. They offered to give me $20 to just keep the stuff, but I spent over $160 on it! I don't trust that I'll get my money back if I send it back, so I'm stuck with a bunch of clothes that don't fit.

To make matters worse, it took forever for them to even ship my order. I had to send a couple of emails just to find out what was going on. And even though the shipping itself wasn't too bad, it still took longer than I expected.

Overall, I would definitely not recommend Uoozee. I wish I had read the reviews before I ordered from them. Save yourself the trouble and find somewhere else to shop.
Uoozee Review: Affordable and Well-Made Clothes, but Beware of Shipping Delays and Sizing Issues
I saw some really nice clothes on Uoozee's website and decided to order some for myself. At first, I was a bit skeptical because I read some negative reviews about the company. However, I decided to take a chance and place an order anyway. I was excited to receive my clothes, but after a few days, I still hadn't heard anything from the company about when my order would be shipped. This made me even more suspicious, so I decided to open a dispute with my credit card company.

As soon as Uoozee received the dispute notice, they shipped out my clothes. I was surprised to see that the package was coming from Singapore. When I received my clothes, I was pleasantly surprised by the quality. The clothes were very well made and looked just like the pictures on the website. I was so happy with my purchase that I decided to order more clothes from Uoozee.

One thing to note is that the clothes seem to run small. I am a size 7 in US sizes, and the clothes fit me perfectly. However, if you are a size 8 or larger, the clothes may not fit you. The material is very similar to linen, which makes it perfect for summer.

One thing that I think Uoozee should do is remove the reviews on their website that have broken English. These reviews make the company seem less legitimate, and I suspect that they were written by the company themselves. Despite this, I still think that Uoozee is a great company to order from. The clothes are affordable and well made, and I would highly recommend them to anyone who is willing to go through a little bit of hassle to get their order.

I recently placed another order with Uoozee, but I haven't received any information about when my order will be shipped. This makes me a bit nervous, and I may have to open another dispute with my credit card company if I don't hear anything soon. However, I am still hopeful that I will receive my clothes soon because I really love the quality of the clothes that Uoozee sells. It's a shame that clothes like this aren't readily available in the US.
Uoozee Clothing Review: Cheap, Unwearable, and a Waste of Money
I shoulda known from the prices that this was not quality clothing. My bank tried to stop the purchases several times, but I knew my card was fine so I called them up and they told me that for some more sketchy sites, they try to protect their customers. I was like, "wow, thanks for looking out for me!" But did I listen? Nooo. I went ahead and made the purchase anyway. And boy, was that a mistake.

When the clothing - or should I say, fabric - arrived, the first thing I noticed was the smell of cigarette smoke. It was like the factory workers were puffing away while they were making my clothes. Not a good look. And the clothes themselves? Let's just say they looked nothing like the photos on the website. The vibrant prints were just cheap cotton fabric that looked like someone had hacked away at it with a pair of scissors. And forget about anything being tailored. You'd be better off shopping at Walmart.

But the real kicker? None of these items could ever be washed. And if you took them to the dry cleaner, they'd probably laugh at you and make you sign a waiver. Uoozee knows they're selling complete junk, because when you try to return it, they tell you it'll be an expensive hassle to send it back to China (at your own expense, mind you). But they'll graciously let you keep the $350 worth of crap and refund you $60.

I mean, I agreed to the $60 because I just wanted to be done with this whole mess. But it was an expensive lesson. I'm donating all of the stuff I paid for because it's not even worth trying to resell it. Even if you only spend $20 with this company, you're throwing your money away. If you absolutely have to try it, just get one item. Trust me, you'll see.
Buyer Beware: My Experience with Uoozee Clothing from China
I gotta tell ya, I made the same mistake AGAIN. Ladies, listen up! If you're buying clothes online from foreign shops, be prepared to pay out the nose for returns. I got burned by a company in Latvia that had a bogus return policy and it cost me a whopping $80. So when I ordered from Uoozee, I was a little hesitant. But I figured, hey, they're based in China, they must know what they're doing, right?

Well, the clothes arrived in a decent amount of time and they looked pretty much like they did on the website. But when I tried them on, two of the items didn't fit right and one was just poorly made. So I gave Uoozee three stars. One star for shipping, one for accuracy, and one for their quick response to my return request. They even offered me a $30 discount instead of having to go through the hassle of returning the items. I took the discount because I knew from my previous experience that returns can be a real pain in the butt.

But here's the thing - I'm still out the money for those clothes that didn't fit. Uoozee doesn't make it easy to figure out how to return stuff. I had to do some serious digging online just to find a street address where I could get an estimate for the return shipping. The best I could come up with was the name of the person who registered the trademark. Not exactly helpful, right?

So here's the address, in case you need it:

Ze Hao Tian Chen (Beijing) Technological Development Co., Ltd
A1-106, Building 28
Zaojiajie NO. 110, Fengtai District
Beijing, CHINA

I'm not saying don't order from Uoozee or any other overseas clothing company. But just be aware that the quality, color, and fit might not be what you expect. And if you do need to return something, be prepared to jump through some hoops and pay a pretty penny for shipping. Lesson learned - hopefully for good this time!
Terrible Experience with Uoozee: Lost Package, Poor Customer Service, and Refusal to Refund
I had a really bad experience with Uoozee (uoozee.com) and I would not recommend ordering from them. I placed an order and received a confirmation email, but when I tried to track my package using the number they provided, it was not traceable. I was left in the dark about when my package would arrive and when I would receive it.

After 2.5 weeks, I finally received an email from their customer service asking if my package had arrived. I contacted USPS to check on the status of my package and found out that it had been sent to the wrong address. I immediately contacted Uoozee's customer service and asked them to correct the address and send the package back to me. However, they refused to take responsibility for their mistake and instead gave me the USPS number and told me to contact them myself.

I contacted USPS again and was told that the package had already been delivered back to the sender. When I asked for a refund, Uoozee's customer service responded by blaming me for the lost package and only offering to refund me $15 out of the $60 I had spent. This is unacceptable, as it was clearly their fault that the package was addressed incorrectly.

In my attempts to get a full refund, I sent four emails to Uoozee's customer service, but they continued to refuse to give me my money back and even asked for my address so they could try to send the package back to me. This is ridiculous, as they had already claimed the package was lost and could not be retrieved.

Overall, my experience with Uoozee was incredibly frustrating and disappointing. As a first-time customer, I expected better customer service and a timely delivery of my order. Instead, I was left in the dark about the status of my package and blamed for their mistake. I would not recommend ordering from Uoozee and suggest finding a more reliable and trustworthy online retailer.
Uoozee Review: False Advertising and Poor Customer Service Practices
I recently had an experience with Uoozee, and I have to say, it was not a good one. At first, I was drawn in by their flashy advertisements and promises of affordable, stylish clothing. I decided to take the plunge and order four items, carefully checking the measurement guide and fabric content to ensure that I was getting something that would fit and be comfortable to wear.

Unfortunately, things quickly went downhill from there. The order took much longer to arrive than I expected, and I was unable to track it because I never received an email with tracking information. When the package finally did arrive, I was disappointed to find that none of the clothes fit properly and the fabric was not at all what I was expecting. Instead of the natural fibers I had been promised, everything was made of a cheap, scratchy polyester that felt like plastic against my skin.

To make matters worse, when I tried to contact customer service to arrange a return, I was met with unhelpful bots and unresponsive representatives. They offered me a series of partial refunds, but refused to give me my full money back or even provide me with a return address that was feasible for me to use. It was clear that they were not interested in providing good customer service or standing behind their products.

In the end, I was left with a pile of clothes that I couldn't wear and no way to get my money back. It was a frustrating and disappointing experience, and I would strongly caution anyone against doing business with Uoozee. Their false advertising and poor customer service practices are a clear indication that they are not a legitimate company, and I would hate to see anyone else fall victim to their scams.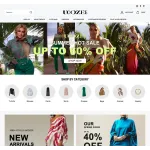 Uoozee

contacts
Your Voice Matters: Our Commitment to Genuine Reviews
Empowering Real Experiences: At [Your Website Name], we believe in the power of true customer stories. Our platform is a space for authentic voices, where experiences, both good and bad, are shared openly and honestly.
Dedicated to Authenticity: We're vigilant in our fight against false reviews. Our team employs robust verification methods to ensure every review reflects a real customer experience, upholding the integrity of our platform.
Encouraging Detailed Feedback: We value reviews that come with real evidence. Whether it's a photo, a detailed account, or additional documentation, such substantiation adds credibility to your story, helping others make better-informed decisions.
Balanced and Constructive Conversations: We're more than just a complaints board; we're a community for balanced dialogue. We encourage reviews that not only highlight issues but also acknowledge positive aspects, fostering a fair and comprehensive understanding.
Free and Fair Platform: Our commitment to maintaining a free and unbiased platform is unwavering. Every review is treated equally, ensuring that your voice is heard and respected, regardless of the nature of your experience.