Overview of Uoozee customer experience
Uoozee, an online shopping website, has been receiving numerous complaints from its customers. The most common issues include delayed delivery, poor quality products, and unresponsive customer service. Many customers have reported receiving damaged or incorrect items, and have had difficulty getting a refund or exchange. The website has also been accused of false advertising and not delivering on promised discounts. Overall, Uoozee has a poor reputation for customer satisfaction and reliability.
Newest Uoozee complaints
Returns
DISGRUNTLED CUSTOMER.

I have sent three emails last week regarding some items I would like to return.

I have not had a response to any of the emails.

Before I sent these emails, I had already contacted Uoozee as some time had passed whilst I was waiting for the items ordered. I literally had an immediate response.

Now, apart from the fact that I've sent three emails there is only a 14 day period to contact regarding returns.

Very disappointed as this seems a deliberate action of avoidance so that customers are not able to return items and get a refund.
Desired outcome: I want a response to my emails sent.
Missing merchandise
I never received my merchandise after several complaints. I have been trying to contract the company but have been unsuccessful. I paid for the merchandise in full. I want a refund or my merchandise

Urban Wide Leg Loose Printed Off-The-Shoulder Blouses &Casual Pants Two Pieces Set x1

ROSE RED M

$44.99

SKU:CY-!114556-C1783S1564

Shipped

Statement Pink Bow-Embellished Earrings Accessories x1

PINK One_size

$6.99

SKU:CY-!104871-C1253S3832

Shipped

Original Loose Floral Printed Contrast Color Tied Mini Shirt Dress x1

BLUE S

$24.99

SKU:CY-!105372-C1282S1563

Shipped
Uoozee Review: Buyer Beware of Fake Reviews and Risky Purchases
So, I was looking for some cool stuff to buy online and stumbled upon Uoozee. At first, I was excited to see all the cool items they had on their website. However, I have learned my lesson from a bad experience with a company from China in the past, so I decided to do some research on Uoozee before making any purchases.

After reading through some reviews, I found that Uoozee has both good and bad reviews. But, as I read through the positive reviews, I noticed that the English used to write them was a bit off. It didn't take a genius to figure out that they were probably fake reviews written by friends and family of the people at the company.

I decided that it was not worth the risk to purchase anything from Uoozee. I mean, who wants to deal with the hassle of returning a product or worse, not receiving it at all? So, I would advise anyone considering buying from Uoozee to be careful and do their research before making any purchases.

Oh, and by the way, I noticed that Uoozee has a disclaimer at the bottom of their website stating that they are not affiliated with the company. But, let's be real, who knows if they actually checked that box or not. So, buyer beware!
Is Uoozee legit?
Uoozee earns 67% level of Trustworthiness
SAFETY NOTICE: Complaints Board has determined that Uoozee has a very good credibility, and is mostly trustworthy with minor reservations, with a legitimacy rating that is more or less around 67%.
Uoozee has received 2 positive reviews on our site. This is a good sign and indicates a safe and reliable experience for customers who choose to work with the company.
Uoozee.com has a valid SSL certificate, which indicates that the website is secure and trustworthy. Look for the padlock icon in the browser and the "https" prefix in the URL to confirm that the website is using SSL.
Our scan shows Uoozee website is free from malware and phishing activities, which are types of online threats that can include viruses, worms, Trojan horses, ransomware, and other malicious code, as social engineering tactics used to trick users into sharing their personal information.
Several mixed reviews for Uoozee have been found on various review sites. While some customers have had positive experiences with the company, others have reported issues with their products or customer service. It's important to read and consider a variety of reviews before making a decision to purchase from this website.
We looked up Uoozee and found that the website is receiving a high amount of traffic. This could be a sign of a popular and trustworthy website, but it is still important to exercise caution and verify the legitimacy of the site before sharing any personal or financial information
However ComplaintsBoard has detected that:
Multiple low-rated websites are found on the same server. There could be such as technical issues or poor website optimization. To determine if the websites are part of a scam, it's important to review them and look for signs of fraudulent activity.
Uoozee protects their ownership data, a common and legal practice. However, from our perspective, this lack of transparency can impede trust and accountability, which are essential for establishing a credible and respected business entity.
Complaints Board has received reports that the website may be a possible fraud. To protect yourself, consider using a different website. If you find that the website is indeed fraudulent, report them to us, to help protect other consumers.
We found that the website Uoozee is based in a high-risk country and appears to be selling well-known brands at unusually low prices. This could be a sign of potential fraud or counterfeit products.
Our Conclusive Verdict: Uoozee is generally a safe and reliable company to do business with. However, we advise that you exercise caution and thoroughly read all complaints and reviews before providing personal or financial details.
Disappointing Experience with Uoozee: Shipping Mistake and Unfair Solution
I gotta say, I had a pretty frustrating experience with Uoozee. I put in an order on March 21, 2023, and was eagerly waiting for my item to arrive. But when I checked the tracking on April 6, I saw that my package had been returned to sender because it couldn't be delivered as addressed. Now, I know for a fact that I put in the right address, so this was definitely a mistake on their end.

I reached out to their customer service team, and I gotta give them credit - they were pretty responsive. But the solution they offered me was not exactly satisfactory. They said they could either give me a partial refund or resend the item if I paid an additional $13 for shipping. Now, hold up - why should I have to pay extra for their mistake? That just doesn't seem right to me.

I've been going back and forth with them for a while now, but they just won't budge. It's frustrating because I really wanted this item, but I don't think it's fair for me to have to pay extra for something that wasn't my fault. I've even gone so far as to dispute the charge with my credit card company to try and get a full refund.

Overall, I'm pretty disappointed with my experience with Uoozee. I understand that mistakes happen, but I don't think it's right for them to put the burden on the customer to fix it. I'll probably be looking elsewhere for my future purchases.
Uoozee Review: Disappointing Stock & Poor Customer Service
So, I decided to give Uoozee a try and ordered a few things. However, I was disappointed to find out that the items I wanted were out of stock. This happened multiple times and I had to keep picking different items. It was frustrating, but I eventually received my order.

Unfortunately, the items I received were not what I expected. The measurements given were way off and the clothes didn't fit properly. I contacted Uoozee to ask for a refund, but they refused and offered me a small amount of money to keep the items. I reluctantly accepted, but weeks later, I still hadn't received my refund.

When I followed up with Uoozee, they told me that the refund had been processed and it was my bank's fault that I hadn't received it. However, when I contacted my bank, they had no record of any payment from Uoozee. I was frustrated and felt like I had been scammed.

Overall, I would not recommend Uoozee to anyone. The clothes are average at best and the customer service is terrible. It's not worth the hassle and frustration to deal with them. Save yourself the trouble and shop elsewhere.
Uoozee Review: From One Star to Three - A Bumpy but Ultimately Satisfying Experience
So, I had a bit of a rough start with Uoozee (uoozee.com). My first review was pretty negative, as you can see from the screenshot (I gave them only one star). I was having trouble getting in touch with anyone from the company, and I was feeling pretty frustrated. But then, after a lot of emails and searching, I finally got a response from a real person! She couldn't refund my money, but she did offer to resend my order. I was happy to hear that, at least.

And you know what? The items actually arrived pretty quickly! I was pleasantly surprised. When I opened the package, I was about 50% happy with what I got. One of the dresses was exactly as advertised on their website, which was great. But the other one wasn't quite the same. It was the same color and style, but the shape of the dress wasn't as flared or full as it was supposed to be. That was a bit disappointing, but overall I was still pretty satisfied.

I have to say, though, I'm not going to apologize for my first review. I said what I said, and I meant it. But I do think that review got Uoozee's attention, and that's why I was finally able to get in touch with someone who could help me. So, I'm giving them three stars this time around. It's not perfect, but it's a lot better than my first experience. And I have to give them credit for having real people in their support team. That's something, at least!
Disappointing Experience with Uoozee: Delayed Shipping and Poor Customer Service
I gotta say, I ain't too happy with my experience with Uoozee. I ordered some clothes from them about 4 months ago, and I still ain't received nothin'. They said on their website that it would take between 5-10 days to ship, so I figured I had plenty of time to get my clothes before a special event I had comin' up in 2 months. But now it's been months and I still ain't got nothin'.

I tried to reach out to their customer service through email, but all I got was some generic reply tellin' me to be patient and that my package was on its way. Well, my event came and went, and I didn't even need them clothes no more. So I asked for a refund and to cancel my order, but all I got was another generic reply with a link showin' that my package probably never even left China.

I even tried to message them through their messenger option, but I ain't never got no reply. I shop online a lot, and I ain't never had such a bad experience. So, if I were you, I'd take my money elsewhere and avoid Uoozee.
Deceptive Marketing Tactics: My Disappointing Experience with Uoozee
I recently had the misfortune of ordering from Uoozee and let me tell you, it was a huge disappointment. At first glance, their website looks amazing and the clothes they offer seem unique and beautiful. However, once my order arrived, I quickly realized that looks can be deceiving.

To say that I was disappointed is an understatement. The clothes I received were nothing like what I had seen online. The fabric materials were cheap and uncomfortable, and the stitching was terrible. It was as if they rushed to put the clothes together and didn't bother to finish the job properly.

I was so disappointed that I immediately shipped the package back to them with a request for a full refund. I wish I had taken photos before sending it back so that I could have shared them with others. I don't want anyone else to fall for their deceptive marketing tactics.

What's even worse is that my mom had ordered $300 worth of clothing for me from Uoozee. I was so excited to receive the package, but now my mom is out $300 and I am left feeling ripped off and disappointed.

In my opinion, Uoozee should not be allowed to trick people into buying their clothing. They need to improve the quality of their products and be more transparent with their customers. Until then, I would advise anyone considering ordering from them to think twice.
Unsatisfactory Experience with Uoozee: Poor Customer Service and Return Policies
I recently had a less than satisfactory experience with Uoozee (uoozee.com). I purchased four items from their website, but unfortunately they did not fit me properly. I reached out to the company three times to request their mailing address so that I could return the items, but they refused to provide it to me.

After my third attempt, I finally received a response from Uoozee. They offered to return the items for me, but stated that I would be responsible for the shipping costs. They also mentioned that the shipping fee back to China, where they are located, could be quite expensive, possibly costing at least $20.

However, they did offer me an alternative solution. They suggested that they could refund me $40 as compensation and I could keep the items. They even suggested that I could sell them to others to potentially make more money.

I was quite disappointed with this response, especially considering that I had spent $160 on these items. I do not believe that it is fair for me to be responsible for the shipping costs, especially when the items did not fit me as expected.

Overall, I would caution others against purchasing from Uoozee. While their prices may be attractive, their customer service and return policies leave much to be desired.
Uoozee Review: Decent Clothes, Terrible Customer Service - Not Worth the Risk
The clothes from Uoozee (uoozee.com) are pretty good for a company based in China that sells online. However, there were a couple of pieces that didn't fit me well, so I decided to return them. I sent an email to their customer service team, but it turned into a bit of a back-and-forth about how much they were willing to refund me. They offered me $12 as "compensation" because they said the shipping fee back to them was expensive. I told them I didn't mind paying for the shipping, and asked for the return address, but they didn't give it to me.

After about a week, they sent me another email and increased their "compensation" to $25. At this point, I was getting pretty frustrated. The total cost of the items I wanted to return was around $60, so $25 wasn't really cutting it. Plus, what was I going to do with clothes that didn't fit me?

It's been two weeks since I first tried to return the items, and I'm starting to think they're just going to keep dragging this out until they can say it's past the 30-day return window. I'm really disappointed with the service I've received from Uoozee, and I don't think it's worth risking your money on their products.

In conclusion, I would strongly advise against buying anything from Uoozee. The quality of their clothes is decent, but their customer service is not up to par. If you're looking for a reliable online retailer, I would suggest looking elsewhere.
Uoozee Review: Slow Shipping and Poor Customer Service - Beware!
I made an order on Uoozee a few months back. I was excited to receive my package, but after waiting for two weeks, I didn't receive any shipping information. I was a bit worried, so I decided to reach out to the company. They replied to my email, apologizing for the long wait and promised to prioritize shipping my order.

I waited for another week, but still, my order hadn't shipped. I was getting impatient, so I requested to cancel my order since it never shipped. It took them another week to get back to me, and they offered to ship my order and give me a discount. I responded, telling them that I no longer wanted to wait for the order and requested a refund back to my original method of payment.

The process of getting my refund was a nightmare. I had to request a refund a total of 10 times and even requested my emails to be sent to the supervisor. After a couple of weeks, they finally sent me an email stating that they would refund my money. However, the refund itself took another week and a half to process, even though my order never shipped.

I was extremely disappointed with the service I received from Uoozee. The whole process was frustrating, and I will never consider placing another order with them. I advise anyone thinking of ordering from Uoozee to beware of their slow shipping and poor customer service.
Uoozee Clothing Review: Funky Designs, Terrible Quality - A Huge Scam!
Yo, let me tell you about this online clothing store called Uoozee. I was hyped to order a wide length romper that looked like raw linen on their site, but when I got it in the mail, it was a whole different story. The material was stiff as a board and smelled like some toxic substance. I was like, "What the heck is this?" It was uncomfortable and didn't look anything like the picture. But, I still wore it to work because I liked the wide length pant look. I was scared the cheap zipper would break during the day, and since it was a romper, I had to use the zipper every time I went to the bathroom. That's a whole lot of stress, you feel me?

To make matters worse, there were two shoulder pads on the shoulders, and when I touched one, it fell off. I didn't even pull or snag it, it just fell off right in my hand. I was so disappointed, like Theo from the Cosby Show when Denise made him that Gordon Gartrelle shirt. You know what I'm saying? This brand has some talented folks cooking up really different and funky patterns and designs, but the quality is terrible. It's a huge scam, and I don't want you to waste your money like I did. Stay away from Uoozee, fam.
Collect Your Trust Badge
Be recognized for outstanding customer service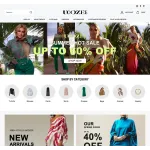 Uoozee

contacts
We are here to help
19 years' experience in successful complaint resolution
Each complaint is handled individually by highly qualified experts
Honest and unbiased reviews
Last but not least, all our services are absolutely free