Tarps Plus / Abadak reviews & complaints
Tarps Plus / Abadak complaints
13
Tarps Plus / Abadak
-
tarp
This is by far the worse tarp I have ever purchased. It didn't even make it a year. I have only had it on my hay stack for about 6 months and it is completely destroyed. It ripped right down the middle. And Tarps plus will do nothing for a return or anything to help me out. You can go to WallMart, Spend have the money a get a better tarp. Will not recommend to anyone!
Tarps Plus / Abadak
-
The seller hasn't warned me on time that the order was sold out
I ordered 3 tents from the company www.abadak.com. I patiently waited for the delivery, but the rep contacted me and warned that my order was out of stock. I got this info 2 weeks after I placed the order. I didn't understand why the seller hasn't warned me earlier and what he was doing all this time. It was awful deal, so I contacted the seller and asked to return my money. Again, I heard some blah-blah, but in result no order and no money back.
The complaint has been investigated and resolved to the customer's satisfaction.
Tarps Plus / Abadak
-
Poor Quality Product and Shipping
This is what I sent to this company.

Received my tarp and here are my thoughts on this purchase

1. Not quite has heavy duty as I was expecting (also disappointed to see it was a "made in china" product)
2. The price of the shipping did not represent the package size, wt. or the quality of the packaging as the box was wide open on arrival (I feel that the $49.00 shipping was way too high)
3. After taking the multi layered wrappings off of the tarp found that the tarp was SOAKED with water(to a point water poured out of the inner most package
4. Due to the water soaking the entire tarp there was white mold throughout the tarp.
5. Every D-ring is rusted to a point of staining all the D-ring white nylon retainers.
It should be noted that the box did not look to be subjected to any moisture just the inner most product. Just poor box and tape on the outer packaging.

I do have pictures of all the above if you are interested.

I would have returned this product but my travel schedule dictated that I use this product for its intended use as I would have a hard time getting at this need before bad weather hits this area.

Over all my impressions of this purchase is that it was not a good value for the price paid.
Tarps Plus / Abadak
-
False Advertising - Inferior Products
I ordered a 25 X 33 Hay Tarp. It arrived by Fed Ex. I could see by the weight and the size of the parcel it was not what I expected. I am betting it is a cheap imitation of the "real deal." I did not even bother opening the package and began calling the company to make arrangements to return it. I called 6 times and left messages, and after 24 hours, I called again and talked to someone who again promised to forward my complaint to the proper department. No matter how many times I called, I could not talk to someone who could help me with the return.
On Friday May 16 2014 I ordered a 16x20 mesh tarp from tarpsplus.com.Received an email confirmation on Monday May 19, 2014 that tarp had shipped. Received tarp on Tuesday May 20, 2014. Proceeded to...
Read full review
Purchased this tarp in a 12x24ft size: Super Heavy Duty Silver Poly Tarpaulin 5.0 oz. Per Square Yard. - 1200 Denier - 12x14 mesh count, which claims to be Water Proof and Heavy Duty. We used it to...
Read full review
The complaint has been investigated and resolved to the customer's satisfaction.
After checking out many tarps online I ordered a 24'x30' Tarp from Tarps Plus 38940 Trade Center Dr. Palmdale, CA 93551 based on the description found on their web...
Read full review
The complaint has been investigated and resolved to the customer's satisfaction.
I also called tarpsplus before I placed my order to make sure that the tarp would cover my 20' Trophy Bayliner boat. They said that the 20-22' tarp would work fine for me...I questioned them again...
Read full review
The complaint has been investigated and resolved to the customer's satisfaction.
multiple companies: tarpsplus.com, acecanopy.com, and abadak.com. all same address. service is terrible. they post an Authorization Hold on your card, then charge you, essentially tying up twice the...
Read full review
Tarps Plus / Abadak
-
Poor service
Ordered two tarps from company, never got confirmation of shipping - after contacting them repeatedly, was told the item was out of stock. I had already been charged, so I asked for a refund. Had to speak to three people, and almost two months later, I still do not have my money back. I have submitted a formal complaint through the BBB.
Tarps Plus / Abadak
-
shipping
TERRIBLE order page protocol and customer service.

The order page submitted after one click (no review window, no ability to agree on shipping costs) It accepted an order with no last name and no country entered and then defaulted the country to the first one, alphabetically, AFGHANISTAN! That's right, California, Afghanistan... And charged $134 shipping for one tarp (should have been $8!)

I called, horrified that the order went through without being able to see what the shipping would be. They managed to send the tarp but have yet to refund the shipping difference - it's been a month!

They keep saying someone else has to approve it, the shipping & refund dept. is not part of the same company - must be a third-party drop-ship affair.

No way to run a business. I just wish there were more places to post complaints.
Tarps Plus / Abadak
-
returning merchindise.
Opened a tarp to see if it was as per discription of what I ordered. Also to see color ( it is described as tan but it is'nt quite what I would call tan.) Well the paper work inside the box spells out the return policy right on the invoice. BUT there is a catch. On the outside of the shipping box there is a different statement re: returns. It says you can not open up the packaging of the tarp. Well my gosh how are you to see if what you ordered and what is in the package is the same? Once you open the package you are stuck with the tarp. What kind of double statement is that. Invoice says one thing and a sticker on the outside of the shipping box says something different.
Any body else see the delima. and any ideas on what to do. Trying to speak to someone is a joke there is only voice mail and no calls back. I wonder why.
The complaint has been investigated and resolved to the customer's satisfaction.
Tarps Plus / Abadak
-
Bad products
We bought online under an advertised aura of "heavy duty top quality tarps". After receiving our three tarps, we discovered one had a hole, and all were flimsy and not waterproof. We called to request a refund, we discovered that their tarps are not waterproof, and that the packages are not returnable after they have been opened. They did send a replacement for the one that had a hole. We bought other tarps from a local hardware store to cover our dirt bikes, and used the TarpsPlus tarps to cover things that didn't need to be dry, in an effort to protect them from the sun and have the dark green colour help them blend in and make them less visible to those walking above our house. Within a month, the tarps had faded to yellow. We have not contacted TarpsPlus since the initial time. Why try? They'll just say that their tarps are not colourfast, just like they are not waterproof. Bad products . . . We'd just like to warn others.
We are here to help
16 years' experience in successful complaint resolution
Each complaint is handled individually by highly qualified experts
Honest and unbiased reviews
Last but not least, all our services are absolutely free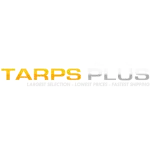 Tarps Plus / Abadak Company contacts